[This is not a spoiler-free review of the episode. If you have not seen the episode yet, read it at your own spoiler risk.]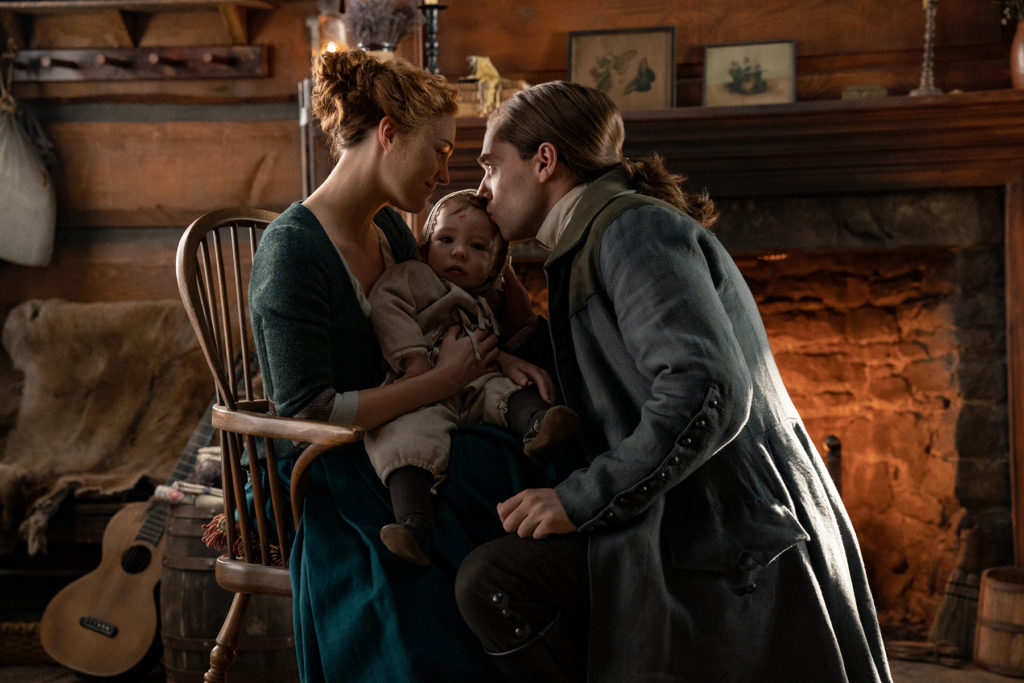 Episode 501:  "The Fiery Cross"
Written by Matthew B. Roberts, Directed by Stephen Woolfenden
The Droughtlander is over, and Outlander returns for its fifth season, finally.  The first episodes of the previous four seasons varied in tone.  Some premieres began fraught with tragedy, sadness, or impending disaster.  Season four's premiere left me with a sour taste in my mouth, and frankly, the season was one of series' weakest.  Season five is here and there is a hope that this season will be better than the last, and the many changes or updates that fans have been privy to from Starz's promotion of the season make them optimistic to say the least.  Each new season brings the promise of it being a particular fan's favorite season and being so entrenched in the fandom there is a hopefulness for season five that I did not see with season four.
The season starts lightheartedly with the "official" wedding of Brianna (Sophie Skelton) and Roger (Richard Rankin).  The preparations are well underway, and we return to the Frasers and Fraser's Ridge on the day of the happy event.  It is apparent that season five starts at least a few months after the season four finale.  Jeremiah, Roger and Brianna's son, is not a newborn anymore, and the "Big House," Claire (Caitriona Balfe) and Jamie's (Sam Heughan) new home, is in an advanced state of construction.  Claire and Jamie were able to move to their new home and gift Brianna and Roger with their small cabin.  One place we have yet to see is where the other Fraser son, Fergus (César Domboy), his wife Marsali (Lauren Lyle), and their two young children live on the Ridge.
Tension is still in the air when it comes to the subject of Roger and how he responded to the word of Brianna's rape and pregnancy.  It is still a topic of conversation in the fandom of how this part of the book changed.  While Claire, Jamie, and Roger were away rescuing him, the news gave him pause, and he needed time to think.  All was well when he returned at the very end of season four, and from all appearances, he has not wavered in his commitment to Brianna and Jeremiah.  Still, that pause persists as a reminder to Jamie that Roger may not be fully invested in his new family.  I don't know if Jamie has forgiven him yet, but he certainly has not forgotten.  Like a father of higher means should, Jamie has provided for his daughter when Roger could not meet Jamie's standard, like providing a roof over their heads and a higher quality wedding ring.
The wedding has brought together all of the settlers of Fraser's Ridge, who are also helping to finish the house.  Along with the settlers, Lord John Grey (David Berry), Governor Tryon (Tim Downie), and Aunt Jocasta (Maria Doyle Kennedy) and Ulysses (Colin McFarlane) are also in attendance.  It is a family affair with a little business thrown in the mix.
Lord John Grey was always a bit of a mystery to me in regards to the end of season four.  He was engaged to Brianna, but they had not married by the time she gave birth to Jeremiah.  Furthermore, he was not present or even in the area when she had Jeremiah.  Now Lord John is at Brianna's wedding to Roger.  He doesn't play much of a part in this season's premiere other than being the one that conveys to Jamie that Stephen Bonnet (Ed Speleers) is still alive.  Brianna overhears this conversation, and this reopens the PTSD she endured and is still trying to cope with the trauma.  What was a happy wedding day is now marred by memories of the worst day of her life.
Lord John has no qualms about slumming it up with those lower in social rank them him.  This quality is apparent in the drinking games with Marsali, Fergus, and John Quincy Myers (Kyle Rees).  At this point in the episode, we are introduced to Isaiah Morton (Jon Tarcy), who will no doubt become an essential part of this season (at least he has shown up in many promotional videos and trailers).
Roger and Brianna are wed, and while the locals continue to drink and party, the newlyweds retire to their cabin for the wedding night.  Grandma and Grandpa Fraser babysit young Jeremiah for them, but that doesn't mean they don't get any wedding night shenanigans also.  Why not throw in the third couple in love?  Jocasta visits Murtagh (Duncan Lacroix) in his shed in the woods to reignite their tryst.  Because of Governor Tryon's presence, Murtagh was unable to be present for the wedding.
For the season four premiere, "America the Beautiful" was used for a montage at the end, and it was just really, really bad and off-putting.  For this season's premiere, "L-O-V-E" by Nat King Cole sung by Roger and then goes to a music-only rendition is used and it is so much more appropriate considering the subject matter for which it is used. Being able to see some happy moments between three couples, plus Marsali telling Fergus she is pregnant again.
What lingers in these happy moments is Brianna's angry, shocked, and beaten down expressions as she is coping with the news of Stephen Bonnet on her own.  She has not confided this information to anyone and struggles with it on her own.  She is beginning to recoil from Roger's touch and I can assume that this ordeal will only get worse.
With the wedding over but the guests still in town, matters turn to business.  We get our first glimpse of Claire's surgery, which is semi-attached to their new house.  She is already taking patients.  One of these patients is Josiah Beardsley (Paul Gorman), a skinny, young man who is known for his hunting ability.   Jamie already knows of his reputation and asks for him to move to the Ridge and provide for his family when he is away.  Josiah has swollen tonsils that should be removed and he ponders what that entails on Claire's part.  He has already met the Ridge flirt, Lizzie (Caitlin O'Ryan), and this has to be some great foreshadowing and I am here for it.
Roger finally meets with Jocasta, and this whole exchange between the two of them ends up being the best part of the episode for me.  Jocasta has put up a ruse to see what type of man Roger really is considering his slow progress in coming back to Brianna.  Jocasta tells him that Jeremiah is now the heir to her estate, so she hopes that Roger will stay because of the money and the prospects.  Utterly disgusted with the thought, Roger tells her off and to stick it where her money doesn't shine, which is exactly what Jocasta had hoped would happen.  Jocasta has not made a friend in Roger, but she now knows his intentions are genuine.
Governor Tryon has come calling, and it is exactly what season four ended on; Jamie needs to hunt down Murtagh Fitzgibbons, the supposed head of the Regulators.  From their conversation, it appears that Jamie has been paying Tryon some lip service in his letters, but he has done nothing of substance to meet the requests of Tryon.  Because of his lack of action, Tryon is leaving Lieutenant Knox (Michael Xavier) at Fraser's Ridge with his men to help Jamie.  Jamie is now in a bit of a pickle and under the constant supervision of Tryon's men.
Throwing it way back to the first three seasons of Outlander, Jamie dons his kilt and does his own version of what the Laird Colum MacKenzie did in season one.  He lights his "Fiery Cross" and explains its significance.  He wants those that have settled on his land to pledge themselves to him and help him fight.  All of this is in plain view of Knox and his men.  Isaiah Morton pledges his fealty, along with a super reluctant Roger, and a surprised but happy Fergus.  The stage is set for the next step.
Writer Matthew B. Roberts bookends the episode with scenes between Jamie and Murtagh.  It opens with a young Jamie and Murtagh pledging his loyalty and protection to him after his mother's death.  It ends with Jamie releasing Murtagh of that pledge so that he may save himself from Jamie and those who are coming to hunt him down.  The end is utterly gut-wrenching since Jamie only got Murtagh back in his life and now he must push him away to save Murtagh's life.
"The Fiery Cross" begins season four with hope, and with two troubling developments that will cast a shadow over the season, Stephen Bonnet is alive and Murtagh's possible capture and death.  We have all of the Fraser family in one place, but in true Outlander fashion, nothing stays happy and content for too long.  That is not the Diana Gabaldon way.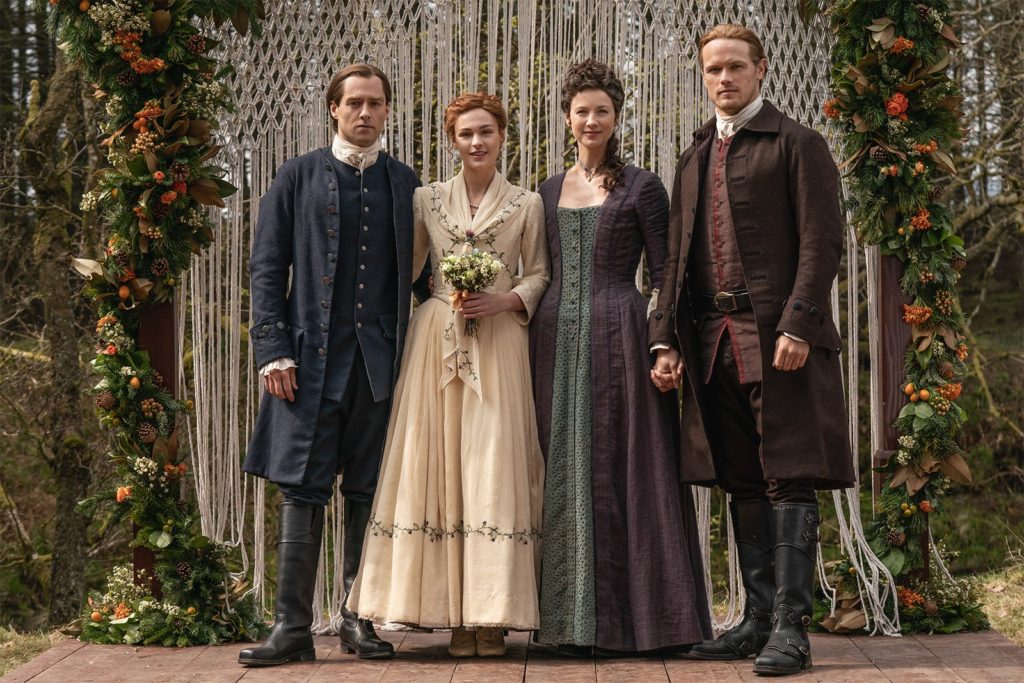 NEXT WEEK, SUNDAY, FEBRUARY 23RD AT 8 PM ET: EPISODE 502: "BETWEEN TWO FIRES"
"As Jamie continues to hunt Murtagh with the aid of the zealous Lieutenant Hamilton Knox, he's forced to consider whether or not he's on the right side of history.  Meanwhile, when a resident of Fraser's Ridge dies from a preventable ailment – which had been exacerbated by an ill-informed, though well-intentioned, use of folk medicine – Claire considers using modern methods to keep the settlers safe."
Photos and clips are courtesy of Starz.