**This is not a spoiler-free review of this episode. This review is also from a non-reader, and any comments revealing spoilers from the books will be deleted.**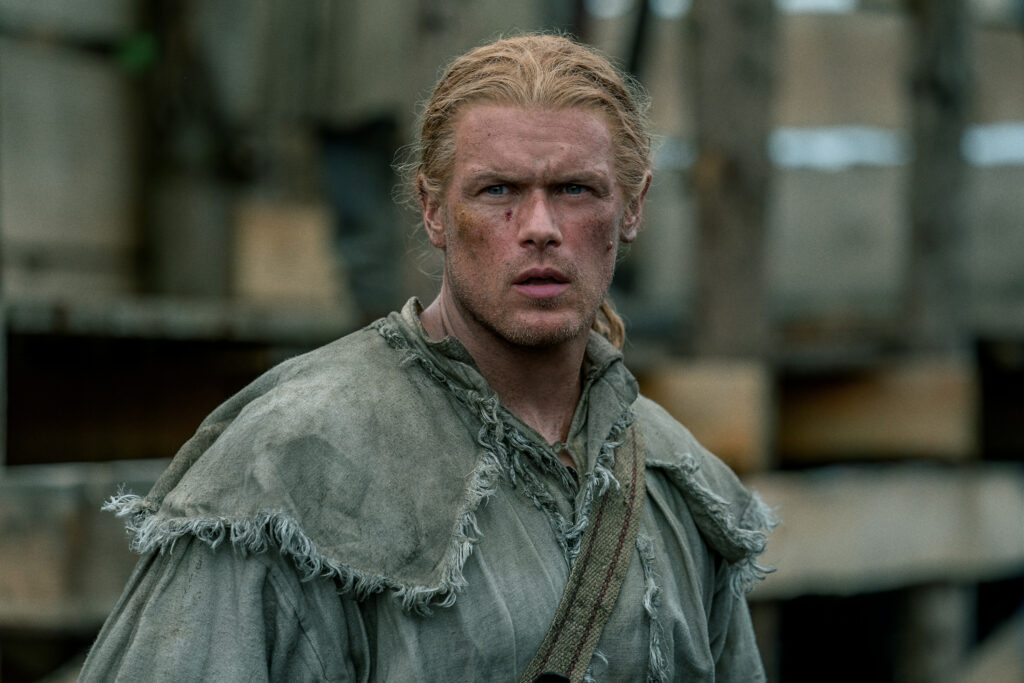 Take me home to WAIT THEY'RE ACTUALLY GOING BACK THIS TIME
Episode 708: "Turning Points"
Written by Luke Schelhaas, Directed by Joss Agnew
Of course, Jamie (Sam Heughan) wasn't dead. However, what I didn't expect (and I should've expected it; I'VE BEEN WATCHING THIS STUPID SHOW FOR YEARS) was Claire (Caitriona Balfe) nearly murdering her husband with her sharp verbal jabs.
I didn't realize how much I missed Angry Claire until she swore like a sailor at Jamie, who said, "Hey wife, in a bit of pain here."
It's understandable where Claire is coming from, though – it must be frustrating having a main character husband who is always like, "I must go off and be noble and nearly die doing brave main character things."
Naturally, Claire saves Jamie's life again. However, the couple is completely unaware that in the present day, Roger (Richard Rankin) and Brianna (Sophie Skelton) are beside themselves, knowing that the episode's resident a–hole kidnapped Jemmy and took him back in time.
Seriously, Rob Cameron, you have to be a MEGA a–hole to make BENEDICT ARNOLD look positively saintly.
SPEAKING OF…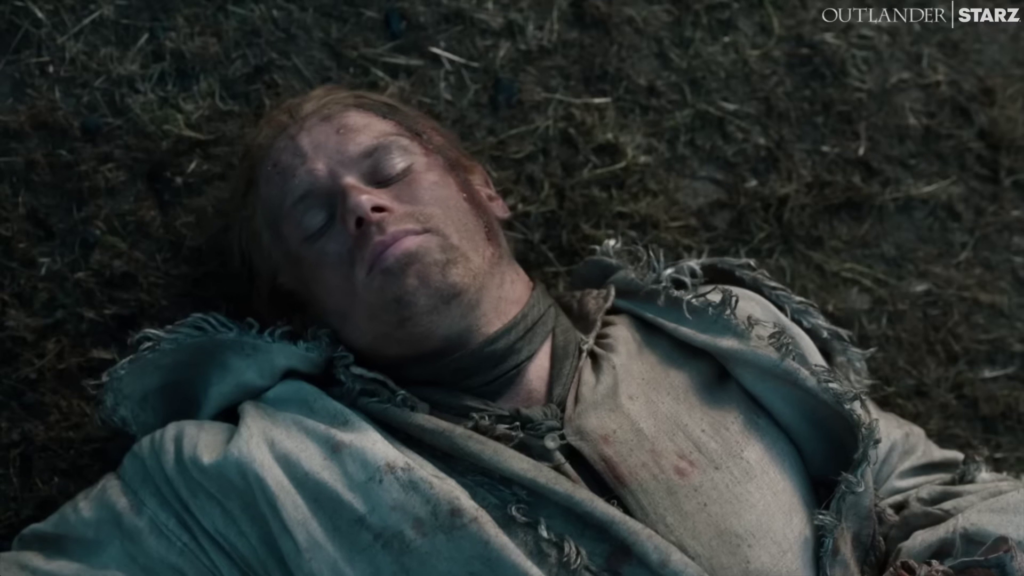 I didn't realize I was in an episode of Grey's Anatomy Sassenach 
Okay, that photo isn't Benedict Arnold, but anytime Sam Heughan gets to flex his comedic chops is a win in my book.
I did love the Benedict Arnold twist later on when Claire has that philosophical discussion with ONE OF THE MOST FAMOUS TRAITORS OF ALL TIME.
But again — what this season has done so well is show that both sides of the war aren't filled with mustache-twirling brigands. What Benedict ultimately chose to do in the war was awful, of course. Still, you can see Claire empathizing with him as America's OG traitor explains why he's so frustrated as a colonial officer.
DID I FIND MYSELF FEELING A BIT SORRY FOR BENEDICT AS WELL? (YES, YES, I DID.) 
Now if you excuse me, I will yell out five "Let Freedom Rings" to atone for my sins.
ANYWAYS.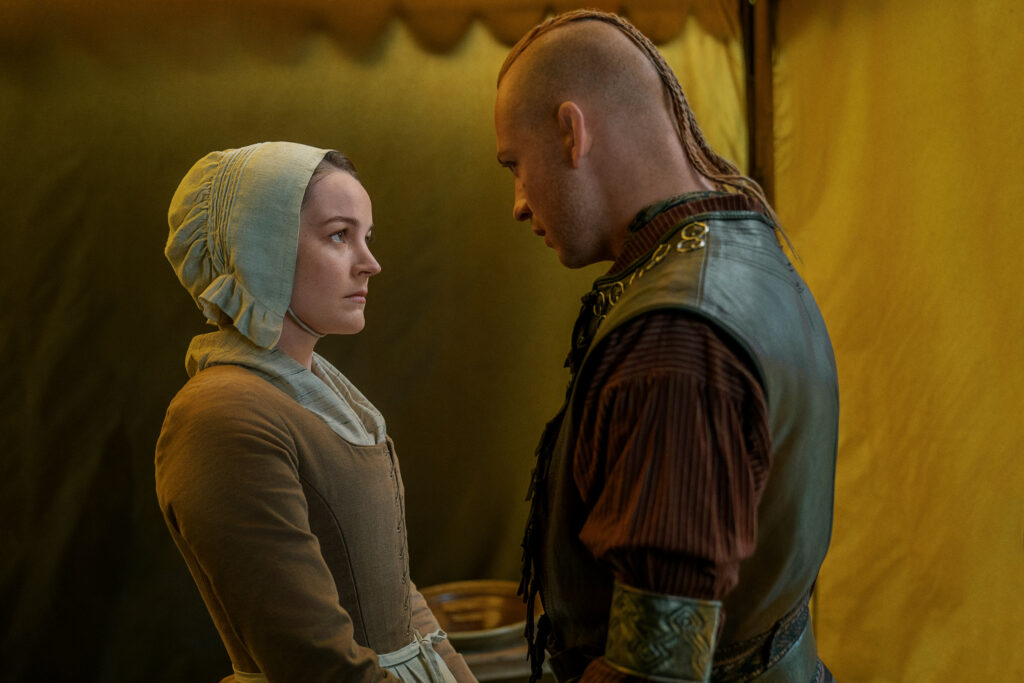 What is this, Quaker Bachelorette?
Meanwhile, Ian (John Bell) gets his groove back by planting one on Rachel, who immediately slaps him in response (probably not the enthusiasm Ian was looking for.)
It's hard to read Rachel, but that makes sense, given her Quaker upbringing. Does she love Ian too, or does she appreciate the attention from a man for the first time in her life? It's a bit hard to discern, but I've always appreciated how Ian wears his heart on his sleeve in all aspects of his life.
Rachel Hunter was playing hard to get before it was cool.
AND FOR THE LOVE OF ALL THAT IS GOOD, STAY AWAY FROM HER, MR. BUG, AKA THE THIRD A–HOLE OF THE EPISODE.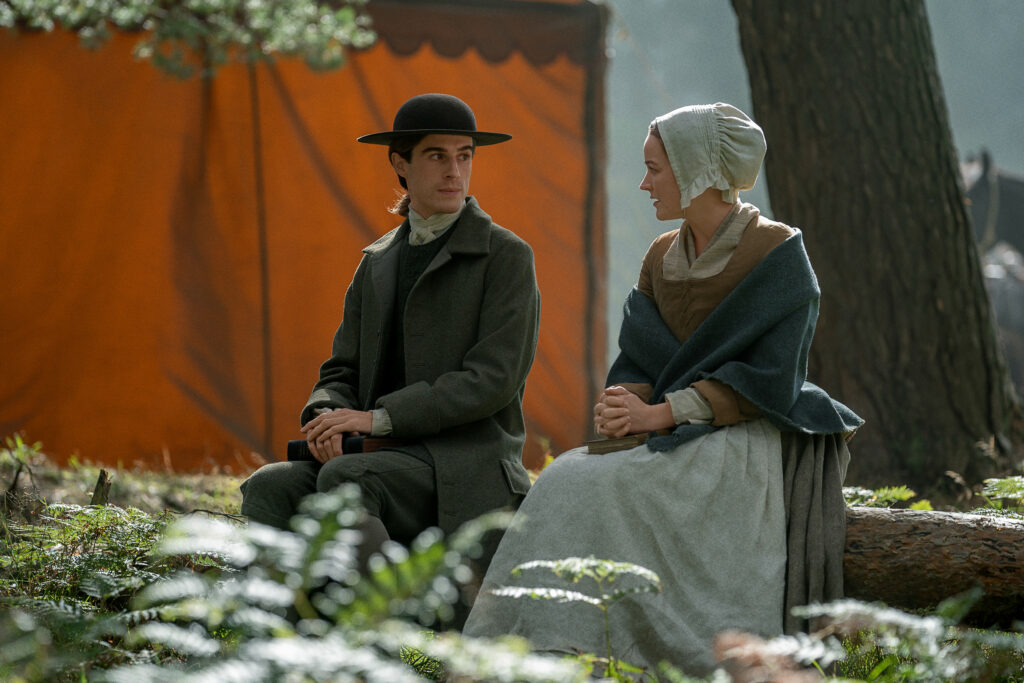 Well, at least he's not Allan Christie.
Denzel is like, 'Prithee sister, our fellow Quakers will c—block thee if you want to date Mr. Murray,' so naturally, that will make Rachel want to be with Ian more.
Meanwhile, Jamie nearly kills his son William on the battlefield.
Okay, he only blew off his fancy British soldier cap, but you can tell the moment shatters Jamie to the core. After all, he explicitly said he didn't want to face a loved one on the battlefield, and here he is, nearly killing a loved one!
Speaking of loved ones, Jamie's British relative makes one last request to see his cousin before he dies in the aftermath of the episode's latest battle.
It's a prime setup for Jamie to reunite with his son – and let's just say they aren't going on any father/son fishing trips anytime soon.
However, Jamie does return William's hat to him in the most awkward exchange of ALL TIME.
It's clear that William senses that he has SOME connection with the redheaded Scot.
Does he EVER find out, via a colonial Jerry Springer-esque setup, that Jamie is his birth father? WAIT, DON'T ANSWER THAT.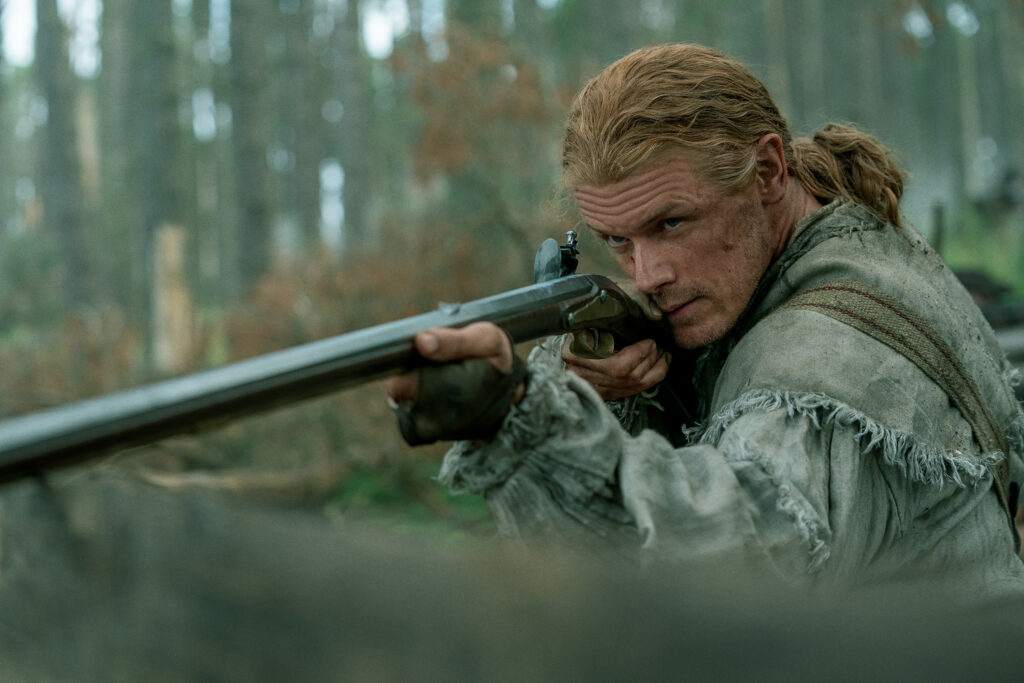 What better way to bond with one's son than by nearly killing him? A book by James Fraser 
While I initially didn't care about Jamie's British cousin dying, the scene's purpose made all the more sense when Jamie and Claire were entrusted with returning his body to SCOTLAND.
FINALLY.
THEY'RE GOING BACK.
I'm happy they didn't show a lot of time of them on the boat, just skipping STRAIGHT to the Scottish point.
And can we just.
APPRECIATE.
THE LOOK
ON SAM'S FACE IN THAT LAST SCENE?
AHHHHHHH
That look where Jamie and Claire saw Scotland again was utterly priceless. It was the first time in the season that I genuinely teared up.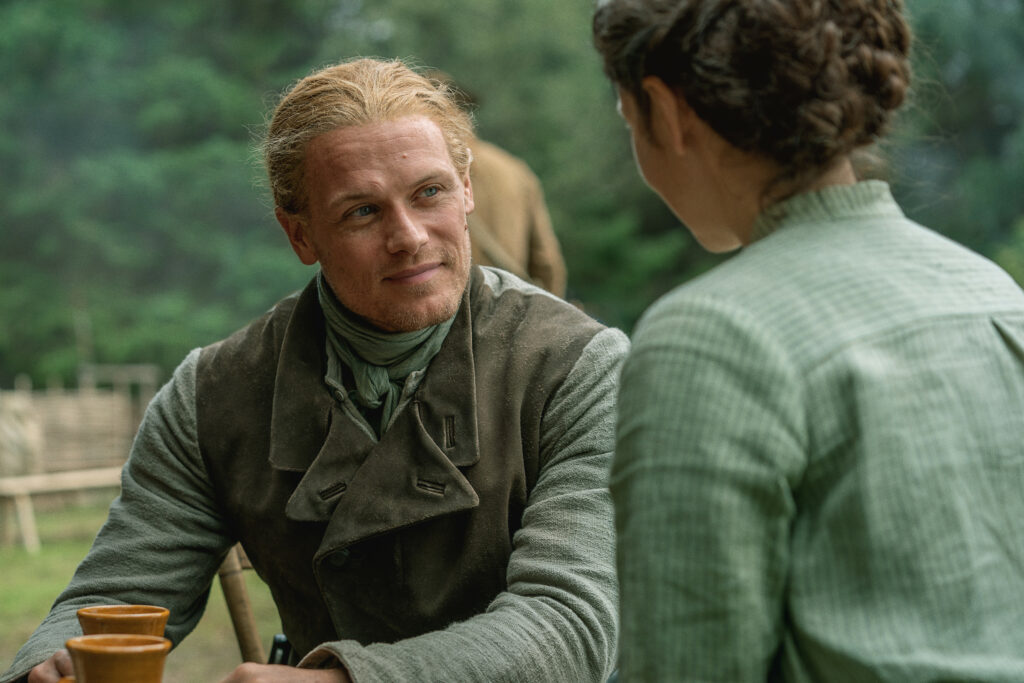 THEY DESERVE EVERYTHING, OKAY
However, I'm genuinely scared for Rachel, given how Mr. Bug looked at her. Will William have to step in and save the day, bringing THEM closer together while Ian is overseas?
I have NO idea, and I love that. Until next time Outlander fans! (AND WAIT, WHERE DID ROGER END UP BACK IN TIME??)