[This is not a spoiler-free review of the episode. If you have not seen the episode yet, read it at your own spoiler risk.]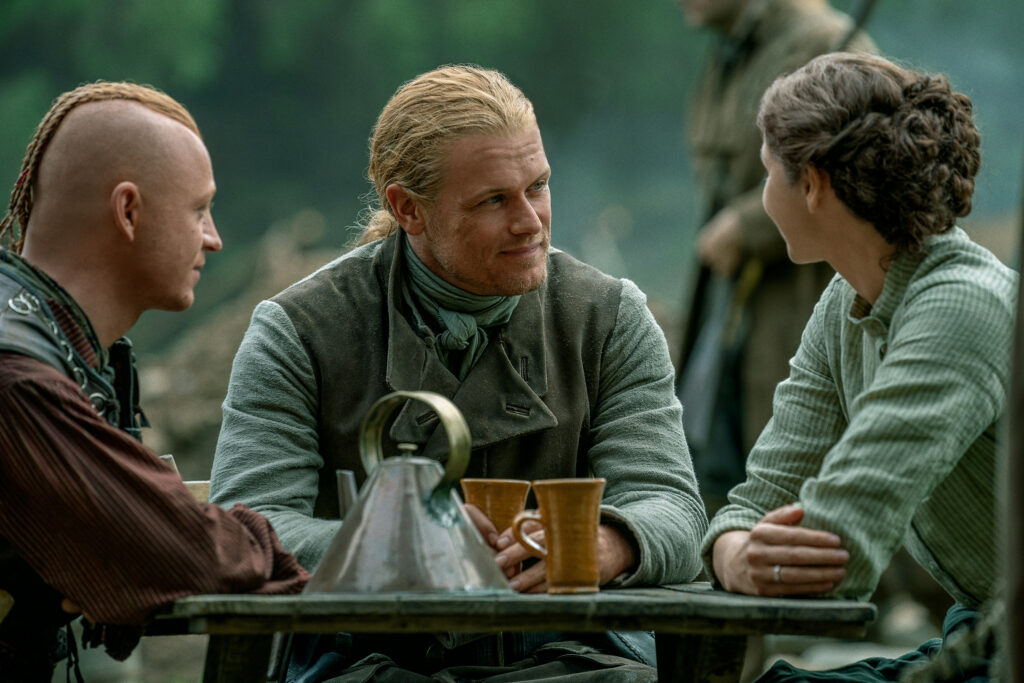 Episode 708: "Turning Points"
Written by Luke Schelhaas, Directed by Joss Agnew
Ah, Starz.  Once again, Starz has split a sixteen-episode season of Outlander into two parts, with at least a several-month break between the two halves.  At this point, we are going into another half of season seven in 2024, when the show has already been airing for nine years.  While the hard work going into the show is appreciated, I sympathize with those expressing woe for the ridiculously long breaks between seasons … or half seasons.
If you were worried about Jamie (Sam Heughan) possibly being dead, you had to be relieved within the first five minutes of the episode.  He lay on the battlefield, heavily conked on the head and with a large gash on his hand, but he was easily roused by Claire (Caitriona Balfe) after she fought off the battlefield version of grave robbers.  Claire lets him have it, angry with him for joining the "fray."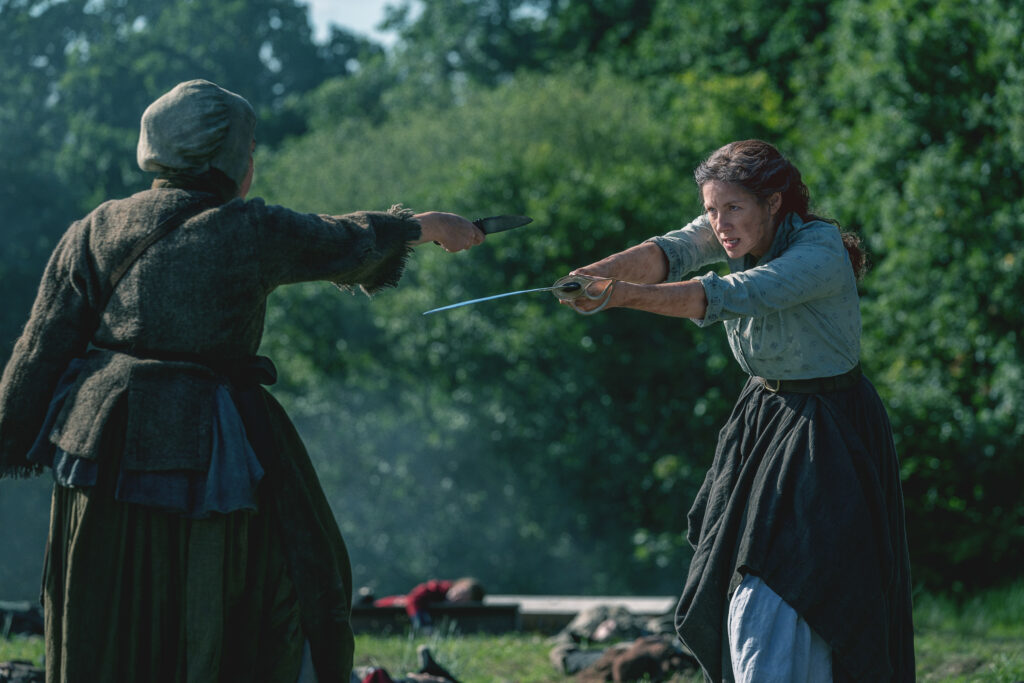 Back at camp, Claire is able to stitch up the significant wound on his hand that would almost cut it lengthwise in half if there had been more force behind the sword.  Claire provided Jamie with laudanum for pain relief while performing the surgery.  That stuff must pack a punch because, being stitched up with no numbing, I certainly would have thought you would still feel something.  After the surgery, or maybe a few days after, he is able to flex his hand and make a fist and be healed enough to join in the next battle.  I would have been wincing in pain with every stretch of my hand.
A well-known historical character was introduced in this episode: Benedict Arnold (Rob Hallett).  He comes to Claire to trade for some bark that relieves malaria symptoms.  He opens his chest of tinctures, explaining he used to own something like an apothecary store.  Claire seizes on the laudanum and asks if there might be more.  This inquiry leads to a back and forth with sly questions inquiring if either is addicted to the substance.  Considering Claire's ether addiction, I was waiting to see if she would say something about it.  Before they part, Claire is formally introduced to Benedict, and she looks surprised to meet his acquaintance, knowing who he is from history books.  Claire explains to Jamie who he is to history and questions if there is anything they could do about him without affecting the future.  In this episode, he is characterized as a hero and an upstanding officer in the Continental Army, with a lot of respect from those under his command.
Ian (John Bell) is grappling with some issues of his own.  He is still scouting for the rebels and dealing with matters of his heart regarding Rachel Hunter (Izzy Meikle-Small).  Upon acquiring some goose grease for Denzel (Joey Phillips), he makes her acquaintance again, which leads to some kissing (and a slap to make sure he knows she is a chaste lady) and some overtures of having to keep himself from taking her right there.  A Quaker and a Native American scout who has been married once and killed men inside and outside of battles will not go over well in Rachel's community, and Denzel is plain with her in these facts.
Denzel himself is struggling with seeing the carnage of war, a first for him, and how many of his patients he has lost.  Claire can be someone he can talk to about it and reassure him that what he is doing is making an impact, even though it may not feel like it.
Before the next battle, there is a fireside pep rally of sorts in which Colonel Daniel Morgan (Barry O'Connor) reveals why he hates the British so much and why others should as well: the 499 lashes on his back.  This sight of his back is shocking because Jamie has the same scars.  Claire and Jamie walk away from the gathering without revealing to Morgan that Jamie is a bit of a kindred soul.  We shall see if they cross paths again in life.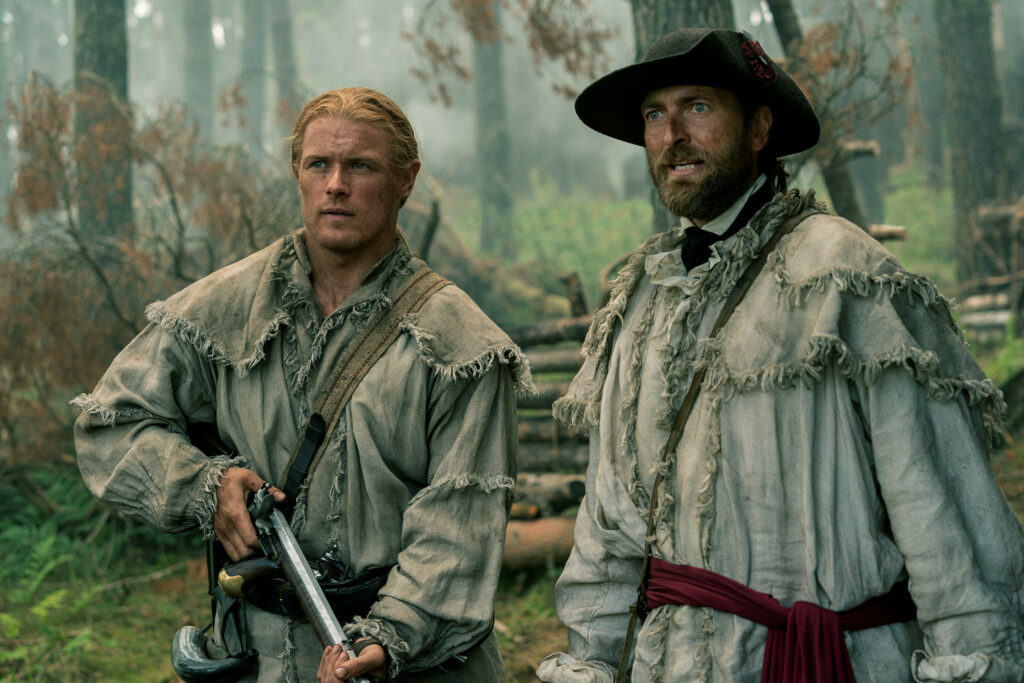 The second battle of Saratoga was a bit more action and blood than the previous episode.  We have riflemen ganging up to try to take out Brigadier General Simon Fraser (Angus MacFadyen), which eventually works.  Jamie almost kills his son, William (Charles Vandervaart), but blows his hat off instead.  That will cause Jamie some nightmares in the future.  The rebels are able to climb over the British's walls and defeat them, Jamie again joining in the "fray" and being saved by Ian.
The aftermath of the battle is the impending death of General Fraser, who is able to call for his second cousin Jamie to say goodbye to him on his deathbed.  It's a touching scene with the pair reminiscing about when they last saw each other, allowing Simon to be comforted in his last moments.
After his death, Jamie is able to talk to William briefly, apologizing for shooting his hat off his head, resulting in William looking gobsmacked that his childhood friend almost killed him.  Jamie gives William his hat in return.  The next day General Gates (Ged Simmons) comes to Jamie to ask him a favor, to take Simon's body back to Scotland.  Jamie and his family would be transported on a British ship both ways.  It is finally time for the Frasers to return to Scotland and on the British dime.
Ian leaves Rollo with Rachel, and in Ian's absence, she runs into Arch Bug (Hugh Ross), who immediately recognizes the dog.  Arch can now see that Ian has a girl, and I am sure we will be returning to that storyline sometime soon.
The show wisely skipped over the travails of the sea voyage, only showing a brief scene with Jamie still seasick and Ian missing his dog.  The episode ends with them seeing Scotland again for the first time, giving them hope and happiness to see home again.
On the MacKenzie front, Roger (Richard Rankin) decides to go back through the stones with Buck (Diarmaid Murtagh) to find Jemmy, who Rob Cameron has taken.  They dust off their year-appropriate garb and head to the stones.  Brianna (Sophie Skelton) stays behind with Mandy (Rosa Morris).  There are a lot of complex issues with going back through the stones to find someone when you don't know "when" he is.  Of course, having googled what happens, it should be quite interesting to see how it all plays out and if the show gives the time to this little goose chase.  One thing that puzzled me was Mandy's complacency in seeing her father and new friend just disappear through the stones.  She's never seen it happen, and that would absolutely terrify me as a little girl.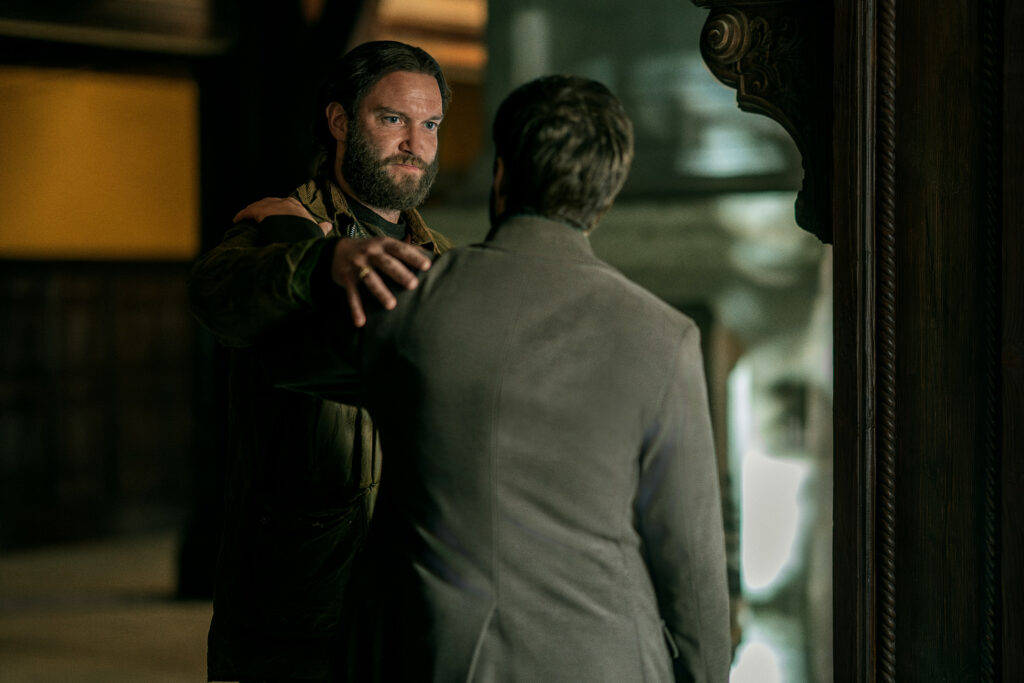 With "Turning Points" being the mid-season finale for the first half of season seven, we have been left an ebb and flow of remarkable and fantastic episodes, along with episodes that just felt like filler.  Granted, this season is one of the better seasons of the show.  It is pleasant to see Jamie and Claire end with a moment of happiness for once, along with Ian, but the other half of the show and the family is starting a nerve-wracking search with so many unknowns.  Even if you are not a book reader, but at least a fan that keeps up with news about the series, the casting news a while ago is enough to clue you in on events that will happen and characters that we will meet or re-meet in the second half of the season.  "Turning Points" kept the focus on the Frasers with only a couple of steps away to the MacKenzies, and the episode is better for it.  Considering the previous episode ended with a Jamie cliffhanger (eye-roll), the audience would have been chomping at the bit to see what happened to him, and the audience is rewarded with a Jamie-centric episode, along with another battle scene that makes us scream, "Get out of there!"  I think we can all agree that Jamie keeps putting Claire through the wringer, and Jamie, indeed, has a hero complex.  However, Claire can more than put Jamie through his own wringer with her constant way of getting into trouble.
And now Droughtlander begins again for the umpteenth time.  Outlanders are a patient fan base.