**This is not a spoiler-free review of this episode. This review is also from a non-reader, and any comments revealing spoilers from the books will be deleted.**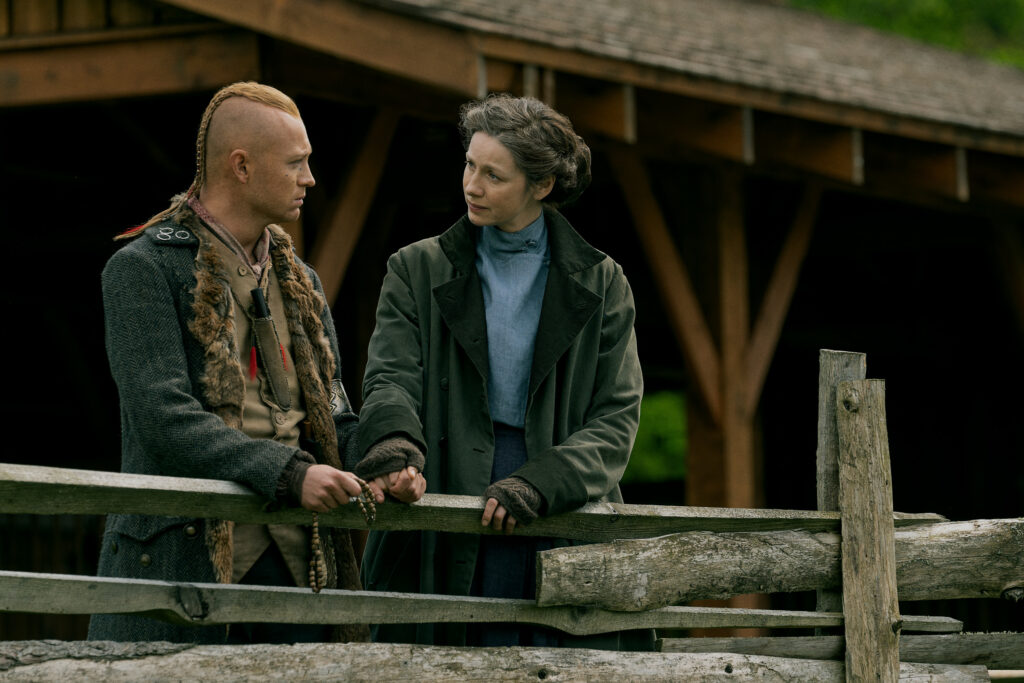 Jamie and Claire Call Pest Control
Episode 703: "Death Be Not Proud"
Written by Tyler English-Beckwith, Directed by Jacquie Gould
OK.
Confession.
I didn't care about the Bugs.
I had honestly forgotten they existed!
But let's jump back to that explosive opening, shall we?
Brianna and Roger look super cute in their 60s regalia, and all I could think was, "How kind of Diana Gabaldon to give the costume department a bit of a break, such foresight."
They open up a box of letters that Jamie (Sam Heughan) wrote to Brianna, and suddenly I am sobbing, and it hasn't even been five minutes, and I hate everything.
The sensible girl that she is, Brianna vows not to open all the letters at once so it feels like her Da is still alive.
Speaking of alive…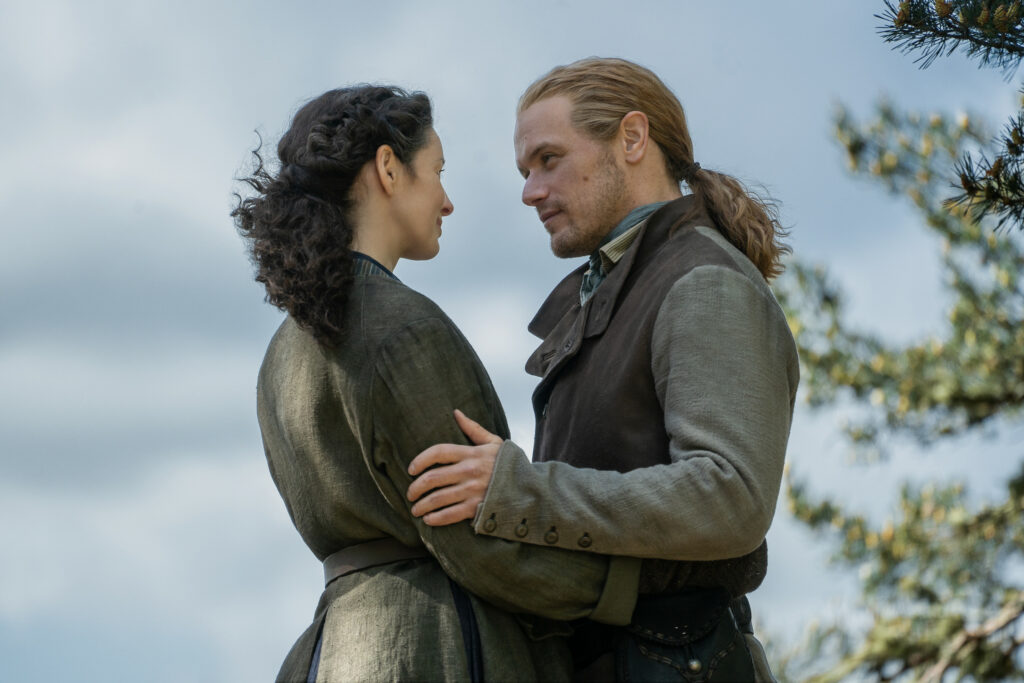 Alexa play "I Will Survive" by Gloria Gaynor.
Wendigo Donner (Brennan Martin) is a MORON, and he didn't have to cause an explosion? Like, WTF? Did he leave his common sense behind in the future?
So he's basically dead, but Jamie and Claire (Caitriona Balfe) get the heck outta dodge because they're the main characters, and this show still has another season.
It turns out the Bugs were hiding gold from the second season, and honestly, I had a hard time recalling that plotline. But basically, Mr. Bug (Hugh Ross) stole gold that didn't belong to him and put Claire and Jamie in danger as a result.
Jamie is understandably pissed. The Bugs are banished, but then they're stupid like Wendigo and try to retrieve the gold in the dark of the night.
It's just a sad situation all around when Young Ian (John Bell) accidentally kills Mrs. Bug, but I'm with Claire on this one. Young Ian had every right to protect Jamie at that moment.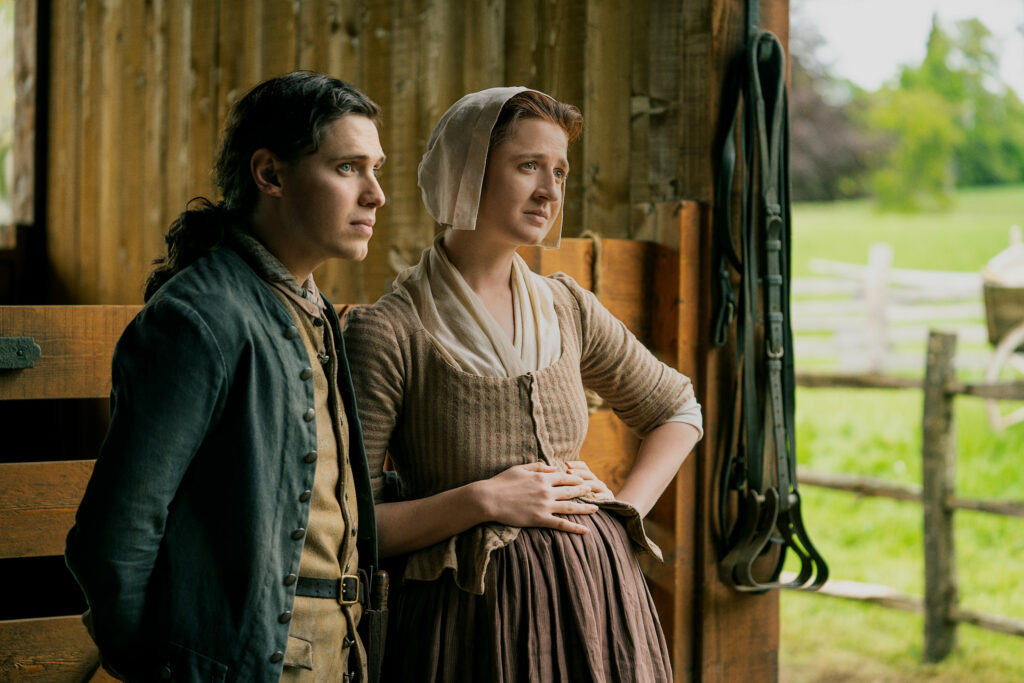 Who's your daddy? No. Seriously.
Mr. Bug threatens to KILL ROLLO AT HIS WIFE'S FUNERAL, AND YOU, SON OF A –
I commend Ian for his offer to Mr. Bug, but I had difficulty feeling sorry for the couple once again. (I had honestly forgotten about them as characters.) 
But it's clear that we haven't seen the last of Mr. Bug, and I SWEAR IF HE HURTS ROLLO, I WILL SET FIRE TO THE RAIN, ADELE STYLE.
You get what I mean, right?
ANYWAY
Lallybroch returns spectacularly in the past and present, with Jamie determined to finally fulfill his promise to Jenny (Laura Donnelly) and return Young Ian safely to her.
In the present, a new opportunity arises for Brianna and Roger, who continue to sulk around the whole episode (GO BACK TO THE PAST WHO NEEDS RUNNING WATER ANYWAY??)
I got a strange sense of foreboding when Claire and Jamie prepared for their trip to Lallybroch, and Claire appeared to sense that something bad would also happen.
After all, this episode did a good job of lulling us into a false sense of security with Claire and Jamie surviving the explosion/house fire that was supposed to kill them (which led to the BEST LINE OF THE EPISODE FROM CLAIRE – "Bloody newspapers never get anything right!")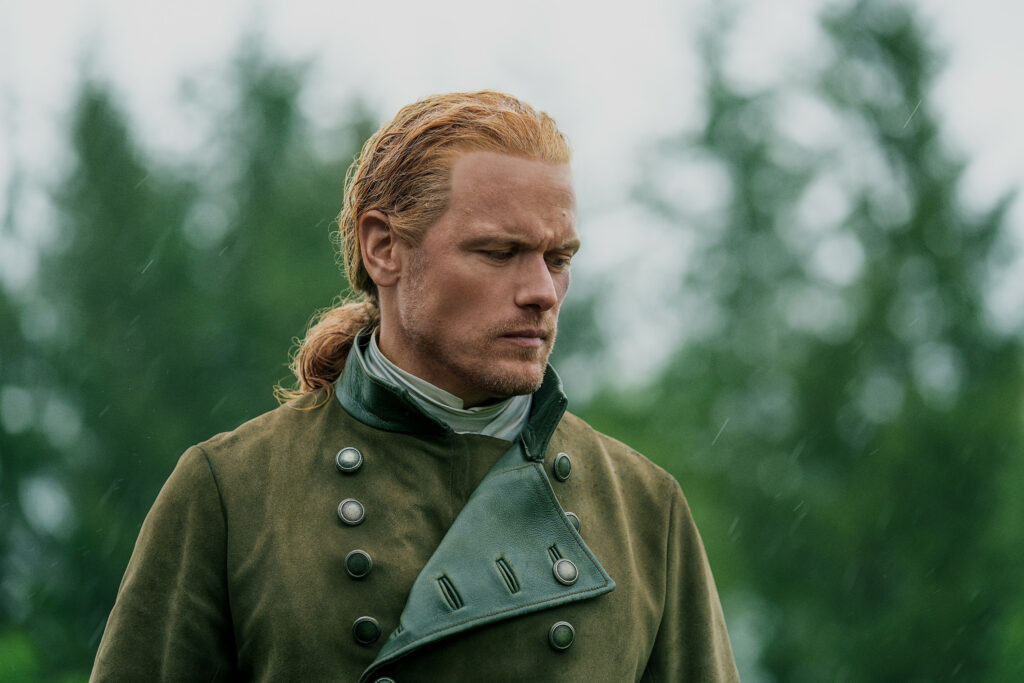 But Sassenach, I'm trending! 
I got the vibe that this episode felt like the calm before the storm, things are changing, and the war is on the way, and JAMIE'S FACE WHEN TALKING TO LIZZIE AND THE TWINS WAS PRICELESS.
Seriously, I don't think Sam Heughan gets enough credit for his comedic timing. Looks may fade, but a man with a sense of humor is timeless.
DID I MENTION THAT ADSO WAS MISSING THIS WHOLE EPISODE?
WHEN I TELL YOU THAT DETAIL STRESSED
ME
OUT.
Claire finally finds the cutest cat on the Ridge when she, Jamie, and Young Ian are on their way to find a ship to Scotland (if only 18th-century ships took credit card points.)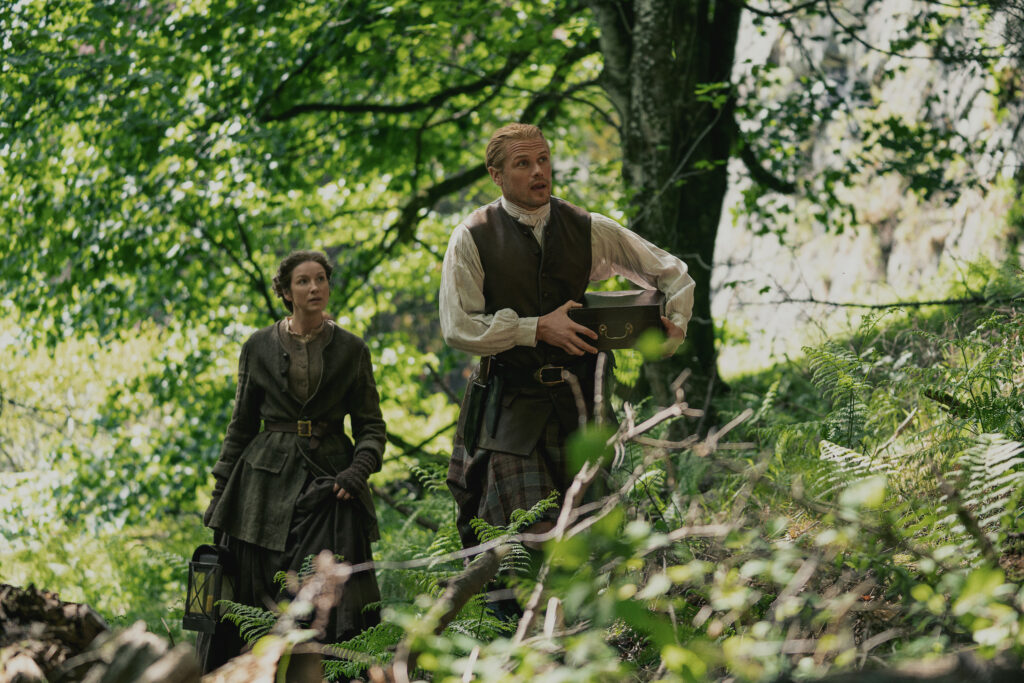 Who needs gold when you have a good credit card with a low-interest rate? Am I right?
ALSO, I AM THE DUMBEST PERSON IN THE WORLD BECAUSE I LEGITIMATELY ACCIDENTALLY READ THE CARVING IN THE TREE AS "JR," LIKE BLACK JACK RANDALL. (I think we all did. – Sarah)
NO, I DON'T NEED GLASSES. I DON'T KNOW WHAT YOU'RE TALKING ABOUT.
Claire and Jamie remember how they carved FR (FR KAT, NOT JR GEEZ) into the tree to stake the land as Fraser's Ridge.
Our favorite couple resolves to build a new home together when they return, and THEY'RE GOING TO GET BACK SAFELY. RIGHT NOTHING BAD CAN HAPPEN TO THESE TWO; WE STILL HAVE ANOTHER SEASON LEFT.
This was the weakest episode of an otherwise strong season so far, but I get that the narrative sometimes needs to slow down to build up what's to come.
All I know is that Jamie and Claire will be JUST FINE, and everything will be sunshine and roses from here on out.
Right?
NEXT WEEK, FRIDAY, JULY 7, AT 8 PM ET: EPISODE 704: "A MOST UNCOMFORTABLE WOMAN"
Synopsis: "On the way to Scotland, Jamie is pulled back into the Revolutionary war. William is sent on a covert mission. Roger and Brianna struggle to adapt to life in the 1980s."