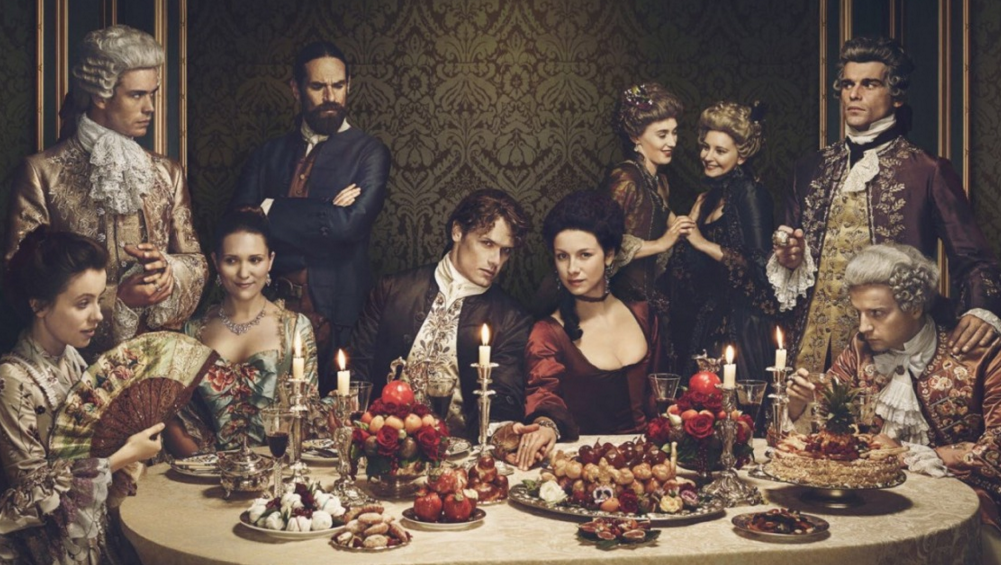 Overview
Blu-ray Basics:
-5 disc set
-13 episodes
-Subtitles: English, English SDH, French
-Episode runtime: 773 minutes
-Special Features: Deleted & extended scenes with introductions by Ronald D. Moore, gag reel, From Book to Screen: Discovering the Differences, The Characters of Season 2
-Blu-ray exclusives: "Faith" extended episode, "Dragonfly in Amber" alternative scene, Jamie & Claire: To Hell and Back, Designing History: The Costumes of Outlander, Recreating 18th Century Paris, Outlander podcasts
-UltraViolet digital copy code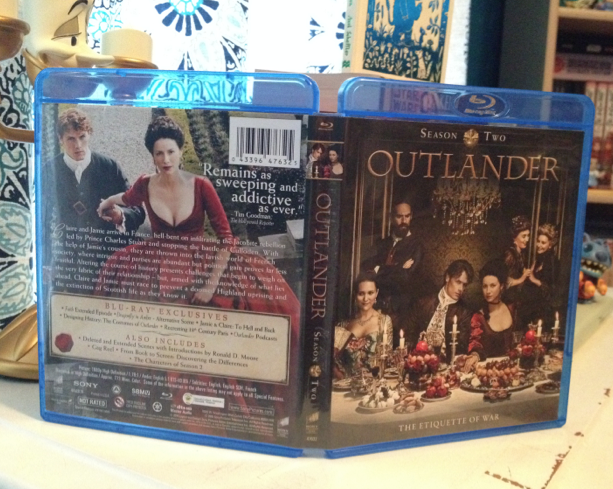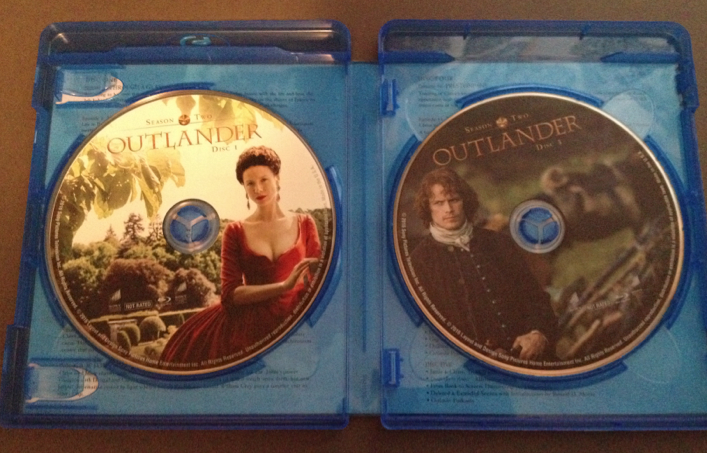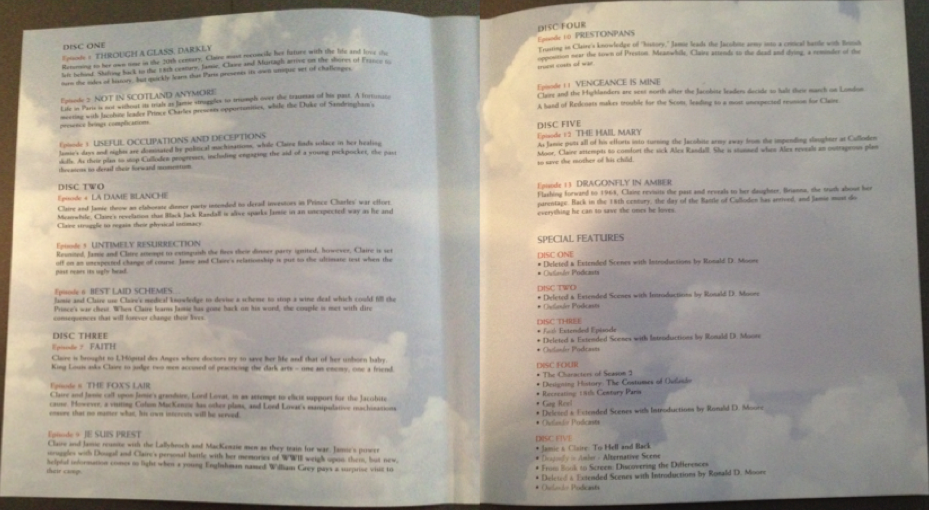 The Discs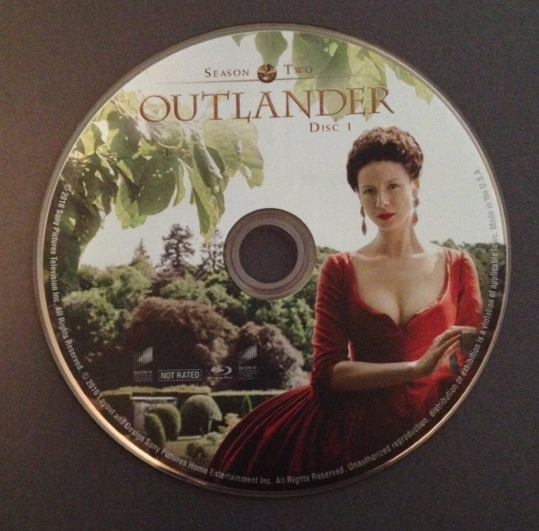 DISC ONE
EPISODES:
"Through A Glass, Darkly"
"Not in Scotland Anymore"
"Useful Occupations and Deceptions"
SPECIAL FEATURES:
–Outlander podcasts
-Deleted & Extended Scenes with Introductions by Ronald D. Moore
"Through a Glass, Darkly"
To His Majesty Over the Water (8:04)
Extended scene of Jared agreeing to help Jamie and Claire & a Jacobite toast
God's Eternal Plan (2:08)
Frank watches young Roger play with a model airplane
"Not in Scotland Anymore"
Give Me Your Hand (3:43)
Original opening with Claire and Jamie
A Friendly Warning (7:39)
Extended scene of Claire meeting Master Raymond
"Useful Occupations and Deceptions"
Choose One for Yourself" (2:04)
Extended scene of Jamie and Price Charles in the brothel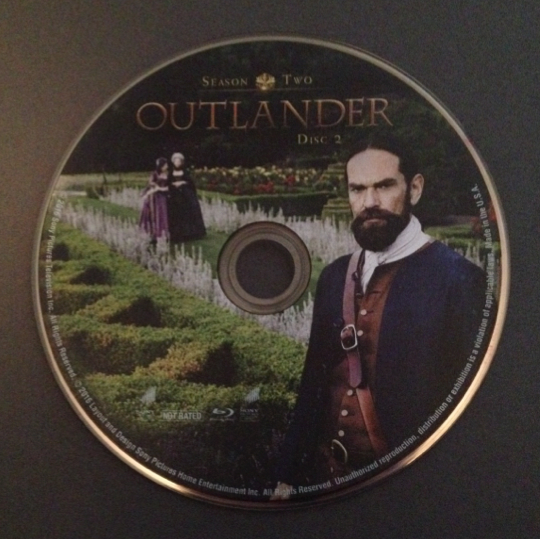 DISC TWO
EPISODES:
"La Dame Blanche"
"Untimely Resurrection"
"Best Laid Schemes…"
SPECIAL FEATURES:
–Outlander podcasts
-Deleted & Extended Scenes with Introductions by Ronald D. Moore
"La Dame Blanche"
Charles Likes What He Likes (2:58)
Claire overhears a conversation between Jamie and Fergus
Medicine is Your Calling (3:14)
Mother Hildegarde sees a future for Claire as a physician
"Untimely Resurrection"
I'm Needed Here (4:30)
Claire and Fergus talk after a disastrous dinner party
A Kind and Loving Mother (7:11)
Extended scene of Jamie giving Claire a set of apostle spoons
"Best Laid Schemes…"
Like Cheese for the Rats (7:30)
Extended scene of Jamie and Fergus setting up their scheme for St. Germaine's men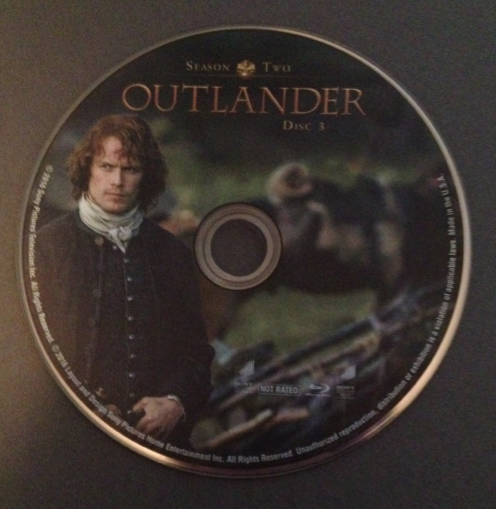 DISC THREE
EPISODES:
"Faith"
"The Fox's Lair"
"Je Suis Prest"
SPECIAL FEATURES:
–Outlander podcasts
-Extended "Faith" episode
-Deleted & Extended Scenes with Introductions by Ronald D. Moore
"Faith"
Practitioners of the Dark Arts (3:32)
Extended star chamber scene
How can we ever be the same? (4:02)
Extended scene of Claire and Jamie's conversation after the events of "Faith"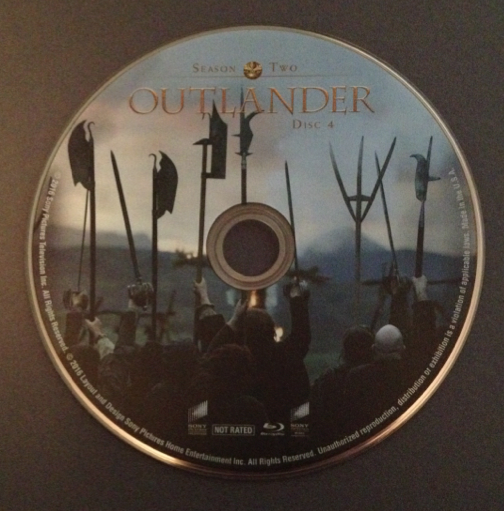 DISC FOUR
EPISODES:
"Prestonpans"
"Vengeance Is Mine"
SPECIAL FEATURES:
–Outlander podcasts
-Deleted & Extended Scenes with Introductions by Ronald D. Moore
"Prestonpans"
Hell or Glory (1:55)
Dougal rides through camp
History Isn't to Be Trusted (4:04)
Claire and Fergus visit the soon-to-be field hospital
Chamber's Empty (3:07)
Extended scene of Jamie's pissing contest in the field hospital
Dougal on the Battlefield (1:39)
Dougal attacks a man in battle
FEATURETTES:
The Characters of Season 2 (13:43)
Feautres: Sam Heughan (Jamie), Caitriona Balfe (Claire), Stanley Weber (Le Comte St. Germain), Andrew Gower (Prince Charles Stewart), Rosie Day (Mary Hawkins), Tobias Menzies (Jack & Frank Randall), Lionel Lingelser (King Louis XV), Ronald D Moore (Executive Producer), Maril Davis, Diana Gabaldon (author)
Take a look back at the new characters introduced during Outlander season two.
Designing History: The Costumes of Outlander (10:55)
Features: Caitriona Balfe, Sam Heughan, Tobias Menzies, Duncan Lacroix (Murtagh), Claire Sermonne, Andrew Gower, Stanley Weber (Le Comte St. Germain), Rosie Day, Lionel Lingelser, Maril Davis, Terry Dresbach (Costume Designer), Ronald D. Moore, Ann McEwan (Make-up and Hair Designer)
Costume designer Terry Dresbach discusses her approach to season two's Parisian setting.
Recreating 18th Century Paris (11:54)
Sam Heughan, Caitriona Balfe, Claire Sermonne, Lionel Lingelser, Andrew Gower, Ronald D. Moore Moore, John Gary Steele (Production Designer), Gina Cromwell (Set Decorator), John Casey (Property Master), Maril Davis
Members of the production team discuss recreating 18th century Paris.
"Gag Reel" (5:24)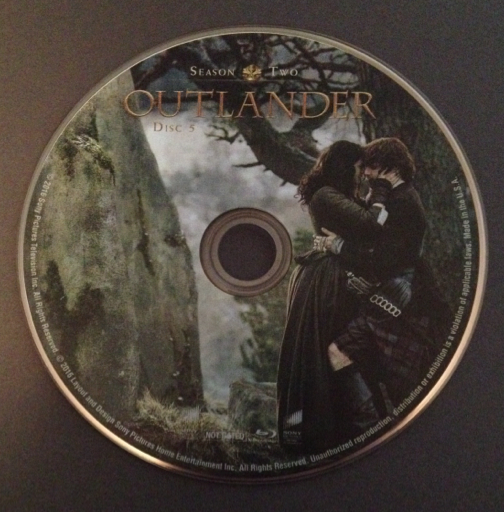 DISC FIVE
EPISODES:
"The Hail Mary"
"Dragonfly in Amber"
SPECIAL FEATURES:
–Outlander podcasts
-Deleted & Extended Scenes with Introductions by Ronald D. Moore
"Dragonfly in Amber"
I'm Sorry Uncle (1:53)
Alternate fight scene between Jamie and Dougal
We Will Win (3:52)
Jacobite high command argues over battle plans
Shall We All Go and Find Some History? (1:55)
Roger offers to take Brianna and Claire sightseeing
Seasons are Just Mere Suggestions (2:02)
Roger & Brianna drive through the snow and discuss Frank & Claire's time in Scotland
Tell Her I Love Her (4:55)
Claire talks to Gillian's husband
FEATURETTES:
Jamie & Claire: To Hell and Back (10:31)
Features: Sam Heughan, Caitriona Balfe, Ronald D. Moore, Maril Davis, Diana Gabaldon, Toni Graphia (Executive Producer)
Outlander's cast & producers discuss the ever changing relationship between Jamie and Claire.
From Book to Screen: Discovering the Differences (10:44)
Features: Sam Heughan, Caitriona Balfe, Diana Gabaldon, Ronald D. Moore, Toni Graphia, Matthew B. Roberts (Co-Executive Producer), Maril Davis
Outlander's cast & producers discuss the process of adapting Diana Gabaldon's books for a television series.
Review
Another Outlander season, another Blu-ray set. One of the issues fans had with the season one's Blu-rays was the division of the series into two Blu-ray/DVD releases, and while do have the complete second season with a single release, the packaging does leave a bit to be desired this time around.
The format of the Blu-ray release has not changed between seasons with each disc containing two to three episodes, as well as the podcast and deleted/extended scenes for each episode. Additional featurettes can be found on the final two discs, offering more insight into the show's second season.
Of the five featurettes, I found Designing History: The Costumes of Outlander, Recreating 18th Century Paris, and From Book to Screen: Discovering the Differences to be the most engaging. I am a sucker for anything to do with costume & production design and these features offer a closer look at season two's new Parisian setting.
Looking back at my reviews for the first season's Blu-ray sets, I saw that one of my biggest issues was the packaging. While I liked the aesthetics, I did say I preferred a simpler packaging. Well, I got my wish, and I am still not pleased. The standard Blu-ray case is not the problem, but rather the stacking of discs I take major issue with. As you can see in the picture below, there are only two discs visible when the case is open and that is because the remaining discs are underneath, with a total of two discs on the left and three discs stacked on the right. The only other time I have encountered this method of packaging was with a TCM collection of four classic movies. While I was not a fan of it in that instance, I was not bothered since I was rarely going to be taking out the discs. With a TV series, especially one as re-watchable as Outlander, fans will be switching discs more frequently and this just makes it difficult to accomplish. I know that Blu-ray discs are more scratch resistant than DVDs, but it can happen, and that does not make this set presentation ok in my book.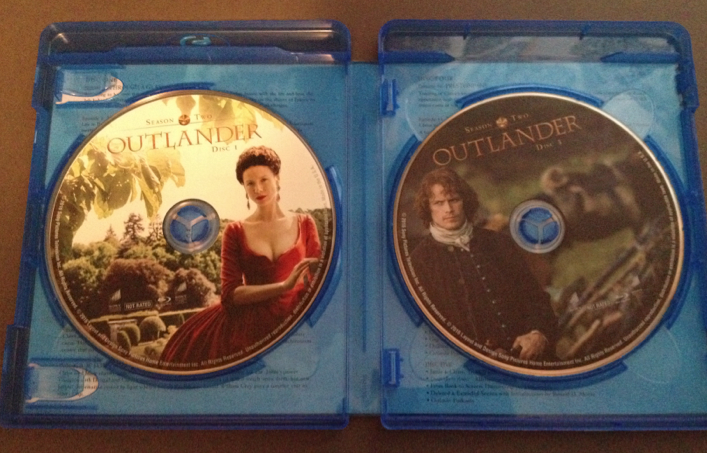 Overall, the season season Blu-ray set is a great addition to any
Outlander
fan's collection. While I do wish the Amazon exclusive edition with its fancy packaging and extra special features was more affordable, this standard set has great picture quality, a decent amount of deleted/extended content, and a few fantastic featurettes to hold fans over until season three returns next year.