**This interview is full of spoilers.  If you have not read Voyager and do not want to know any major plot points of season three, turn back now.**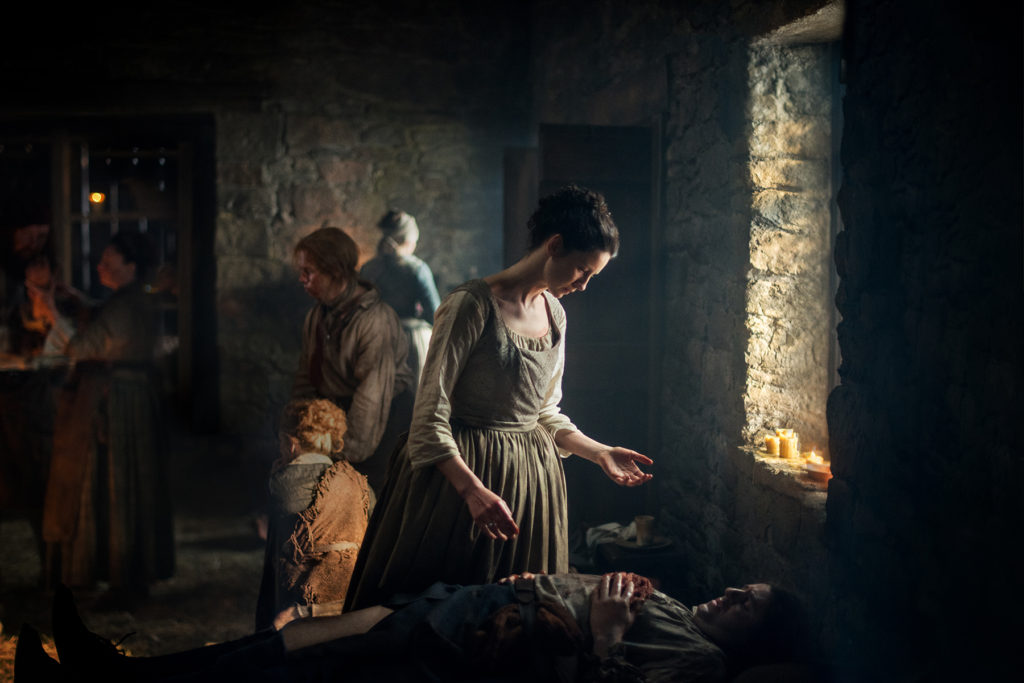 Like Sam Heughan, Caitriona Balfe also gave an interview to Vanity Fair.  This interview was given after EW PopFest had taken place, so the topic of Diana Gabaldon's last book is discussed.  Caitriona also talks about possible more "sexy times" (my words, not hers) and some events in season three.   Excerpts are below, but head over to Vanity Fair to read the entire interview.
But because you have such a passionate fan base, I know you get constant feedback when the Outlander lovers feel something is missing. What did they miss most in Season 2?

I definitely heard that they missed a lot of the intimacy between Jamie and Claire, which I think we were sort of expecting. I think even Sam and I sort of missed—especially in the beginning because it was so heavy on the politics—I think we were all missing those more intimate moments. They have so many of their iconic fan moments that they really are looking forward to, so you definitely always hear whenever some of those are not there. I'm trying to think of specifics for you, but the one that I just kept hearing, from what I saw on my Twitter: "Where's the sex?"

Which of these iconic fan moments will you be in trouble for leaving out of Season 3?

The first thing everyone talks about is the print shop [where Jamie and Claire are re-united after decades apart]. "Are you going to do the print shop? You can't change one line of the print shop." We haven't actually gotten to film that yet, but I think the writers are well aware that they have to do the fans right. There's Jamie and the cave, and I think there's a lot of Claire and Brianna stuff that fans are looking forward to as well.

Season 3 is a big leap as you go from playing the ingenue to playing mother to Brianna [played by 22 year-old Sophie Skelton]. What's it like zooming so far forward in someone's timeline?

…With Claire, I latched onto that. When she has gone back to Boston and she's not with Jamie, she's a mother and she's very professional, but she's put a side of herself away. That kind of sexual, romantic side of herself has been shelved almost for 20 years. When she gets back to Jamie, she's back to that—27, 28, or whatever age she was supposed to be—time when she first met him because that's when she really, I think, first came alive.

If Claire is putting the sexual, romantic part of herself away for much of Season 3, does that mean you're going to get a lot more angry tweets from the "where's the sex?" people?

No! There will be some other sex going on. I think to really let the reunion and everything that's going to happen once Jamie and Claire see each other, I think it's really special. Maybe they'll have to wait a little bit, but I don't think it's going to be as scarce as last season, shall we say?

What is it like for you to shoot without Sam?

It's really strange! Sam and I obviously have worked so closely together for the last three years. Even when I was filming some stuff with Tobias [Menzies who plays both Claire's modern-day husband, Frank Randall, and the 17th century villain Black Jack], it was never solid blocks where Sam and I wouldn't be working at least a couple of days in between. I definitely miss him. The other day we were in the makeup trailer right beside each other, and we're like, "Oh, you're off to your world, and I'm off to my world." It's very strange, but the nice thing is I have been able to work with Tobias. I feel quite lucky. If I don't have one husband, I've always got the backup. Not that either of them are backups, but it's been an interesting and strange dynamic. I think pretty soon we'll be back together, and he'll be sick of the sight of me.
Source: Vanity Fair