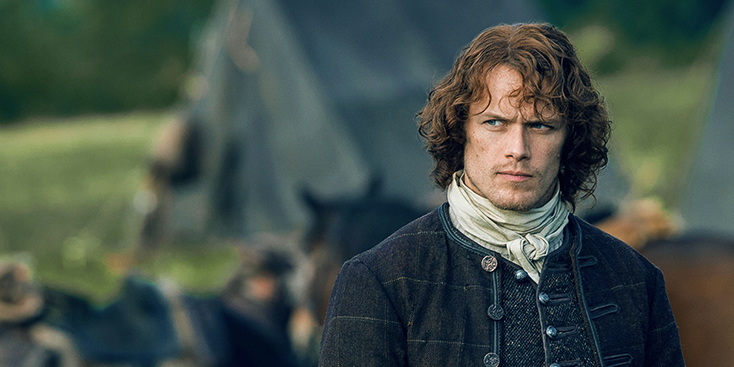 In preparation for the release of Outlander season two Blu-ray and DVD coming out on November 1, 2016, Vanity Fair has a new interview with Sam Heughan on looking back on season two and his experience so far on season three.  Below are excerpts from the interview, but head over to Vanity Fair to read the entire interview.
I know you hear from fans who are put out or surprised by changes from the books. Was there any particular book aspect left out of Season 2 that you felt like fans were most hoping to see and didn't?

Diana is all over this. I mean, I have constant e-mail updates, several times a day, about things she's watched or things she's read. We confer a lot, probably more than the producers want us to. There's always going to be little details that will be missed because the show is only an hour-long episode each week. I know myself and Caitriona, we read the books and if we can sneak in a small detail that may not be in the script or even just that we know ourselves, that going from one scene to another, that something's happened in between that maybe we haven't been able to show, but at least we know it and, hopefully, in some way it manifests itself. Hopefully it's all in Diana's world. I know that she said herself that Season 2, especially at the start, was kind of complex and difficult to make into episodic TV.

Of course, with any Blu-ray, there are deleted scenes included here. Which deleted Season 2 scene were you most devastated not to see included in the original episodes?

There was one recently that was released on social media; it was the "Faith" scene. Certainly, from my perspective, you got to see a lot more of Jamie and his angst. I mean, he's kind of not present for most of that episode. I think that's important, that's an important cut. We go on that journey with Claire and see her go through all the stages of grief and mourning and then some sort of brittle resolve. Almost, in a way, we didn't want the camera to blink from her. I think that's what was decided. Watching Jamie also go through it, well, absolutely, it's another side. I certainly know that I really felt very strong in that scene. I felt that it was a very awkward place for Jamie to be that will have some sort of repercussion—even now in Season 3. I don't think Jamie or Claire get over the loss of Faith. I think it's wonderful that the fans actually get to see a glimpse into some of the other work that we do that's not always on the screen.

The end of Season 2 saw Claire back in her own timeline so I really don't think it's a spoiler to say that you filmed a good part of Season 3 without Caitriona. Since you two have been such close partners on this whole experience, what was it like to go on without her?

Yeah. Honestly, it's like having a death in the family. Well, I don't know, I mean, it's just like a different show. It's hard to separate yourself from the character. Jamie's present, living in his world, and Claire's present and living in her world, and they both believe the other is dead. It's always hard when we're apart, actually, because she's a great person, great to come to work with, and a very good actress. But I think it all adds to the reunion—if there's a reunion, or when there's a reunion—well you know there's one in the books. It should be very special.
Source: Vanity Fair