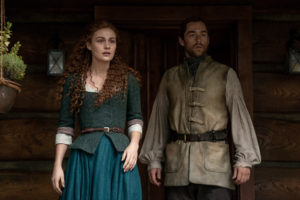 By now, Outlander show fans likely associate the old tune "Clementine" with Roger Mackenzie (Richard Rankin) from episode 507, The Ballad of Roger Mac; it's the last song he'll ever sing to his and Bree's (Sophie Skelton) baby son, Jem. According to IndieWire, the song will be featured on the Outlander season five soundtrack (out May 18) as a duet, performed by Rankin and Skelton, available for download now. You may have heard it over the credits in episode 508, Famous Last Words. The recording is sung acapella and in unison, with no harmonies. On one hand the sound is very rudimentary, but it's also realistic of most parents singing to a child. It's intimate.
"The producers and I were moved by the way that Roger's singing voice affected the story, in particular through this haunting lullaby. We thought his performance of 'Clementine' would be a fantastic way to close out the episode," explains Outlander composer Bear McCreary.
Excerpt
For the first time in the show's history, the geography and century of the story was consistent throughout the season, which eliminated the need for new instruments and styles. As a result McCreary faced the new challenge of digging deeper into the drama and music that had already been established. Connecting the "Clementine" song to one of the most anticipated moments from Diana Gabaldon's novel "A Fiery Cross," on which the fifth season is based, was one of the dramatic inspirations.
Read the full article here and listen to Clementine.
Source: IndieWire.com