**This is not a spoiler-free review of this episode. This review is also from a non-reader, and any comments revealing spoilers from the books will be deleted.**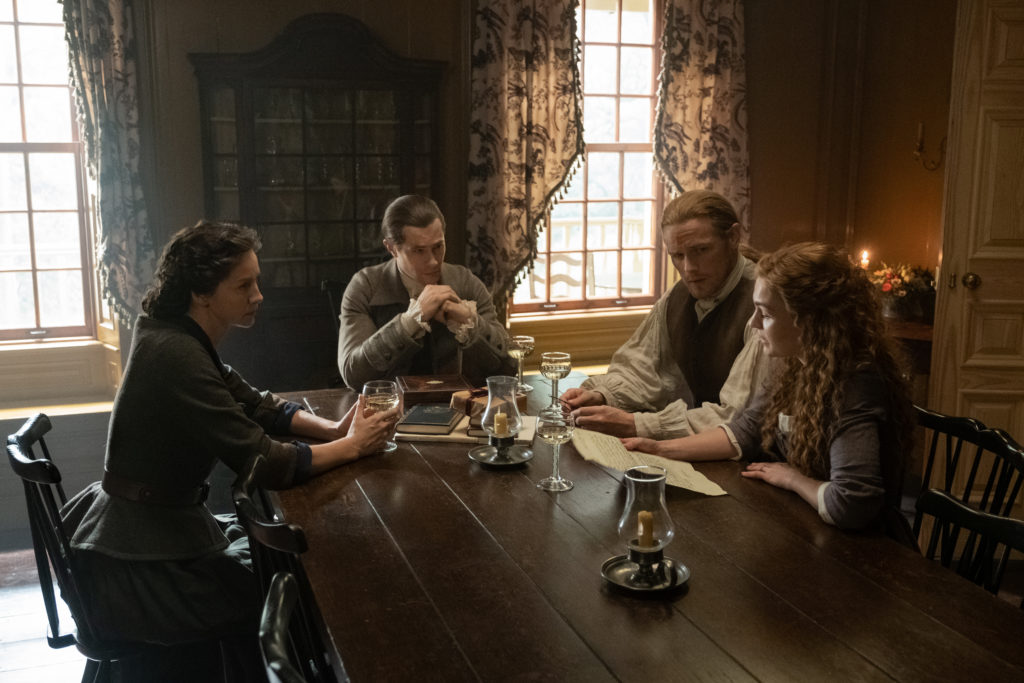 Episode 508:  "Famous Last Words"
Written by Danielle Berrow, Directed by Stephen Woolfenden
HOW DID I FAIL TO REALIZE THAT WAS GRAHAM MCTAVISH IN THE LAST EPISODE? 
In other words, welcome back to Outlander! Where everything's up in the air, and I have no clue how things are going to turn out. 
Kind of like life itself.
I digress. 
We get a fun flashback of Roger (Richard Rankin) in his element, teaching at a university. It's nice to see Roger so confident after everything that's occurred in the last few episodes. Brianna slips in and watches him adoringly. Professor Roger is disappointed in his students' essays about famous last words. There's always that one guy who's like, "Umm, what class is this again?"
Roger out-sasses the student that asks him what his last words would be. This is the Roger with which Brianna (Sophie Skelton) fell in love. 
Roger's no soldier. He's a scholar. 
HOW DID HE SURVIVE THAT HANGING THOUGH?
Brianna and Roger have a cute couple moment. Honestly, I wasn't super into them as a couple last season, but now they're tugging at my heartstrings. 
I AM DIGGING THE OPENING TITLE CARD. 
WOW, THEY'RE PLAYING THE OPENING SCENE LIKE A SILENT MOVIE?
I'm not sure if I'm digging that or not yet. 
ROGER IS STILL BREATHING?
Claire (Caitriona Balfe) goes into full-on Doctor Claire mode, and I am here for it. 
HOW PAINFUL IS IT THOUGH TO HAVE YOUR THROAT CUT OPEN LIKE THAT?
ROGER IS OKAY!! BUT NOT SPEAKING AND INCREDIBLY TRAUMATIZED!
HOLY CRAP THEY TURNED ROGER OVER TO TRYON (Tim Downie) AND MADE HIM OUT TO BE A REGULATOR TRAITOR!
I mean, if someone throws Bonnet in a bonfire, can they toss Tryon in as well?
Did Tryon simply not recognize Roger? Wouldn't he have remembered what he looked like from the wedding at the Ridge? (Remember how happy we were then?)
THANK YOU FOR DISCLOSING THAT'S IT'S BEEN MONTHS SINCE ROGER WAS BRUTALLY HANGED BRIANNA. 
Our ginger-haired angel of exposition. 
"It's like he's drowning in silence, and he has that thousand-yard stare in his eyes."
Brianna fears that Roger is lost in trauma. Claire describes it as shell shock, so I imagine PTSD hadn't been recognized yet in their time.
We jump to Jocasta (Maria Doyle Kennedy) in mourning blacks singing a melancholy tune while Ulysses (Colin McFarlane) stands faithfully behind her. (Did you know the actress is a singer? BECAUSE SHE IS A SINGER) They've buried Murtagh. Jocasta wants to have a headstone made for him, but is like, "Is it proper for me to get one made for my secret Regulator rebel dead silver fox boyfriend?"
On a lighter note, COLIN MCFARLANE ONCE AGAIN STEALING A SCENE IN FIVE WORDS OR LESS. 
Jamie (Sam Heughan) is still obviously struggling with Murtagh's death.
Tryon grants Roger 5,000 acres in the backcountry. Claire keeps it real, saying that he's just trying to buy Brianna's forgiveness. Brianna isn't interested in land. She just wants Roger back.
It's interesting how Roger's flashbacks continue to play like a silent movie. The clever man put his hand on his neck the second they hung him, thus knocking him unconscious but not breaking his neck. 
I do love the friendship between Lord John (David Berry) and Brianna. Lord John (does anyone call him John? I feel weird typing that without the Lord) gives Brianna an astrolabe and cutely corrects her when she gets the time wrong with it.
AND JUST LIKE THAT BRIANNA'S LIKE, "THANK YOU, JOHN."
Jamie asking Claire if there was a medicine for grief in her time SHATTERED MY HEART INTO A THOUSAND TINY PIECES. 
Life goes on at Fraser's Ridge. Roger hammers away at a new project. Jem is still blonde. I'm not even going to try to type out the Gaelic word Jamie calls Jem for "my blood," because I'll embarrass myself.
"DON'T!" Roger cries when he sees Jem about to touch something hot. It's the first word he's said in months. Richard Rankin is doing a fantastic job in this episode, conveying so much without saying anything. 
SOPHIE SKELTON CAN SING TOO? SHE'S PRETTY AND ON PITCH? LIFE ISN'T FAIR
Roger breaks down, hearing Brianna sing. Is it the same song he sang in the last episode, right?
A wild boar comes up on Jamie, Claire, and Jem. (those things are NASTY Y'ALL.)
AND THEY'RE SAVED BY YOUNG IAN?? 
YOUNG IAN!!!!!!! ROLLO!!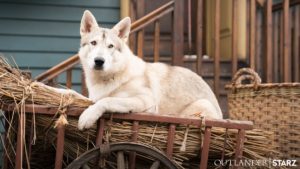 WHY DOES HE LOOK LIKE HE'S ABOUT TO BREAK DOWN TOO THOUGH?? (YOUNG IAN, NOT ROLLO) 
Roger greets Young Ian (John Bell) silently. Again it's heartbreaking to see Roger struggling to form words. Ian is understandably like, "Can't spare a word for me, eh? Well, fine, I'll just sulk around the rest of the episode."
Kudos to John Bell for portraying the remarkable change in Young Ian. He's not so young anymore, and he killed the boar, so he's going to butcher it damn it all!
There's grief in Ian's eyes.
Poor Marsali (Lauren Lyle). Drawing the hangman card for Roger iS SO AWKWARD, BUT I STILL LOVE MARSALI.
Maybe tarot cards weren't the best way to go, Marsali. Still adore you, though, you queen. 
Sophie absolutely kills it when Brianna pleads to Roger that she needs him. People deal with trauma in different ways, of course, but Roger won't even look at Brianna, and she needs her husband back.
Are you going to fight for us?
Young Ian looks so out of place at the dinner table it's hilarious. Poor Marsali strikes out again, insisting that Ian talk about his experience with the Mohawk. Ian doesn't want to talk about it. Jamie volunteers Young Ian to survey the land Tryon offered Brianna, and he just stares blankly at his uncle. Roger isn't the only one going through some trauma. 
Roger attempts to restart Roger's Karaoke Hour, but his melody comes out in strained whispers. He keeps reliving his hanging.
Jamie's like, "Okay, not so young anymore, Ian, what's up with you because seriously?"
Young Ian has matured as a man, but at what cost? Whenever he and Jamie had conversations previously, Ian was always looking up to Jamie, but now they're on an equal level. 
GERMAIN FRASER IS SO ADORABLE I CAN'TTTTTTT
Marsali and Young Ian bond, well, it's mostly Marsali talking, but I'm okay with that. Ian mentions that young ones are granted by the Creator "for only a short time."
Hmmm.
I feel like I belong. Is that terrible?
Brianna wants her marriage to be as strong as a diamond. Roger stares blankly. He packs the paper airplane in his bag that Brianna made him.
Roger notices a bracelet on Ian's wrist that Ian quickly hides. The survey the land, silently.
Roger's face, when Ian calls the paper airplane, a paper bird is AMAZING. He's only said a single word this episode, but you know exactly what he's thinking. 
Wherever you thought you were, we're both still here. 
Ian's proving to be the best person to help Roger.
Claire frets that Roger may not want to return home. She wonders if Roger stole hemlock from her herbs. We finally see Roger's flashback in living color, and Brianna finally breaks through.
He throws the paper airplane, and it soars.
Roger didn't take the hemlock IAN DID WHAT. OR DID HE? Ian buries his ax. I'm a bit confused.
DID I LEGIT THINK HE PULLED A CELL PHONE OUT OF HIS POCKET? YES, I DID.
Ian did steal the hemlock. AND ROGER KICKS IT AWAY!!!
"I saw my wife's face."
YOUNG IAN WAS MARRIED?
Roger sounds vaguely American in his whisper tones. YOUNG IAN'S WIFE ISN'T DEAD, BUT SHE'S LOST TO HIM?? Roger gives Ian the same challenge Brianna gave him. I like Ian likening Roger's voice to his weapon.
"Don't tell me you're at a loss for words now."
THERE'S THE SASSY ROGER WE ALL KNOW AND LOVE. 
"What mattered was the last face I saw."
I do feel like the episodes keep improving week by week. Do we have only a few episodes left? Why has this whole cast not won a crate full of Emmys yet?
Until next time!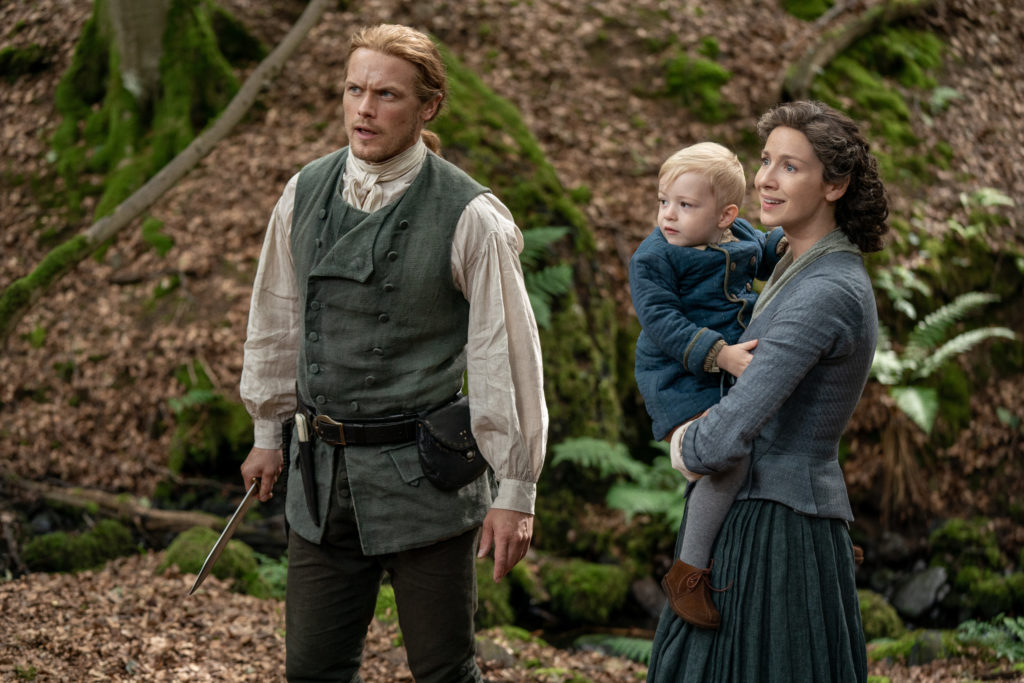 NEXT WEEK, SUNDAY, APRIL 19TH AT 8 PM ET: EPISODE 509: "MONSTERS AND HEROES"
Photos and clips are courtesy of Starz.