**This is not a spoiler-free review of this episode. This review is also from a non-reader, and any comments revealing spoilers from the books will be deleted.**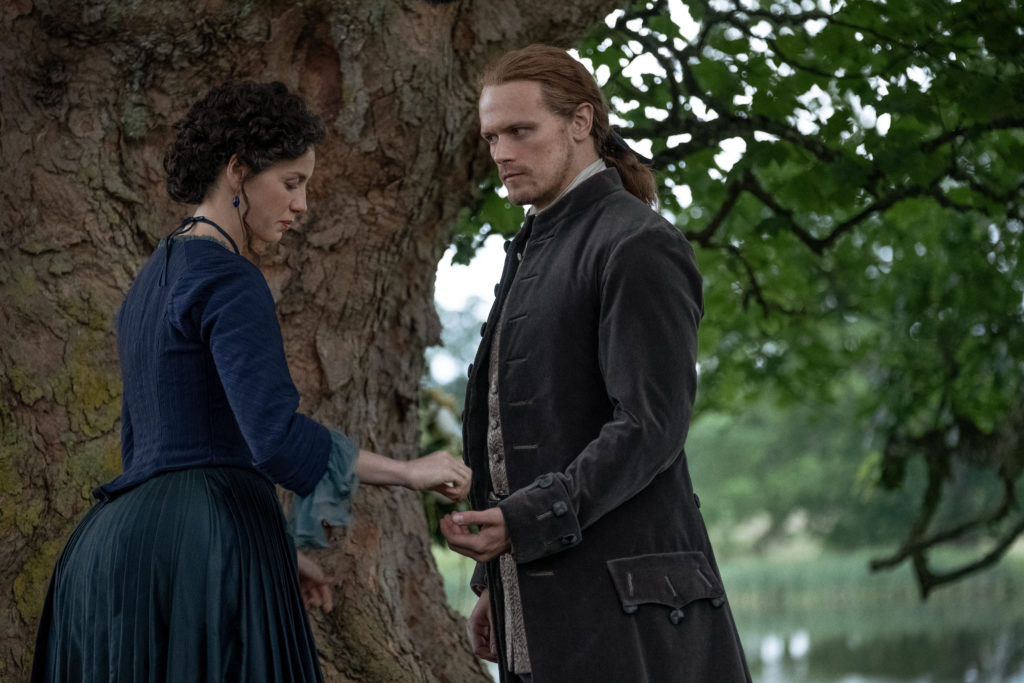 Four Weddings and a Swarm of Locusts
Episode 506:  "Better to Marry Than Burn"
Written by Stephanie Shannon, Directed by Meera Menon
Doctor Claire is coming to save our butts during this pandemic and remind us to wash our damn hands. 
The previously had Murcasta and Jamie's ominous warning, "Be hard to find."
So in the title card, they had the guy put on that mask that looked like what plague doctors wore, and IT WAS ONLY TO PROTECT HIM WHEN THEY POWDERED HIS WIG? 
Stay safe during this pandemic y'all. 
So I thought the opening scene looked familiar! So I guess we have another flashback to the aftermath of Culloden? Two dragoons stop Samuel Torrington, and he plays it super cool, but it's obvious he's hiding something.
OH, THAT'S JOCASTA'S HUSBAND? 
I love how Maria Doyle Kennedy plays Jocasta. Never, ever loses her cool. 
Unlike me, who called out from work the second I heard someone coughing. 
AS SOON AS I TYPED THAT JOCASTA LOST HER COOL WHEN HER DAUGHTER GOT SHOT IN THE "WE'VE FOUND OURSELVES SOME JACOBITE TRAITORS" SCUFFLE?? 
Jocasta quietly screaming for her dead daughter is awful. We see her clutching the ribbon she took from her daughter's body when we return to the present day (in Outlander time anyway.) 
I shine, not burn. 
Oh, so this is Duncan! He seems sweet. Jocasta is straight up close to ghosting him though the day before their wedding. 
Pardon me, mistress. 
"How to steal a scene in three words or less by Colin Mcfarlane." 
Ulysses just wants Jocasta to be happy. Usually, I'd comment on how sweet it is, but then I remember Ulysses is still her slave. 
Pippin Forbes is at River Run with some ginger guy named Jamie Fraser. Jocasta says Duncan agreed to let her take care of River Run until Jeremiah comes of age. Is that what she's signed, though? 
There we have it. River Run has a new master. 
Roger bailed on Jocasta's wedding to get back at her from what she told him in the first episode. 
Are those locusts swarming Fraser's Ridge? 
Claire looks GORGEOUS in that blue dress. Jamie laments that Murtagh isn't the man by Jocasta's side. I agree. They are super adorable. 
But hark! It's Lord John! Being adorably awkward and gay! Please protect our adorable cinnamon roll! (Seriously, he just keeps growing on me in every episode he's in.)
Did Tryon get a new job as "killing the mood at a wedding man?" 
In another instance of "what eerie real-world timing," Tryon has decreed that there shall be no groups of ten men or more allowed out in public. Not to stop the spread of a virus, but ten men or more may conspire! Tryon later discloses to Jamie that his strict action against the Regulators can make him a shoo-in to be the Governor of New York.
Poor Roger thought he'd get a nice break at the Ridge, but now everyone is panicking because of the incoming swarm of locusts. Roger struggles once again to garner the respect of the men.
A dandy, Phillip Wylie, tries to approach Claire. I don't remember much about him.
Claire makes herself popular by arguing for birth control. Holy moly, the actor playing Phillip Wylie is really hamming it up!
Roger gets the idea to smoke out the locusts! Bless him; he's such an intellectual.
Tryon is going so hard after the Regulators so he can become Governor of North Carolina. 
"You keep shoveling your shit!" 
Now that's the sassy Brianna I like to see! More of that!
Phillip Wylie continues to be an over-powdered douchebag who also reveals he knows Stephen Bonnet.
A star fixed in the firmament of a heart forever. I do appreciate the callbacks to Frank. Wylie inquired when he died, and Claire diplomatically says, "a lifetime ago." 
I LOVE the look Wylie gives Claire when she says she wants to talk business. I cackled! Wylie says he wants to show Claire his pride and joy.
I see y'all. Get your mind out of the gutter. 
AGAIN AS SOON AS I TYPED THAT WYLIE TRIED TO RAPE CLAIRE BASICALLY. Jamie nearly murders him, and I am here for it. Claire begs him not to because they need him alive to get to Bonnet. 
Roger's plan to smoke away the locusts worked!!
Jamie wagers Claire's wedding ring from Frank for Wylie's horse. Claire angrily asks Jamie if he's doing the gamble for Bree's honor or his own. She gives him both of her wedding rings to gamble. 
"Maybe when Da returns, he'll promote you to Major.
PLEASE GIVE US MORE SASSY BRIANNA I AM HERE FOR IT. 
Brianna almost autocorrected to brisket. #youknowyouliveintexaswhen
MURTAGH!!!!!!!!!!!
Can we just have another Ulysses moment of appreciation? The man knows what Jocasta wants and gets SHIT DONE. I just want Ulysses to be happy.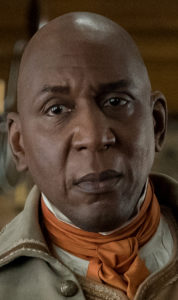 The true hero of this episode 
Murtagh came to bring Jocasta a gift with a side of confusion. 
Murtagh asks Jocasta to wait for him!! The night before she's to be married!! Can I say I love that the older woman is getting a conflict between choosing the bad boy or the safe, sweet guy? 
Jocasta didn't know that Hector had stolen the Stuart gold. Now the parallel is obvious. She doesn't want to marry another rebel and get her heartbroken again.
I love you, Jocasta MacKenzie…..I only wish I had been brave enough to tell you sooner. 
Is it weird that I missed seeing Claire being angry at Jamie? I'm not a fan of fighting, but things have been too peaceful between these two. I think what a lot of fans have been craving from Claire/Jamie isn't just the sex, but the fire they had in the earlier seasons.
AND THEN THEY HAVE ANGRY STABLE SEX, AND I AM HERE FOR IT.
Promise me that Stephen Bonnet will never take a thing from us again.

Jamie struck a deal with Wylie and plans fo meet Bonnet as Alexander Malcolm. He returns Claire's wedding rings to her.
Forbes meets with MR. HUMAN BACTERIA HIMSELF and tells him his son is now the proud owner of Riverrun.
Tryon stews and says that they're going to have to go to war with the Regulators after all.
BONNET IS STILL ALIVE Y'ALL.
This season continues to be a slow burn, but this episode continues to ramp up the tension successfully. I feel like the plot is like a rubber band being pulled back as far as possible before it's finally released.
I am so ready for it.
Until next time!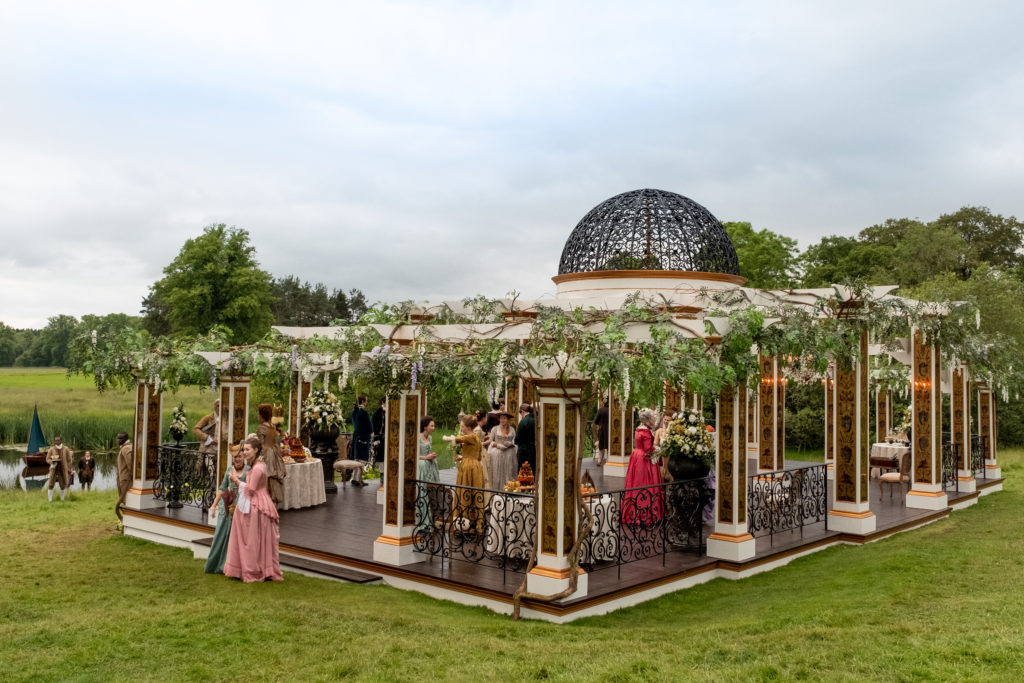 NEXT WEEK, SUNDAY, MARCH 29TH AT 8 PM ET: EPISODE 507: "THE BALLAD OF ROGER MAC"
"The Regulator Rebellion reaches a boiling point, forcing Jamie to face his fear and confront the consequence of his divided loyalties."
Photos and clips are courtesy of Starz.