**This is not a spoiler-free review of this episode. This review is also from a non-reader, and any comments revealing spoilers from the books will be deleted.**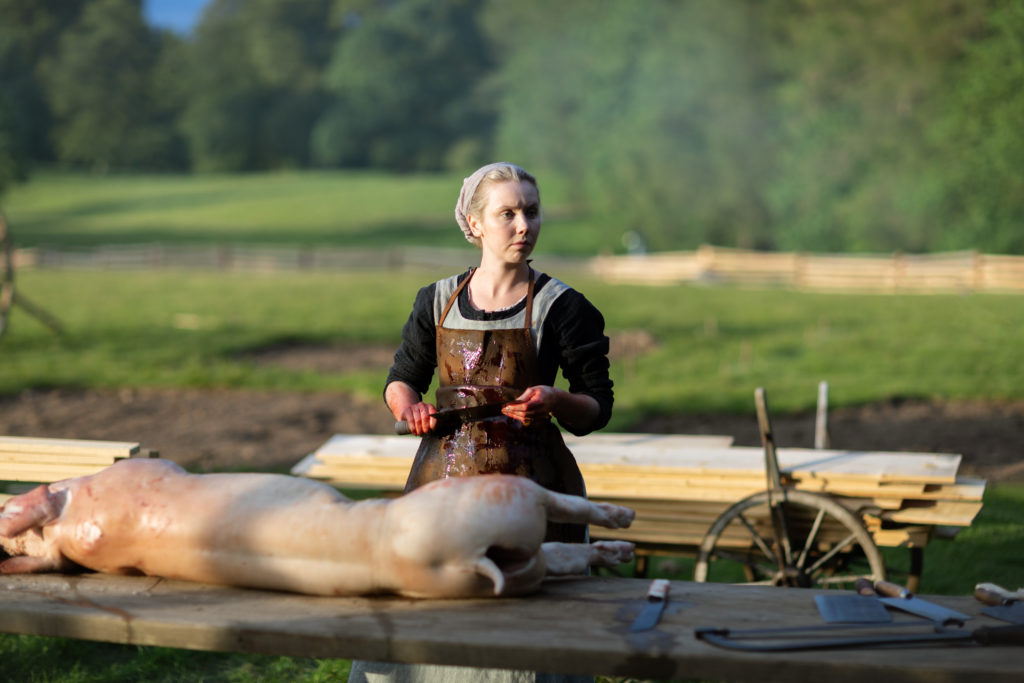 The Haunting of Outlander House
Episode 503:  "Free Will"
Written by Luke Schelhaas, Directed by Jamie Payne

Marsali (Lauren Lyle), bless her, asks the question I've been wondering since the last episode. How can you tell which mold is good mold or bad? (Am I the only one picturing this in Star Wars terms? The brave Jedi mold defending the weak against bacteria, while Darth Mold harnesses the dark side of penicillin to wreak havoc on the galaxy…and your immune system?)
Welcome to Outlander, the sexy show all about mold!
I adored the soft yet sweet violin accompanying Jamie (Sam Heughan) as he returned to Claire's (Caitriona Balfe) side. Moments like this scene are what I love about these two. You can feel their love so intensely without them uttering more than a few words. It's so overwhelming I just-
What are we thanking the Lord for? For the sight of you, Sassenach. 
Their sweet reunion is somewhat marred by a romance-killer, WAR. Jamie has returned to gather a militia and return to Hillsborough at all due speed. 
Claire tells Jamie she's coming with him and that's that. I love that he's stopped trying to dissuade her at this point. 
Did Fergus (César Domboy) grab a parchment with Claire's-Erm, Dr. Rawlings Recommendations? Also, can we get more Fergus and Marsali cuteness up in here? Don't get me wrong, Roger (Richard Rankin) and Brianna (Sophie Skelton) are great, but…
Jamie hands Claire a pistol and hopes she doesn't have to use it, which of course, means that she'll have to use it. Brianna walks up just while Claire is telling Marsali she may have to sew up a wound while she's away and poor Brianna's like, "Hey, remember me! Your daughter? Brianna? Red hair? Just like your husband, who is my Da? I can also shoot squirrels and am also quite sassy, just like you."
I do appreciate the small detail that they have Brianna and Roger continually reminding us that HELLO WE ARE STILL ADJUSTING TO THE WHOLE BEING IN A DIFFERENT TIME PERIOD THING. Brianna may want to stay in the past, but she sure does keep mentioning modern things frequently. Roger may not be Rhett Butler, but he certainly doesn't want to be an officer either. 
The LOOK on Claire's face when Jamie tells her Bonnet is alive. Look OUT. 
Momma Claire is about to commit a murder.
Shoutout to Bear McCreary for creating a theme for Bonnet that is so subtly creepy it sends chills down your spine? If you listen to the full track, it also turns into a fill out Irish jig villainous BOP.

A thief is being told to stop. Claire and Jamie discover that the Mary-Kate and Ashley, ahem, the Beardsley's (Paul Gorman), are quite similar in terms of THEFT. (Is that the same actor playing the brothers?) 
The Beardsley's have been indentured to a cruel man. Josiah ran away a year ago, but poor Kezzie didn't fare so well. So they're total Jean Valjean's on the theft scale, just trying to help each other survive. 
Claire and Jamie, of course, undertake a mission to meet the villainous Mr. Beardsley. 
DON'T THEY KNOW NOT TO GO ALONE TO A CABIN IN THE WOODS?
As soon as I typed that, Mrs. Beardsley (Bronwyn James) scared the bejeezus out of me. THIS IS NOT THE GIRLY HISTORICAL MOLDY ROMANCE I SIGNED UP FOR Y'ALL! 
IT JUST KEEPS GETTING CREEPIER AND CREEPIER. 
Jamie needs the papers for the Beardsley twins. I can't tell if Mrs. Beardsley genuinely doesn't know where they are or if she's stalling? 
JESUS H ROOSEVELT CHRIST IT JUST KEEPS GETTING CREEPIER. 
Claire senses that the smell isn't goat….
IT'S MR. BEARDSLEY. 
I mean, as creepy as the Beardsley's are, it's also kind of presumptuous for Jamie and Claire to just bust in there and walk around like they own the place? I'd be slightly annoyed if two hot strangers that probably smell like sunshine and whiskey started walking around my house without giving me a single beauty tip.
Rude.
You hear that you old bastard? She isn't yours! She's his. 
What in God's green Earth did Mr. Beardsley do to his wife? There's far more to the story than meets the eye. Mrs.Beardsley or Fannie kindly obliges us with some backstory. 
It's been two years, three months, and five days since Mrs. Beardsley saw Baltimore. She's his fifth wife. (WOW SO SHE WAS TORTURING HENRY THE VIII EXCEPT AT LEAST HENRY VIII HAD MORE MONEY?) 
Having a baby doesn't make me a mother, any more than sleeping in a stable makes someone a horse. 
IT'S SO CUTE THAT FANNIE THOUGHT CLAIRE'S NAME WAS ACTUALLY SASSENACH. 
Claire finally fesses up to Jamie that she thinks that Roger and Brianna should return to the present. 
Fannie killed Mr. Beardsley, didn't she? SHE IS GOING TO STRANGLE HIM AND FEED HIM TO HER GOATS. 
NO, SHE RAN OFF AND LEFT HER BABY AND THE PAPERS.
Swear to you; you'll give me the same mercy I gave that wretch. 
Claire confides to Jamie her fears over Roger and Brianna staying in the past. I feel like this conflict is being brought up so much that there's going to be a reason why they're forced to return to the future? There's no way that this isn't going to be an issue.
But how?

Roger is the world's worst recruiter but still somehow manages to convince a mother to conscript her two sons into Jamie's militia. Two down, thousands more to go! What year is this supposed to be anyway?
Aye Sassenach, why don't we send Roger back and keep Brianna?

This wasn't a bad episode by any means but not my favorite. Clearly, the Beardsley brothers are going to play some role in the upcoming episodes, but once again, I'm clueless as to what role that is exactly. The first three episodes have been a lot of setup of future conflict, and I AM HERE FOR IT.
Someone, please kill Bonnet, though.
Until next time!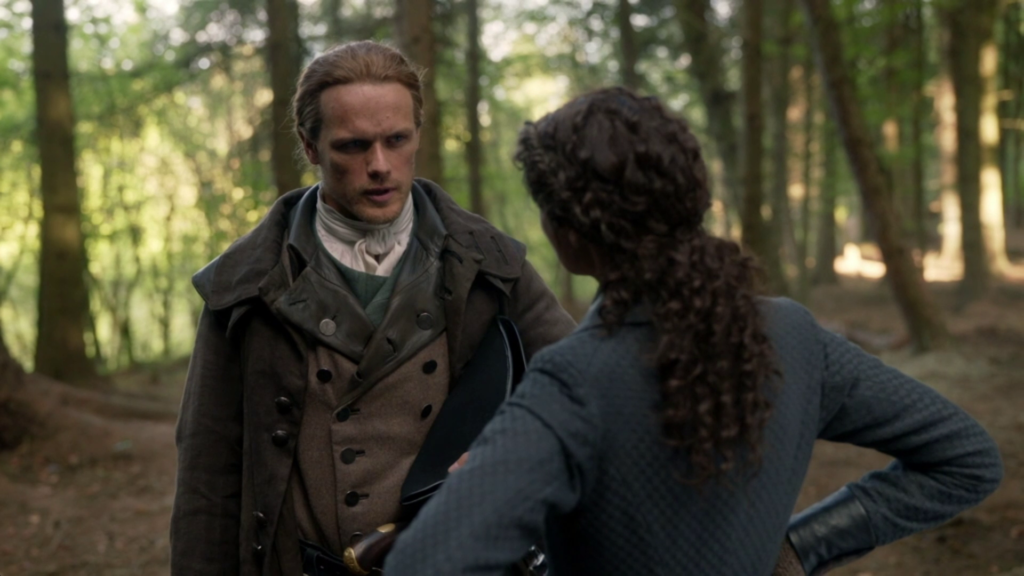 NEXT WEEK, SUNDAY, MARCH 8TH AT 8 PM ET: EPISODE 503: "THE COMPANY WE KEEP"
"Roger leads Jamie's militia to the rural trading post of Brownsville and finds himself embroiled in a bitter feud.  Jamie and Claire arrive to find that Roger's rather unusual strategy may have cost them the loyalty of the militia.  Claire learns that her 'modern' medical advice has spread further than she intended."
Photos and clips are courtesy of Starz.