**This is not a spoiler-free review of this episode. This is also a review from a non-reader and any comments revealing spoilers from the books will be deleted.**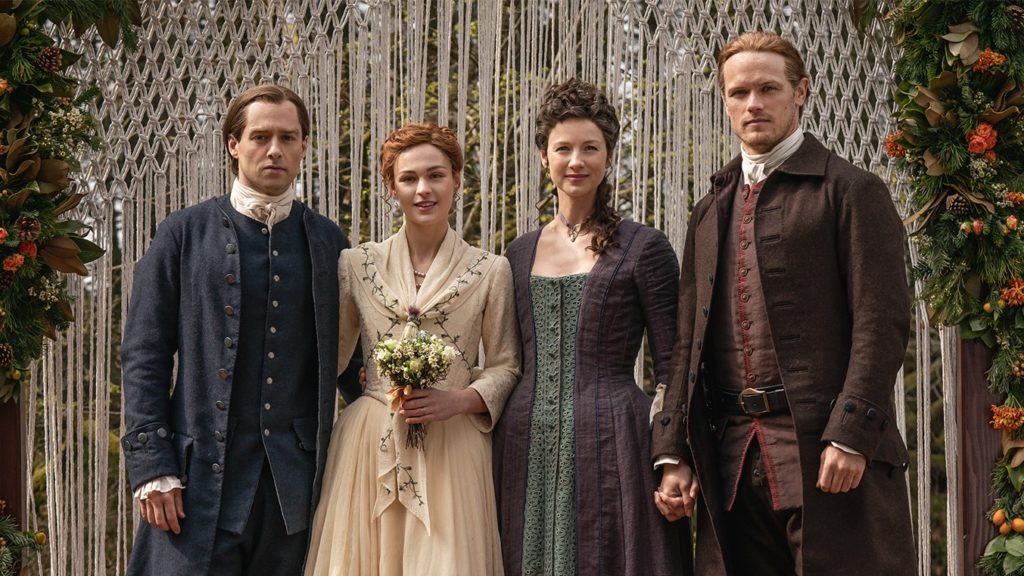 Of Weddings and Whiskey 
Episode 501:  "The Fiery Cross"
Written by Matthew B. Roberts, Directed by Stephen Woolfenden
Welcome back to Outlander, everyone! I knew too much time had passed when I started weeping when Claire (Caitriona Balfe) said, "Previously…" 
It's going to be a fun season five y'all. 
TAKE ME HOME TO LALLYBROCH WITH PRE-SILVER FOX MURTAGH AND BABY JAMES FRASER.
Murtagh (Duncan Lacroix) informs Jamie that his mother is gone, but he promised her he would serve Jamie no matter what. 
I stand by my theory that Murtagh is due for a date with destiny this season. As much as I'd love to see him grow old and help with the ever-burgeoning Fraser clan, the conflict between Murtagh's rebellious side and Jamie's (Sam Heughan) oath to the British is going to have to end somehow. I could see Murtagh sacrificing himself to keep the Fraser family safe, but it also backfires on the British because Murtagh's death will serve to inflame the Rebels to fight on in his stead. 
BUT FORGET ABOUT THAT FOR A HOT SECOND BECAUSE IT'S WEDDING SEASON Y'ALL. 
Did anyone get low key Sweeney Todd vibes from the Jamie/Roger scene?
Ye hurt my daughter again, ye wee fool, and I won't be so careful with the cutthroat blade next time. *Sips whiskey menacingly*
But Jamie resists the urge to murder his son in law and instead prepares Roger (Richard Rankin) to be fresh-faced to marry Brianna (Sophie Skelton). There's a level of awkwardness between them that's somewhat hilarious and sad. Roger says he wants to find a trade to provide for his family. 
MEANWHILE, CLAIRE IS AN ADORABLE DOTING MOTHER WITH BRIANNA.
Can I just say how gorgeous Brianna's wedding dress is? It's not too over the top, and the flowers woven into the fabric are lovely. I'm no costumes expert, but it is stunning. 
Even more stunning is Caitriona Balfe's acting. 
Claire is finally getting the chance to be a doting mother. Recall how one of the reasons holding her back from going back to see Jamie in the first place was the fact that she'd never get a chance to see Brianna get married. 
And now she does. 
PARDON ME, JUST DROWNING IN A PUDDLE OF EMOTION.
AND THEN TO MAKE IT EVEN WORSE IS JAMIE'S REACTION TO SEEING BRIANNA IN HER WEDDING DRESS.
Before I proceed, I want to mention Jamie's hilarious excuse to down a shot of whiskey as the "something new." Yeah, we get that Sam is hot, but can we please appreciate his knack for subtle comedy?
We now return to the adorable father-daughter moment between Jamie and Brianna. 
I love how he stops dead in his tracks when he sees her. Again we're playing with the theme that Jamie and Claire are finally getting to be actual parents, something they thought would never occur. 
And it's so beautiful. 
I don't mean to sound hyperbolic (okay, I actually do) but I got chills down my spine when Jamie said, 
"The Frasers of the Ridge are HERE!" 
More chills when Claire and Jamie repeated their wedding vows, and we got a flashback of THE wedding during Roger and Brianna's vows. 
Oh, Jamie and Claire. Can't help but steal their romantic thunder there, could you? 
I am totally okay with that. 
Lord John Grey (David Berry) is at the wedding, because of course. He's the wedding guest that every couple wants to have. Meanwhile, Governor Tryon (Tim Downie) is the Maleficent of wedding guests. Nobody wants him at their ceremony because he's always cursing their daughters to die on their sixteenth birthdays after pricking their fingers on a spindle. 
And in another case of "My father-in-law not so secretly hates me," Jamie thinks Roger is a heretic Presbyterian. Brianna feeds him cake in reassurance. I have a feeling this issue will rear its ugly head again. Jocasta (Maria Doyle Kennedy) asks for a private word with Roger, and this is the third time in the episode Roger has been intimidated by a Fraser.
Also, Ulysses (Colin McFarlane) is incredible. Who else could make Roger and Brianna's first introduction as Mister and Mistress MacKenzie so epic in such an understated yet elegant manner?
THE TONGUE TWISTER FACE OFF WAS PERFECT. I DON'T KNOW WHAT I LOVED MORE, MARSALI DOING A DIRTY PHEASANT PLUCKER TONGUE TWISTER PERFECTLY, OR LORD JOHN BEING FORCED TO FORFEIT AFTER SUGGESTING SHAKESPEARE. 
BONNET IS ALIVE?? DAMN HIM TO HELL FOR COMPLETELY RUINING BRIANNA'S MOOD. 
But I also do appreciate that the show doesn't brush over her trauma. Brianna is the classic case of the survivor who doesn't like to show their scars. (Sophie Skelton posted a link for support for anyone triggered by the scenes in the episode FYI!) 
And what would that make you? The fairy king?
Murtagh's hiding out in his secret love log cabin, which of course, only Jocasta knows about. 
Can I say how much I ADORED the love montage? 
Like.
Wow.
THAT'S HOW YOU DO A MONTAGE, FOLKS. 
I remember how fans were nonplussed by the use of "America the Beautiful," in the fourth season opener last year. While I wasn't bothered by it, I enjoyed the love montage so much more. I think that, while it is a modern song, the way they incorporated it into the scene by starting with Roger singing it and then continuing with not so modern instrumentation was perfect. I also appreciated the fact that they included Jocasta enjoying some Murtagh magic in the montage? AND MARSALI IS PREGNANT, AND FERGUS IS PLEASED, AND EVERYTHING IS RIGHT WITH THE WORLD. 
Except with Brianna. The signs of her struggle are subtle, but they aren't non-existent. I loved the small detail of Roger softly brushing her shoulder. 
POOR LORD JOHN THOUGH. FOREVER ALONE. 
Who the HELL is Duncan, and why is he standing in the way of MURTCASTA? (Jotagh? Murghjo? HELP ME OUT) 
I love protective Papa Jamie! Is Lizzie (Caitlin O' Ryan) going to end up marrying that guy? 
And I ken that Protestants are partial to divorce. 
Somewhere, Henry VIII is waving his fist and yelling, "That's insulting!"
Roger is also insulted by Jocasta's insinuation that Jeremiah may not be his child. So much for, "At least your auntie likes me!"
The guy whose name I can't remember (Sarah here: It's Josiah, aka Paul Gorman) needs to have his tonsils taken out. Jamie is adorable and refers to bacteria as invisible wee little beasties. 
Meanwhile, Governor Tryon's like, well your daughter is married, and now it's time to kill your best friend and whatnot. Tally ho! 
I claim thee as my son…
I was about to say, poor Roger, and indeed it does suck that he has to live, not knowing whether or not Jeremiah is technically his. (Especially being from a time where he COULD find out.) But Brianna is the one silently suffering. I have a HUGE feeling these underlying issues will be forced out in the open. (Ideally before, during, or after they ACTUALLY kill Bonnet the human bacteria.)
Stand by my hand. 
JAMIE IN A TARTAN, I REPEAT, JAMIE IN A TARTAN.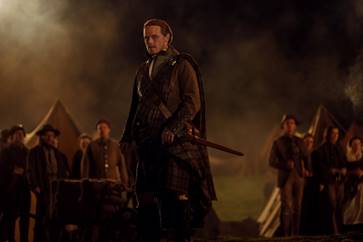 That scene where Jamie and Claire just have a silent conversation is louder than anything. I love Claire's slight nod as if to consent to Jamie's journey.
So feel free to correct me if I'm wrong, but was I getting major season one vibe from the ceremony where the men swear fealty to Jamie. Didn't they repeat the same oath in season one to Dougal? (FEEL FREE TO CORRECT ME IF I'M TOTALLY OFF THE MARK THERE OKAY.)
There's always a war coming. It's up to us to decide which ones we fight.
Jamie releasing Murtagh from his oath is a perfect way to end the episode. I HATE SEEING JAMES FRASER CRY.
And that's the start of the fifth season y'all! What a strong season opener! I'm so happy this stupid show (I say that lovingly!) is back because it feels like catching up with old whiskey-loving friends. Will Jamie turn on Murtagh? Will Brianna get a chance to kill Bonnet? Will Claire be a badass doctor? WILL LORD JOHN GET SOME LOVING?
I guess we'll have to wait till next week to find out.
Until next time Outlander clan!
Slainte!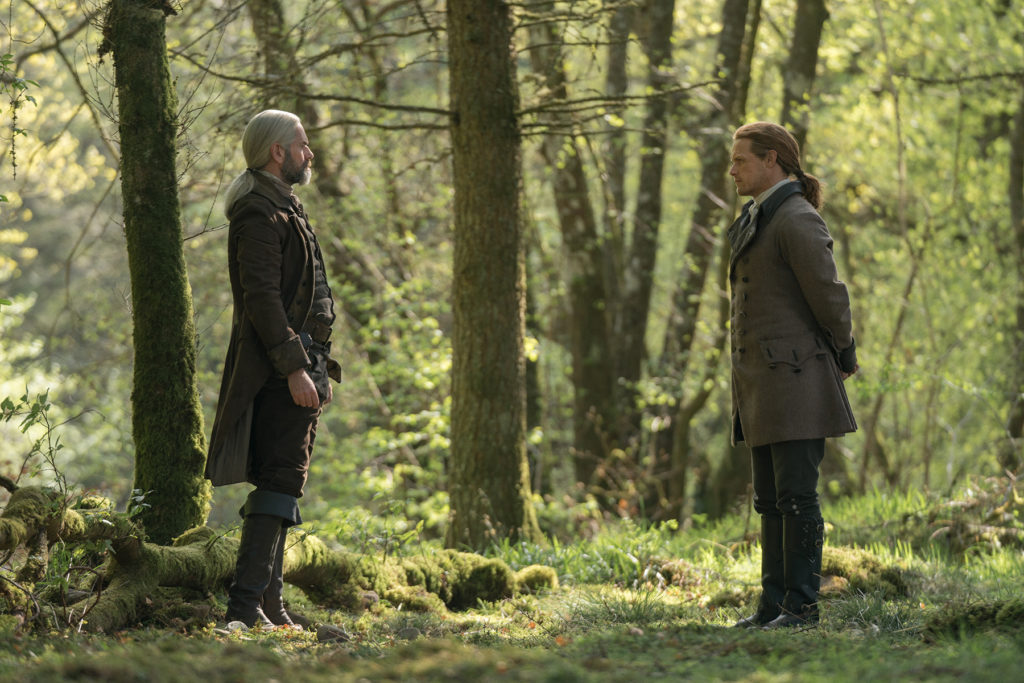 NEXT WEEK, SUNDAY, FEBRUARY 23RD AT 8 PM ET: EPISODE 502: "BETWEEN TWO FIRES"
"As Jamie continues to hunt Murtagh with the aid of the zealous Lieutenant Hamilton Knox, he's forced to consider whether or not he's on the right side of history.  Meanwhile, when a resident of Fraser's Ridge dies from a preventable ailment – which had been exacerbated by an ill-informed, though well-intentioned, use of folk medicine – Claire considers using modern methods to keep the settlers safe."
Photos and clips are courtesy of Starz.