**This is not a spoiler-free review of this episode. This is also a review from a non-reader and any comments revealing spoilers from the books will be deleted.**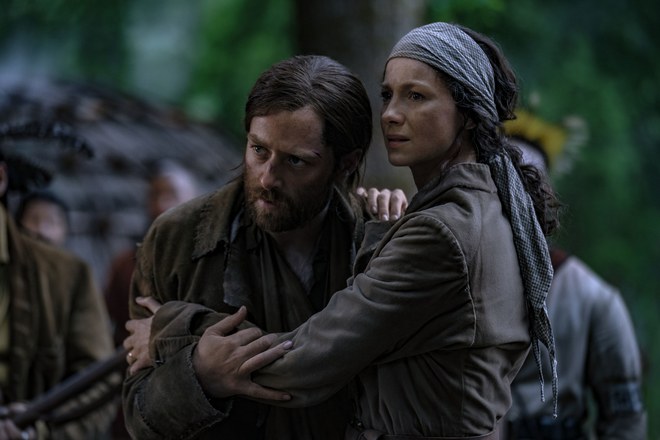 Is It Season Five Yet?
Episode 413:  "Man of Worth"
Written by Toni Graphia, Directed by Stephen Woolfenden
'Okay, I'll watch an episode with you.'
I had been regaling the man I shall refer to as my Jamie (strong, smart, sexy, and appreciates a fine whiskey!) with my quick recap of the latest Outlander episode during the middle of my birthday dinner. It had become a habit of mine to message him my initial reactions to each episode when I was working on my weekly recaps.
'They sold him to the MOHAWK!" I'd type to him at two in the morning. I'd always work right on season four reviews as soon as I was off work after midnight.
'But why?' He asked. He always responded to my late night Outlander musings, placing well timed 'lols' at my wacky responses to scenes.
It took all my willpower not to mention any details to my mom, the very reason I started watching Outlander in the first place. She preferred to wait and be surprised on Sundays. So I would vent all my Outlander related feelings to my Jamie, every single week.
I never actually expected him to volunteer watching it with me.
'Now,' He continued. 'Do you want the birthday viewing where I pretend to like it, even if I don't or an honest viewing where I say what I really think about it?'
I suddenly felt protective. Outlander was my SHOW. What if he did hate it?
'I want to know,' I responded, admiring how his brownish-black beard glinted red when the sunlight hit his face just right.
'What you really think.'
He grinned, and not because our dinner had just arrived, piping hot.
Now without further ado, let's revisit the last episode (sniff) of season four.
HOLY CRAP THE OPENING SCENE WITH OTTER TOOTH IN THE PRESENT TIME LOOKING DISAPPROVINGLY AT TWO YOUNG WHITE BOYS PLAYING COWBOYS AND INDIANS.
It's almost jarring to see the (somewhat) present day because we've been living in the past for so long. So Otter Tooth was born around the same time as Claire?
New York, 1770.
Jamie, Claire, and Young Ian decide to just waltz up to the Mohawk tribe at Shadow Lake. The tribe is understandably wary. I enjoyed hearing Young Ian speak the language of the Mohawk! They hand one of the men Brianna's sketch of Roger, and they're like, 'Oh, you want Dogface?'
Why? What is he to you that you would come all this way?
Can Kaheroton be in every scene from now on, just judging everyone?
They take our merry trio of outsiders to Tehwahsehwkwe. He seems very receptive to trading for Roger. I loved his crack about them caring about Roger so much that they brought him whiskey!
Things, however, take a sharp turn from merry to mad when they see Otter Tooth's stone around Claire's neck. Why?
Tehwahsehwkwe orders them to leave. He informs Claire that they will not trade with them.
Why?
Murtagh gleefully makes his way through Jocasta's roast. Things turn sour when Murtagh states that Brianna can't marry a redcoat. Jocasta proceeds to roast him.
I dinna recall asking your opinion on the matter.
Ulysses's delivery of the word 'stay' was SO shady. Colin McFarlane does SO much with so little to say.
Brianna is about ready to burst.
Tis a beautiful drawing Miss Bree, but tis your bairn that will be perfect.
Jamie declares that he'll return to the tribe to rescue Roger in the dark of night. Our trio is quickly beset upon by Mohawk demanding Otter Tooth's stone.
The woman who told Roger last episode 'THAT WAY' explains the story of Otter Tooth and why she wants his stone back.
Otter Tooth told the tribe to kill the white man before he could kill them.
You will be forgotten. The nations of the Iroquois will be no more. No one will tell your stories.
The men of the tribe killed Otter Tooth, but his voice haunted them. They were afraid his actions would bring strife and death to their tribe.
Tehwahsehwkwe was the one who buried Otter Tooth's head.
It's said the one who possesses the stone has the power to see how her people's story will end.
Cue time-traveler Claire!
The Indian woman believed in what Otter Tooth had to say. Claire makes an offer. If they help to rescue Roger, they'll do everything they can to preserve Otter Tooth's memory, and give her the stone.
Do ye think ye can forgive your father, for your sake as well as his?
I already have.
It was nice to hear Brianna call Jamie "Da" again.
Operation Rescue Roger is a disaster. They barely manage to get Roger out of the Idiot Hut when one of the Mohawk men spots them and fires his gun to warn the others. Team Roger Rescue is quickly overwhelmed, and Claire barely manages to stop Kaheroton from shooting Jamie.
The brave Indian woman is banished from the Mohawk. Carmen Moore did such a fantastic job portraying another amazing and strong Mohawk woman, and I truly hope this isn't the last we've seen of her,
Jamie offers himself as a trade for Roger, and the chief accepts….but then….
IAN TRADES HIMSELF
TO THE MOHAWK
SO ROGER AND JAMIE CAN GO HOME
I CAN'T
I'M DONE
THE TEARS IN HIS EYES
BABY IAN
IS THE MAN OF HONOR
NO
THIS CAN'T BE THE LAST WE SEE OF HIM. I THINK I'M CRYING HARDER THAN CLAIRE IS AT THIS POINT.
Jamie tells Ian they'll come back and rescue him too.
'I gave them my word.'
Young Ian truly has become a man.
JOCASTA AND MURTAGH ARGUE ABOUT THE TROUBLES COLONISTS ARE FACING IN THE NEW WORLD.
Jocasta is like, 'We came here for a new chance.' Murtagh is like, 'Girl you CHOSE to come here. I didn't have a choice.'
GIRL TOSSES WHISKEY ON GUY. GUY LOOKS AT GIRL WITH WHISKEY BURNING HIS BEARD.
GIRL AND GUY HAVE SEX. MURTAGH WAS BURNING WITH PASSION LIKE HIS FACE WAS BURNING WITH WHISKEY.
Get it Jocasta.
Roger beats the living DAYLIGHTS out of Jamie.
He is understandably still a bit upset over the whole being sold to the Mohawk thing. I LOVED the seamless transitions between him pummeling Jamie and Young Ian running the gauntlet.
Poor Roger gets a triple whammy from Claire. Not only was Brianna raped, but she was raped by Stephen Bonnet, and there's no way she can go back to the future.
Claire wisely tells Jamie to allow Roger time to think.
Meanwhile, Brianna is a tad busy giving birth and whatnot. The look on her face when she first holds her son was heartwarming.
The look on her face when she saw Jamie and Claire return was heartbreaking.
Not only did they miss the birth of their first grandchild, but they returned with no Roger.
ROGER YOU ARE TRULY LIVING UP TO BEING AN IDIOT.
Jamie and Claire are overjoyed over meeting their first grandson but continue to be immensely worried about Brianna. Claire checks in on our ginger princess. Doctor Claire can't heal Brianna's pain.
That's a job for Momma Claire.
Brianna just melts into her mother's arms, exhausted. There's a lot of great love stories in Outlander, but the love story of Claire and her daughter is by far one of my favorites.
She finally joins them for dinner.
The next day as the Fraser fam is set to depart for Fraser's Ridge, Brianna spots a lone rider in the distance.
Roger and Brianna finally get their trademark romantic run into your arms scene. It's so sweet, and we witness Brianna flash a genuine smile as she's wrapped in Roger's arms.
Take me to see my son.
Of course, the arrival of several British soldiers spoils the moment.
The soldiers bear a missive from Tryon to Jamie. Tryon orders Jamie to muster troops against the Regulators.
The persnickety British governor has also tasked Jamie with killing the fugitive Murtagh Fitzgibbons.
NO.
YOU CAN'T END IT THERE.
NOT ON THE EPITOME OF CLIFFHANGERS.
You win this time, show!
This season truly has been about home. Claire and Jamie are creating a home in Frasers Ridge and finding it in Brianna. Roger wants to build a home with his ginger princess by his side. Brianna is wanting to find a home in feeling okay about loving both of her fathers, Roger, and herself.
To me, home has always been who I watch Outlander with. I'd rewatch the latest episode several times alone during the week to make sure my recaps were as detailed as possible. However, my favorite rewatch every week was with my mom. I loved watching her react with genuine surprise to all the twists and turns, and the constant stream of plot-related questions she'd throw my way.
Home is thinking about what episode to start my Jamie off with. The very beginning? The episodes I'd been talking to him about constantly this season? ('Roger isn't so jolly anymore is he? He asked once.)
Home is getting to experience this joyous ride with fellow Outlander fans! I truly enjoy writing about this show, and it's amazing cast, crew, and writers, and I'm sad to see the season end. I hope you all enjoyed season four as much as I did.
With that, I bid you adieu for now dear readers. Or rather, I should say…
Slainte!
Onward to season five!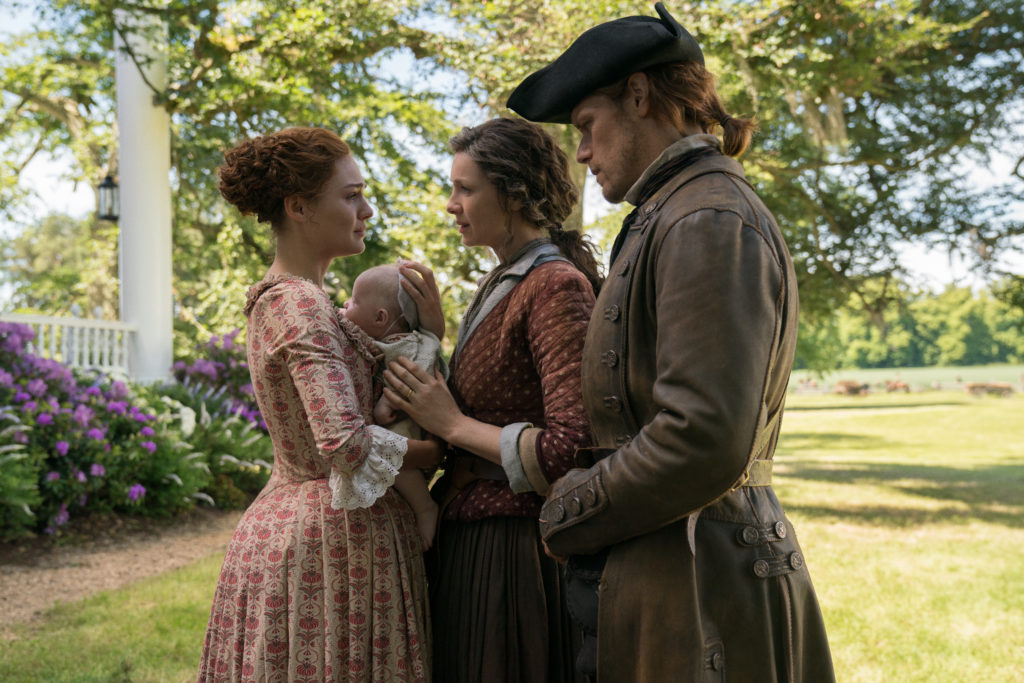 Clips and photos are courtesy of Starz.