[This is not a spoiler-free review of the episode. If you have not seen the episode yet, read it at your own spoiler risk.]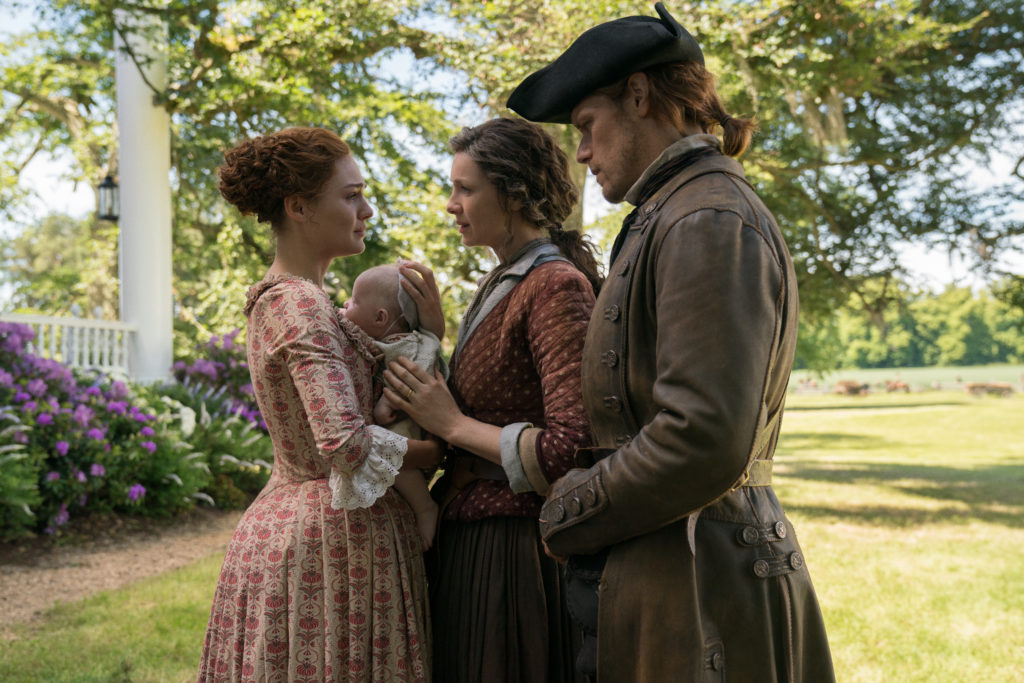 Episode 413:  "Man of Worth"
Written by Toni Graphia, Directed by Stephen Woolfenden
Season four of Outlander has come and gone to the elation of fans at the beginning and sorrow at the end.  Jamie (Sam Heughan) and Claire (Caitriona Balfe) have tackled the New World in the ways that only Diana Gabaldon's characters could, given the foresight of Claire.  This season introduced new characters, resurrected a dead one (in the books, at least), and brought supporting characters with very few lines or scenes the last two seasons and made them main characters.  Condensing Drums of Autumn or any Diana Gabaldon novel into twelve episodes while attempting to remain true to its spirit is a momentous task.  The writers and executive producers have completed their task, but it is up to each viewer who has read the novel to decide whether or not they have done it successfully.  Those people behind the scenes can only stand back and wait for the reactions from fans and critics and hope they have made the correct choices.
Writer Toni Graphia had to pull together all of the loose threads from the past few episodes and give each storyline some closure before the final minute of the episode.  Unfortunately, it did not happen, but for the majority of the storylines there was enough completeness to hold over for the inevitable year-plus wait viewers will have to endure until episode 501.
The true hero of the finale is Ian (John Bell), who selflessly left himself behind at Shadow Lake so his cousin who he has not known for very long could have her husband back.  He feels he is rectifying a wrong that began with Jamie and ended with him.  He had already taken a liking to the Native Americans living around Fraser's Ridge introduced by John Quincy Myers.  He learned some of their language and began to wear some of their accessories.  He had his aunt and uncle to ground him in the New World, but he had still not become engaged, busy with starting anew on the Ridge.  It is in the few minutes of the finale when Ian has made this sacrifice silently while Jamie and Claire say goodbye to each other that we see Ian become a man.  He was always this young, curious, hilarious string bean still learning about growing up, but he had also experienced things that young men could never fathom.  John Bell plays Ian perfectly.  We see his fragility as he says goodbye to his family (and another tearful goodbye/hello performance from Sam Heughan) and his hesitation as he momentarily is all alone.  All of that is gone when he "kills" the Mohawk gauntlet, reaching Chief Tehwahsehkwe (Tom Jackson), proving himself that he is worthy to become one of the Mohawks.  Ian is jubilant.  I cannot wait to see John Bell's transformation into a Mohawk warrior in season five.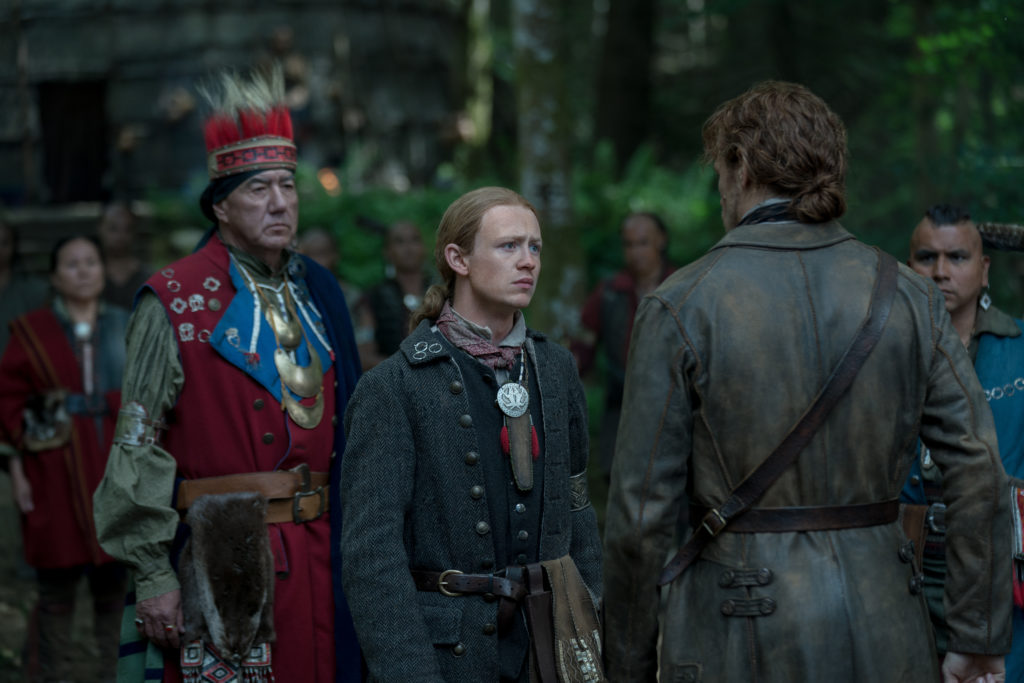 Richard Rankin and Roger MacKenzie have moved to the forefront of the latter half of the season.  With episodes 412 and 413, Richard Rankin has proven to be a tour-de-force actor worthy of every single line given to him.  His facial expressions in the idiot hut and in response to what Claire and Jamie tell him about Brianna (Sophie Skelton) after his rescue should reassure every single Outlander fan that he was the correct choice for Roger.  He can match Sam Heughan's Jamie tit-for-tat, and I am here for any future brawls and tense words between them.  We barely got to know Roger in seasons two and three, but the show has given Roger (and Brianna) enough story to cement them as major characters going forward.  While some fans have lamented the absence of Jamie and Claire with the substitution of Roger and Brianna, the show cannot ignore the character development needed for them, unless they are relegated to occasional supporting characters like Fergus (César Domboy) and Marsali (Lauren Lyle).
Unfortunately, the show was indecisive on how devoted Roger was to Brianna.  He escaped the Mohawk twice.  He went back the first time because of Brianna and the second time he went back to save a soul from torture, proving how kind and selfless he is.  When Jamie, Claire, and Ian finally save him, he decides to take some time to mull over things that happened to Brianna, none of which were her fault.  There lie the fault lines of his love for Brianna.  As much as the show tried to show us how much he suffered for Brianna, he, in turn, had to think about how much more he could take considering Brianna's rape and the possibility of raising a child that is not his.  The show has done an immense disservice to this character in this final episode.  Ian is a "Man of Worth" in this episode, but Roger is not.
This episode decided to circle back to Otter Tooth (Trevor Carroll), who reunited Jamie and Claire when they were separated from each other in a storm.  Claire kept the stone his head was found with, and it doesn't impress anyone in Shadow Lake when she shows up wearing it around her neck. With the title card for the finale, I thought they were going to do another flashback to the 60s, but it quickly became evident that Otter Tooth is not impressed with kids playing Cowboys and Indians.  Otter Tooth's tale of coming to Shadow Lake and trying to stoke the fires of the Mohawk to revolt against the white man is very similar to what Geillis Duncan (Lotte Verbeek) did with the Jacobites.  Both are trying to change history for the better.  Claire is even guilty of trying to change history, but she did not purposefully time travel to change it.  We still don't know how Otter Tooth found out he could time travel, so was his purpose already ingrained in his psyche and he found a way to fulfill it or was it happenstance when he found the stones?  His tale still strikes discontent in Shadow Lake, and it is a jumping off point for Jamie, Claire, and Ian to rescue Roger.
With all the focus the past couple of episodes on Lord John Grey (David Berry) and Brianna's engagement, there was an alarming lack of any Lord John in this episode.  Considering Brianna gives birth in this episode and the whole point of her being engaged at Jocasta's (Maria Doyle Kennedy) behest was to prevent the child from being a bastard, there is no mention of a wedding taking place but it is quite clear that Brianna and Lord John are still engaged prior to the birth. We have an inkling that she might have gotten married or will be shortly by Jocasta's comment after the birth, "And we will choose his birthday wisely, but you can be sure the lad was born in wedlock."  This engagement is something that is left hanging and being the gentleman that he is; I don't think Lord John would not be there for the birth of Brianna's baby considering Jamie and Claire had still not arrived back to River Run.
The silver fox Murtagh (Duncan Lacroix) has to be one of the best book changes in the series thus far.  I genuinely have not seen one book reader say a negative thing about his resurrection.  It was a common guess by book readers that he would take the place of Duncan Innes in the book.  Duncan Innes never showed up this season, and Murtagh is not a Duncan Innes replacement.  Firmly putting Murtagh with the Regulators creates enough conflict between Jamie, Murtagh, and Governor Tryon (Tim Downie) to make things interesting.  It seems that Murtagh did become somewhat like Duncan when he bedded Jocasta and enjoyed it, the old coot.  (The side-eyes from Jamie and Claire as they notice something between those two was hysterical.)  However, with season four's cliffhanger (because why not since there is a season five), things are about to get complicated for Jamie being told to capture and kill his godfather or risk his land and his family's security with Governor Tryon.
With this finale, the Frasers end their beginning in America and move on to getting more settled with their new and extended family.  That doesn't mean trouble doesn't follow them, and the cliffhanger has already brought up the first issue that the Frasers will have to tackle in season five.  This season was not the strongest of the series, and it is, unfortunately, the last season with thirteen episodes.  The Fiery Cross, long lamented by readers to be the most laborious of Diana Gabaldon's novels, poses its own challenges to being adapted and now it will be with one less hour of storytelling.  The show has made mistakes every season, but they have also created some truly fantastic television out of iconic moments from Diana Gabaldon's novels.  They are due praise for things they get right just as much as they get discontent from things they get wrong.
And thus begins another extremely long Droughtlander.
(And for the love of the Silver Fox's beautiful wig, please get the King of Men the hair he deserves with fewer bangs.  I'm tired of having to mention it in every review. JHRC.)