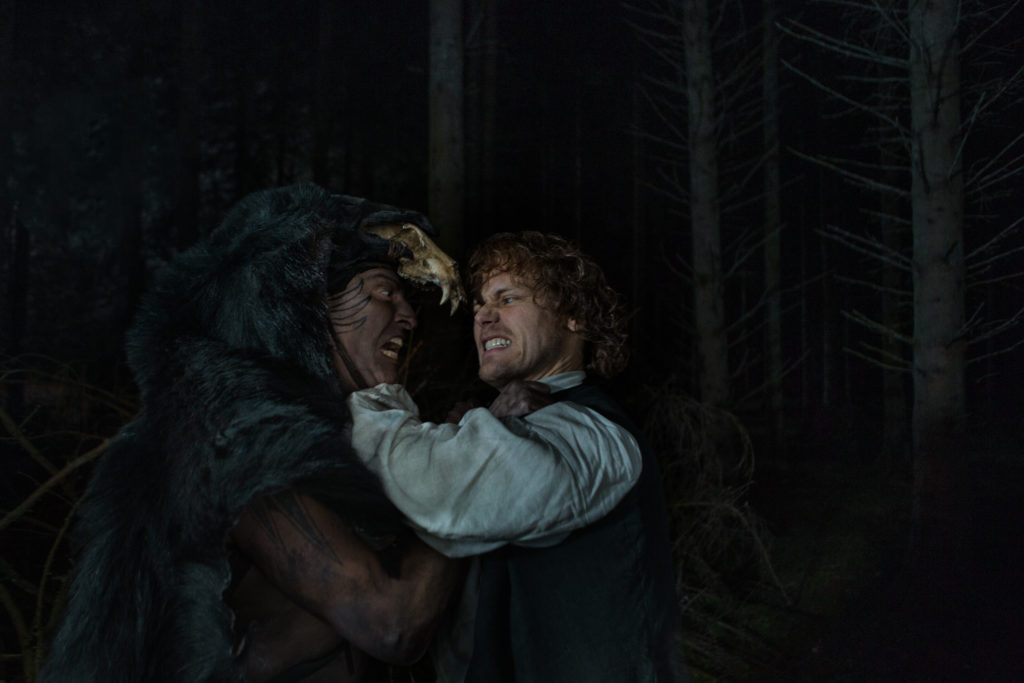 Below are excerpts from new interviews with Sam Heughan and Caitriona Balfe about Outlander episode 404, "Common Ground."  Be sure to click on the links to read the full interviews. Since these posts/interviews follow the latest episode, beware of spoilers and there may be a discussion about storylines in future episodes.
Vulture: Outlander's Sam Heughan on Jamie's Much-Anticipated 'Bear Fight'
How did you find out about the writers' plan to have the bear be a man, and what was your reaction?
We didn't really know until we actually first read the script. We were obviously thinking at first, you know, it's going to be a lot like The Revenantand the DiCaprio [bear] fight. To read it's actually a man, I think it's a really nice twist. We have a few of those this season—moments that I think fans of the books are gonna be surprised by—and I think it really adds to it. It's fun to keep them on the front of their seats. And it's also the beginning of the sort of understanding and mutual respect that Jamie has with the Native Americans. This moment, really in their eyes certainly, gives them some respect for who he is and vice versa.

What do you remember about filming that fight? It's dark, you're battling a man in a bear costume with claws. What was that experience like?
I mean, we always talk about the weather, but it was -7 degrees Celsius at night, and it was so cold, because you know Jamie, he's just in his shirt. But it was fun. It's hard to light that kind of stuff in a forest, but it's a pretty intense fight, and he's a big guy and certainly Jamie is; it just shows how dangerous this land is. Jamie and Claire really are having to forge their way in the wilderness and build their home and their new settlement, and there are so many dangers there.
THR: 'Outlander': Sam Heughan, Caitriona Balfe Break Down Massive "Bear Killer" Twist
But Heughan knows this scene will come as a shock to book readers. "I think the fans are going to be surprised actually, and I hope that it works out well," he says. "They were all expecting.… What was that film with DiCaprio?"

"The Revenant," Balfe says.

"The Revenant! I think that's probably what fans thought it would be," Heughan continues. "But it's great! We have a few moments like this this season where we are going to surprise the fans, and I think that's good. Otherwise they know what's coming, and it's great to have a few little Easter eggs in there, some things to surprise even the most loyal book readers with."

Thinking back to when they found out that Heughan wouldn't have to actually film with a real bear, Balfe laughs again. "I think they tried to find a bear in Scotland and then they couldn't," she jokes.

"There are no Scottish bears," Heughan agrees, before continuing seriously. "No, when we got the scripts, it was there from the beginning. We were shooting that in the depths of winter, and it was so cold. It was minus 7, I was just in a shirt, and we were shooting at night. It was some pretty tough stuff. But I loved that Jawsmoment of not seeing the bear but just hearing it. Jamie and Claire are living in a cabin in the woods, and they're really on the fringes of wilderness, and it is dangerous. There are a great many dangers there. It's a great chapter in their story."
Sources: Linked in the post