[This is not a spoiler-free review of the episode. If you have not seen the episode yet, read it at your own spoiler risk.]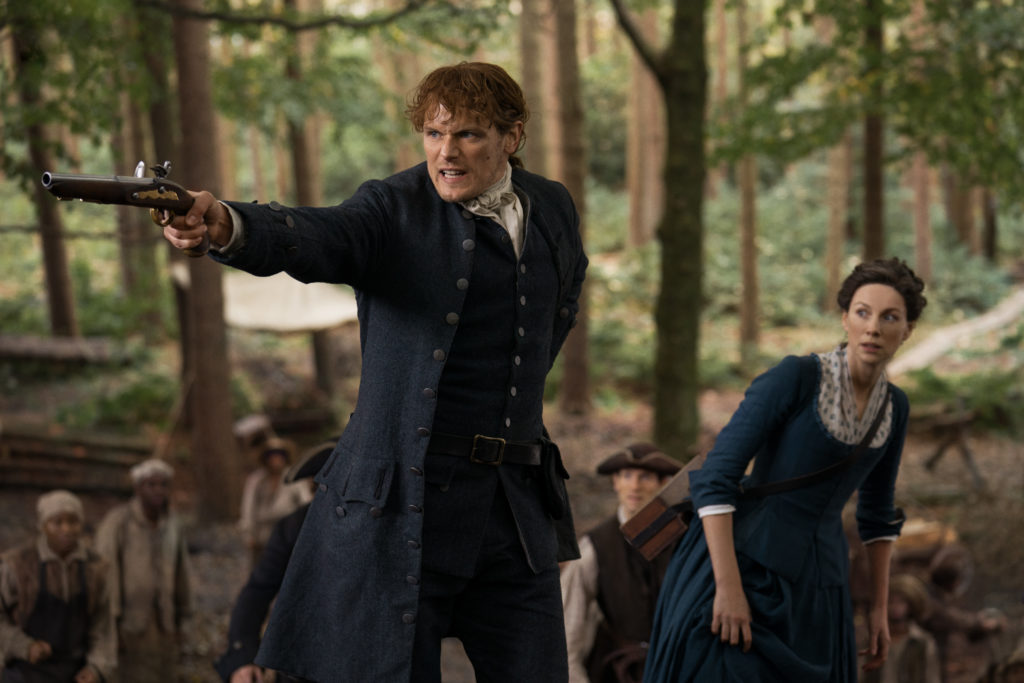 Episode 402:  "Do No Harm"
Written by Karen Campbell, Directed by Julian Holmes
"If your oath is to do no harm, then perhaps you could save his soul…"—Jamie Fraser
Episode 402 was a difficult episode to watch. Personally, this was the hardest since season one, episode 116, To Ransom a Man's Soul. The title Do No Harm, plays out in a myriad of interpretations, some literal, some metaphorical, some positive, and some with good intentions but adverse consequences.
Picking up where episode 401 left us, battered and bleeding on the riverboat after the brutal attack and robbery by the criminal Stephen Bonnet (Ed Speleers), Claire (Caitriona Balfe) and Jamie (Sam Heughan) finally arrive at his Aunt Jocasta Cameron's (Maria Doyle Kennedy) home, River Run—a sprawling plantation.
Enter the majesty that is Maria Doyle Kennedy. We know the Dublin native from a slew of amazing shows; The Tudors, Dexter, Downton Abbey, you get the point. We first learned of Jamie's Aunt Jocasta in season one episode seven The Wedding, when Jamie regales Claire with stories of his family history. She is Jamie's mother's sister, also to Colum and Dougal. And just off to her right we meet Ulysses (Colin McFarlane), her manservant, but more accurately, her slave. It becomes clear that she depends on him to not only run the house but also to be her eyes, as she has lost nearly all of her sight. Per her request, he escorts Jamie and Claire to their room.
And so we meet Phaedre (Natalie Simpson), my second most anticipated introduction, after Ulysses. The interaction is awkward at best as Claire insists she uses her first name instead of the more traditionally expected formalities. Claire stares out the window at the slaves working a field, and her anger and unease at the thought/sight of slave-ownership grow. The Do-No-Harm thread begins to unravel here.
"As you say. One day it will be different." —Jamie.
Meanwhile, Young Ian and Rollo are up to no good. Having added some brief comic relief earlier upon learning about skunks, they are now preparing for a vinegar bath from resident mountain man and self-proclaimed "Indian" expert John Quincy Myers (Kyle Rees). After entertaining Ian with tales of the new land's native inhabitants, Ian concludes that regardless of location, some things never change. Foreshadowing perhaps?
"Indians dinna sound that different from Highlanders." —Young Ian
Back out on the front porch, Jocasta covers details of the family business operation with Jamie and Claire, an operation including crops and a sawmill. Oh, and it's all tended to by 152 slaves. But hey, they're practically like family, so you know, it's cool. Claire does what Claire does best and speaks her mind in blatant disregard of the situation, company, or century.
Just then, Lieutenant Wolff (Lee Boardman) arrives, wishing to discuss a land contract Jocasta has in place with the Royal Navy. Jamie demonstrates his value and business savvy immediately, proposing a more lucrative solution, much to the Lieutenant's chagrin.
With the business at hand temporarily settled, the Frasers prepare for a party Jocasta is throwing in their honor. Phaedre puts the finishing touches on Claire's white gown while Jocasta engages them in some pleasant banter. It's clear Phaedre is "comfortable" around Jocasta. As comfortable as one could be in her situation anyway. When Jocasta asks Claire if she enjoys River Run, Claire is straightforward. She can not like a place that engages in the ownership of slaves. Does her voicing this unpopular opinion help or damage the situation of the slaves in the room? In trying to do no harm and implore the same of others, Claire runs the risk of upsetting a very delicate ecosystem of calm—though temporary as it may be—at River Run.
"The cadence of your voice tells me you harbor some disapproval."—Jocasta
At the party, Claire and Young Ian entertain a circle of guests including Lieutenant Wolff and Farquard Campbell (James Barriscale), a friend of Jocasta's. Claire makes her opinions known, shocking the menfolk, a scene reminiscent of her reception in the 1960's Harvard lounge with Frank from season three. SIDENOTE: Can it be reminiscent if compared to something that hasn't happened yet in the future? So meta.
Jocasta calls for her guests' attention and raises a glass in a toast… She names Jamie as her heir to the land and business, without consulting with him first. Yet another parallel is made here but this time for Jamie from season one where we saw him swear allegiance to the MacKenzie clan while on MacKenzie lands. Well done, director Julian Holmes. Tip of the hat.
"To whom I shall leave River Run? Jamie will be Master of the Estate."—Jocasta
The next morning, Jamie though grateful, conveys his disapproval in Jocasta's blindsiding approach. She is after all a MacKenzie and of the same blood as her brothers. For one thing, if he and Claire were to take ownership, they couldn't do it with slaves. He informs Jocasta and her guest Farquard that they'd free them and pay them a living wage. Farquard turns out to be a fountain of information on the matter, a matter with a mountain of red tape. We also learn that there have been people with similar ideas as Jamie and Claire before. They went missing…
"Ya cannot put a price on freedom."—Jamie Fraser
To ease Claire's concerns and need for a more ethical, correct, humane, empathetic cleaner and simpler way of life, Jamie revisits Governor Tryon's (Tim Downie) offer with her for the land grant again (last episode). They're interrupted by Jocasta and Ulysses. There's been an incident between a slave and a slave hand, and she needs Jamie to act as her representative.
Claire and Jamie arrive at a gruesome scene; a slave named Rufus is being hoisted up in the air via a hook through the stomach attached to a rope over a tree. He cut the ear off a slave hand after being whipped. Jamie pulls out pistols and demands Rufus be remanded to Claire's care. The slave hand reminds him that the punishment for attacking a white is death. Claire gets Rufus to the house and preps the dining room table for surgery. Both Young Ian and Phaedre perform phenomenally under the pressure and high stakes. While she is practicing the Hippocratic Oath to do no harm and tending to Rufus' wound and pain, Jamie tends to Jocasta, who is also inclined also to let him hang as it's the law.
After successfully removing the hook, closing up her patient and seeing him comfortably to sleep, Claire and Ulysses speak. Having recognized she is not like the others; he is candid with her; in saving Rufus' life, she has damned his soul and body to a fate far worse than dying from a puncture wound to the gut. Having saved his life, he will now most assuredly be torn limb from limb and worse by his aggressors and those who see an entire race of people as property. The clock shows 11:40 p.m. and a literal lynch mob arrives at the front steps of River Run. The Frasers and Camerons have twenty minutes to turn the injured slave over.
"We have until midnight, Claire"—Jamie Fraser.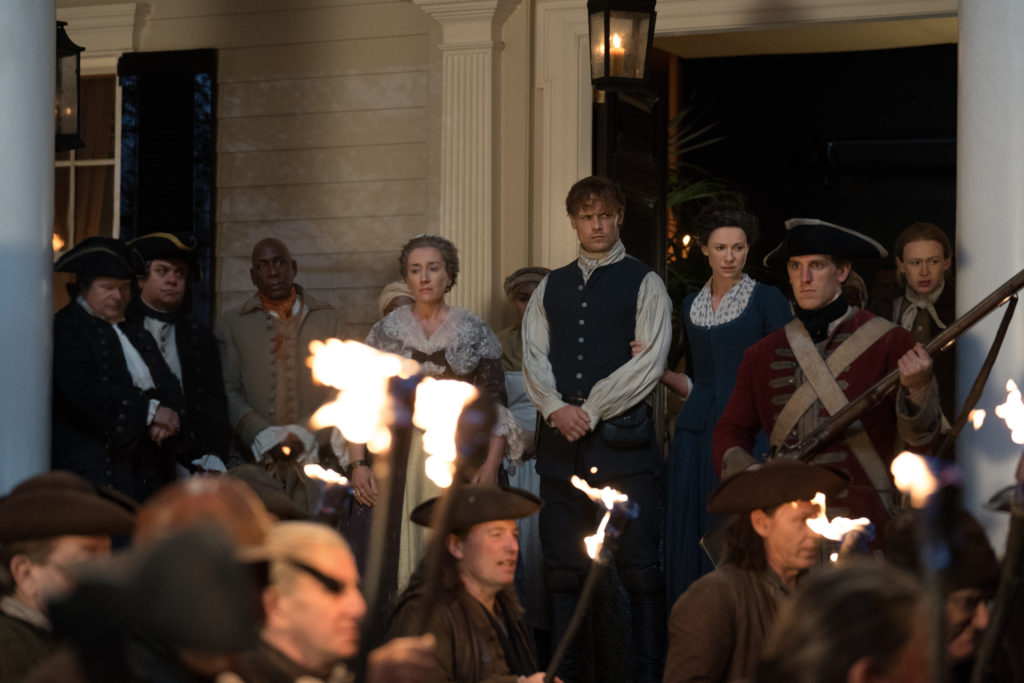 Jamie suggests a plan of action similar to one taken over 20 years earlier with his Uncle Colum in the name of mercy. Claire makes Rufus a laced tea so he will pass quickly and with little discomfort. He dies at the stroke of midnight. His body is delivered to the lynch mob. A group of white, angry men rope a noose around his neck and drag his limp and lifeless body down the steps of the house, through the dirt and to the base of a tree before stringing him up. The episode ends there.
Without digressing too far, I can't help but think that certain depictions in this episode were devised with intent and in direct response to the current social climate. It was hard to watch at times, and that's a good thing.
MANDY'S MUSINGS: For when I can't suppress my inner fangirl.
Those bangs on Jamie though…
I had my doubts about filming the U.S. in Scotland, but River Run looks like America.
Loving Ulysses and Phaedre. The secondary characters are always well cast.
The house interior, the stairs specifically, are just as I pictured when reading book four.
LOVING Jocasta's couches.
Ian rocks as an O.R. nurse.
Shout out to the incomparable set designer Jon Gary Steele. The lighting in the house in hues and shadows of blues and golds are stunning.
Composer Bear McCreary added a new score for the ending credits on this episode. It's disarmingly heartbreaking.
NEXT WEEK, SUNDAY, NOVEMBER 18TH AT 8 PM ET: EPISODE 403: "THE FALSE BRIDE"
"Jamie and Claire search for a place to call home with Young Ian and John Quincy Myers, a local mountain man. Meanwhile, in the 20th century, Brianna and Roger's romance heats up and then fizzles during a road trip that winds up highlighting their differences."
Photos and clips are courtesy of Starz.