[This is not a spoiler-free review of the episode. If you have not seen the episode yet, read it at your own spoiler risk.]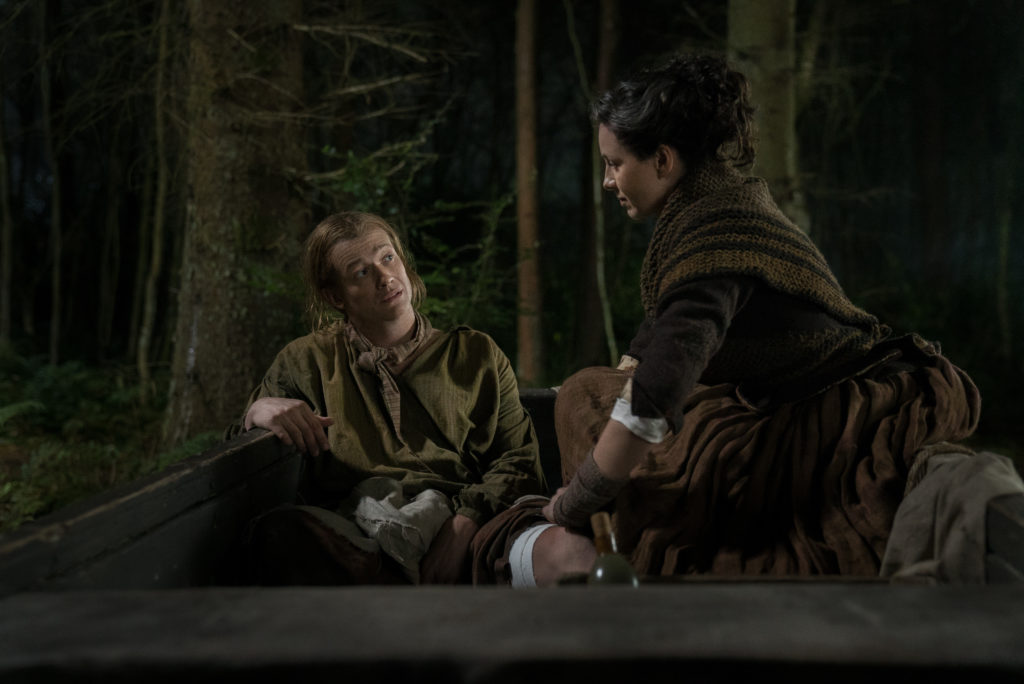 Episode 401:  "America the Beautiful"
Written by Toni Graphia and Matthew B. Roberts, Directed by Julian Holmes
Almost a year has passed since any new episodes of Outlander has on Starz.  "Droughtlander" has become all too common for Outlander fans waiting patiently for new seasons of their beloved show.  Premiering a month later than expected, season four has finally begun its thirteen-episode run, and the first episode, "America the Beautiful," is the foundation for the rest of the season.
The talent behind the scenes wants to take each new season of Outlander up a notch regarding innovation and storytelling, whether this is with the script, direction, special effects, costumes, or music.  They are somewhat restricted by the novels on which the series is based, this season being Drums of Autumn by Diana Gabaldon, but as Gabaldon herself has pointed out time and time again, this is an adaptation, and the writers, producers, and showrunner all can take creative license over the book material.  However, the significant diversions from the source material have either been met with delight or disdain from book readers, and non-readers are blissfully unaware of any perceived transgressions by the show.
"America the Beautiful" written by Matthew B. Roberts and Toni Graphia, the only two writers left from season one, serves as a reintroduction to Jamie (Sam Heughan) and Claire (Caitriona Balfe) and the circumstances we left them in at the end of season three.
The episode has an odd opening, ancient humans (Neanderthal-like) or Natives constructing a new stone circle in the new world that almost looks like the stone circle in Scotland.  Claire talks of the significance of circles, rings, clocks, planets, and inevitably this same stone circle comes into play again this season.  This prologue is a practically shouting foreshadowing, but it makes for a great transition to the hangman's noose in Wilmington, North Carolina in 1767, four months after we left the Frasers on a Georgia beach at the end of season three.
While the narration by Claire continues for this episode, this is Jamie's episode.  He is front and center throughout most of the episode.  They may be in a country that Claire has experience with and knows the history of, but Jamie is still the Highland Scot, better in situations that take ingenuity and around rough characters and settings.  He is the head of this family that he and Claire have created that includes Ian (John Bell), Fergus (Cesar Domboy), Marsali (Lauren Lyle), Gavin (James Allenby-Kirk), and Lesley (Keith Fleming).
The "present" part of the episode begins on a distressing note as Gavin is hanged for the crime of killing a man.  It is through this event that Jamie becomes introduced to Stephen Bonnet (Ed Speleers), a man who is also meant to hang.  To Lesley and Gavin, Jamie is and always be MacDuh, and it is that name that Gavin calls him by in their last conversation.  Rather than have an attempt to save him, Gavin asks MacDuh to smile at him in his final moments, and that is precisely what he does.  The tentative, nervous smile shows on Jamie's face as Gavin drops.  A skirmish follows the hanging allowing prisoners, including Bonnet, to escape, and when it settles down, a devastated Jamie looks at Gavin's hanging body again, tears in his eyes.  The protector, the laird, lost one of his own.
The graveyard scenes are impactful both on moving the story forward but also looking backward as not all wounds have healed.  Ian (John Bell) has not fully recovered from his kidnapping by "The Bakra" aka Geillis Duncan (Lotte Verbeek).  Digging a grave with Jamie brings it all back for Ian, and this is reminiscent of a similar scene in season two as Claire remembers her time in the war.  While Ian is already a fan favorite because of John Bell's brilliant portrayal of this naïve young man, this reminds us that Ian is a tortured soul, just like his uncle, and John Bell has the dramatic talent to bring all aspects of this character to life.
The graveyard also formally introduces Stephen Bonnet to more than just Jamie.  He is a slick one with a sly tongue, adapting to any environment he finds himself in, and during this scene, he plays like he is at the mercy of the Frasers.  This kind, polite, young man weasels his way to freedom by begging a kindness from a fellow "friend" of Gavin.  With a snide warning about thieves afoot in the woods, he is believed to be a man they will never see again.
The Frasers have connections, even in America, as they are invited to a dinner at Mr. Lillington's fine home.  At this dinner, the Frasers meet Governor Tryon (Tim Downie) who is keen to talk to Jamie about taking on a parcel of land in North Carolina and building it up for the good of the Crown.  The Frasers at this point were not even considering staying, but Tryon's offer has planted something in Jamie's head that he could make a new home here with Claire and his family.  The dinner also served the purpose of selling a ruby saved from The Artemis to finance their planned trip back to Scotland.
Those in the Outlander audience that are vocal every season about not enough sex scenes between Jamie and Claire got their wish granted in the first episode.  Other than the sex, it was a nice way for fans to see that Jamie and Claire are still soulmates.  For book readers, this scene appears to be in exchange for the river scene at the beginning of Drums of Autumn.
Rollo (Dui), the wolf hybrid, a most beloved character from the books is introduced in this episode.  He may not pack as much punch regarding stature compared to the book, but he is there, and he served at least one crucial function so far, a guard dog.  Reading and listening to the interviews with the cast about the dog who plays Rollo, he may not be as obedient and trainable as the cast expected and his role this season may be lessened because of it.
Claire is from the future and is aware of most of America's early days.  The scene on the boat with Eutroclus (Leon Herbert) and Captain Freeman (Grant Stott) is another example of Claire sticking her foot in her mouth and making assumptions about people during this time.  She assumes that all blacks must be slaves, complaining that it is awful for an older black man to be on his feet so much.  Captain Freeman politely corrects her saying that Eutroclus is a free man and is paid a wage.  Claire is getting an education, one she thought she already had.
The music choices in this episode are my least favorite of the series.  The song sung in the bar in Wilmington, while beautiful, was too long and would be a song that would attract attention to these Scots.  It is not pointed out in the town scenes, but Redcoats are still a threat and calling attention to themselves like that did not make sense.  The less than sympathetic Redcoats are displayed later in the episode when Jamie and Claire are smuggling Bonnet out of the area.
The climax and conclusion of the episode are Stephen Bonnet returning to the Frasers and showing them what kind of man he truly is.  He overheard the Frasers speak of jewels when he was stowed in the back of their wagon, unbeknownst to them and also complimented Claire on her rings later on.  Bonnet returned and brought friends with him, taking the jewels and one of Claire's rings, Jamie's, and killed Lesley.  All of this cannot be heard but only seen as Ray Charles' "America the Beautiful" plays through the entire scene. It is jarring to hear a song such as that over a scene that would have been more impactful without it.  It's a quizzical use of modern music, possibly because of the well-received use of Bob Dylan in season three's "Of Lost Things" episode.  Or its use is a reminder that America is not always beautiful and is full of turmoil, heartache, and setbacks.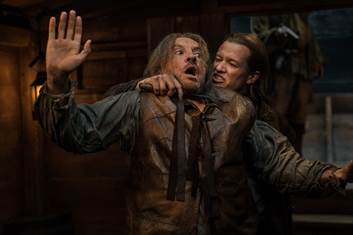 "America the Beautiful" is the first episode of a season that will not be my favorite.  It's not an episode that I can imagine myself watching over and over. The episode did not flow well from one scene to the next. There was little explanation for a couple of situations the characters found themselves in and, while readers can fill in the blanks, non-readers may be left with questions.  The book changes were not drastic, but I will quibble that Jamie's ring has less value than Frank's and would not be something that Bonnet would keep.  Other than his family, Jamie has lost two of his men, Lesley and Gavin, and Duncan Innes was not introduced (will he be?) leaving Jamie alone, uncharacteristic for him at this stage in the book.  This episode did not feature Roger or Brianna keeping the focus on Jamie and Claire in the past.  While this episode did not hit the right chords for this fan, there are twelve more episodes to come, and fingers-crossed, it will get better.
NEXT WEEK, SUNDAY, NOVEMBER 11TH AT 8 PM ET: EPISODE 402: "DO NO HARM"
"Claire and Jamie visit his Aunt Jocasta at her plantation, River Run. When tragedy strikes at the plantation, Jamie and Claire find themselves caught between what's right and the law of the land, ultimately facing an impossible decision."
Photos and clips are courtesy of Starz.