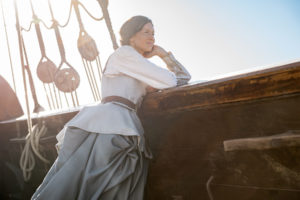 Outlander Costume Designer Terry Dresbach (seasons one through three) was the first to acknowledge the stark, muted tones and lack of luster in season three, especially when compared with the Baroque opulence of season two #TheRedDress.
But Dresbach's attention to detail in season three got her yet another Emmy nomination for Claire's (Caitriona Balfe) super practical twentieth century-made three-piece raincoat ensemble which as it turns out, was the Swiss Army Knife of the eighteenth century. She didn't win her category, but Dresbach told SYFY WIRE how she came up with a workable solution that differed from the book Voyager, and what made this outfit in particular special; it–much like Claire–transformed throughout the season.
Excerpts:
"'You put yourself into the head of the character," Dresbach says. "So playing Claire, I did some research. And in an 18th Century encyclopedia, I found a pattern for a suit. So that book is on the table where she's sitting, and that is the suit she is making.'"
"'So then the question became, why would Claire — a smart, capable woman who already had the same problems on her first trip to the 18th Century — make the same mistake twice?"
"Look closely at Claire's suit, and you see the planned imperfections. The hem is crooked. The seams are wobbly. The sleeves are uneven. The cuffs are of different lengths. On the other hand, the suit is made of raincoats, so it's waterproof.
"Over the course of her travels, she repurposes its parts as necessary – even wearing the shirt as a headscarf at one point. And as she does this, the suit becomes more and more … romantic. (Yes! Think Katherine Hepburn in The African Queen). "There's not an ounce of glamour to Claire's suit to start with," Dresbach says. "But I knew that it would get glamorous down the road. When you see her on the ship, with the belted blouse and a skirt, it's like the most romantic costume on Earth."
Another unofficial win as far as we're concerned, Terry. We miss you already.
Source: Syfy.com