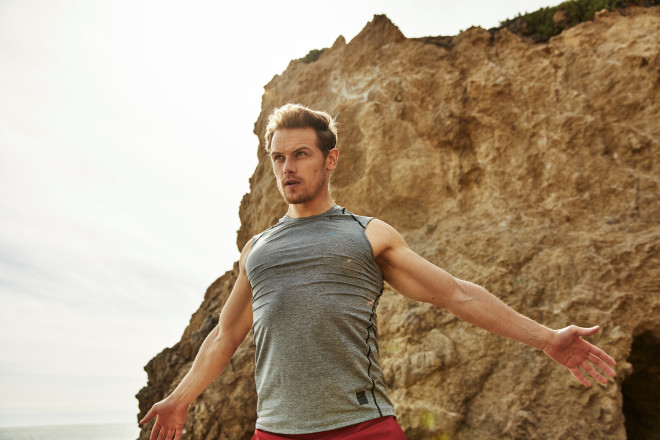 Sam Heughan has an article in the new issue of Men's Journal (Henry Cavill is on the cover).  While this site is not focused on the other projects of the actors and crew involved in Outlander, reading the article accompanying the photos of Sam exercising on the beach led to a couple of questions about the next season of Outlander and Sam's future as Jamie Fraser.
The first quote from the article:
"Part of Heughan's two-month hiatus from filming Outlander will be spent shooting new footage for MPC in Los Angeles."
Two months?  Previously in May, Caitriona Balfe spoke of a seven-month hiatus while at the BAFTAS.  Could Caitriona have said seven weeks and was misquoted as seven months?  We reached out to Starz to clarify the discrepancy between these two articles, and while no date could be provided for when the cast goes back for filming season five, the hiatus is closer to seven months and not two months.
The second quote from the article:
"In 2011 he landed the lead role in a live-action show called Batman Live, a highly physical production with cables and pyrotechnics. After that, he secured Outlander. And although fans can count on seasons 5 and 6, the show won't be his Law & Order. At some point, Heughan will move on. "I want to be a movie star—I think that'd be great fun," Heughan says. It's the idea of diving into one meaty role for a few months that entices him."
I felt a little panicky after reading that because could we continue to watch Outlander without Sam Heughan as Jamie?  This show takes up so much time for all the cast and crew, especially the two main actors.  Sam was cast as Jamie five years ago, and they only finished filming season four. They are focused on filming Outlander for the majority of a year, and they have little time to explore other projects.  Yes, the now confirmed seven-month hiatus gives those involved in Outlander to opportunity work on completely different projects or they could just take a very well-deserved extended vacation.  Sam Heughan and Caitriona Balfe have signed on for seasons five and six, but what if that is it?  Based on the fact that Diana Gabaldon is writing book nine, there will be at least three more seasons after season six if Starz and Sony decide to continue with the series.  It is possible that the two main actors could leave and have their roles recast with older actors (like The Crown).  The series could also just end prematurely if the show loses one of its main actors.  We have at least two years before these questions are answered, and it is something to ponder (but not obsess over) as fans of the book and the show.
Source: Men's Journal, Outlander TV News