For our second 'Outlander' In The City charity review, we will be speaking with Richard Rankin.
Richard chose Macmillan Cancer Support as his charity.
Macmillan's ambition is to reach and improve the lives of everyone living with cancer and to inspire millions of others to do the same.
In 1911 Douglas Macmillan watched his father deal with the pain and suffering of being diagnosed and passing from cancer. Douglas decided he wanted to assist others by providing access to cancer information and low to no cost care for in home services, so he created the 'The Society for the Prevention and Relief of Cancer'.
In 2006 the most recent organizational name change created Macmillan Cancer Support, this was  to help people better understand what the organization does. They support those diagnosed with cancer emotionally, socially, financially, as well as medically. In 2015 alone over 5.8 people were reached and supported through the charity. Macmillan Cancer Support provides information for those recently diagnosed with cancer when it is a time of confusion and usually a bit of being overwhelmed, they provide free cancer publications in various languages and in multiple formats to assists in information on:
over 60 types of cancer
treatments for cancer
managing symptoms and side effects
practical issues like money, work and travel
coping with emotions.
When on the Macmillan Cancer Support website it is  amazing how much information is available, from early diagnosis, physical activity, dealing with your work environment, all the way to end of life care. The group is geared towards those that live in the U.K. but there is information available online that would assist those who are diagnosed where ever they are in the world.
There are many ways to support Macmillan Cancer Support: Volunteer, Donate, Find a local event (UK based), as well as shop the Macmillan shop.  I really like the reusable bags they have in their shop. Or you can purchase a more meaningful gift – "Buy a Macmillan virtual gift and your chosen recipient will get a card telling them how your gift helps Macmillan support people affected by cancer." These gift cards are gifts of funding for specific items, a few options are funding an information center or even a nurse for daily care. As with all the chosen charities from the evening there is a link set up through the 'Outlander' In the City/Peak Posse Just Giving page, this page will be active through the end of 2017: https://www.justgiving.com/fundraising/OutlanderInTheCityMac 
Richard was kind enough to speak with us for a few minutes about Macmillan Cancer Support, with a little bit of 'Outlander' thrown in, the interview can be found below.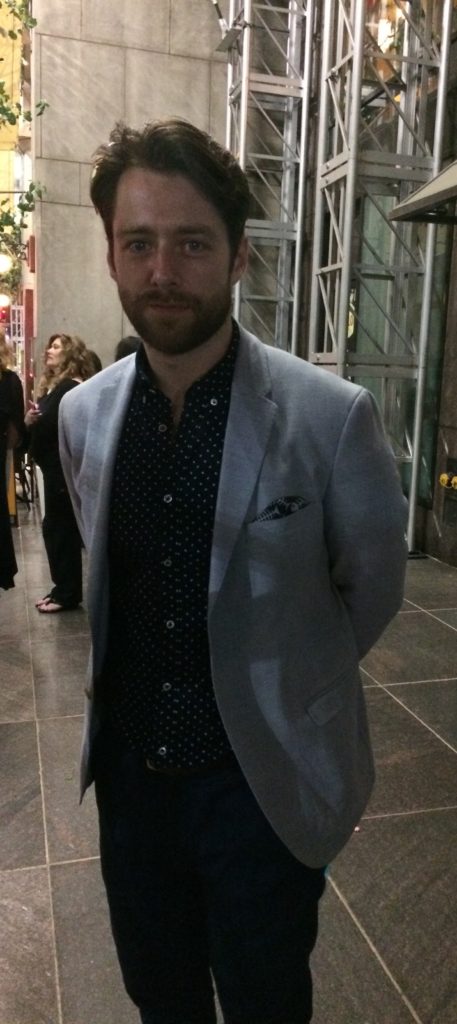 OLTVN: So you chose Macmillan Cancer Support and you do a lot with them
R: Yeah I do
OLTVN: You just did the Breast Way Round Macmillan event
R: Yeah, that's right
OLTVN: The Breast Way Round biking event, can you tell me a little bit about the event?
R: The Breast Way Round is a charity that was founded to support breast cancer and is now going on I think 10 years, it is a group of bikers they go every year, they travel around Scotland to raise money in support of Macmillan. Specifically through breast cancer because that is how it started, one of their founding members had breast cancer and I think passed away from breast cancer so they now continue to do that and raise money for Macmillan who supported that member. I think to date they have raised something like £300,000. I was asked if I would go along and support that, I thought it was a very worthwhile cause and went along to launch them off this year on their three day trip around Scotland.
OLTVN: Did you do any of the biking, or did you just attend the launching?
R: No, (laughs) I didn't do any of the biking, I was very tempted, I was offered you know a back seat on a few of the bikes but no, I didn't. Unfortunately, I don't have a bike license myself, but had I had one I might have been very tempted.
OLTVN: Are there any more causes or events with Macmillan that you've really been drawn to or have participated in?
R: I've only really just started to support, well actively support. Obviously I have been supporting them for a while, I suppose indirectly, and there has been many, I suppose events for donations to my chosen charity which has been Macmillan for a while. I haven't had much free time recently but since I've had a bit of free time I've been more involved in doing some of their events and I will be doing upcoming events. But yeah, I suppose I have been working more indirectly supporting them through the fans and if ever they've asked you know, is there a charity you support where we can donate? On your birthday for example they do a "buy a dram" for the actors and I always say, donate it to Macmillan instead of buying a present or whatever.
OLTVN: One 'Outlander' question for you. Are there any cast members that you haven't had any scenes with or that you won't have any scenes with for various reasons that you would have liked to work with or work with in the future? (Slight spoiler in answer if you have not read the books)
R: Well I've only worked with Sophie (Skelton) and Caitriona (Balfe) so far, so I have yet to work with the entire cast. So I am looking, very much looking forward to working with everyone. Um, I will be working with Sam (Heughan) next year I suppose uh, depending on how they adapt it, but I should have some stuff with him which will be exciting and I'll be looking forward to that, um, yeah I suppose just being integrated with the rest of the cast. I suppose being integrated in that time and in that period, because Roger has yet to go back to the 18th century so I suppose becoming integrated into that and working with the cast members that are associated with that time period will be exciting and I'm looking forward to that.
Thank you to Richard for taking the time at the end of a very busy evening to speak with us.
Source: Outlander TV News, Macmillan Cancer Support