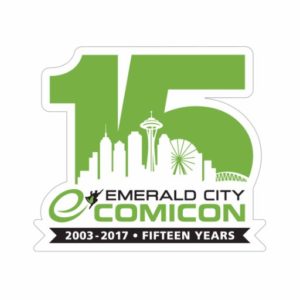 In addition to the Outlander Panel with Caitriona Balfe (Claire Fraser) and Sam Heughan (Jamie Fraser), the Emerald City Comic Con was a six-floor treasure trove of artists and writers, thought-provoking panel discussions, celebrity signings, vendors of trinkets and of course some amazing cos play. I captured a few of my favorites here.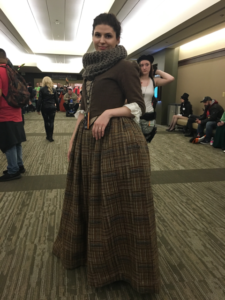 In true Claire spirit, as I was taking this pic someone asked her, "Are you Claire Randall?" Her response: "NO! I'm Claire Fraser!"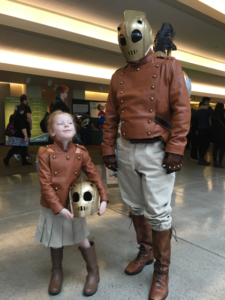 Remember Disney's The Rocketeer?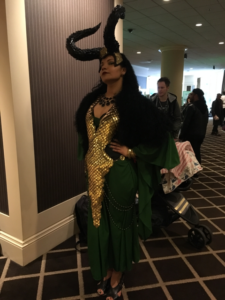 Thor's half sibling, Loki. She was so Boss.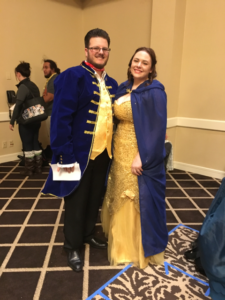 In honor of Sarah, who was in LA for the Beauty and the Beast premiere.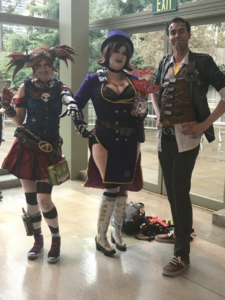 I think they're supposed to be from the video game Borderlands, but not positive.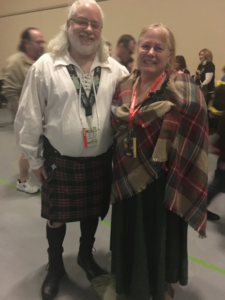 Quite possibly my favorite "Jamie and Claire." He then offered to show me his knee porn…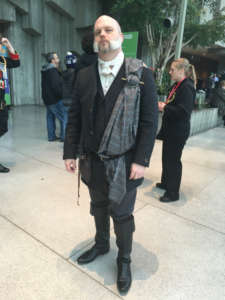 He's no Graham McTavish, but he had the Dougal attitude down.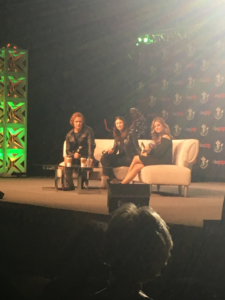 If you read "My Morning with Sam and Cait at the Emerald City Comic Con" this is how close I was. (Felt like they were looking right at me! But nay. T'was the lady in front of me.)
Additionally, Saturday afternoon, I attended the panel "The Death of Belief: American Gods' Impact on Modern Fantasy." A reference to the Neil Gaiman novel–soon to be adapted for STARZ–sci-fi writers Brom, Richard Kadrey, Dave Bara, and Seanan McGuire  discussed their views on, and willingness to use and/or refer to, current religions within their work.
My only disappointment was the lack of Outlander swag. Outside of the autograph and photograph opportunities, only one little booth paid tribute to our beloved Jamie and Claire, offering engraved pendants strung on satin ribbon.
Here's to the next Con in San Diego! Takers?