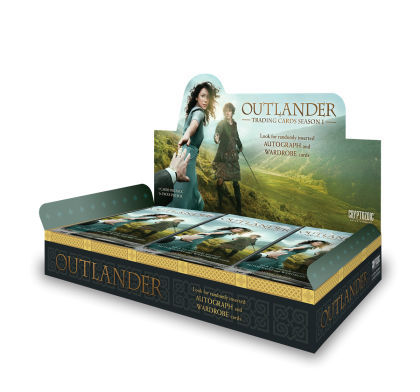 Those Outlander trading cards that we wrote about way back in October 2015 are finally coming to fruition.  After much promotion that they are coming, they are almost here.  Why do we have trading cards?  I don't know, and, frankly, I am not so much interested in the cards as a set, but the autograph and costume cards.
The type of cards that the season one set has are episodic images, character bios, quotes, speak Outlander, autograph cards, wardrobe cards, and dual wardrobe cards.
The autograph cards are not reprints, but actual autographs that each actor individually signed.  For each box of cards purchased, there is at least one autograph card in the 24 packs.  So far the actors that have signed cards include Steven Cree (Ian Murray), Gary Lewis (Colum MacKenzie), Annette Badland (Mrs. Fitzgibbons), James Fleet (Reverend Wakefield), Simon Callow (Duke of Sandringham), Graham McTavish (Dougal MacKenzie), Tobias Menzies (Frank/Black Jack Randall), Lochlann O'Mearáin (Horrocks), Aislín McGuckin (Letitia MacKenzie), Lotte Verbeek (Geillis Duncan), Grant O'Rourke (Rupert MacKenzie), Sam Heughan (Jamie Fraser), Duncan Lacroix (Murtagh Fitzgibbons Fraser), Douglas Henshall (Taran MacQuarrie), and Finn Den Hertog (Willie).  More signers may be added to the list, but they are not added to Cryptozoic's site until the cards are physically received from the actors.
The wardrobe cards are a swatch of fabric from used costumes set into a card. The single costume cards are one card per 24 packs/1 box and the dual costume cards ratio to a box has not been determined yet. Examples are below:
There is also a binder for purchase which includes one exclusive card.  I am unsure if it is blank except for that one card.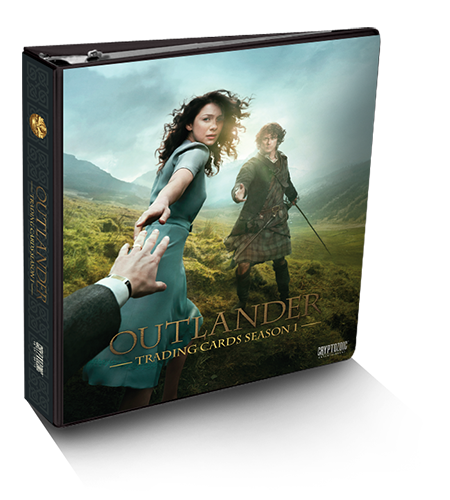 So you may be asking when you can purchase these cards, but all the details available on the site are fourth quarter of 2016.  So that means soon, right?
I don't know if packs (5 cards) will be available to purchase separate from boxes. (Will there be gum?) I also don't know if you can go and buy these in a comic store or other places that sell trading cards.  I know my local Target has an area with trading cards, so here's hoping they might be included in more stores than just online ones.
You may purchase the cards by following the links provided on Cryptozoic's site, but I cannot vouch for any of these stores.  Hopefully, once they are released, we will get a better idea of prices and availability.
As a reminder, these cards only cover season one of Outlander.
You can enter a contest to win a series of the autograph cards.  Click here to enter.
Source: Cryptozoic