Before I start . . . No, Outlander was not at San Diego Comic Con this year.  There was no panel.  However, I did scrounge the convention floor for any Outlander goods.  In that respect, I have come to the conclusion that there is not much out there for Outlander fans to buy at SDCC.  We have been woefully underestimated in terms of our buying power and our presence at SDCC.  I went as far as trying to get some artists and booths to bring Outlander merch and art to SDCC 2017 because everything I did see was sold out by Sunday. The staff at Dark Horse Comics said that they should have brought more of their Outlander merch to sell because it sold out quickly.
Dark Horse Comics did have a display of Outlander merch that is already available and is also coming our way soon.  See the below photos.  Craigh na Dun bookends, anyone?  And that crystal thistle lights up.  You can click on the images to see the prices and description better.
I also found this artist on the con floor on Sunday.  Her one Jamie drawing had sold out already, but says she will ship.  If you are interested in her drawing, please visit her official website and inquire about purchasing.  Jamie is under "Digital Painting" on her site.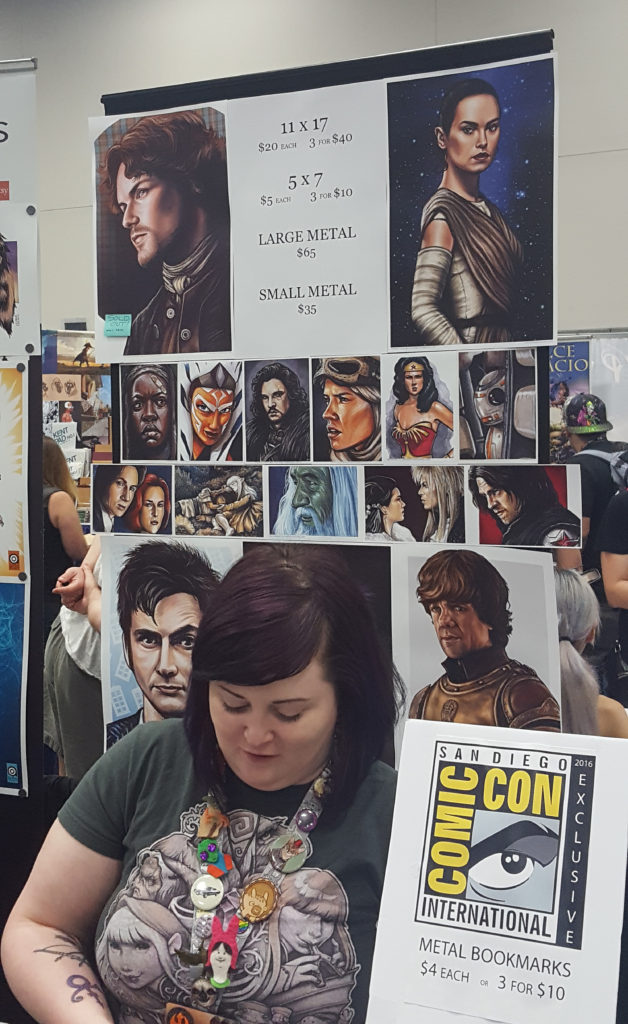 We did interview composer Bear McCreary!  He was great and totally laid back and happy to chat in the middle of con attendees going to and fro.  It made for an interesting background to our interview.  Click here to see our interview with him.  Below is the rare selfie with myself, Ashley, and Bear.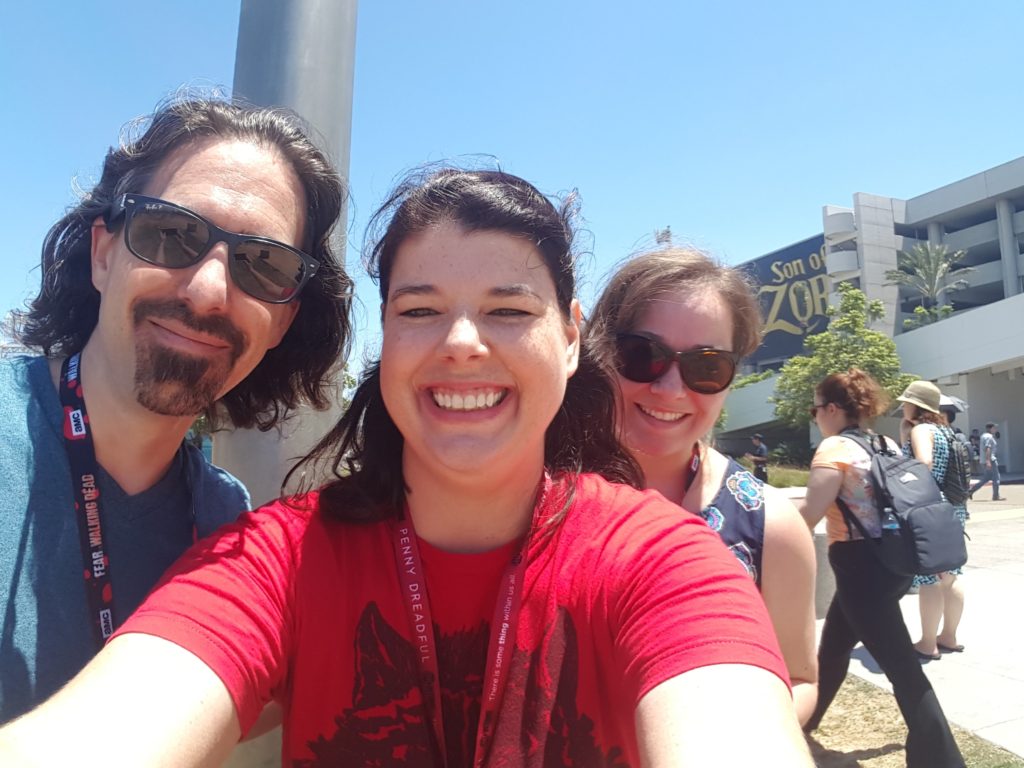 On Saturday, there were a few panels that had Outlander crew as part of them.  While I did not attend these panels, Ginger from Outlander Podcast did.  Her experience of attending all of these panels and meeting Outlander people will be on an upcoming podcast.  There are also live tweets on their Twitter account. Ashley, Summer from Outlander Podcast, and myself were all in Hall H being mesmerized by the Warner Brothers and Marvel panels (and getting a Harry Potter wand).  Below are some photos from Ginger meeting all the great Outlander people!
Finally met the beautiful and talented #Outlander songstress @RayaYarbrough #SDCC2016 pic.twitter.com/GHHVxK7sY2

— Outlander Podcast™ (@outlanderpod) July 24, 2016
The superbly talented @OutlanderCostum #Outlander @Outlander_starz #SDCC2016 pic.twitter.com/2sfd7UYdCS

— Outlander Podcast™ (@outlanderpod) July 23, 2016
The executive himself @RonDMoore #Outlander #SDCC2016 @Outlander_STARZ pic.twitter.com/Ryv5E9qYPk

— Outlander Podcast™ (@outlanderpod) July 23, 2016
One of the most generous people around @ChrisFParnell #Outlander @outlander_starz #SDCC2016 pic.twitter.com/tSnU4GbmwN

— Outlander Podcast™ (@outlanderpod) July 23, 2016
Day made! #ToniGraphia @outlanderwriter #SDCC2016 pic.twitter.com/5ZdfWKGkgV

— Outlander Podcast™ (@outlanderpod) July 23, 2016
And to end the SDCC experience, I set up an Outlander fan meet-up on Saturday evening to take a group photo.  Thanks so much to everyone who came out.  There were way more people there than I expected.  Let's do it next year, okay?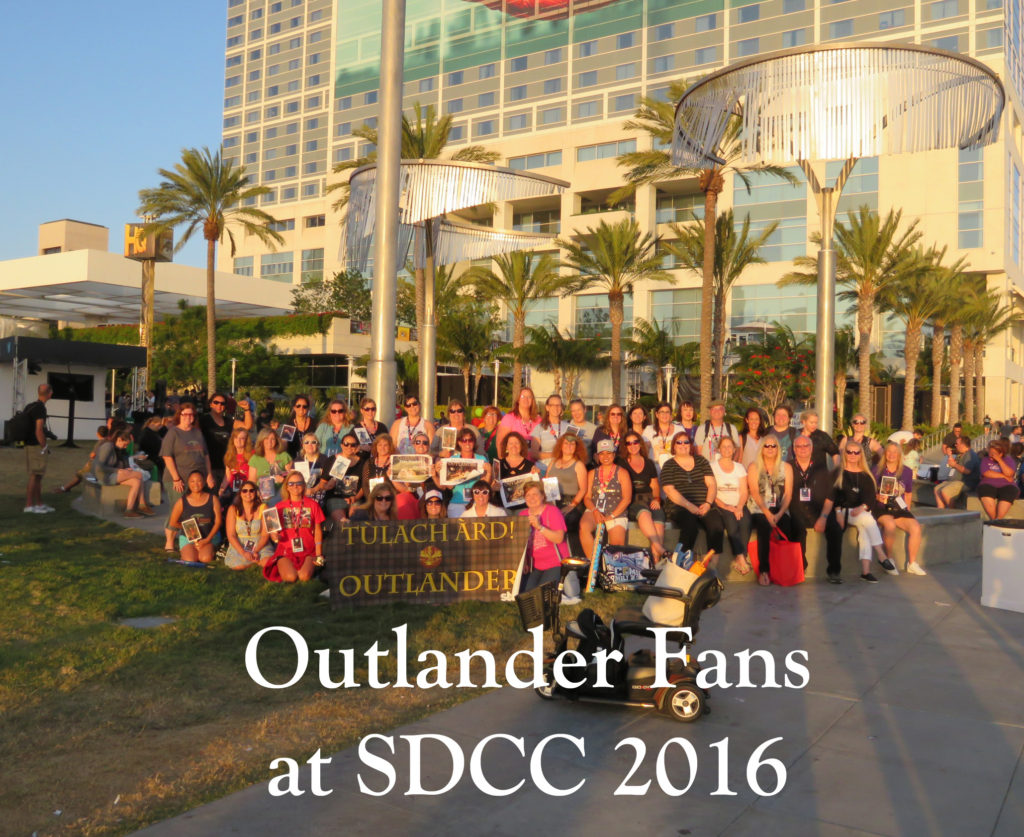 Source: Outlander TV News or respective Twitter accounts or links