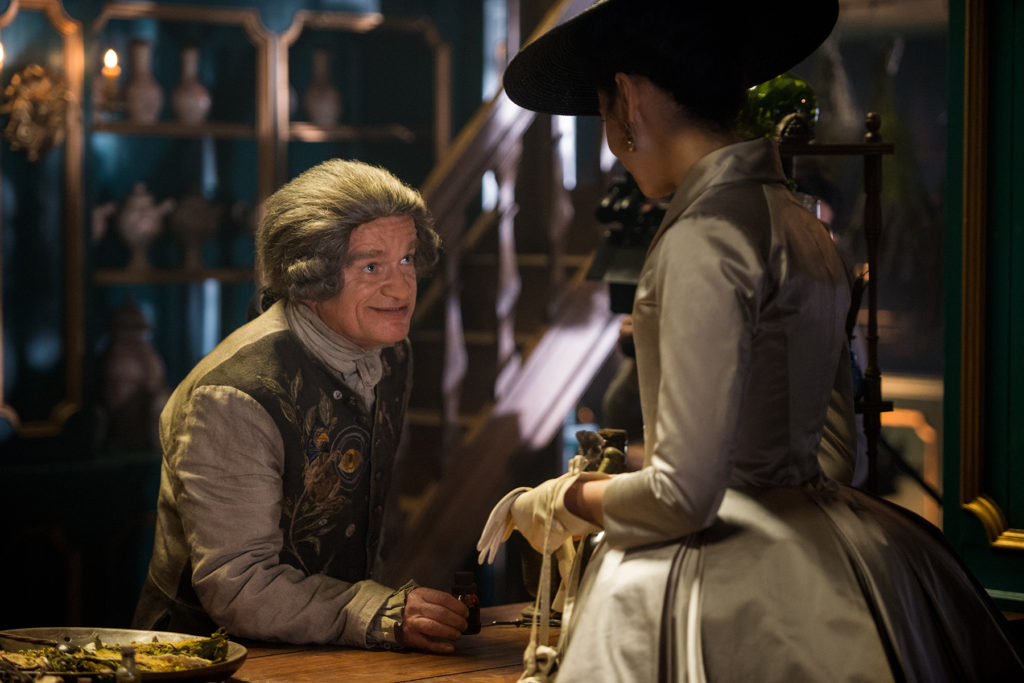 As we did with season one, we will post an interview round-up following each episode from the new season. Below are a few excerpts from this week's interviews with Caitriona Balfe, Sam Heughan, Diana Gabaldon, Tobias Menzies, Terry Dresbach, and Ronald D. Moore. Be sure to click on the links to read the full interviews. Since these posts/interviews follow the latest episode, beware of spoilers if you have not watched the episode.
More about that red dress from Access Hollywood.  To read another article on the dress, click here.
Yahoo: 'Outlander' Costume Designer Terry Dresbach Talks Claire's Red Dress Moment
But none of that awkwardness is evident that first time Claire appears in that red dress, descending the stairs where her husband stands, his mouth agape. "I had seen Cat moments before that shot, sort of crab-walking down the corridor," Heughan confesses to us with a laugh. "The dress was so wide that she couldn't get through the door! But in that moment on the stairs, she looks spectacular. You don't have to act too much when you see her wearing that dress."
Zap2It: "'Outlander' is 'going to the brothel this year'
"The Paris story in the book is told exclusively from Claire's point of view and Jamie keeps leaving and going off to see Charlie and going off to court and coming back and talking about it. We are going to play all that [on screen], so we had to make up all that story that really wasn't there," Moore tells Zap2it. But that presented a challenge for the "Outlander" writers' room. Moore says the second season "was a tougher book to adapt" because it's some "very complicated material."
The Hollywood Reporter: 'Outlander' Stars Discuss Black Jack Revelation, Jamie and Claire's Growing "Rift"
Jamie finally met Bonnie Prince Charles for the first time. What does he think of this man people give their lives for without ever having met in person?

Heughan: Jamie is not a Jacobite, but he loves his country and he would certainly do everything he can to save it while he's there. For him, Charlie in a way represents the destruction of his country because he knows what's going to happen in history. He knows that Charlie will lead them to their doom. He has to stop him, but the way he has to stop him is by pretending to be his friend, his ally and advisor. That's really the theme of season two, not knowing who is your friend or your ally or your enemy. Charlie is just a really interesting character. He has a strange relationship with Jamie that, in a way, you can't help but feel sorry for Bonnie Prince Charlie. He's also a bit of an outsider. He's been treated so well and sheltered so much that he's lost contact with his people. He's so far removed from Scotland and his own people but he just doesn't know any better.

Caitriona Balfe: There's a great fear that this is going to be something that breaks Jamie. She felt that they were finally getting to a place where they could put that to rest. Even though she still sees Jamie struggling with the torment of all that happened last season, she felt like they were perhaps on the road to recovery. Now with the knowledge that he's actually not dead and his brother is now in Paris, she's so scared that it's going to break Jamie.

Jamie has been having nightmares about Black Jack. He isn't sleeping well and can't be intimate with Claire. How is he going to be handling this trauma moving forward?

Sam Heughan: He continues to suffer from this trauma. He's still got scars, physically but also emotionally. And he doesn't deal with it. He just pushes it aside. He throws himself into the mission and trying to change history. But what happens is that actually creates a rift between him and Claire. They're not physical with each other anymore. He can't get close to her without seeing Black Jack. And actually, without spoiling it, the only way he's cured is with Black Jack himself. The fact that Black Jack is still alive will give Jamie hope again. That gives him the power to once again take control of his destiny and of his life. That finally rids him of the nightmare that is Black Jack Randall. It's strange that the salvation of Jamie comes in the form of the very thing that injured him.
Wall Street Journal: 'Outlander' Star Sam Heughan on French Society, Fake Blood and the Frasers' Marital Intimacy
The opening moment of tonight's episode has Jamie dreaming that he brutally murders Black Jack. What was it like filming that scene? Did you go, "Wait a minute, did I just stumble into an episode of 'Game of Thrones'?" with all that blood?

It's very graphic. I remember reading the book ["Dragonfly in Amber"] before we started shooting, and just in my mind this image of Jamie sitting in the window with a plaid around him, and he's not sleeping at all. Every night, he's not getting rest. That's what's making his mind turn and why he's throwing himself at this mission, and I think for me it's a great way to show that he's being plagued by it. But, yeah, it's a very strong opener.

How did the fake blood taste?  

It's so sticky. It's like this very sort of sweet, sugary syrup. We shot that quite a few times, like, five or six, so, you have to get cleaned up and do it again. But I've got some great behind-the-scenes pictures of me covered in blood. Tobias as well, he's magnificent in that. It's really gruesome and kind of weird.
IGN: WHAT OUTLANDER'S HUGE BLACK JACK REVEAL MEANS FOR THE SHOW
The monster who haunts the dreams of Jamie Fraser isn't as dead as the Scotsman and his wife Claire might have hoped. Even worse, Claire can't reveal to her husband that the man who raped and tortured him, Black Jack Randall, is still alive.

In the second episode of Outlander: Season 2, Claire comes face-to-face with Black Jack's younger brother, Alex Randall, and learns that the garrison commander survived the bull stampede at Wentworth Prison. Not only is she immediately concerned for her husband's safety and wellbeing, but she also has to grapple with what Black Jack's survival means for her other husband, Frank Randall.

"It's such a catastrophic event in a way, but then it brings up all this stuff about Frank and what does it mean if [Black Jack] is not dead?" Caitriona Balfe, who plays Claire, said in a recent interview. "It's weird because she's not thinking rationally, in a way. It's a very emotional reaction, of course, which is understandable. Her first concern is Jamie. What is he going to think? Is this going to make things worse? And I think she expects that. She expects that this will break him because she's watched him struggle with the demons of what happened, and she's hoping that he's making his way out of it."

Even when the Frasers thought Black Jack was dead, he was still a big part of their lives. "Black Jack has always been present in their relationship since that happened," Balfe said. "No matter if he's alive or dead physically, he's still very much alive within their relationship, and that's the poison that he's been able to inject into Jamie's mind and their relationship."
Yahoo!:  'Outlander' Postmortem: Sam Heughan On This Week's Potty Humor
While digestion was no laughing matter for Louis, Heughan tells Yahoo TV that the cast had a good time shooting the constipation sequence. "It was very funny," he remembers. "That's a tough scene for any actor to perform, but Lionel is terrific. And it was great to see Jamie present himself as a Laird and have some sort of standing in the French court. Or at least pretend that he does." The Scottish actor also reveals that this was the first scene he shot where he was required to speak French on camera in front of a mostly French-speaking cast. "And I believe that was also the day where we also had reporters from the Hollywood Foreign Press on set," Heughan says, laughing. "Just to add even more pressure." And the Golden Globe for Best Gastrointestinal Advice goes to…
Variety: 'Outlander' Stars on Black Jack Randall's Fate, Claire and Jamie's Emotional Distance
"You now realize why this true historical figure was so inspiring to men but also so dangerous and such a fool," Heughan notes. "He's this young man who's been brought up in exile abroad and been fed all this propaganda by his father and the people around him. He believes when he arrives in Scotland, he'll be greeted by crowds of adoring people and he probably arrived on a cold bleak day in Scotland and there were only a few thousand people there. So he's a great character, and it's interesting to see Jamie — who is not a Jacobite supporter and is in fact the opposite — have to play along with that."

Luckily, her travels also bring her into contact with the spirited Master Raymond, whom Balfe compares to Claire's time-traveling friend Geillis Duncan from Season 1. "For whatever reason, they are like-minded souls and they recognize that instantly in each other," she says of the enigmatic apothecary, who shares Claire's disdain for Le Comte St. Germain. "She's finding her people; I've moved cities so many times and it's such a lonely experience until you find your people, so it's really nice that you see Claire find that."
Sources: Access Hollywood, Zap2It, THR, Wall Street Journal, Yahoo!, IGN, Yahoo #2, Variety