Starz released a new photo today of Prince Charles Stuart (Andrew Gower), commonly referred to as "The Bonnie Prince." It's probably a safe bet to assume that the "both" referenced in the included quote is intended toward Jamie and Claire.
To see previously released season two cast portraits, view an earlier post here.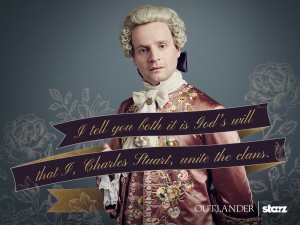 A BIT OF HISTORY ABOUT THE BONNIE PRINCE:
**Spoiler Alert: Outlander is considered one part historical fiction. Do not read the following Wiki excerpt if you haven't read Dragonfly In Amber.**
Charles Edward Louis John Casimir Sylvester Severino Maria Stuart (31 December 1720 – 31 January 1788), commonly known in Britain during his lifetime as The Young Pretender and The Young Chevalier, and often known in retrospective accounts as Bonnie Prince Charlie, was the second Jacobite pretender to the thrones of England, Scotland, France and Ireland (as Charles III) from the death of his father in 1766. This claim was as the eldest son of James Francis Edward Stuart, himself the son of James VII and II. Charles is perhaps best known as the instigator of the unsuccessful Jacobite uprising of 1745, in which he led an insurrection to restore his family to the throne of Great Britain, which ended in defeat at the Battle of Culloden that effectively ended the Jacobite cause. Jacobites supported the Stuart claim due to hopes for religious toleration for Roman Catholics and a belief in the divine right of kings. Charles's flight from Scotland after the uprising has rendered him a romantic figure of heroic failure in some later representations.[2] In 1759 he was involved in a French plan to invade Britain which was abandoned following British naval victories.[3]