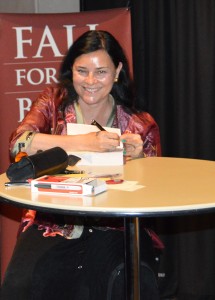 Another feather can be added to Diana Gabaldon's hat. This past Sunday September 27th, 2015 Diana was on the George Mason University campus to accept the Fairfax Library Foundation, Fall for the Book 2015 Mason Award. This award celebrates authors who have made an extraordinary contribution to connecting literature to the wide reading public. The list of past recipients includes the likes of Stephen King, Neil Gaiman, David Baldacci, and Jodi Picoult.
Diana had a very busy day before she even accepted her Mason Award. Earlier in the day she attended an intimate luncheon with Davina Porter (Outlander audio book narrator), and 10 VIP members. After the luncheon she joined Davina's husband as well as a few hundred Outlander fans to watch Davina's presentation and reading. Following Davina's presentation The Friends of the Pohick Regional Library hosted a reception in Diana's honor.
The Mason Award Presentation was sponsored by the Fairfax Library Foundation and Director Brian Engler presented Diana her award after she was escorted by bagpipe onto the stage. Diana graciously accepted the award and stated that the $10,000 that accompanied this honor was being donated to Nuestros Pequeños Hermanos an organization that provides homes for orphaned and abandoned children throughout Latin America.
Diana proceeded to entertain the audience with stories of how she came about writing Outlander, recent banter with William Shatner, reading an excerpt of upcoming (untitled and no known release date) Book 9, followed by a moderated Q&A session. Many lined up after the presentation to have the opportunity to meet Diana and have her sign a book.
Moderated Q&A Session
When your characters speak to you, have any of them taken you in a direction you did not want to go or make things unusually complicated?
Diana- It could be argued that I make things extremely complicated for them, but no, I don't write with an outline, I don't write in a straight line. It would never occur to me to make them do something they didn't want to. If they set off in some direction I assume they have a good reason and I just go along.
If you could change or re-write any particular character or scene, which one would you choose and why?
Diana- I can't think that there is any scene and certainly there is no character that I would change. I would rewrite the Gaelic in the first two books because I didn't have a good translator it is all very clumsy. But other than that I don't think I would change anything, no.
Was there ever a time you were jealous of Claire? If so, when and why?
Diana- Uh, no, *laughs* who do you think that is?
Which relationship in your books do you which you could have or you would like to develop further?
Diana- Oh, I don't know, I pretty much develop them all as far as I want to. Um, there is a lot left remaining to be developed but probably lately the relationship between Jamie and William has/ is coming to its fruition. There might be a few others here and there, Ian and Rachel have only begun their married life, for that matter Jenny and Jamie who are reunited in the same household for the first time in 50 years, and they may have a few things to say to each other along the way. Almost any character who is still alive has a relationship still to be pursued.
What is the most surprising thing you have learned about yourself either during the creative process or with the book [going] to TV?
Diana- Surprising thing? I have a lot more stamina than I thought I did.
Do you ever dream about the stories you are writing or about particular characters?
Diana- No, I never do, I have very boring dreams, they are all about rocks and water. You know these are classic artist dreams, you dream about rocks it's kind of a building dream, you know you are climbing the rocks and so forth. Or you're piling up rocks, it's a laborious thing you are involved in, but you are fully focused on it. Water is a visionary thing, if the water is clear then it's a good omen, you can see things in it, the vision source. If it is murky and so forth it means you are having a hard time with whatever you are dealing with either in your personal life or your work, so I always dream about rocks and water.
If you lived in the 18th Century what would you miss the most from the 21st?
Diana- Probably red chili, I would have to import it from Peru or something.
When writing Dragonfly In Amber at what point did you decide to start with Brianna and flash back and why did you make that choice?
Diana- I am not sure when I decided that, as I said I don't write with an outline so I don't know ahead of time, they kind of evolve organically, and they develop a shape I can see. I knew that the main part of the story of course continued from where Outlander ended, and I knew how Dragonfly ended. So I was thinking how am I going to get from here to there and explain this? I knew that because Claire was pregnant and I knew we were going to have a baby in the next book, and I didn't know anything about this yet except she was a girl, because Jamie said name him Brian. Small children are just not that interesting, unless they are yours then in which case they are fascinating. I did not want to have Brianna on stage all of the time, as this little brat going Mommy, Mommy, Mommy, Mommy during all the big parts of the story, and if that wasn't happening then Claire wouldn't be being a natural mother, and if she was parking the kid with the 18th century equivalent of daycare, people would be complaining right and left going, oh, she's so cold, she's so harsh, why is she always being so selfish? Because they do that anyway. Like I said think a little bit about who Claire is before you make that kind of remark to me. Having mentioned it twice, everybody assumes Claire is me, and of course she is, who else would she be? The thing is, I am all the people in my books, who else would they be? Including even, the messier ones, you know Rob Cameron, Steven Bonnet. Once I was having tea with a group of readers and they got started on the character of Black Jack Randall and everyone going oh he's such scum, he makes my skin crawl. I'm sitting there sipping my tea thinking, you have no idea that you are sitting here talking to Black Jack Randall.
This question actually came with a P.S. and I am going to read the P.S first because I think it is probably a sentiment that can be echoed by almost everybody here. The P.S. is: I adore you and the fierceness you have instilled in Claire and Brianna. [Oh, well thank you]. Aside from your current writings what novel have you recently fallen for?
Diana- Oh, let's see Phil Rickman, his series of novels is great. He is one of my very favorite authors. He has this lovely series that has 12 books in it already. It is set on the Welsh border between Wales and England, very evocative, he writes beautifully about the landscape, it is a character there just as the Scottish landscape is a character in my books. Lovely, lyrical writing, great dialogue, and a lot of great characters. His main character is Merrily Watkins who is a widowed, Anglican vicar (with an obnoxious teenage daughter), and she is the official exorcist for the Diocese of Hereford. Obviously we have a lot of conflict. The books are extensively crime novels, but there is this strong thread of the supernatural running through them. A lot of deeply engaging human relationships and at the bottom of all of the books is a continuing sort of conversation almost subliminal about the place of belief in a secular society. You know because Merrily is constantly trying to get people to come to church and deal with their spiritual issues and at the same time is well aware that most of society thinks that what she does is just insane, so there is this back and forth all the time, she is constantly asking herself, do I really believe? And she has to answer, yes I do, because she can see these things happening on the other side, and if that other side is there then her side is also there.
Who would you cast as Lord John Grey? Maybe Billy Magnussen?
Diana- I am sad to say I have no idea what he looks like so, no. I have to subscribe to PEOPLE magazine, I buy it at the grocery store and I do so because otherwise I would have no idea who you people are talking about. No, I haven't the slightest idea. (We searched Google as well and THIS is Billy Magnussen)
Do you ever get so emotional while writing a scene that you have to take a break from writing for a while? (Sidenote: this was my question and if you read the Davina Porter Article you will see I had the chance to ask her this question as well)
Diana- No, I do get deeply emotional about the scenes that one would expect one would get emotional about which is one reason why I write late at night. The main reason is that it is quiet and nobody interrupts me the other is that it really disturbs my family to come in and find me with tears rolling down my face. But no, when I am writing an emotional scene I am totally in it and I am not letting go until it is finished, because you know that scene is talking to me you never interrupt a good scene while it's talking to you, so you know I will be in it until it's done and at that point it is all catharsis and everything is great.
This is a two parter, sort of about your invented world. Is Tom Christie a traveler or is Malva? Malva's child is described as having a blue glow in Claire's hands.
Diana- Oh, no, it's Claires hands that have the blue glow it's not the kid. Not Tom Christie he would be shocked at the very idea.
Do certain stone circles always deposit a traveler at another fixed location or might the traveler end up anywhere?
Diana- No, I am reasonable sure that a stone circle marks a particular vortex or lay line cross so you would not travel through space by going into one but only through time, I think. There's no handbook you know.
You have said you don't outline but go where the story takes you, do you then go back after you have written a book or first draft to do an after the fact outline to keep track of plot points, characters, or other information, to use as reference when continuing the story in a new book?
Diana- Let me ask you this, When you roll over in bed in the morning how do you know the man next to you is your husband? How would I forget, at this point? The answer is no, I truly don't write with an outline, I don't write in s straight line, I write where I can see things happening and then I glue these things together. I really do think in shapes once that book has achieved its shape I will never forget it.
Does Claire ever meet her ancestors in the 18th Century?
Diana- She hasn't yet. How would I know, I don't plan ahead of time she might and she might not.
Have you heard of Purple Honey that occurs in North Carolina and can it make an appearance in future books?
Diana- Well, now that I have heard of it, it can, yeah.
Photos: Courtesy of Jen Brougham and IMDb