Comic Con is upon us once more and Outlander will be taking part in the festivities for the second year in a row. Below you will find a collection of photos and other odds and ends from the convention. This post will be updated throughout the weekend, so be sure to check back for more.
Another Master Post will also be updated with interviews from SDCC. Be sure to follow @OutlanderTVNews for more from San Diego.
Updated with more photos on Sunday.  If there are any repeats, it is Sarah's fault.
Posted Saturday, July 11th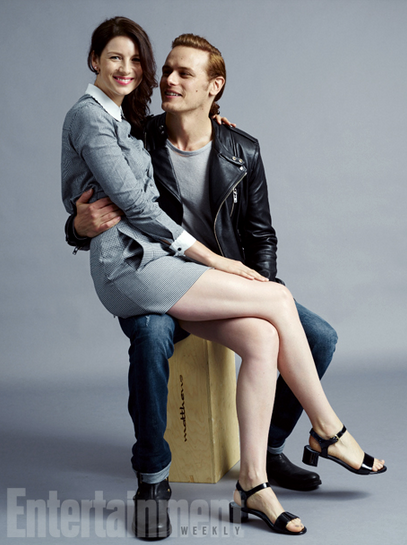 Posted Friday, July 10th
.@Outlander_Starz in the house on @EW Radio! #EWComicCon #SDCC2015 pic.twitter.com/4WJfEFxxzy — EW Radio (@EWlive) July 10, 2015
Cast and creators of #Outlander live from #SDCC @IGN @SamHeughan @RonDMoore @Writer_DG @caitrionambalfe pic.twitter.com/F1SOE5nPQT

— STARZ PR (@STARZPR) July 10, 2015
#Outlander has some laughs at the @etnow suite at #SDCC @SamHeughan @RonDMoore @caitrionambalfe @Writer_DG pic.twitter.com/5NECSbGDjQ — STARZ PR (@STARZPR) July 10, 2015
Some @outlander_starz ❤️❤️❤️ in the ET #SDCC suite! pic.twitter.com/warb51G80L

— EntertainmentTonight (@etnow) July 10, 2015
Posted Sunday, July 12:
Sam at the EW Party:
One of my favorite people… @caitrionambalfe Thx for the laughs lady. See u in a couple of weeks! @Outlander_Starz pic.twitter.com/rl91E5Q3gY

— Maril Davis (@TallShipProds) July 12, 2015
Hey @grahammctavish check it out…A Dougal #Funko doll! Looking good! Photo Credit to @Writer_DG 🙂 @Outlander_Starz pic.twitter.com/VQtG26l0VW

— Maril Davis (@TallShipProds) July 12, 2015
— Diana Gabaldon (@Writer_DG) July 11, 2015
— Diana Gabaldon (@Writer_DG) July 11, 2015
Thanks @SamHeughan @caitrionambalfe @Writer_DG & @RonDMoore for treating our #TWCExclusives #SDCC winners so well! pic.twitter.com/fwh9WKnIaa

— Time Warner Cable (@TWC) July 10, 2015
Love these two. @Outlander_Starz @SamHeughan @caitrionambalfe #TVGMYacht #SDCC #Outlander pic.twitter.com/5GksJZrjec

— Rob Moynihan (@robmoynihan) July 10, 2015
Well hello there, @caitrionambalfe! #Outlander #SDCC pic.twitter.com/tS9rRb8J8l

— Outlander (@Outlander_Starz) July 12, 2015
Getting some face time with the fans at the #Outlander #SDCC autograph signing. pic.twitter.com/3Oa2mmcq0N

— Outlander (@Outlander_Starz) July 12, 2015
Ready for autographs from @SamHeughan @caitrionambalfe @RonDMoore @TallShipProds @Outlander_Starz #Outlander pic.twitter.com/WmKohfkzR9

— ProfessionalFangirls (@Profangrls) July 12, 2015
.@caitrionambalfe has her hands on her very own #Outlander Claire Funko Doll. Get yours this September! pic.twitter.com/Y6vx5DyPeU

— Outlander (@Outlander_Starz) July 12, 2015
https://twitter.com/KristinDSantos/status/620020799626280960
.@caitrionambalfe applying guyliner to make @SamHeughan turn into @colinodonoghue1 !!! It's happening! #Outlander pic.twitter.com/xSMBz8ST3O

— Kristin Dos Santos (@KristinDSantos) July 11, 2015
#piratesam #Outlander @samheughan #sdcc pic.twitter.com/C4MGlFGH5Y

— Kristin Dos Santos (@KristinDSantos) July 11, 2015
.@SamHeughan but havingANY fun at the #Outlander panel. pic.twitter.com/1flYiqn522

— Kristin Dos Santos (@KristinDSantos) July 11, 2015
.@Writer_DG and @RonDMoore wishing Jamie and Claire well at @comic_con! #Outlander #SCC #ViveLesFrasers pic.twitter.com/XiokkY1y7h

— Outlander (@Outlander_Starz) July 11, 2015
#Outlander has some laughs at the @etnow suite at #SDCC @SamHeughan @RonDMoore @caitrionambalfe @Writer_DG pic.twitter.com/5NECSbGDjQ

— STARZ PR (@STARZPR) July 10, 2015
I'm joining @Outlander_Starz as Jamie & Claire's sassy gay pal. @SamHeughan @caitrionambalfe say it's ok. #Outlander pic.twitter.com/3sI7j1yWgN

— Damian Holbrook (@damianholbrook) July 10, 2015
#Outlander's @caitrionambalfe and @SamHeughan have set sail on the #TVGMYacht at Comic-Con. #TVISDCC @Outlander_Starz pic.twitter.com/P0HuUeZBm3

— TV Guide Magazine (@TVGuideMagazine) July 10, 2015
#Outlander's @SamHeughan and Caitriona brought the scoop (and the pretty) when they came by our #ComicCon suite pic.twitter.com/OAisDC3KcG

— TVLine.com (@TVLine) July 10, 2015
Let's #breaktheinternet. @Outlander_Starz on @EWlive at @Comic_Con #EWComicCon pic.twitter.com/4DLzthmXn4

— EW Radio (@EWlive) July 10, 2015
.@Outlander_Starz in the house on @EW Radio! #EWComicCon #SDCC2015 pic.twitter.com/4WJfEFxxzy

— EW Radio (@EWlive) July 10, 2015
Live from the @penguinrandom booth @SamHeughan @Writer_DG @RonDMoore @TallShipProds & @caitrionambalfe #outlander pic.twitter.com/DdevbiZzeT

— STARZ PR (@STARZPR) July 12, 2015
.@SamHeughan as Jon Snow and @CaitrionaBalfe as Princess Leia. DREAMS ARE COMING TRUE AT #SDCC. #Outlander #StarsWars pic.twitter.com/go025jSVi7

— Kristin Dos Santos (@KristinDSantos) July 11, 2015
The #outlander cast reminisces with @kristindossantos at @enews about their first meeting a year ago at #SDCC pic.twitter.com/Es8ARSiqJc

— STARZ PR (@STARZPR) July 11, 2015
BTS at the #TVGMYacht with @SamHeughan and @caitrionambalfe #SDCC2015 #SDCC #Outlander pic.twitter.com/FvVkTGpFBn

— STARZ PR (@STARZPR) July 10, 2015
Cast and creators of #Outlander live from #SDCC @IGN @SamHeughan @RonDMoore @Writer_DG @caitrionambalfe pic.twitter.com/F1SOE5nPQT

— STARZ PR (@STARZPR) July 10, 2015
we already know @SamHeughan would make a good pirate but would @Zach_McGowan survive in Scotland? #Outlander #SDCC15 pic.twitter.com/O8ySNMxdaW

— Alana McGaughey (@mrsamagax) July 12, 2015
Bts shot of #outlander #SDCC15 signing pic.twitter.com/H3poX4Mjjx

— Alana McGaughey (@mrsamagax) July 12, 2015
#outlander with one of our fav's and today's #sdcc moderator @KristinDSantos @ENews @STARZPR pic.twitter.com/kbRNP8zUsG

— Alana McGaughey (@mrsamagax) July 11, 2015
#outlander at @IGN #sdcc15 pic.twitter.com/tMzHaLPXOO

— Alana McGaughey (@mrsamagax) July 10, 2015
#outlander live now on @EWlive #SDCC15 pic.twitter.com/BdPJj50xK8

— Alana McGaughey (@mrsamagax) July 10, 2015
.@SamHeughan stole @darkislepiper's bagpipes, but can he play?!?! pic.twitter.com/i5KdSaEIrx

— Robyn Harney (@IAmRobynNicole) July 12, 2015
#Outlander's @caitrionambalfe and @SamHeughan have set sail on the #TVGMYacht at Comic-Con. #TVISDCC @Outlander_Starz pic.twitter.com/P0HuUeZBm3

— TV Guide Magazine (@TVGuideMagazine) July 10, 2015
Another amazing year..#Outlanders pic.twitter.com/Qla85vou8S

— itsBigAl (@alchavezjr_al) July 12, 2015
Awww..#Outlanders pic.twitter.com/7QNHF6HhM7

— itsBigAl (@alchavezjr_al) July 12, 2015
Selfies with @Writer_DG & @RonDMoore! Win experiences like this by visiting http://t.co/8FnTpCGMh8 #SDCC #Outlander pic.twitter.com/UeAqyMps8M

— Time Warner Cable (@TWC) July 10, 2015
Posted August 6, 2015
Source: @entertainmentweekly, @EWlive, @STARZPR, @etnow, Entertainment Weekly, InStyle, Getty Images, Maril Davis, Diana Gabaldon, all respective Twitter accounts (there way too many)