Comic Con is upon us once more and Outlander is making an appearance for the second year in a row. There are a few events planned, including a panel and autograph sessions, and of course, there will be plenty of interviews along the way. As we have done in the past, all the interviews will be collected in one post for your convenience and the post will be updated as the weekend continues.
A second Master Post will also be updated throughout the weekend with photos and other odds and ends from the convention. Be sure to follow @OutlanderTVNews for more from San Diego.
****This post contains spoilers! Given the amount of interviews, photos, etc. that may come out of Comic Con, we cannot read and/or listen to each interview and mark individual ones for spoilers. Please listen/read at your own risk if you are not familiar with Dragonfly in Amber or do not wish to know details about season two!****
Posted Monday, July 13th
E!: Is Sam Heughan Single? Does Caitriona Balfe Have a Sister?
Click here to watch the video from E!.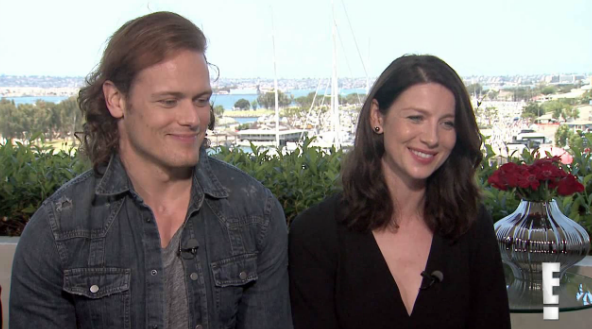 E!: "Outlander" Cast on Season Two and More
Click here to watch the video from E!.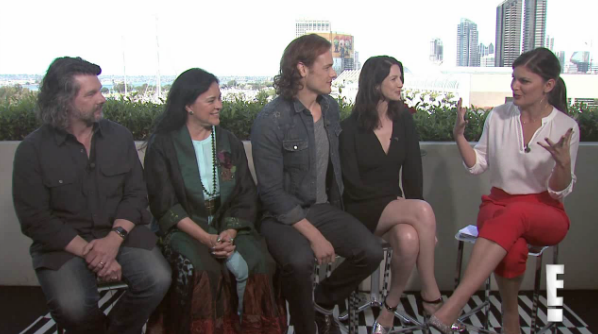 Yahoo! TV: How Well Does the Cast of 'Outlander' Know Their Own Show? Let's Play Stump the Star!
Click here to watch the video from Yahoo! TV.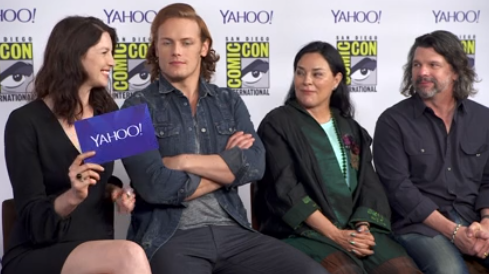 MTV: 'Outlander' Stars Caitriona Balfe & Sam Heughan Play 'Know Your Co-Star'

IGN: Outlander: Caitriona Balfe, Sam Heughan Season 2 Interview

TV Line: "Outlander" Interview at Comic-Con 2015

TV Goodness: Caitrona Balfe and Sam Heughan Preview Outlander Season 2

EPs Diana Gabaldon and Ron Moore Preview Outlander Season 2

Yael Tygiel: Sam Heughan (Jamie) & Caitriona Balfe (Claire) – Outlander Interview

Diana Gabaldon & Donald D Moore – Outlander Interview

TV Fanatic: Caitriona Balfe and Sam Heughan Talk Outlander Season 2

Diana Gabaldon and Ronald Moore Talk Outlander

Posted Saturday, July 11th
Hypable: 'Outlander's' Caitriona Balfe and Sam Heughan talk Jamie and Claire becoming parents
Caitriona Balfe, who plays Claire, told Hypable that the new French cast has been wonderful. "Romann Berrux (Fergus) is such a sweet, sweet kid and very funny. Apparently, he's also very heavy which you should ask Sam about, because he struggled lifting him. It's been great. It's lovely to watch Jamie and Claire to assume this role as surrogate parents. You really see her fears about becoming a mother come into play. It's beautiful when you watch her and Fergus find that bond. It's a really cool part."

Sam Heughan, who plays Jamie, also commented on his role as parent and surrogate parent. "Fergus brings this great dynamic to the Jamie and Claire relationship. It's nice to see Jamie and Claire playing parents, and looking after the child.
Entertainment Weekly: EW's Brave New Warriors talk sexism, machismo and body wax (A discussion with Zachary Levi, Sam Heughan, Michael Cudlitz, Jordan Gavaris, Rob Kazinsky and Kevin Durand.)
—Sam Heughan's accent. "Can you just keep talking for a while?" cooed Cudlitz.

—Once the guys took the stage, they all (with the exception of Gavaris) quickly deduced that the most bad-ass thing each one did this season on their respective shows involved some sort of murder. Cudlitz cited The Walking Dead's "Abe-sh*t" scene in the construction site from last season; Durand admired Vasiliy's bare-hands approach to killing vampires on The Strain; and Heughan said that an upcoming battle on Outlander hasn't yet been shot, but will likely take top spot for him, as it's "pretty much the biggest battle in Scotland at the time."
Zap2It: 'Outlander' Season 2: Pregnancy poses new problems for Claire and Jamie

Posted Friday, July 10th
Entertainment Weekly Radio: Does Sam Heughan Go Commando?

Entertainment Weekly: The cast of Outlander previews season 2 in one word
Click here to watch the video.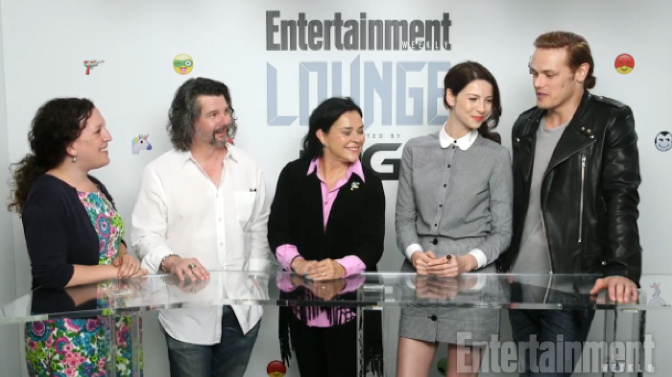 IGN: Outlander's Executive Producer and Author on Season 2

Source: Entertainment Weekly Radio, Entertainment Weekly, IGN, Entertainment Weekly, Zap2It, Hypable, E!, E!, Yahoo! TV, MTV, TV Line, TV Goodness, Yael Tygiel, TV Fanatic