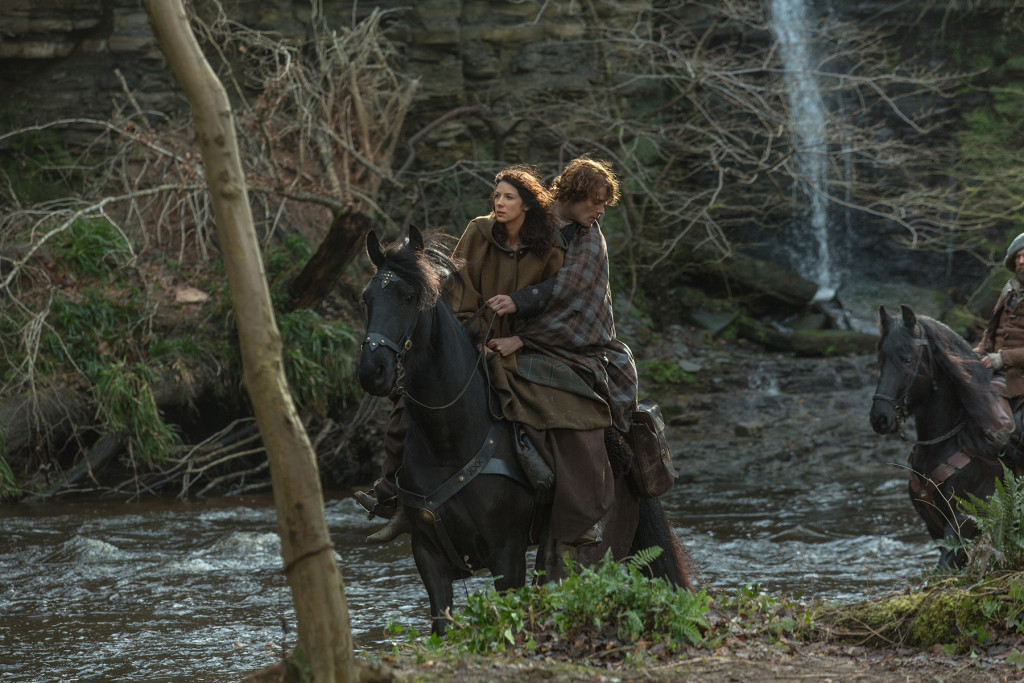 Outlander
returned last night with the first of eight new episodes and, even though this week has already been chock-full of interviews with the cast, there are still a few more to peruse in the wake of "The Reckoning." The main topic of conversation with stars Caitriona Balfe and Sam Heughan is, of course, the spanking scene, but there is a bit of discussion from Ronald D. Moore about telling the story from Jamie's perspective. As always, click the link to read the full interview and be careful of
spoilers
if you have not viewed the episode.
Access Hollywood: "Outlander Stars Discuss Spanking Scene: 'It Was A Difficult Thing To Film'"
"It didn't sit particularly comfortable with us both because in a modern day setting, you know, it's hard to get your head around, but at that time, Jamie's doing what he thinks is correct, what he thinks has to be done and she has to learn a lesson. She put everyone in in danger and that's his point of view," the actor said.
The Hollywood Reporter
: "
Outlander
's Sam Heughan Explains Jamie's Point of View, "Unsettling" Sex Scenes"
He's always been shown as someone who's so moral and proud — do you think his morality gets in his own way? It seemed to in this episode, when he insisted on giving Claire that bum-lashing.

[Laughs] Absolutely it gets him into trouble. Especially his pride and that's one of the enduring things about him, when he puts his mind to something that's the way it is and he can be quite stubborn about it, but in that way so is Claire and that's the constant source of conflict for them. Since they're both very stubborn and headstrong, ultimately what happens is they fall out and have to work really hard to come to some sort of agreement. I think that's the mark of a healthy relationship and actually it feels like a very modern one in that way.
Los Angeles Times: "Outlander actors and Ronald Moore talk controversial spanking scene"
Caitriona, you mentioned that the makeup scene seems to be generating more conversation. I was impressed by your coordination.

Balfe: Thank you very much. [Laughs] It's an intense scene but again, I think you have to see how the two of them are fighting to get back to each other. For Claire, there's a part of her that has to break through the way that she's been brought up. She has to allow herself to let that go and trust in the heart of this man. When he pledges himself to her, she can see that he's a good man. This is not something he's going to do again, he has a good soul. She has to force herself to let go. We had talked and we thought this was the moment they really pledge themselves to each other, as in this is their marriage, the one that they choose. When they got married, it was under duress, I mean obviously they fell in love that night, but this is the scene where they really say to each other, right this is it, we're going to do it, warts and all. [laughs] That's an unfortunate term to use.

Heughan: I fear to be Jamie.
Salon: "Outlander stars on spanking, TV sex and the female gaze: 'Women have been starved for quite a while'"
Why do you think they get closer together through this? I think there's a few different interpretations.

CB: First of all, when she sees that he's willing to grow from it, he's willing to change, that shows her that here is someone who's willing to put aside everything that he's been taught and learned and learns—for her. You can see that he's got the emotional intelligence that she has always thought that he had and is one of the reasons she fell in love with him. And, just going through any catastrophic thing as a couple and being able to get past it and figure out a way to move forward and forgive and understand each other, I think that always strengthens it.

SH: He's a very stubborn man, as is she, but he's a very stubborn man. Just the experience with Colum [Mackenzie, the laird of Castle Leoch], and looking up to them and how they work, he's learning and growing up and becoming a man. It's a really important life lesson, I think.
TV Line: "Outlander's Sam Heughan: Jamie's Temptress Is Actually a 'Good Girl'"
"She's totally misunderstood," he says. "I'm going to get shot down in flames now, but she's a good girl. It's really sad, this young love that she feels. Had Claire not turned up, he probably would have been with her and ended up with her."
He adds: "Jamie's whole life and whole path certainly would have been very different had Claire not showed up."
Variety: "Outlander' Stars Break Down Claire and Jamie's First Fight, That Spanking Scene
"I don't think she realizes what she's done by putting all the men in danger and what the repercussions of that are going to be, obviously," Balfe told Variety. "But the fight that her and Jamie have… sometimes when you're scared or when you've been hurt, you don't know what to do with all of this emotion, so you just lash out. And I think both of them are just giving it to each other and you really see them push each other's buttons, but it's coming from a place of fear. And it's like a parent who's like, 'Don't you ever do that again.' And it's incredible to watch them have this big thing, but then when he really shows her, 'it's because you scared me,' all of her defenses just melt and she's like, 'I'm so sorry, I'm so sorry.'"
Vulture: "Why Fans Clapped During Outlander's Spanking Scene"
When audience members cheer during a screening, it's generally viewed by the show's creators as a victory. But when this happened during the "spanking scene" at the Outlander premiere in New York last week, it gave executive producer Ron D. Moore pause. "It was like, 'I'm not sure that's the reaction I really want them to have. What does that mean?!" he told Vulture afterward. "It's like on Talk Soup, when Joel McHale says, 'Think about what you're clapping for.'"
Wall Street Journal: "Outlander Stars Caitriona Balfe and Sam Heughan on Emotionally Heavy Mid-Season Premiere"
Other than the whole corporal punishment thing, even though Claire is from the 1940s and Jamie is from the 1740s, I can't help but draw parallels between Claire and Jamie's relationship to those of modern-day marriages. Do you see that at all?

CB: I feel like the character of Jamie is so emotionally intelligent and emotionally sensitive that he feels like a modern man, even though he's this brawny, muscle-ly guy. [To Heughan] Why are you laughing?

And with Claire, she struggles with what is her identity as a woman. When we get further into the season, this idea that Jamie is so excited about his return to [his childhood home] Lallybroch, and going home as the laird of Lallybroch, and he keeps saying to her, "You'll be my lady." And that fills her with so much trepidation, because she doesn't know what kind of life that is for her, and she is someone who's used to feeling so useful, and having a vocation and having this career. The idea of now being a "lady," who's sort of waited on or has to run a household, she just doesn't know how that feels. She feels like she should want a family and a home and stability, but it's not really in her DNA. She's never really had that, so, I think modern women today, we're all struggling with a career and family, and how do we balance those? What does it mean to be a woman in today's time? I feel like you can see those struggles with Claire, albeit in very different circumstances.
Yahoo! TV: "Outlander Postmortem: End of Droughtlander Begins With Narrator Change"
Maybe it will help Outfanders to know that the change was made in the ninth episode, "The Reckoning," to serve two specific purposes.

"There were a couple of different reasons. One, we were like, 'OK, we're restarting. How do we want to do that? What's an opening to the second half that's not just literally picking up the [midseason finale] cliffhanger?' We thought this would be an interesting change-up and a way of introducing the audience into the story again," Moore explains. "And, in a bigger sense, the series is really about Claire and Jamie together and this relationship. It's a chance to pivot, include him, and tell their story, not just her story. Once we did that, it gave me permission as we moved forward to cut to him and play scenes that he's experiencing because we're opening the point of view to include both of them."
Decider: 'OUTLANDER' SHOWRUNNER RONALD D. MOORE EXPLAINS THAT SPANKING SCENE
He told us, "I didn't want that [sexy] aspect of it. I said, 'That's not really this scene. To me, this scene is fundamentally about justice.'" He added, "Jamie's not approaching this from a place of anger. This isn't about emotion. This is about — in his mind — right and wrong."
Source: Access Hollywood, The Hollywood Reporter, Los Angeles Times, Salon, TV Line, Variety, Vulture, Wall Street Journal, Yahoo! TV, Decider