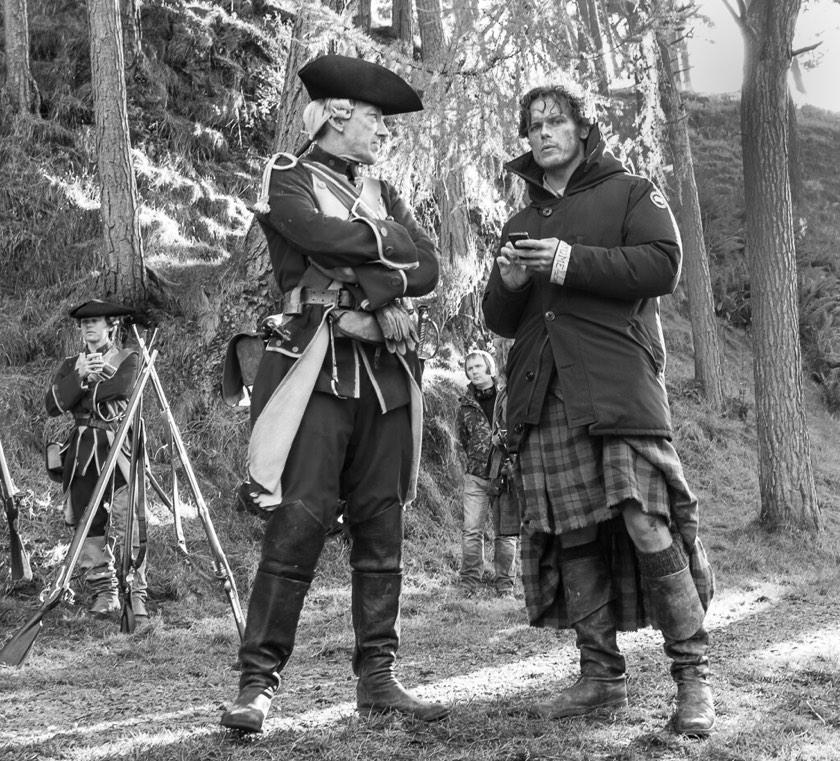 It has been a while since we have had a Twitter Q and A with anyone from Outlander.  On Monday, November 10, producer and writer Matt Roberts gave us some insight into the coming second season of Outlander, episodes that have already aired, and those to come on April 4, 2015.  Below is a transcript of Outlander-related questions and answers.  For a full look at everything Matt wrote about, go to his Twitter account. (DIA = Dragonfly in Amber)
Q: Are all the season 1 writers back for season 2?
A: Yes, we have the same team for season 2.
Q: Which part of DIA are you most excited about bringing to life?
A: I'm excited about adding Fergus.
Q: What are the biggest challenges in producing such an epic story like Outlander?
A:  We want to be true to the original work and the time to film everything is very challenging.
Q: How is the casting of Brianna and Roger going?
A: Sorry to be vague, but it's going forward.
Q: Will season 2 stick to book structure of DIA or be told chronologically?
A: We have some surprises for you I guess you'll have to tune it to find out the answers.
Q: How many episodes of the second part of Outlander have you written?
A: I wrote episodes 9 and 14 in the back half.
Q: Will Claire wear the attention-getting RED dress in DIA?
A: I certainly hope so.
Q: Which episode have you enjoyed working on the most?
A: Episode 14 had a lot of challenges but very fun.
Q: Who scouts your locations?
A: We have a locations department and the producers and directors all have a say in it.
Q: When you write an episode is it a collaborative effort or do you do it alone?
A: The actual writing is individual but we collaborate with ideas, notes and lines. We have a great team.
Q: Did you already start with the search of the new members for the cast?
A: Yes, we have a great casting director and she and her team are already on it.
Q:  If shooting/filming commences in February & the weather is snow and crazy winter weather – what's plan B?
A: Dress warm and wear sensible shoes.
Q: Are the scripts assigned or can you choose?
A: A little both. We all have our favorites that we want to write, but some are assigned.
Q: How many episodes will you get to write in Season 2?
A: Not sure yet we are still breaking out the episodes.
Q: What can we expect from the next episodes?
A: Sex lies love hate intrigue violence compassion your typical Diana Gabaldon stuff, not necessarily in that order.
Q: What's a typical day like in the writer's room?
A: Coffee, work, work, dirty joke, work, lunch, work, work, coffee, dirty joke, work, work, go home, read
Q: do you need to "picture" the location to write a scene?
A: it helps, but we don't always have that luxury so we use our imaginations and research.
Q: As a producer, do you get input into casting
A: We have a small tight knit group of producers and we give input on everything from story to casting.
Q: A favorite line from S1?
A: You'll see it in Ep 114. It's a Claire line. I love it and Caitriona Balfe kills it.
Q: Will we ever see the man behind the mask?
A: I'm more of a behind the camera kinda guy but maybe in S2. You never know.
Source: Matt Roberts on Twitter (Photo source as well)