**This is not a spoiler-free review of this episode. This review is also from a non-reader, and any comments revealing spoilers from the books will be deleted.**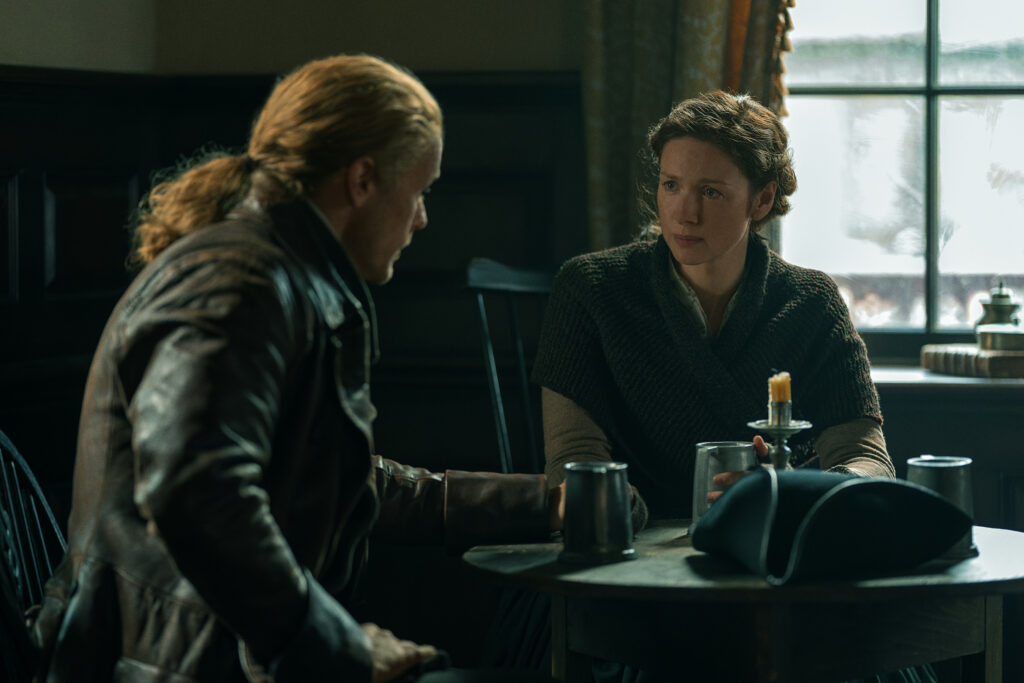 Jamie and Claire Go on a Patriotic Side Quest
Episode 704: "A Most Uncomfortable Woman"
Written by Marque Franklin William, Directed by Jacquie Gould
TOM CHRISTIE, YOU BEAUTIFUL SON OF A GUN, I AM SO HAPPY YOU'RE ALIVE.
Anyway.
JAMIE'S BASTARD SON, WILLIAM (Charles Vandervaart), PROVES THAT HE HAS MORALS.
AND THEN HE ALMOST DIES.
I GUESS YOU COULD SAY, LIKE FATHER LIKE SON RIGHT?
The scene of the British soldiers burning that poor prostitute alive was painfully jarring. I'm glad William displayed a sense of ethics that would make his Da proud.
If only he could know who his real dad was. (Does he ever find out? Wait, don't answer that.) The episode involves Jamie, Claire, and Young Ian taking a Ticonderago side quest on the way to Lallybroch.
Because the Americans were like, "YOU, BIG STRONG HOT SCOT. YOU MUST FIGHT WITH US, OR WE'LL DUMP YOU IN THE HARBOR LIKE ALL THAT TEA."
Meanwhile, I'm still losing track of what decade Brianna (Sophie Skelton) and Roger (Richard Rankin) are supposed to be in. Is it the 80s? It looks like the 80s (says the gal born in the 90s.)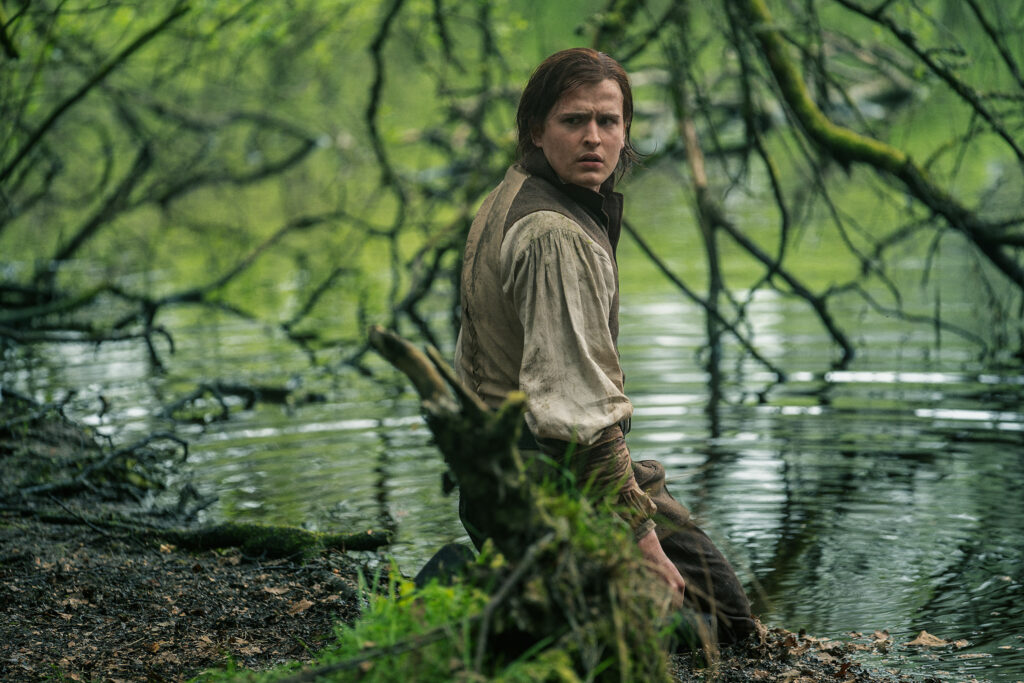 Yer tearing my guts out Claire…wait, wrong Fraser
It turns out our favorite modern-day couple ended up buying Lallybroch, but as any modern-day couple knows, HOUSE REPAIRS ARE EXPENSIVE AF.
Brianna takes it upon herself to interview to be an inspector, and the jerk interviewing her assumes she would want to be a secretary (not that there's anything wrong with women secretaries, mind you, but you get the gist of this sexist interaction).
I LOVE that Brianna just bluntly calls the job recruiter out by noting her lack of a male appendage. It's a straight-to-the-point moment that would've made Claire proud.
Meanwhile, the one man in Brianna's life that ISN'T supposed to disappoint her (or disappoint her the most, depending on your views about marriage) has a bittersweet reaction when she happily tells him she scored the inspector job.
I can empathize with Roger's reaction — he's not trying to be a jerk here. Brianna immediately understands that her husband is disappointed that he's not the one taking care of HER.
And, like, there's nothing sexist about that. But Brianna is a girl boss, and she's not content to sit around and. let Lallybroch waste away, hence why she's a Fraser.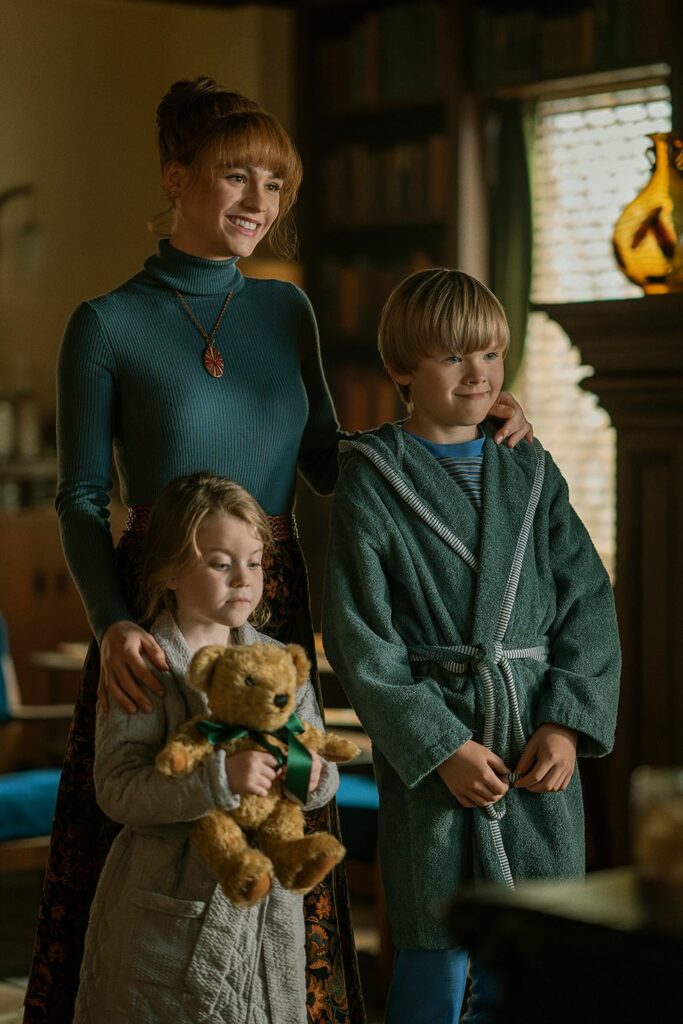 Protect Mini-Bri and Mini-Roger at all costs; I don't make the rules 
So basically, Jamie's son manages to stab himself with a large piece of wood on his way to New York. Instead of dying, William is like, Wait a minute, I am a main character now, and he manages to pull the wood OUT OF HIS ARM, AND I DON'T CONSIDER MYSELF A SQUEAMISH PERSON, BUT BY GOLLY, THAT WAS GROSS.
Young Ian arrives just in time to save William from death, wisely keeping his knowledge of William's true parentage to himself. However, the wound was like, 'HEY Y'ALL, I'M GONNA PUT THIS GUY'S WHITE BLOOD CELLS TO WORK,' William needed medical help like yesterday.
The cousins find two Quakers, a woman named Rachel (Izzy Meikle-Small) with a brother, Denzell (Joey Phillips), whose name I can't remember, and miraculously, they fix up William's arm without amputating it.
The Hunters are going to be important, aren't they? No character is just randomly introduced in the Outlander-verse without a reason. I just can't pinpoint what their significance is going to be just yet (PLEASE DON'T MAKE RACHEL MALVA 2.0 FOR THE LOVE OF ALL THAT IS GOOD?)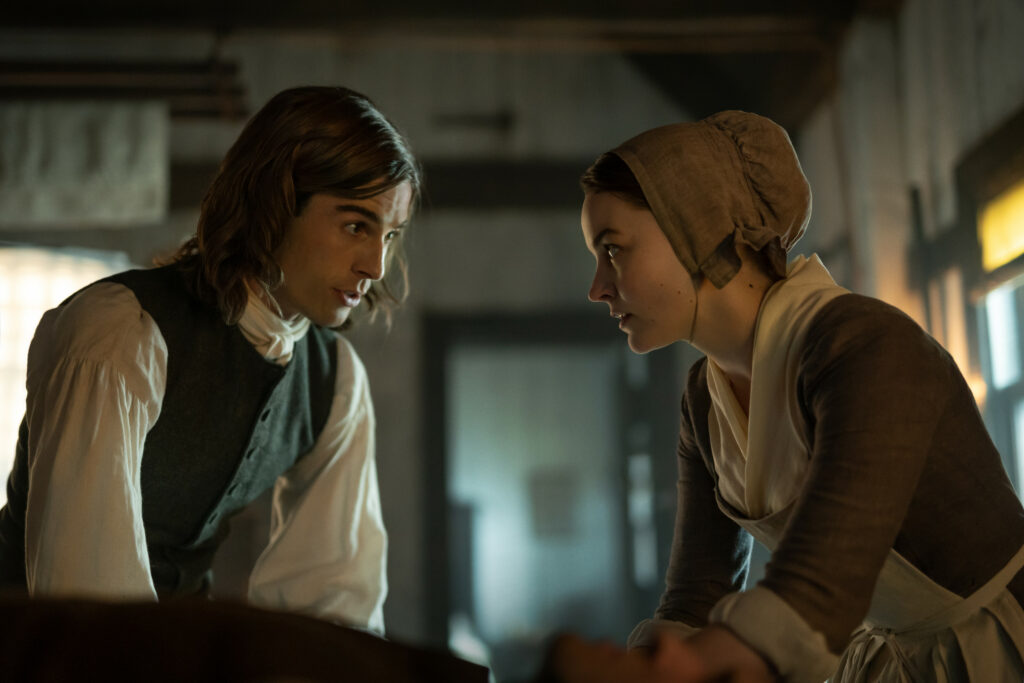 It's me; Hi, I'm the problem. It's me.
OH, Jamie and Claire also have sexytimes for the first time this season, and I love that Tom Christie was the reason for it.
Claire is SHOOK that Tom had the GALL to kiss her, and Jamie gets jealous, asking if his Sassenach liked the touch of an older man.
It was a fun scene, and I loved how Claire got insulted when Jamie reminded her that she did technically stab him before — with a hypodermic needle.
I like how this season isn't just like SEXYTIMES ALL AROUND Y'ALL. The intimate moment with Claire and Jamie felt EARNED, not just a moment to fill the sexytime quota.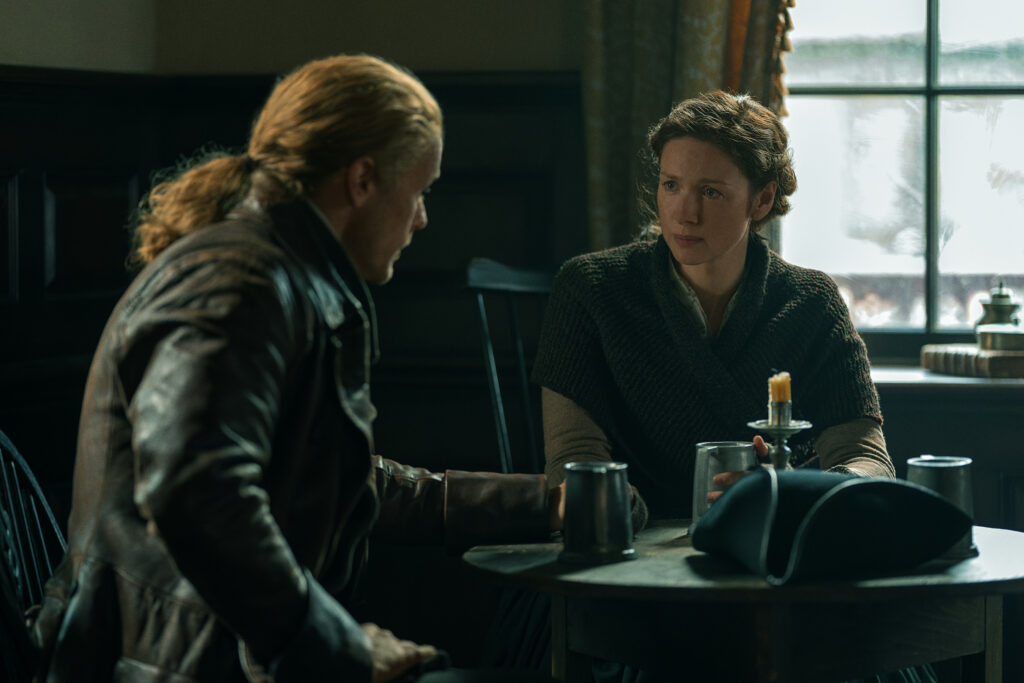 The Prom King and Queen of the Colonies are a Brit and a Scot! Go figure 
I have this weird feeling that something terrible is going to happen soon. There's just a feeling of dread that seems to be permeating through these quieter episodes. I don't want to whine and be like, "I WAS BORED," because I know I'll be longing for these moments of peace and Jamie/Claire sexytimes when something bad happens, and they're separated (because it seems practically mandatory at this point to have them lose each other one a season).
Admittedly, I don't care a LOT about William yet, to be candid here, but I know he's only had two episodes so far, so I don't want to write him off just yet.
The episode ends with Jamie, Claire, and Young Ian arriving with other colonials at Fort Ticonderoga.
I'll give you a moment to brush up on your history in case you can't remember what happened there!
WAIT, SO WILLIAM IS ALSO HEADED THERE, SO COULD THIS BE THE FATHER-SON REUNION THAT I WONDERED ABOUT EARLIER?
AND WILL ROGER AND BRIANNA EVER GO BACK TO THE PAST?
I HAVE NO IDEA, BUT JOIN ME FOR THE RIDE NEXT WEEK AS JAMIE BECOMES A FOUNDING FATHER!
Until next time Outlander fans!
NEXT WEEK, FRIDAY, JULY 14, AT 8 PM ET: EPISODE 705: "SINGAPORE"
Synopsis: "At Ticonderoga, Jamie and Claire prepare for an imminent British assault. Roger compiles information about time travel while Brianna earns the respect of her coworkers."