[This is not a spoiler-free review of the episode. If you have not seen the episode yet, read it at your own spoiler risk.]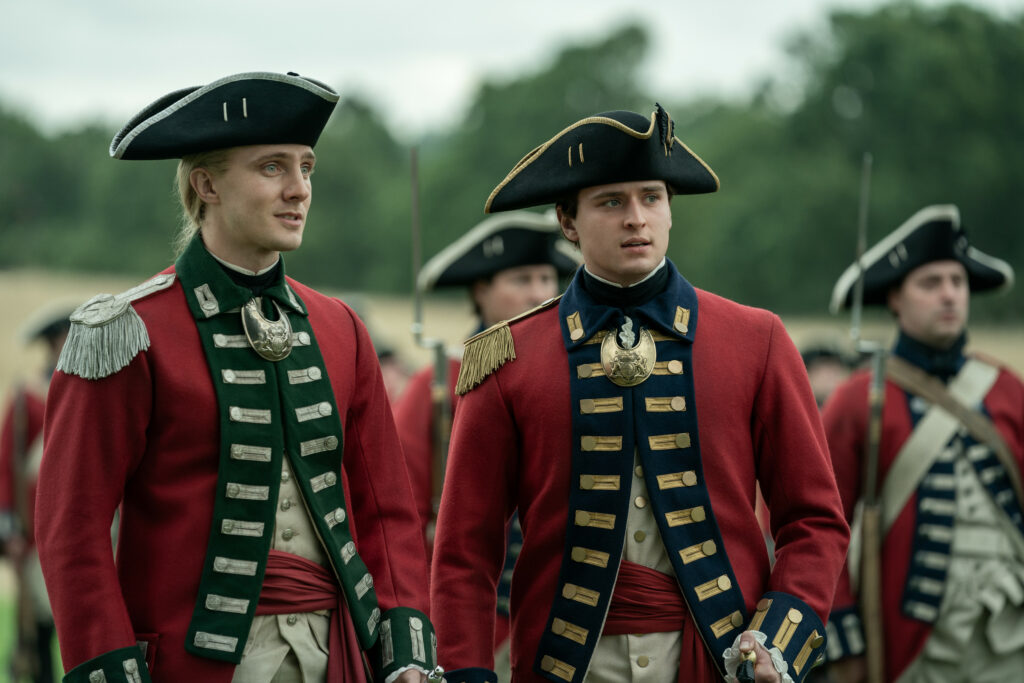 Episode 707: "A Practical Guide for Time-Travelers"
Written by Margot Ye, Directed by Joss Agnew
Things are picking up in this episode of Outlander, and the excitement of what is coming and how it will be depicted keeps us on our toes.  I am to the point in my journey with the Outlander novels that I have reached non-reader status, although I am not afraid of spoilers, and Google is my friend.  I only read through Book 7, An Echo in the Bone, and while I own Books 8 and 9, I have not picked either up as it has been so long since I read Book 7.  I tried, I did, but the supporting characters no longer ring a bell.
There is an underlying current of impending trouble in this episode.  We know the battles at Saratoga are about to happen, and the arrival of Buck MacKenzie (Diarmaid Murtagh) has thrown a wrench in Roger (Richard Rankin) and Brianna's (Sophie Skelton) semi-quiet life.
William (Charles Vandervaart) is about to experience what war is really like.  It is not something to be glorified or excited about; it is bloody, deadly, and traumatic.  William had a chance to step away from the battlefield and serve in a different manner, but the juvenile dreams of a soldier allow him to beg for a place on the battlefield to General Simon Fraser (Angus MacFadyen).  General Fraser's response was what you would expect from someone who has experienced the darker side of conflict, telling William he was essentially a fool for his desires but acquiescing to this young, eager man knowing he would experience it eventually.
What you would expect is what unfolds for William at the first battle at Saratoga.  He abruptly and traumatically loses his friend, Sandy Hammond (Henry Ashton), while just having a casual conversation before the fighting starts.  It takes a while to compose himself, and General Fraser tells him to join his men.  William eventually does and musters his anger at what just happened to go and kill some rebels.  I don't believe William is prepared for what he is getting himself into; his upbringing and training did nothing for him other than purchase him a rank.  He is no more soldier than anyone else under his "command."  After the battle, there are notes of sadness and trying to do what is right, but such a place is not one for manners and morals.  He is not a man of violence like his birth father, at least not yet.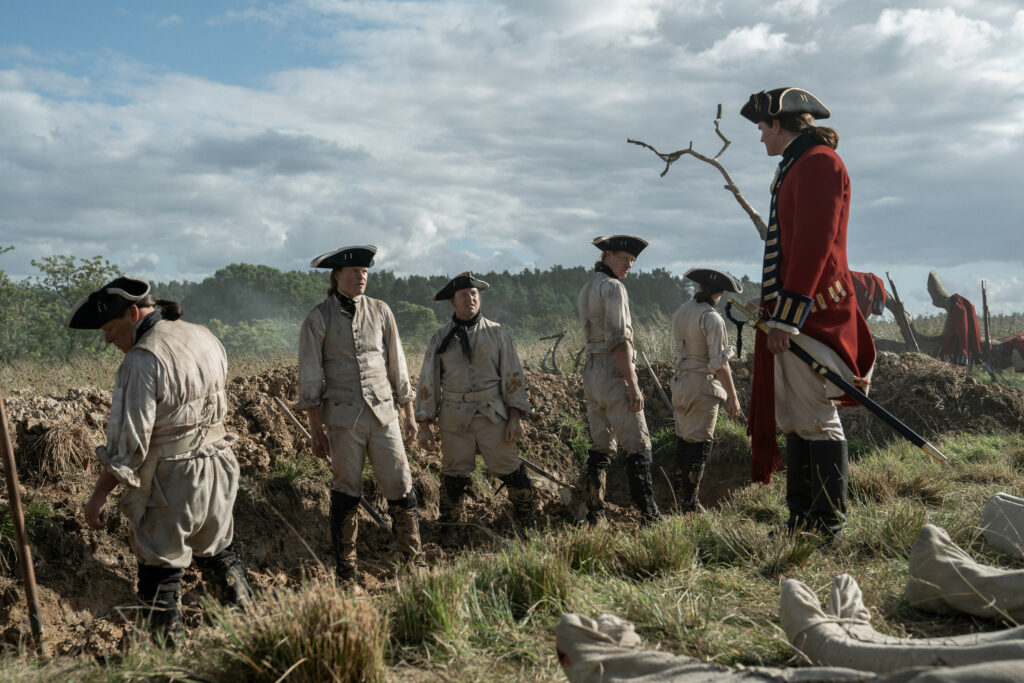 Jamie and Claire are staring down the barrel of another large battle that may take Jamie's life or severely injure him.  No promises or enduring love can protect anyone on the battlefield, but at least Claire knows how experienced Jamie is compared to the rebel who just was pulled off the farm.  We don't see Jamie in the first battle, nor do we see him face his son.  We just assume he is out there.  We do see the aftermath with Jamie lying injured and unconscious (he is not dead) on the battlefield—a cliffhanger of sorts for the audience, but not a convincing one.
We haven't seen a big battle in Outlander in some time.  I can recollect that Culloden was insane, and then, of course, there was the one when Murtagh died (Alamance), and this episode's small teaser of a battle didn't really fit the bill.  Alas, we still have a lot of content to stuff into this season, and taking the time to make a proper battlefield scene with lots of drama and action would have probably taken up half the episode.  It at least was effective enough to show William that war is nothing to dream about.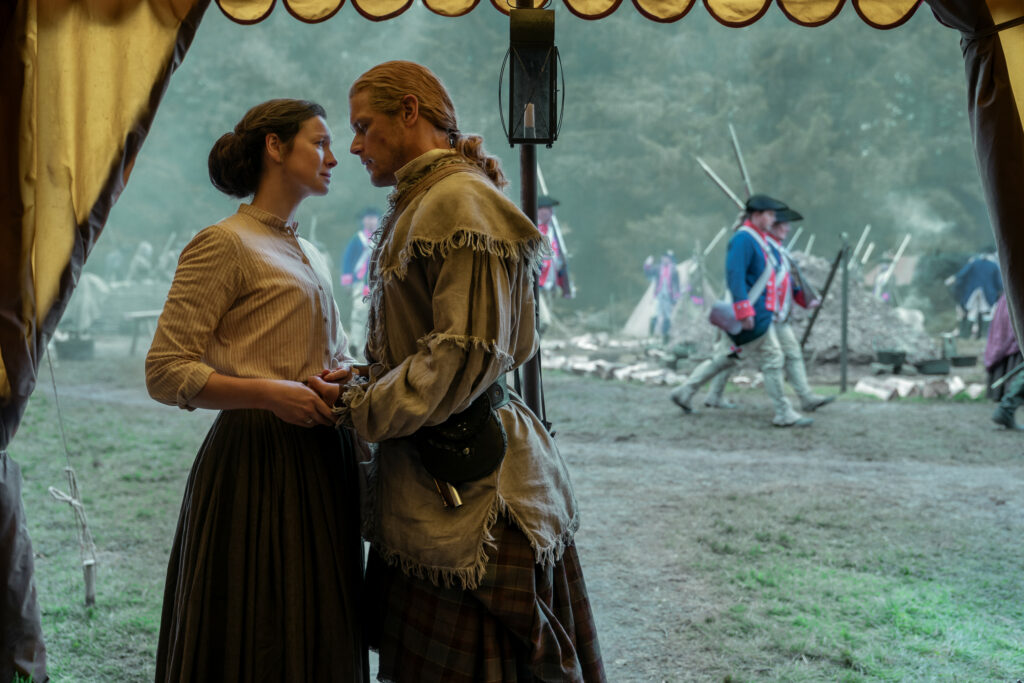 Back in the future, things have turned on their heads for Roger and Brianna.  A time traveler from the past has come to the future, not the other way around.  Buck MacKenzie has been lurking around Lallybroch since he went through the stones in Inverness.  Buck learns he is the many time's great-grandfather to Roger and little Jemmy, and eventually, when he is supposed to die according to the family tree.  Buck is much less scary than our first encounter with him when Graham McTavish played him and was responsible for getting Roger hanged.  He is gruff and terrifyingly huge, but his kindness shows through, especially when he learns that these people are his family.  He seems to take on a protective guardian role for the Mackenzies, and what I most appreciated was his way of not beating around the bush, especially regarding Rob Cameron's (Chris Fulton) conduct towards Brianna.
Rob Cameron is a sleeper villain for Brianna and Roger.  They invited, or rather he invited himself into their home and took advantage of their hospitality.  The guy gives off creepy vibes, but not, "Hey, I'm going to raid your house, spy on you, steal your kid, and maybe do a little time-traveling."  Like I said in the beginning, I'm in the dark about his intentions and where this story goes, except for the whole leaving Jemmy in the tunnel/cave thing that Diana Gabaldon did to the readers.  What it means for Jemmy's parents is the unfathomable of not knowing WHEN IN TIME he might be and not knowing how even to narrow it down.  I cannot imagine.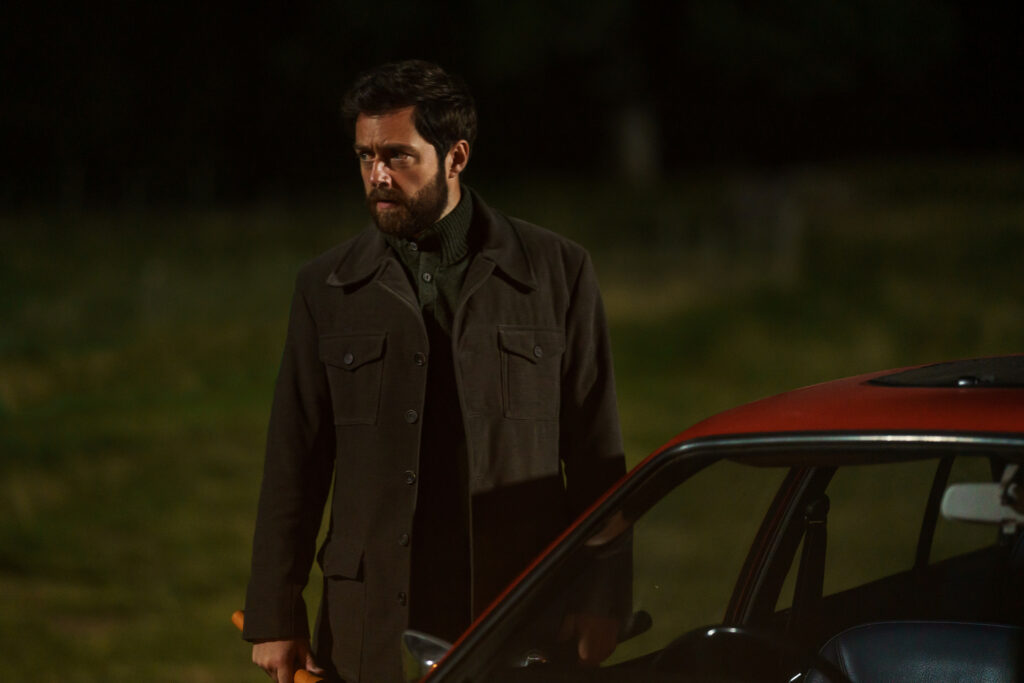 This Outlander episode took it up a notch compared with the last one and had the endearing addition of Buck MacKenzie as a pleasant surprise.  The preview for the next episode, the last one before another ridiculous, big break, makes it look like we might take the anxiety level up from the audience's perspective.  Let's go; give us something to gnaw on while we are left hanging for however long yet again.
IN TWO WEEKS, FRIDAY, AUGUST 11, AT 8 PM ET: EPISODE 708: "TURNING POINTS"
Synopsis: "Jamie fights in the pivotal Second Battle of Saratoga. Roger and Brianna search for Jemmy."