**This is not a spoiler-free review of this episode. This review is also from a non-reader, and any comments revealing spoilers from the books will be deleted.**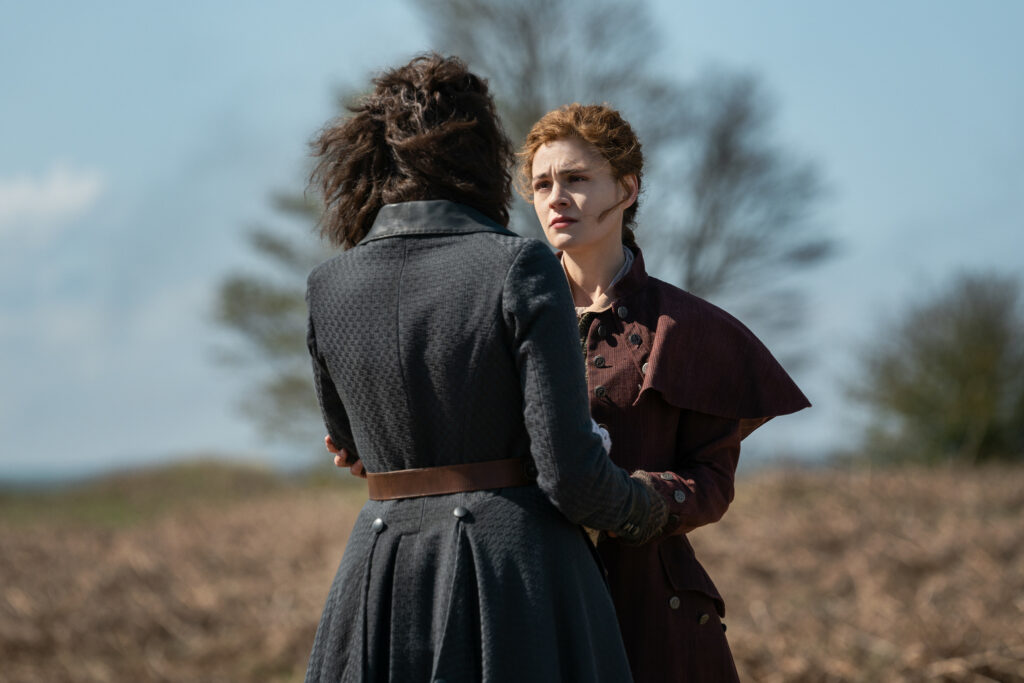 Whoever came up with the title of this episode had a dark sense of humor
I hate everything
Episode 702: "The Happiest Place on Earth"
Written by Toni Graphia, Directed by Lisa Clarke
I started this episode full of Joie de vivre – perhaps this would finally be the episode where Claire (Caitriona Balfe) and Jamie (Sam Heughan) could finally have a boring day on the Ridge!
………
NAIVETY, THY NAME IS ME.
I can honestly say I had NO CLUE that MALVA'S BROTHER
ICK.
I CAN'T EVEN TYPE IT OUT; IT'S SO ICKY.
I can honestly say I had NO CLUE THAT MALVA'S DEMON DEVIL BROTHER OF DARKNESS KILLED HER!
Alexander Vlahos sent chills down my spine during his big confession scene. When Claire realized the enormity of what Allan Christie had done to Malva, even before he murdered her (I'm not even going to type it out, I hate him), you could FEEL her righteous rage over Malva's fate.
After all, not only had Allan murdered Malva, but he also had Tom's blood on his hands.
WHEN I TELL YOU, I WAS YELLING AT THE SCREEN.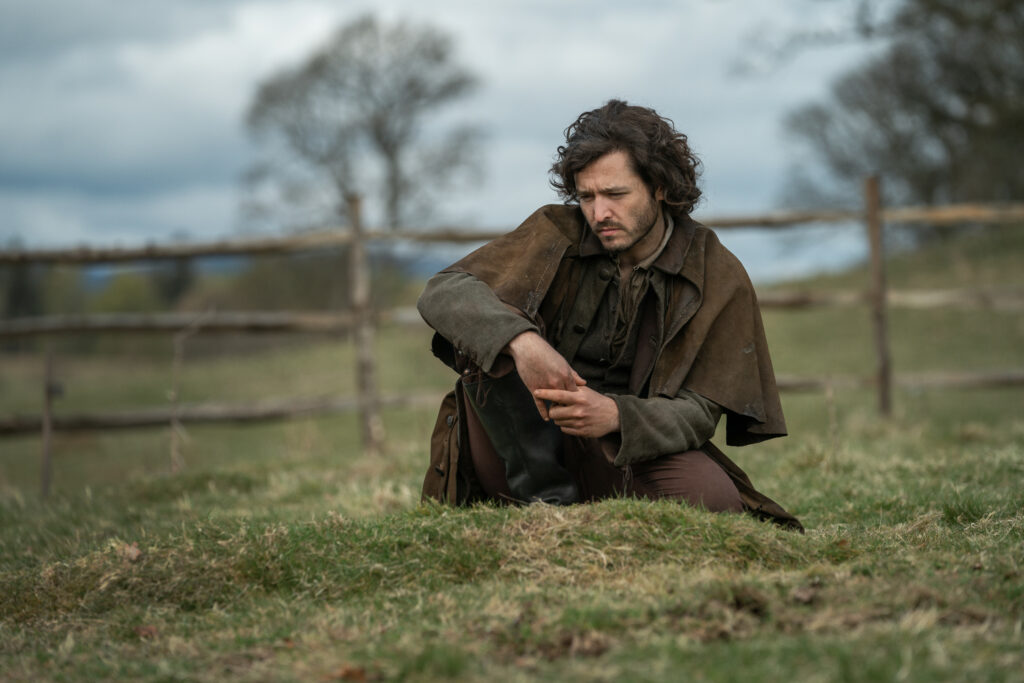 Behold, the living embodiment of Ick.
What's downright chilling about Allan's confession is that he expresses no remorse for what he did to his half-sister. He ONLY feels guilty about the whole murder thing.
It turns out Malva was headed over to Claire's to tell her everything. Allan slashed her throat in a moment of rage, like the living embodiment of toxic masculinity that he is.
Honestly, I'm glad Young Ian (John Bell) shot him with an arrow.
#justiceformalva
Not content to let me take a breather after Allan perishes, the episode is like EMOTIONAL WHIPLASH and transitions to Brianna (Sophie Skelton) giving birth! (I honestly forgot she was pregnant.)
And…..it's a GIRL. Brianna and Roger (Richard Rankin) christen her Amanda.
Mandy for short.
JUST WHEN I THOUGHT WE WERE FINALLY GETTING A BORING DAY ON THE RIDGE, CLAIRE GOES INTO DOCTOR MODE.
It turns out sweet lil Mandy has a problem with her heart — thus, the lack of access to modern medicine rears its ugly head.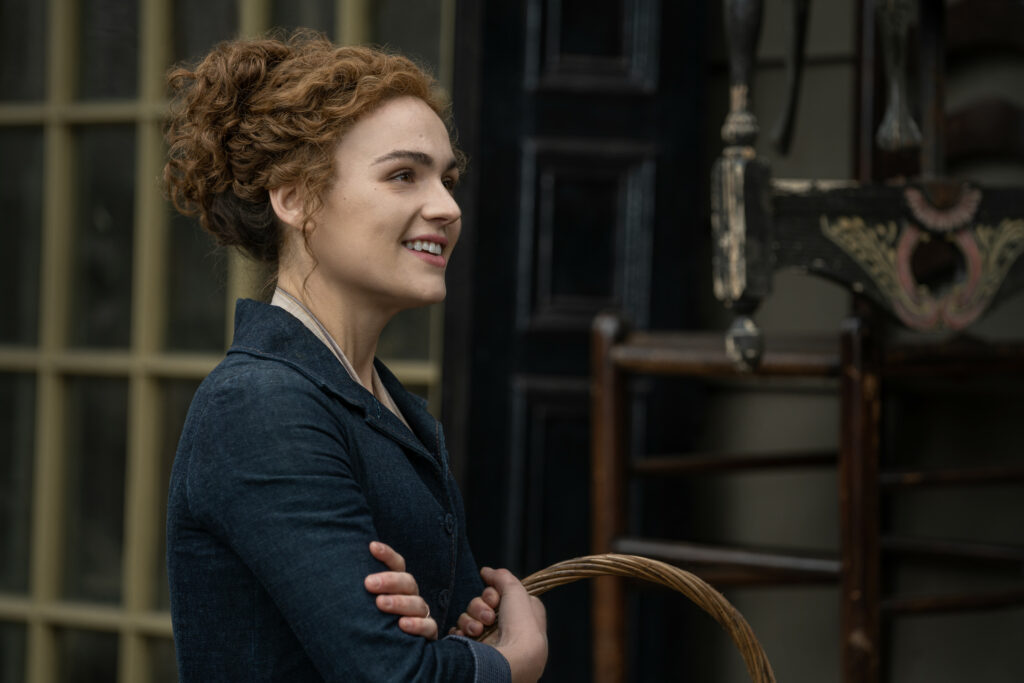 Drop the 18th century haircare routine, ye curly-haired queen 
Brianna knows she must return to the future (the present? our past? Do tenses exist in this show?) to save her baby girl, just like Claire did for her many decades ago (remember season two?)
The Frasers venture into town for jewel-hunting supplies (they're basically like plane tickets to the present…past….you GET WHAT I MEAN).
Lord John Grey (David Berry) happens to be taking a father/son stroll with AN OLDER WILLIAM RANSOM (Charles Vandervaart), WHO'S JUST LIKE, "OH HEY, I'VE SEEN YOU BEFORE, RIGHT?" WHEN HE MEETS HIS BIG SIS BRIANNA.
Wait, Brianna would be the big sister, right? SEE WHAT ALL THE CONFUSION OVER THE PAST AND PRESENT HAS WROUGHT UPON MY MEMORY Y'ALL?
Brianna thinks that her little bro should know who his real da is, and Lord John is like, "Oh, you sweet summer child," in his polite British manner.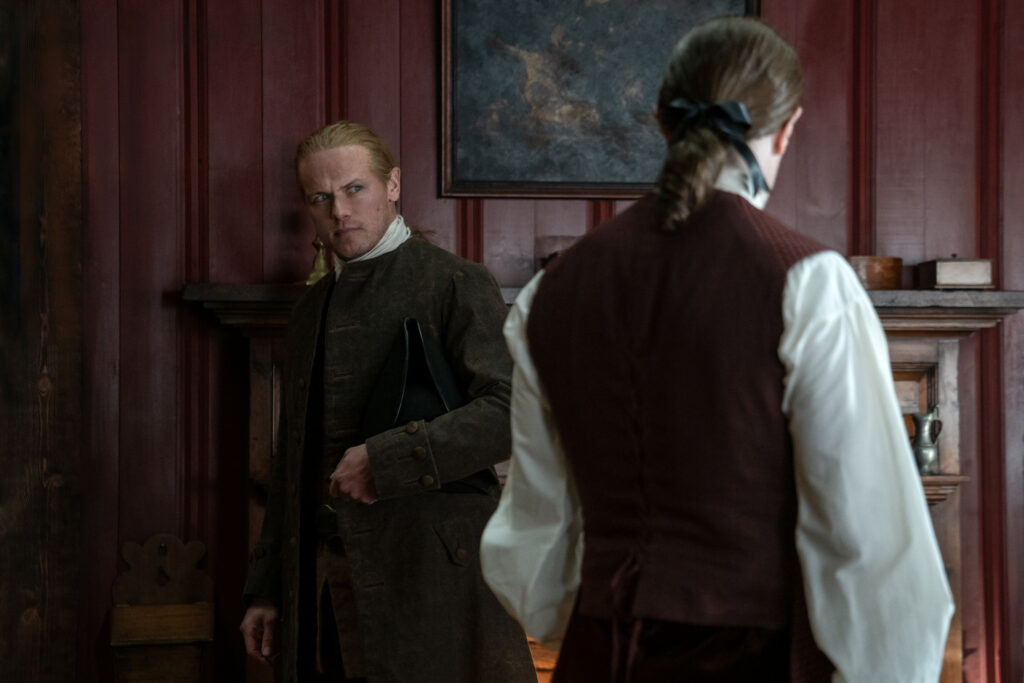 When you run into your old crush lookin' fine and British 
John pleads with Jamie not to fight with those darn American rebels, but Jamie is like, "Hindsight is 20/20. John, wanna go dump some tea in the harbor, bestie?"
The two old friends realize they must part ways after Jamie remains steadfast in his fight against the British. After all, he swore he would never fight for the British again after Alamance.
Speaking of battles— John returns the sapphire Jamie relinquished to him all those years ago during Ardsmuir after Jamie says Brianna needs one.
It's obvious John still loves Jamie, but alas, it's a love that can never be returned. And this episode won't be the last we see of our favorite resident posh British officer, right? (I REFUSE TO BELIEVE THIS IS THE LAST WE SEE OF JOHN GREY.)
Speaking of seeing people for the last time, I watched this episode in complete denial that Roger, Bri, and the kids would return to their own time.
HAHAHAHAHAH, I HATE EVERYTHING. WHY DO I SUBJECT MYSELF TO THIS? (DON'T ANSWER THAT.)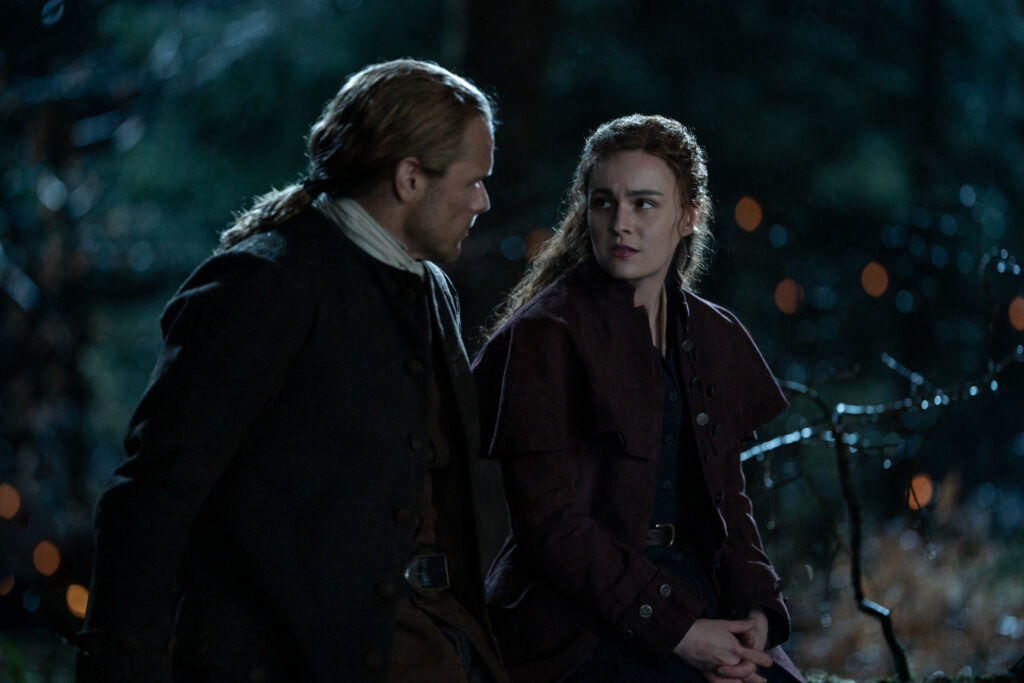 Why get Da a Father's Day card when you can give him nightmares about a fake mouse?
All jokes aside, the quiet moment between Brianna and Jamie is my favorite scene of the episode. I loved Jamie's curiosity about the future, and seeing him thinking about it more and more is interesting. As Brianna said, the thought of Jamie wearing a three-piece suit and working in a corporate office somewhere was downright comical.
However, it's nice to see how close Jamie and Brianna are (remember when she was like, "JAMIE, WHO? FRANK FTW.")
Jamie is intrigued by Brianna's description of the happiest place on Earth, and all of a sudden, I'm imagining Jamie wearing Mickey ears and kissing Claire in front of Cinderella's castle, and PLEASE, DIANA, DON'T LET ANYTHING BAD HAPPEN TO THOSE TWO.
…..
I spoke too soon.
After Roger, Brianna, and their kids successfully travel in time back to the future (Someone should really make a movie with that title or something), Claire and Jamie get hit with full-blown empty nest syndrome.
The scene where Claire finally broke down BROKE ME. It's lovely to see Jamie recognize that his wife tends to compartmentalize to an unhealthy degree, so his act of giving her the space to cry was a pure gesture of love that BROKE ME INTO PIECES.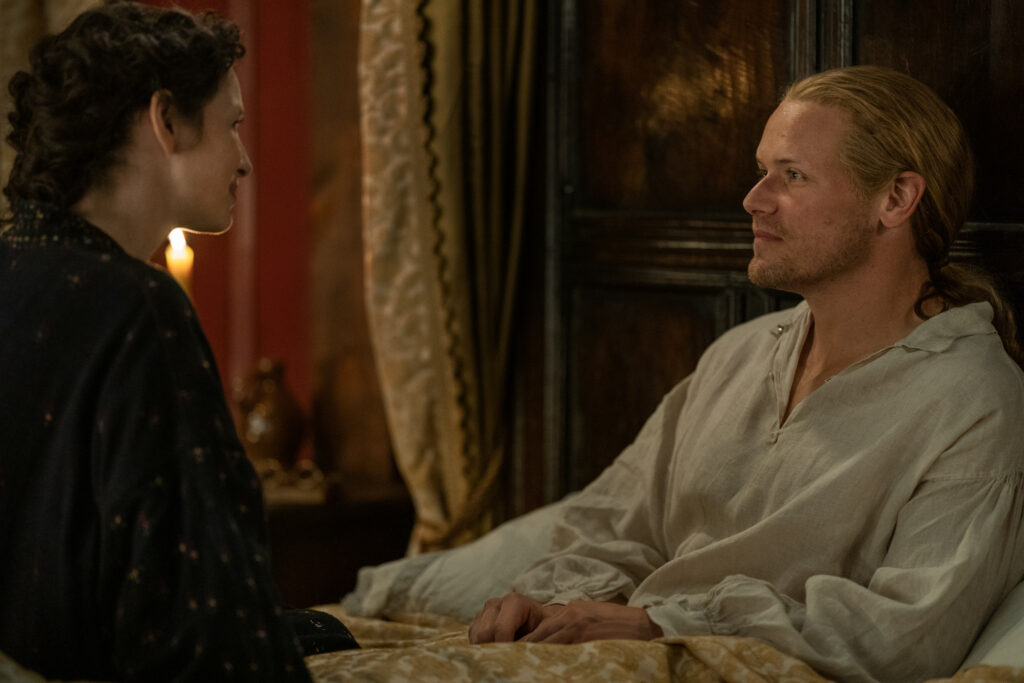 If Jamie had internet, his Wi-Fi password would be 'ilovesassenach21.'
HOWEVER, WHEN PEACE FINALLY ARRIVES ON THE RIDGE, THAT ASSHOLE WENDIGO DONNER (BRENNAN MARTIN) IS LIKE, "OH, YOU THOUGHT MY SEASON SEVEN OPENING PLOTLINE WAS FORGETTABLE, DIDN'T YA?"
Claire is pissed that Wendigo just waltzed into her home and demanded a gemstone. However, the desperate man brought cronies with him to search the Ridge. Jamie and Claire attempt to fight back, but THAT IDIOT WENDIGO CAUSES AN EXPLOSION THANKS TO ONE OF BRIANNA'S MATCHES AND CLAIRE'S STORE OF ETHER.
THEY'RE NOT DEAD. WE HAVE A LOT OF EPISODES LEFT.
They're not dead.
They're not.
I also thought Adso murdered Malva.
But you know – I can't make two wrong predictions in a row, right?
Right?
Until next time Outlander fans!
NEXT WEEK, FRIDAY, JUNE 30, AT 8 PM ET: EPISODE 703: "DEATH BE NOT PROUD"
Synopsis: "Jamie discovers Arch Bug has been keeping a dangerous secret. In the 20th century, Roger and Brianna find a link to Jamie and Claire."