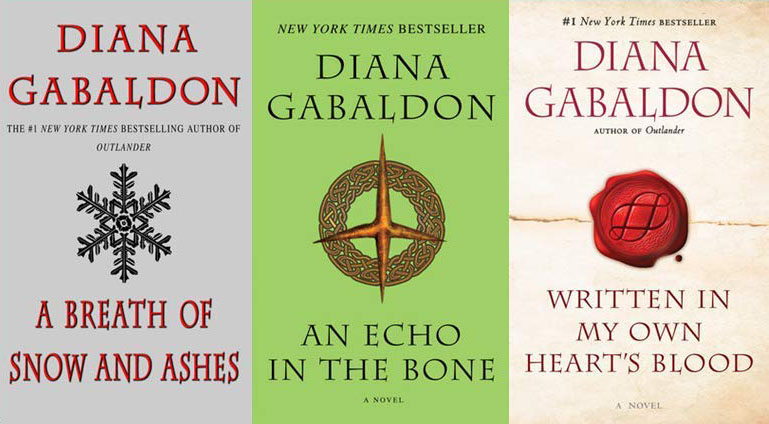 In an interview with TV Guide, executive producer Maril Davis revealed details about the forthcoming seventh season of Outlander and its last season.  When I initially read this article, I already knew that season seven would cover the parts of season six that did not make it to air due to its abbreviated number of episodes.  I naturally thought it would wrap up season six storylines and then continue with Book Seven, aka An Echo in the Bone.  However, it looks like season seven will also try to cover Book 8, Written in My Own Heart's Blood.
"We will see some battles, yes, but war touches everything this season," Davis tells TV Guide. "We have so many storylines this season. I think this is the most storylines we have ever had that are in parallel with one another and that's because war does touch everyone. Jamie and Claire talk a lot about how if they just went back to the Ridge or moved somewhere else, maybe they could escape this. But it is inescapable. This is the birth of a new nation."

"Season 7 is actually a melding of Books 6, 7 and 8," Davis says. "It is unbelievably supersized, and we did have to change some stuff. We had these four episodes that really close out last season and Book 6. But when you are opening a new season, the energy is different and our trajectory is different. So we kind of had to alter them. Then we worked our way into the next two books."
Essentially, season seven of Outlander will cover three books.  The eighth and final season will cover Book 9, "Go Tell the Bees That I Am Gone."
Davis also confirms the eighth and final season will focus almost exclusively on Gabaldon's ninth and newest book, "Go Tell the Bees That I Am Gone."

"Season 8 will be all Book 9 pretty much," she says. "We might bring in some stuff that we didn't do in Books 7 and 8. But it will mostly be us doing Book 9."
As far as what will happen after season eight . . .
"Could we continue telling this story 10 years down the line when we are all much older? Maybe," she says. "We have started on Season 8, but once we know where that ending is going to be, we will have to see if there is room to continue."
Maril Davis also revealed they did not know they were getting an eighth season until halfway through the filming of season seven, so there was not a plan in motion at that point to start wrapping up the story with the following season.
With having to cover so much content in one season, it will be interesting to see if it feels rushed or like too much story was packed into the sixteen episodes.  After reading this news, my first reaction was, "Yikes."
Thanks, TV Guide, for getting these details!
Source: TV Guide