[This is not a spoiler-free review of the episode. If you have not seen the episode yet, read it at your own spoiler risk.]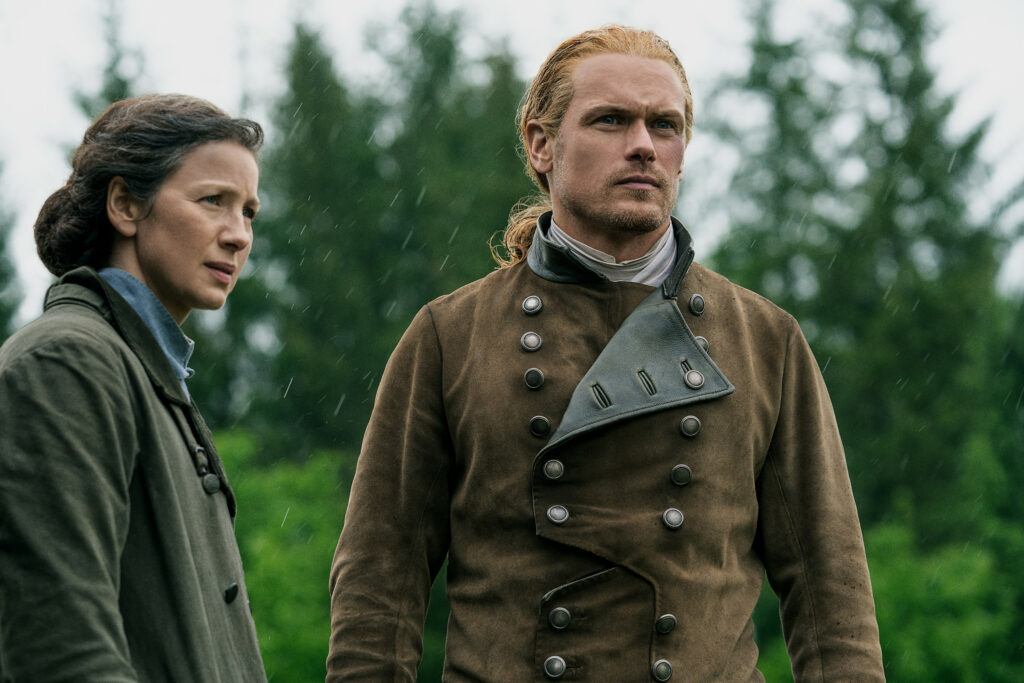 Episode 703: "Death Be Not Proud"
Written By Tyler English-Beckwith, Directed by Jacquie Gold
We jump from "The Happiest Place on Earth" to "Death Be Not Proud."  That's a weird dichotomy between the two titles, and the first was not all that "happy."  The last episode ended with a cliffhanger, and if you are not a reader, you might be biting your nails to see who survived the explosion at the Big House.  The preview for this episode, of course, reveals that Jamie (Sam Heughan) and Claire (Caitriona Balfe) are alive and well, but that funeral begs the question of who dies.
The episode opens with a small chest engraved with Jeremiah, aka Jemmy, aka Jem's full name on it.  It arrives at the Wakefield home in Scotland, one all too familiar to Outlander fans.  Fiona (Iona Claire), a welcome face, gives it to Roger (Richard Rankin) and Brianna (Sophie Skelton), telling them it had been in a bank vault for 200 years.  Roger and Brianna stare at the auspicious box, tentative about opening it, but eventually do.  It contains letters from Jamie and Claire to Brianna (and maybe Roger and their kids) written while they were still alive.  What appears to be a musket ball is inside, and its creation is explained later in Jamie and Claire's portion of the episode.
I remember reading Book 7 or An Echo in the Bone, what seems like ages ago, getting towards the end of the book, and tearing up when Brianna reads her first letter from her father.  I may be forgetting details, but the impact was somehow lost with the letters coming up so early in the season.  Alas, I know we are covering close to three books in season seven, and it would not have come up at the end of the season anyways.
What these letters are doing for the story is narrating what is happening in the past as Jamie and Claire are living it.  While we always had some narration from Claire and sometimes from Jamie, these letters now serve a different purpose and personalize the experience.  Through these letters, they discover that Jamie and Claire survived the fire and that Brianna's invention was important in the fire's starting.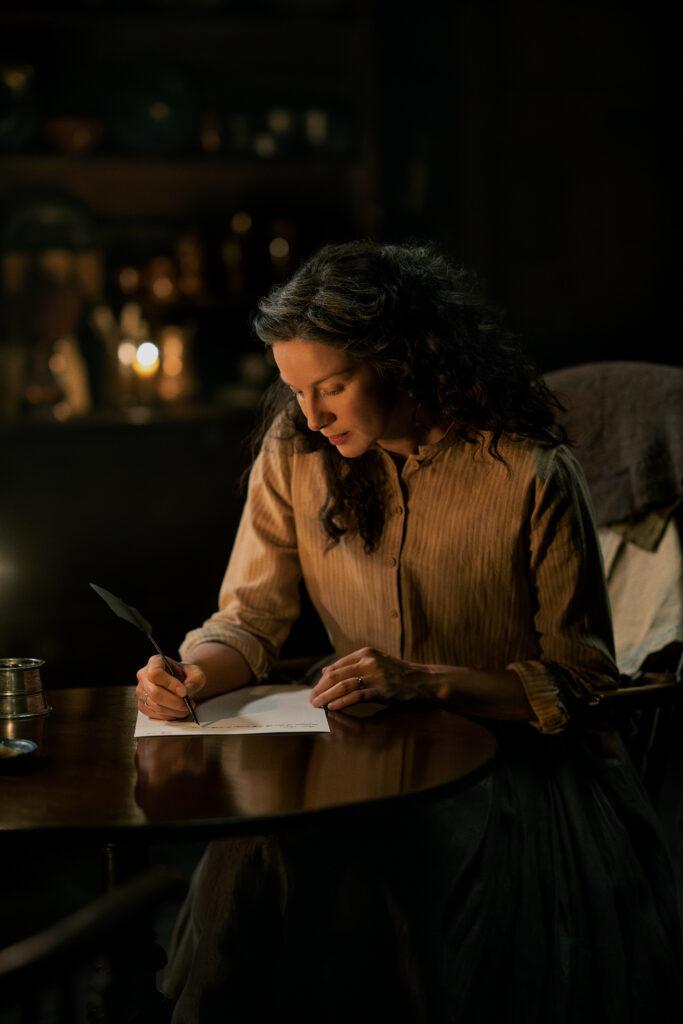 While it is never pointed out specifically in the episode, Roger and Brianna are now in the 1980s. Maybe if I knew cars well enough, I could have picked the decade out myself.  The clothes and hairstyles still say the 1970s to me.  While the children are not seen in this episode, it is mentioned that they are older than when they went back through the stones in the U.S.  At this point, putting years or dates on the screen with these time jumps would be helpful to the viewer, especially if we are going to be bouncing around in time.
While in Scotland, Brianna takes Roger to boarded-up Lallybroch.  Like Claire, Brianna stares at the stone entranceway, willing for her parents to walk through it.  It isn't until a car drives up that they try to make a hasty exit, only to find that it is a realtor and Lallybroch is for sale.  The Spaniard's cave with its hidden contents may come in handy after all for one of the biggest This Old House episodes ever.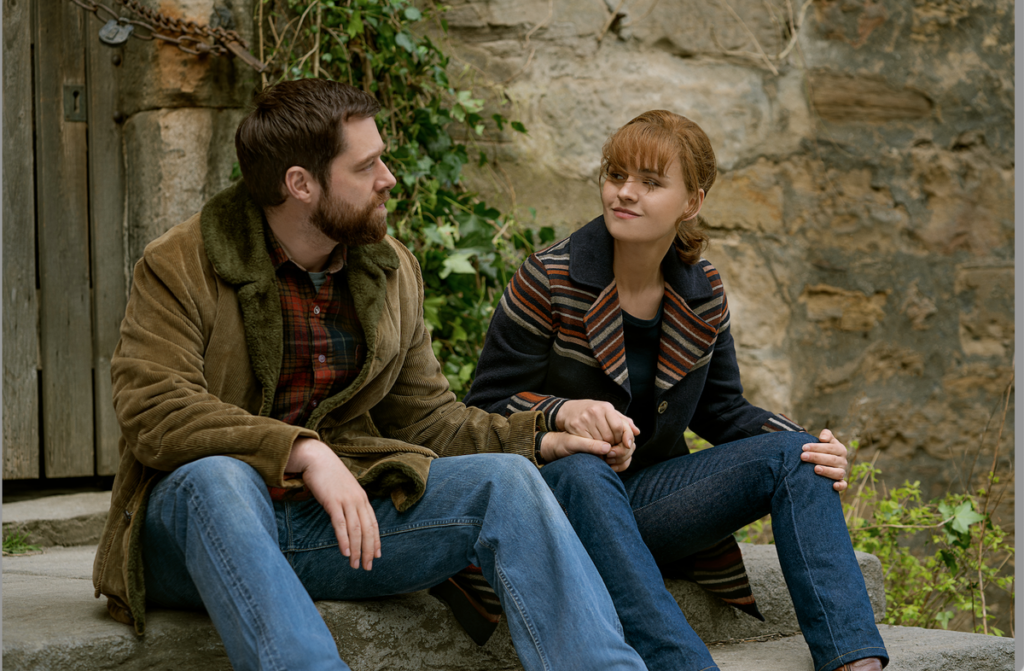 The Frasers made it out of their house fire and explosion with nary a scratch; the same can't be said for Wendigo (Brennan Martin) and his cronies.  Oddly enough, they were never mentioned again post-fire.  They survived a fire that was supposed to kill them, but it happened in the wrong month, and as Claire says, "Bloody newspapers never get anything right."  Jamie and Claire have to pick up the pieces again and move on with their life, but they are at least salvaging what can be saved.  Thank goodness Brianna and Roger's cabin was vacant, or that would be a tight squeeze.
Thinking back to the last episode with the gold bar in Murdina Bug's (Sarah Collier) bag, Jamie finds it in the ashes and notices its fleur-de-lys symbol.  Jamie confronts Arch Bug (Hugh Ross) with his findings and how they came to have it.  As a reader, there has been the question over the past few seasons if they would do the Frenchman's gold story since the Bugs were included in the cast.  It always seemed like the show may start down that road, but it went another way.  Leave it to season seven to be the time to start delving into this recall to Prince Charles Stuart and the money raised in his honor in the Jacobite rebellion.  The Bugs hid away some of the gold taken from Hector Cameron's crypt at River Run and buried it underneath the Big House.
In retrieving this gold, Murdina dresses up as Arch to dig it up, and in the darkness, she is startled by Jamie, tries to shoot him, and ends up with Ian's arrow killing her.  Naturally, Ian is distraught over this action, considering what Murdina was to him and the Fraser family.
We have seen Sarah Collier and Hugh Ross in a few seasons of Outlander, but they were never given much to say or do; they were just background characters.  This episode let them both shine, Hugh Ross especially.  He has a great back-and-forth with Jamie about how he came into possession of the gold and how he ties in with its origins.  With his long hair and gaunt face, Hugh Ross is a striking figure in character as Arch.  Arch has a villain's glint in his eye, which is seen when he tries to say that he should be able to kill Rollo for killing his wife.  His threat to Ian to return when he has someone he truly loves will certainly overshadow happier moments in Ian's future. Both at the Big House and at the cemetery, Hugh Ross' Arch is a commanding figure, even at his age and being of lesser means compared to Jamie.
Other significant things happened on Jamie and Claire's side of the story.  Ian finds out that William is Jamie's son.  Jamie and Claire decide to return to Scotland with Ian because Jamie promised his sister.  Jamie and Claire decide to build a new house on a new piece of land on Fraser's Ridge.  Claire finds Adso and promptly leaves him behind…this really was not a good episode for pets.  Jamie and Claire hide the remaining Frenchman's gold in a cave that Jamie and Jem found that contained a skeleton of a Spaniard explorer or soldier.  They also make some musket balls using the gold but disguise them as normal musket balls for future, easy use.  Jamie, Claire, and Ian leave Fraser's Ridge on their trek to a ship that will take them back to Scotland, but not before seeing one of those original stakes that Jamie planted in season four to designate the borders of Fraser's Ridge.
One thing we haven't seen this season so far is any sex scenes between Jamie and Claire.  Usually, if there are no intimate scenes, there are plenty of comments on social media from fans complaining about the lack of it.  I haven't seen any fans griping about no intimacy yet, and that is pleasantly refreshing.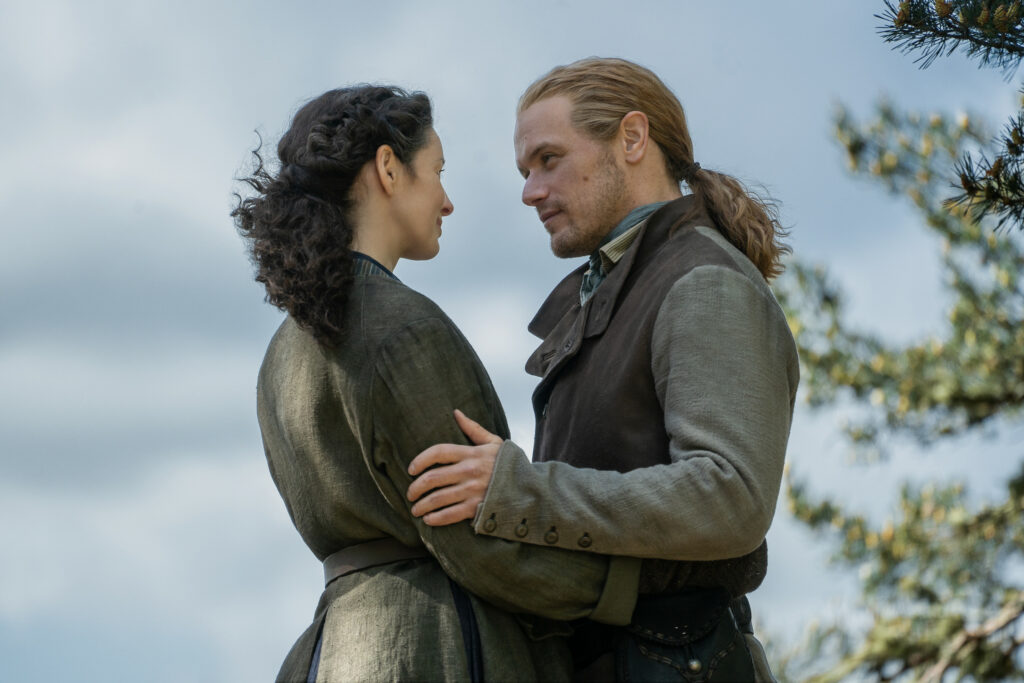 Once again, there is a lot of story taking place in this one hour of Outlander, and, again, it did not seem rushed.  The Brianna and Roger half of the story is at least more intriguing than the first episode, and switching to them does not feel like we are missing out on better Jamie and Claire scenes.  It was nice to see the Bugs included in the story finally and how Arch Bug may return.  The letters were a nice touch, but as I said, it didn't hit that emotional poignancy like in the book.  Jamie, Claire, and Ian are on their way to Scotland.  From the previews we have seen for this half of the season, I don't think they make it there this early.  This season keeps hitting its stride, and I'm hoping for the Outlander fans that it keeps going.  If the episodes continue in strength, like episodes 702 and 703, we may have a season that rivals season one for the best of Outlander.
NEXT WEEK, FRIDAY, JULY 7, AT 8 PM ET: EPISODE 704: "A MOST UNCOMFORTABLE WOMAN"
Synopsis: "On the way to Scotland, Jamie is pulled back into the Revolutionary war. William is sent on a covert mission. Roger and Brianna struggle to adapt to life in the 1980s."