[This is not a spoiler-free review of the episode. If you have not seen the episode yet, read it at your own spoiler risk.]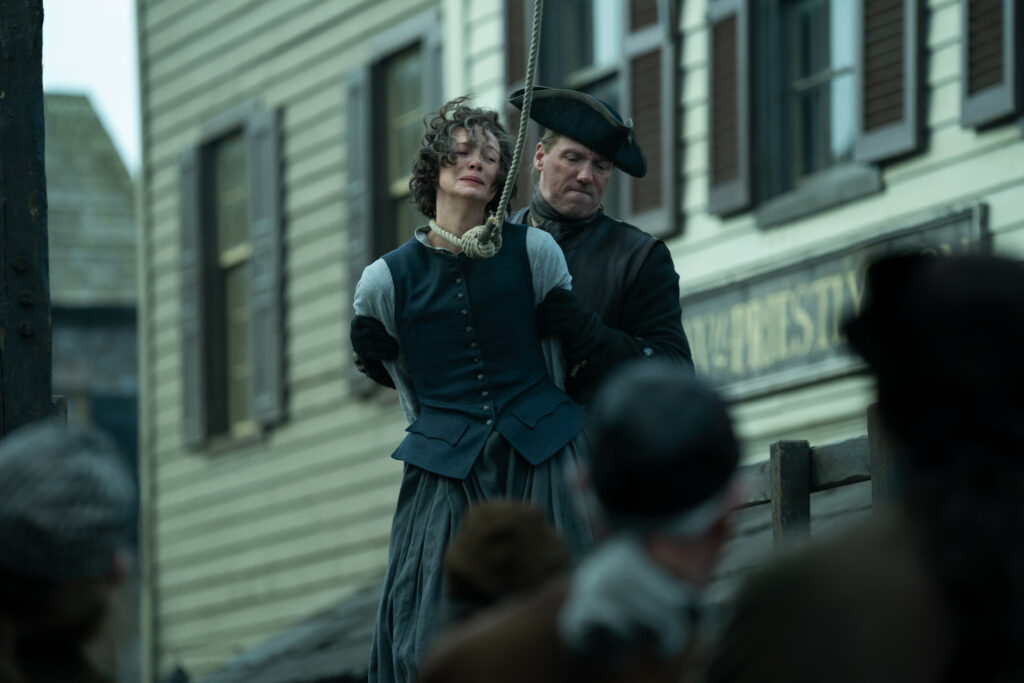 Episode 701: "A Life Well Lost"
Written By Danielle Berrow, Directed by Lisa Clarke
Outlander returns to the small screen for its seventh season after its sixth season finale on May 1, 2022.  That is over a year of Droughtlander, but this kind of break between seasons is normal for Outlander fans, even if they complain about it (rightly so).
The seventh season premiere jumps right back into the fray where the season six finale left off.  There is no time jump because the sixth season was cut short due to the pandemic and Caitriona Balfe's pregnancy.  These first episodes of season seven are basically a continuation of season six.
Once again, we have the episode split into two different storylines; Jamie (Sam Heughan) and Claire (Caitriona Balfe) in Wilmington and Roger (Richard Rankin) and Brianna (Sophie Skelton) in a reverend's boot camp of such.
The episode begins with a bang, as we see Claire Fraser hung in Wilmington.  Her eyes focus on Richard Brown (Chris Larkin) just before being pushed off the gallows.  We hear her neck break and then black…It is actually Jamie contemplating a future that he is running against time to prevent.  He heads to Wilmington with Ian (John Bell).
In reality, Claire is just being left by Tom Christie (Mark Lewis Jones) in the Wilmington women's jail, right where we left her in season six.  A wrench is thrown into the plans for Jamie to save her when Claire is taken to a ship to tend to the North Carolina Governor Martin's pregnant wife.  The original surgeon had left to tend to troops around Ft. Johnston.  With Claire being on this ship and not permitted to leave, she is basically in another jail; this one's just on water.
In Claire's discussions with the Governor (Eugene O'Hare), it becomes evident that she will be stuck on this ship for a while and that the Governor knows she's a "murderess."  Due to the unrest in the colonies, he has to settle for a criminal healer for his wife.  Claire is surprised when Major MacDonald (Robin Laing) suddenly appears to tell the Governor that they have lost Ft. Johnston.  My favorite scene in the episode is when Claire and MacDonald recognize each other awkwardly.  It is through MacDonald that the Governor that Claire Fraser is that Fraser, Jamie's wife, the man who gave up his Indian Agent post and has leanings towards supporting the rebellion.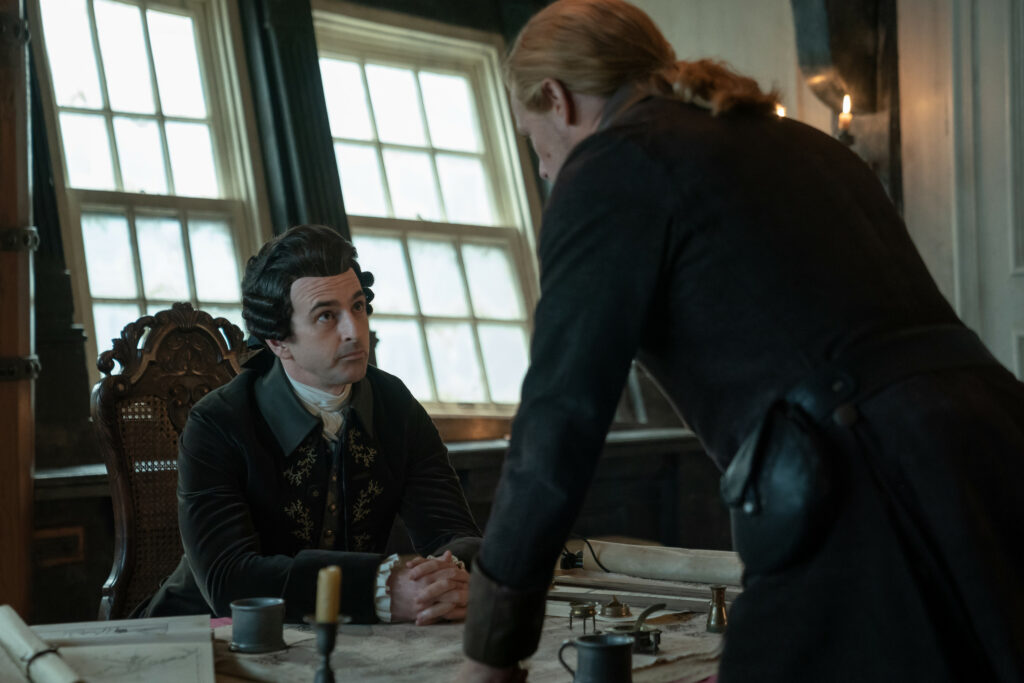 Through Tom Christie, Jamie is able to locate his wife and manages to board the ship she is on due to his past relationship with the former Governor, Lord John Grey, and his former post as an Indian Agent.  They are reunited for the first time since they were ripped apart on the way to Wilmington, and Jamie was almost taken to Scotland.   While this is a happy reunion, it is short-lived as Jamie does not have enough persuasion with the Governor due to his aforementioned troubles with the Crown.  He is told that the Governor will let Claire go if he joins Major MacDonald with 200 men.
Forced to leave Claire behind, Jamie heads back to land to think of another plan.  He meets a drunk Tom Christie, an unusual state for such a pious man.  He speaks with Jamie and has decided to confess to Malva's murder to save Claire.  Although Jamie thinks the man is daft for doing such a thing, Tom explains his motives for sacrificing himself.  The reasons themselves are honorable.  He was never a leader or revered like Jamie by his fellow men.  He was never looked to for help or advice.  He also loves Claire, which can be seen plainly on his face, even while talking to her husband.
When Tom arrives on the ship to confess to the Governor, he explains to Claire what he is doing and why.  He gives a backstory on who Malva is, not his true daughter, but of his brother and Tom's wife.  He continues to believe his wife Mona was a witch, and her daughter inherited it, no matter how hard Tom tried to dissuade her from a life of sin.  While he is not her true father, Tom still feels responsible for her actions.  He also confesses his love for Claire, which makes for awkward glances that are somehow still full of emotion.  Protesting his confession or telling the Governor it is untrue will do nothing to stop Tom, as his confession letter will also be published in the local newspaper.  He is resigned yet content with his fate.  Claire is finally able to return to her husband and Fraser's Ridge.
The conclusion of Jamie and Claire's story in this episode ends with Jamie surprising Richard Brown in his room in Wilmington after a night of drink.  From his body language and countenance, he is able to convey to the audience that he is still as righteous as ever with his decision to bring Claire Fraser to justice and have revenge on Jamie and his family.  We don't see Jamie being a violent man very often in this series, but when given the opportunity and conviction, he can do indescribable things.  Knowing the Browns would continue to be a threat, Jamie tells Richard that his nephew and Cherokee friends have ensured his kin will not avenge his death.  While we don't see the death onscreen, it is heavily implied.  As fans of the show and the books, we need to remember that Jamie has said he is a violent man.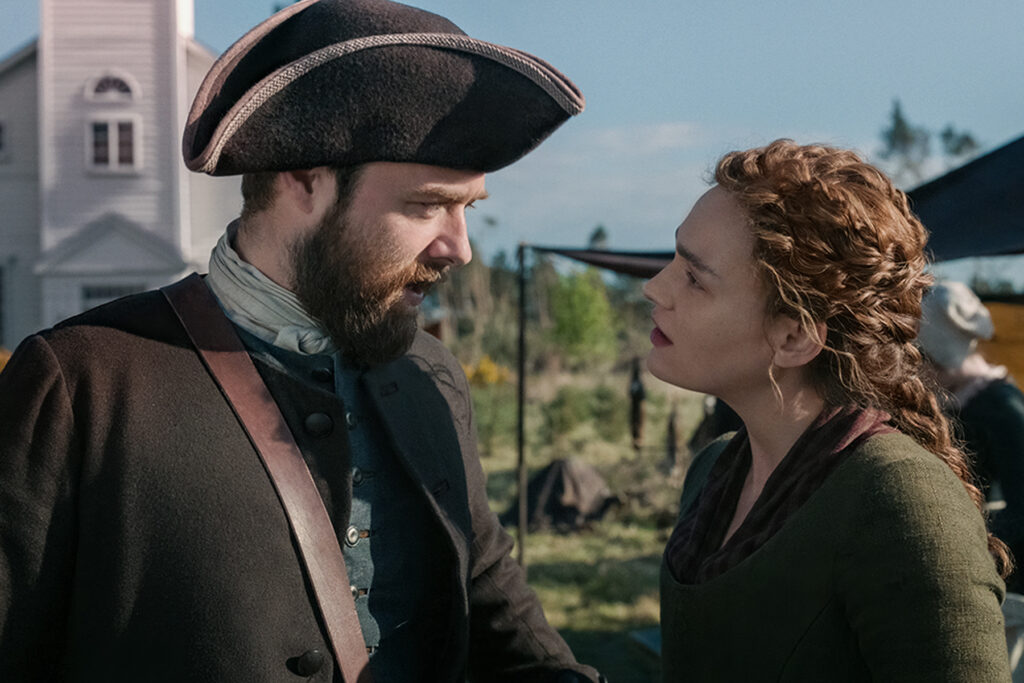 The other half of the episode focuses on Roger and the still-pregnant Brianna, off to another village so Roger can learn more about being a reverend or minister to the people.  In this village, Roger meets some prisoners of the British Army.  When Roger decides to quote Muhammed Ali, one man says, "Ali," to Roger's astonishment.  It is Wendigo Donner (Brennan Martin) who was last seen as part of Lionel Brown's group who raped Claire.  Wendigo explains his situation to Roger, how he got caught up with the Browns, and his need to travel back through the stones to get home.  Roger appears sympathetic to his requests, but after Roger tells Brianna about meeting Wendigo, she has the opposite reaction.  Brianna will not forgive Wendigo for what he did to Mama.  She seems less motivated in her hatred toward him when Roger explains a tough situation he was in on Stephen Bonnet's crew.  The pair have conflicting views, but he at least tells Brianna that he won't help Wendigo.  We will see if that decision actually sticks.
Some of the premiere episodes of the seasons are my favorite in the series.  That favoritism came to a halt with the season four premiere, which is one of my most disliked episodes to this day. This season seven premiere did not feel like a beginning or a celebration of Outlander returning to our screens but merely a continuation of the previous episode.  The acting by Caitriona Balfe, Sam Heughan, and Mark Lewis Jones is always top-notch. The scenes of Tom Christie with Claire and Jamie separately really allowed Mark Lewis Jones to stretch and show off his acting prowess in what may be our last glimpse of him in this series.  He was a phenomenal addition to the cast.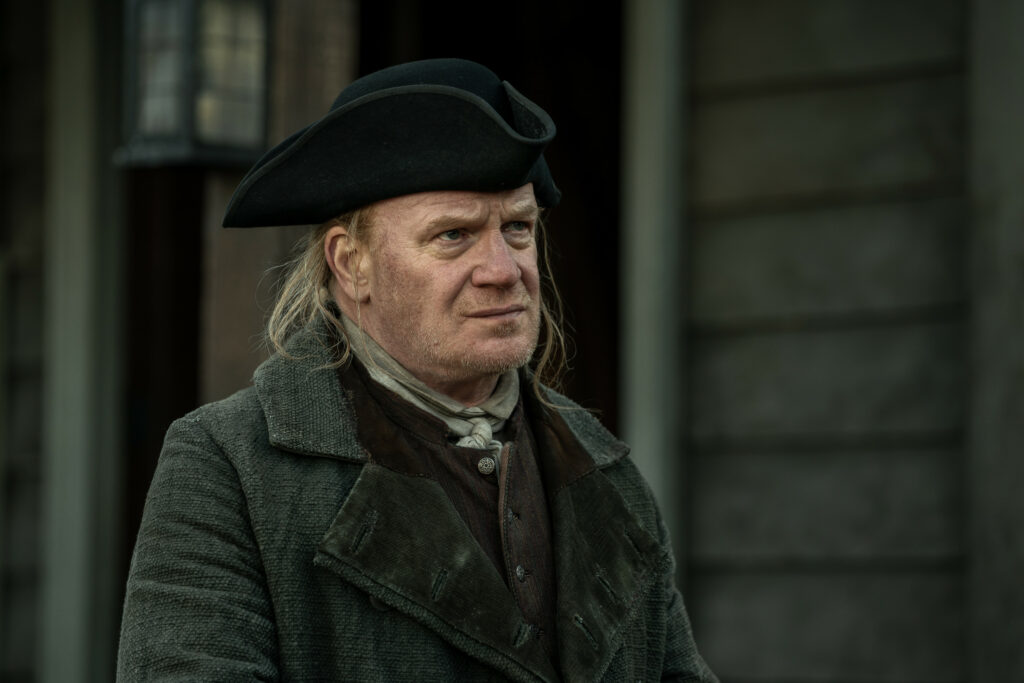 My same complaint of the season six finale carries over to this episode; the Roger and Brianna scenes feel like a stopper on the tension and high stakes of the scenes involving getting Claire back.  The writers continue to struggle with keeping the story moving for all of the characters in the show without the mixing storylines putting a pause on each other.  With this season trying to cover three books, there probably isn't time for a Roger and Brianna-centered episode. Still, it would flow better if the storylines did not have to be mixed when they have different energies and story goals.
I am glad to have the show back for myself and my fellow fans, but this episode didn't pack the emotional wallop I was expecting after such a long hiatus.  Given what we know will happen in the first eight episodes of Outlander season seven, I can only hope for this season to improve on its premiere.
NEXT WEEK, FRIDAY, JUNE 23, AT 8 PM ET: EPISODE 702: "THE HAPPIEST PLACE ON EARTH"
Synopsis: "Claire makes a startling discovery about Roger and Brianna's newborn daughter. A familiar face returns to the Ridge with explosive consequences."