**This is not a spoiler-free review of this episode. This review is also from a non-reader, and any comments revealing spoilers from the books will be deleted.**
That One Where A Scotsman Made Me Burst Into a Star-Spangled Banner of American Patriotic Pride
Episode 605: "Give Me Liberty"
Written by Barbara Stepansky, Directed by Christiana Ebohon-Green
Mark me, Outlander fans. When they teach the history of the American Revolution in schools, there's never really a true sense of danger. It's a foregone conclusion, America wins, new country, YAY FREEDOM, right?
What I loved about "Give Me Liberty" was how it demonstrated just how dangerous rebelling against the king of England truly was. Jamie (Sam Heughan) acknowledges this, saying he wouldn't have even considered siding with the American rebels if he lacked Claire's knowledge of the future.
Regardless, Jamie is still risking his neck. Big time.
On a brighter note, Jocasta (Maria Doyle-Kennedy) smoked pot! (I know it was for medical reasons, but it was still funny seeing a high Jocasta.) Unfortunately, Colin McFarlane couldn't be by Jocasta's side as Ulysses in this episode, but I understand that Ulysses cannot safely return to Jocasta's side after he defended her from that bastard Pippin, erm..Neil Forbes (Billy Boyd).
Sorry, Pippin, you deserved what you got.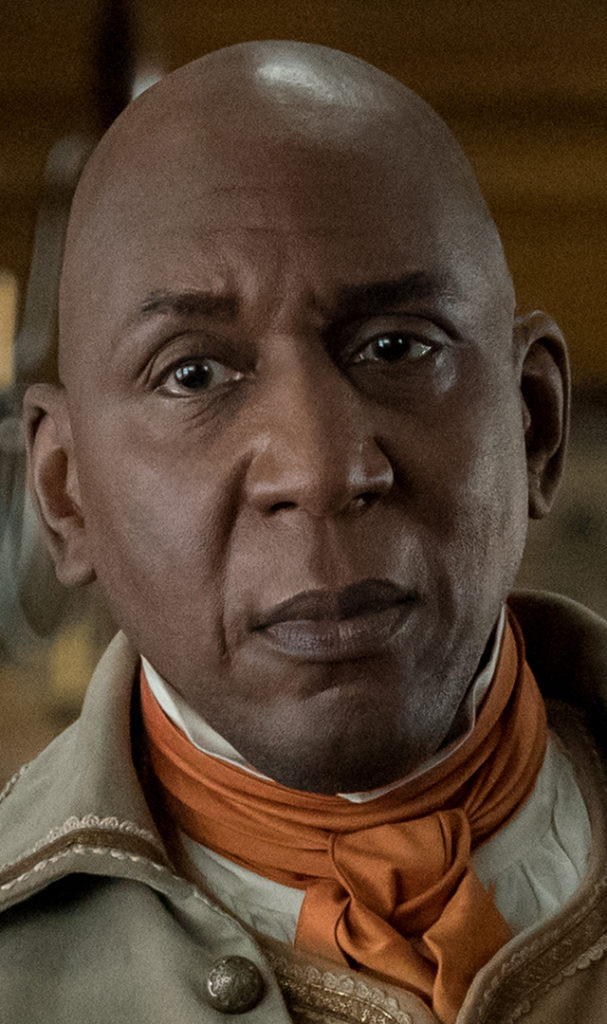 Under-appreciated HERO.
BUT I DIGRESS.
I nearly BUSTED a RIB laughing so hard when I heard those two hilarious words from the past in this episode's flashback sequence: Mark me. 
THE BONNIE PRINCE (Andrew Gower) IS BACK WITH HIS SIGNATURE CATCHPHRASE.
Okay, so it's only via a flashback, but man, was it worth it for the mark me alone.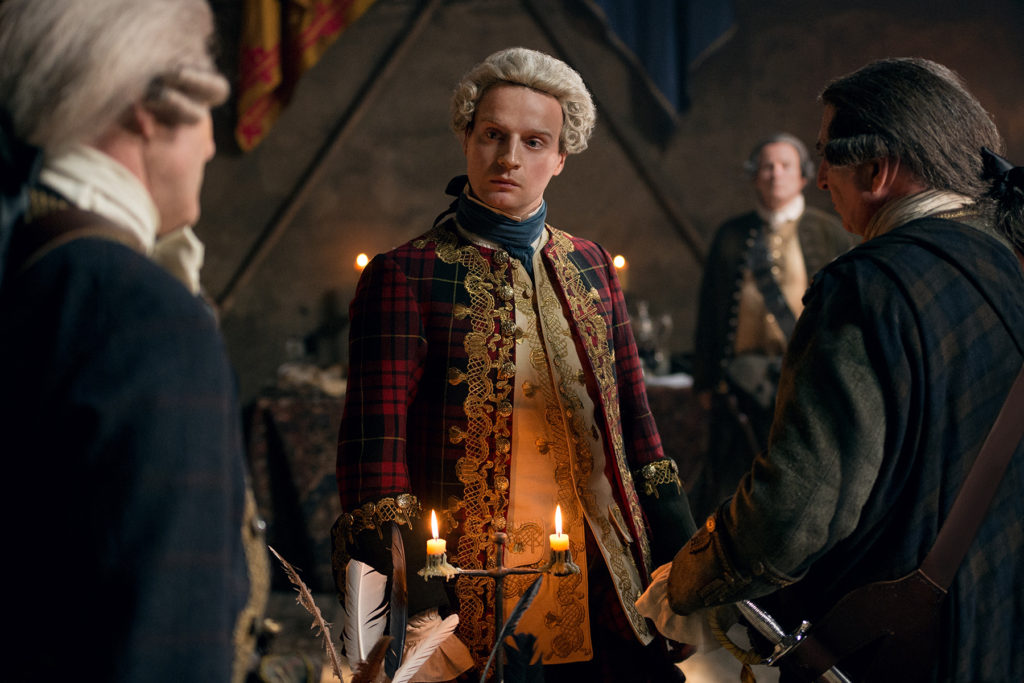 I might be American, but all hail this hilarious KING
The Bonnie Prince owes a huge debt to Flora MacDonald (Shana Macdonald) for helping him escape the clutches of the British after the Battle of Culloden. In the present day (well, for Outlander anyway), Jamie and Claire (Catriona Balfe) plan to attend an event where Flora speaks.
Claire gleefully teases Jamie for his obvious little crush on Flora. Even hot Scots get celebrity crushes. Jamie is like, "Hold your horses' madame, I am attending this Loyalist event in the name of freedom for my fellow colonists. Now, if you'll excuse me, I'm going to go dump some tea in a harbor or something."
MEANWHILE, MALVA (Jessica Reynolds) IS SKETCHY AF? (Pardon my slang, but nothing else felt applicable here.)
Apparently, the woman I once deemed an innocent marshmallow was the SAME woman who made that freaky love charm in the forest. FINGERS, MALVA?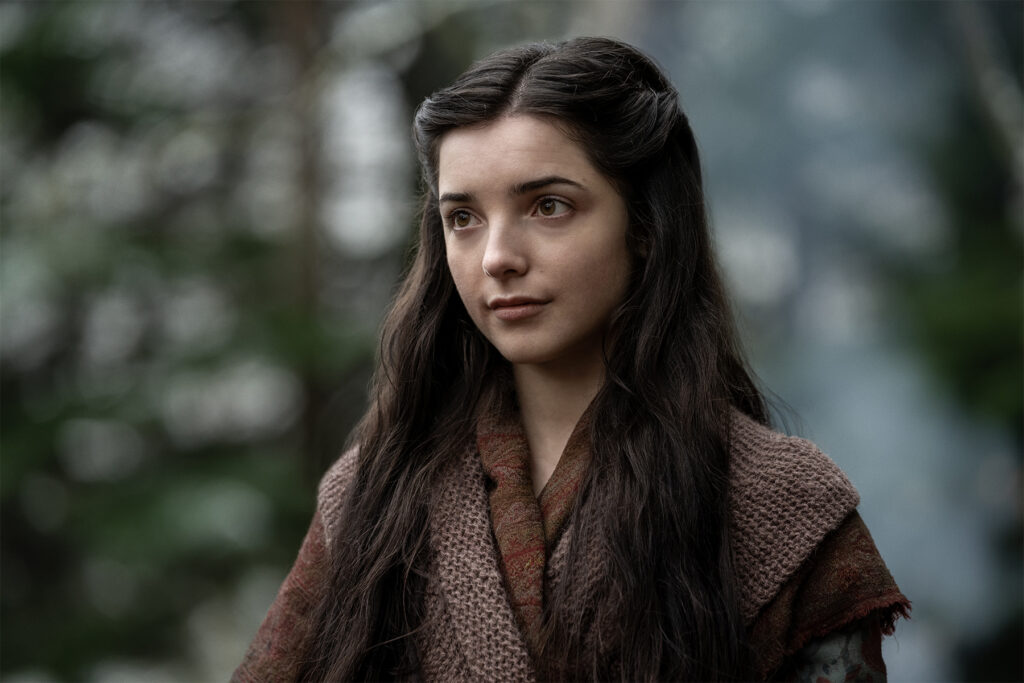 WE WERE ALL ROOTING FOR YOU
But, who is the love charm for? I feel like the obvious choice is Jamie just based on Malva CREEPING on Claire being intimate with Jamie in the last episode?
Is Malva single white female-ing CLAIRE???
Malva also doesn't bat an EYE later on when Roger catches her having some sexy times in the CHURCH of all places with some random Frasers Ridge settler. Does Frasers Ridge have its own colonial dating app? "Come Hither" instead of Hinge??
She tells Roger, "I'll tell everyone you've been NAUGHTY with Amy McCallum if you tell my father what you saw." Of course, Roger has been nothing but a gentleman to Amy McCallum (Joanne Thompson), but in modern terms, it's a bad look for a married man to be spending so much time with a widow.
I love that Brianna (Sophie Skelton) wasn't jealous of Roger when she confronted him about this. It's not that she didn't trust him, but she recognized that colonial settlers wouldn't be so understanding of the optics of the situation. And she's proven right when Malva pulls the "I'M LYING IF YOU TELL THE TRUTH ABOUT ME YE BEARDED BASTARD."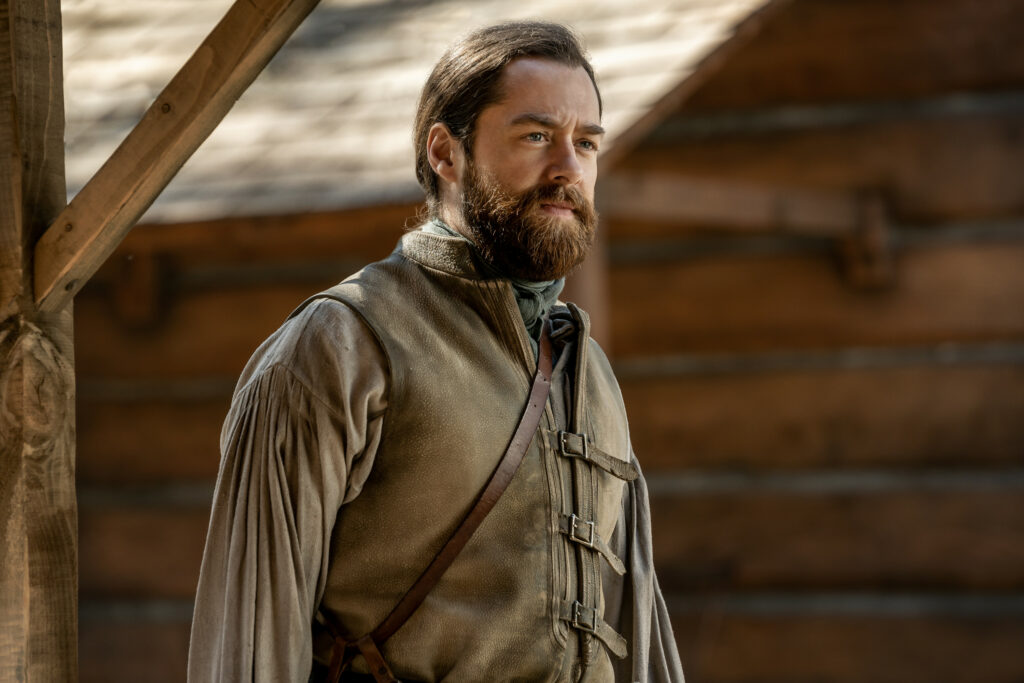 Roger, bearded bastard. 
OH YES, DID I FORGET THAT LORD JOHN "HOT FOR JAMIE" GREY (David Berry) IS BACK?
Poor John. He doesn't have to say it, but you can practically hear his soul screaming at Jamie, "You're too hot to be hanged!" when John realizes that Jamie is siding with the rebels.
John and Jamie interrupt an almost tar and feather situation at a printing press. Rebels are angry that the printer did his job and accepted a job from Jocasta to print pamphlets praising Flora (who is an unabashed Loyalist at this point in the game).
Someone SHOOTS the printer, and Jamie gets a bit of tar on his face. Naturally, one of the Sons of Liberty notices Jamie defending the printer from nearby and is like, "COLONIAL CANCEL SQUAD ACTIVATE."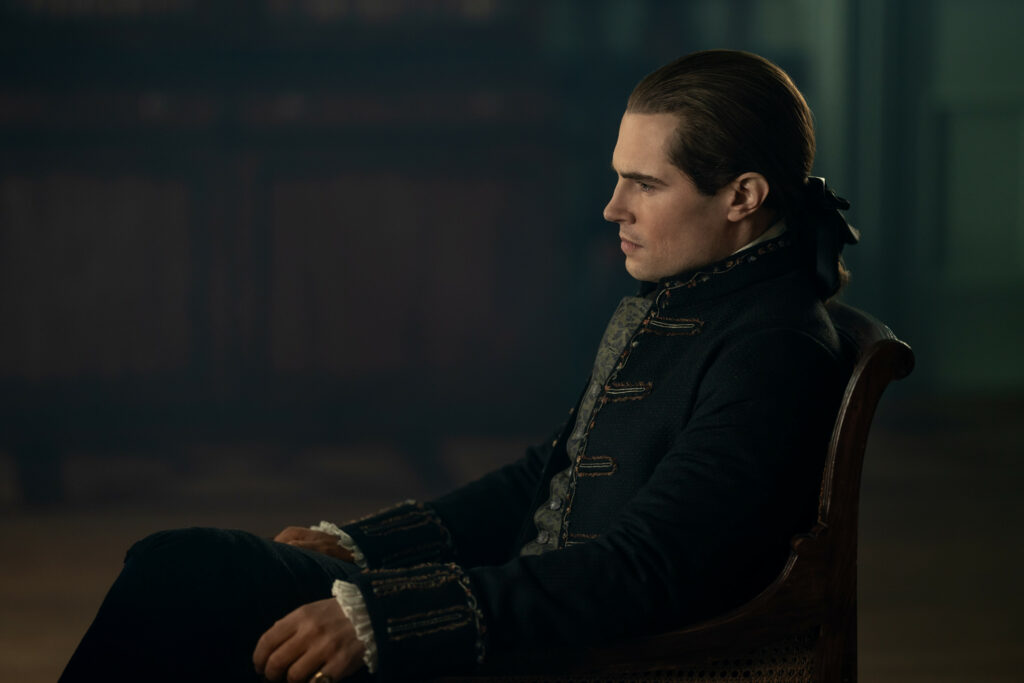 No sassy caption here, just Lord John Grey.
Again, this episode masterfully shows that the American Revolution wasn't a simple good versus evil situation. The printer did nothing wrong, and he didn't deserve to be shot for simply accepting a client's printing job.
At the same time, the Sons of Liberty should have the right to assemble and speak freely without fear of being arrested by British soldiers. They initially tell Jamie he's no longer welcome at the meeting after the whole printer snafu. And Jamie gives a beautiful speech on how the concept of free speech goes both ways. 
The Scotsman schooled the rebels on how to be an American. 
(Also, I realize that colonists from different countries eventually BECAME American when the actual COUNTRY was founded, but this is my REVIEW PARTY, and I'll joke how I want to!)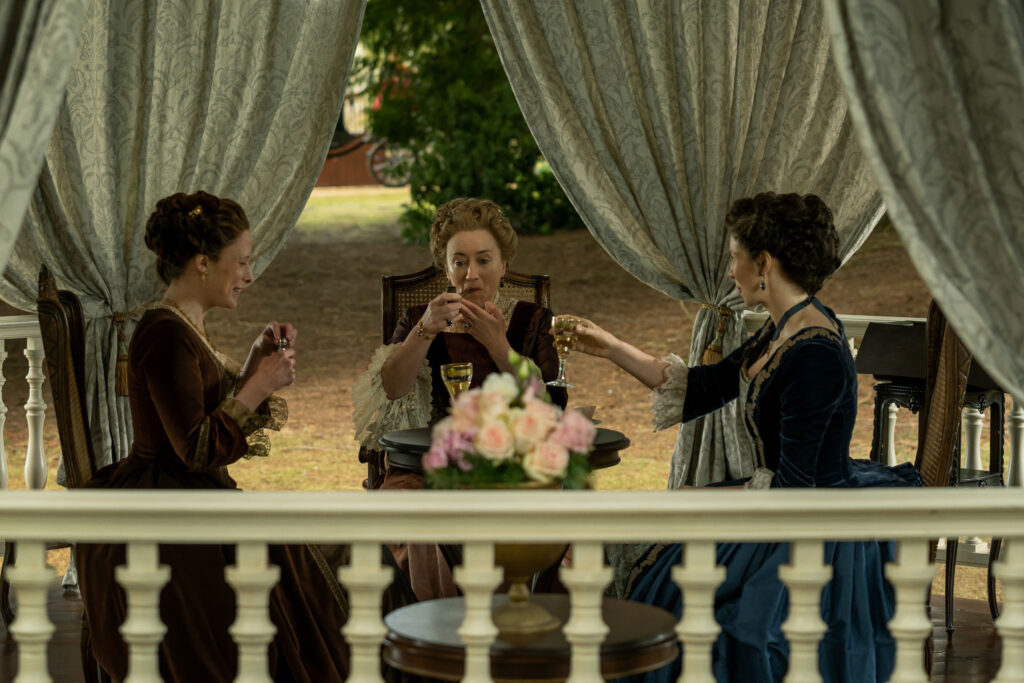 I'll have what she's having!
Jamie also wisely proves his loyalty to the cause by telling the group that British soldiers are on their way. He had pleaded with John to delay them, and the gamble paid off. Jamie ushers the Sons of Liberty out of harm's way, and the British soldiers look like fools.
MEANWHILE,
WHAT THE ACTUAL F**** IS WRONG WITH MALVA? I REGRET COMPARING HER TO A MARSHMALLOW.
THE WAY SHE SLICED OFF THAT FINGER WAS SO CREEPY? IT MADE MY STOMACH HURT.
AND WHO WAS WHISTLING THE COLONEL BOGEY MARCH? THE SONG THAT WAS CREATED IN 1914??
WHO?
AND THEY HAVE FLORA'S EMERALD?
I AM LOST IN A SEA OF OUTLANDER CONFUSION, AND I DON'T WANT TO BE FISHED OUT ANYTIME SOON.
Favorite moment: Mark me, EVERYTHING?
Worst Character So Far: Tom Christie, for not realizing how CREEPY his DAUGHTER IS? LEARN HOW TO PARENT PROPERLY.
Honorable Mention for Assholery: Pippin…Neil Forbes for being an asshole and the reason why Ulysses wasn't in this episode.
Until next time Outlander fans! 
NEXT WEEK, SUNDAY, APRIL 10, AT 8 PM ET: EPISODE 606: "THE WORLD TURNED UPSIDE DOWN"
Synopsis: "A dysentery epidemic strikes the Ridge."
Photos courtesy of Starz.