**This is not a spoiler-free review of this episode. This review is also from a non-reader, and any comments revealing spoilers from the books will be deleted.**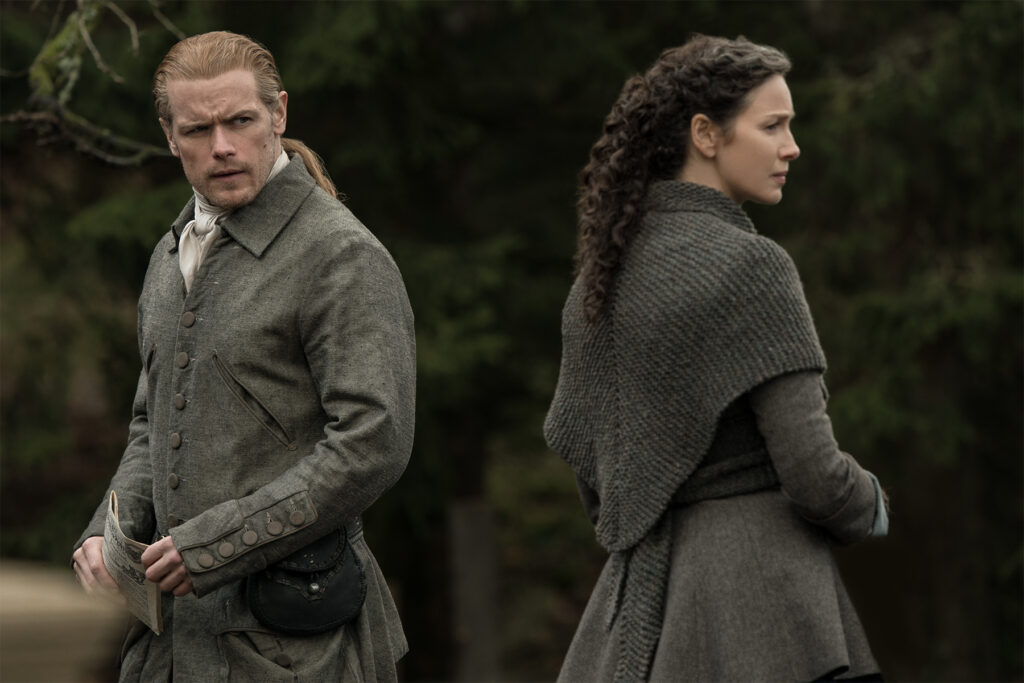 More Guns, Lots of Monologues, Fergus Redeemed, and a Quaint Little Tea Party at the Boston Harbor!
Episode 603: "Temperance"
Written by Shaina Fewell, Directed by Justin Molotnikov
I know I've been hard on Fergus (César Domboy).
But really, nobody has been harder on Fergus than well…Fergus.
But before we get to everyone's favorite Outlander French man, IS THAT A BABY IN A BASKET FLOATING TOWARDS RAPIDS?
THE BASKET BABY IS HENRI CHRISTIAN???
Let's give a shoutout to Roger (Richard Rankin) for being a total badass and jumping in the water to save Marsali's BABY. I have to admit, I wasn't the biggest Roger fan in seasons past, but MAN.
MAN.
Roger is STEPPING up this season. From calling Fergus out for not being by Marsali's side to DIVING into a river to save Henri?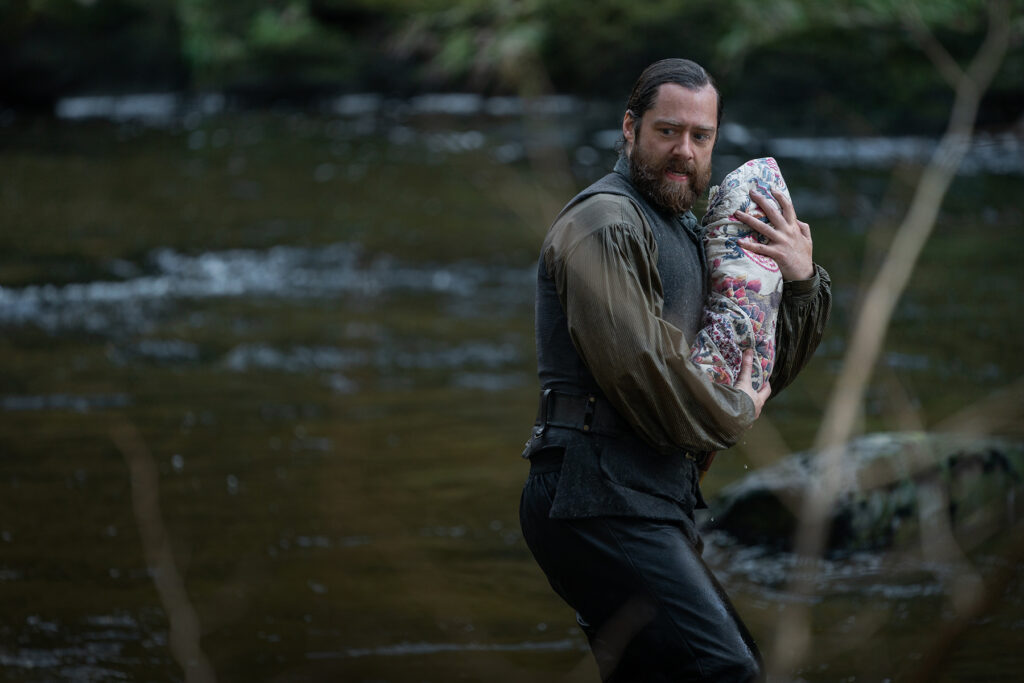 (Roger being a total Captain America before it was cool). 
The little settler boys earnestly explain that they wanted to see if Henri would float, insinuating that they think Henri is the devil's spawn (ironic given how they literally sent a BABY to its potential DOOM). Many aspects of this episode drove home that these are 18th-century settlers, and we cannot judge their actions with a modern lens.
Oh, who am I kidding? I was judging a lot of characters in this episode.
SPEAKING OF JUDGING…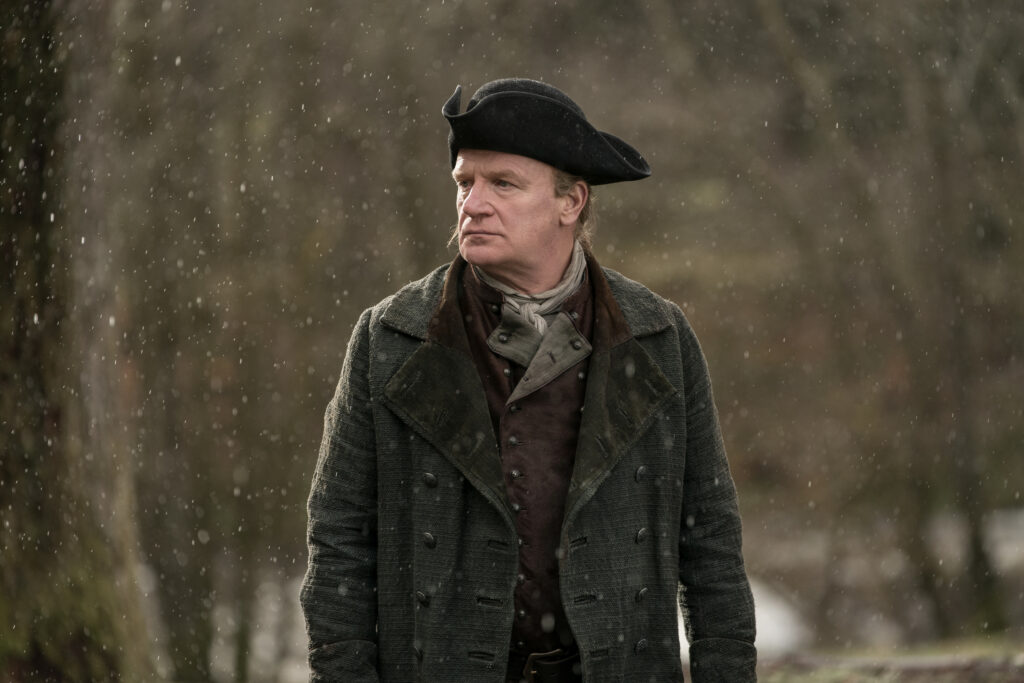 (How DARE you throw away your wife's novels! Why do 18th-century men have the AUDACITY?)
When I thought Tom Christie (Mark Lewis Jones) was FINALLY trying to open a LITTLE BIT, he leaves a nasty little note in the book Claire (Caitriona Balfe) was kind enough to lend him.
Earlier in the episode, Claire operated on Tom's hand (with Jamie acting as Claire's medical assistant, which was hilariously adorable). I can understand why Tom would be hesitant to try the ether, and I do applaud him for actually making it through CLAIRE SLICING INTO HIS HAND WITH ONLY WHISKY TO NUMB THE PAIN.
Tom does apologize to Claire post-surgery for squirming so much during the procedure. I feel like in Tom's eyes, informing Claire that he believes that she is, in fact, NOT a witch is the highest compliment he can bestow.
He tells Claire about the incident at Ardsmuir where Jamie (Sam Heughan) got flogged for claiming tartan as his own. When I think Tom admits that he admires Jamie's leadership, Tom is like, "BUT I'm NOT one of HIS MEN okay CLAIRE, DON'T GET YOUR CURLY UNCOVERED HAIR IN A TWIST."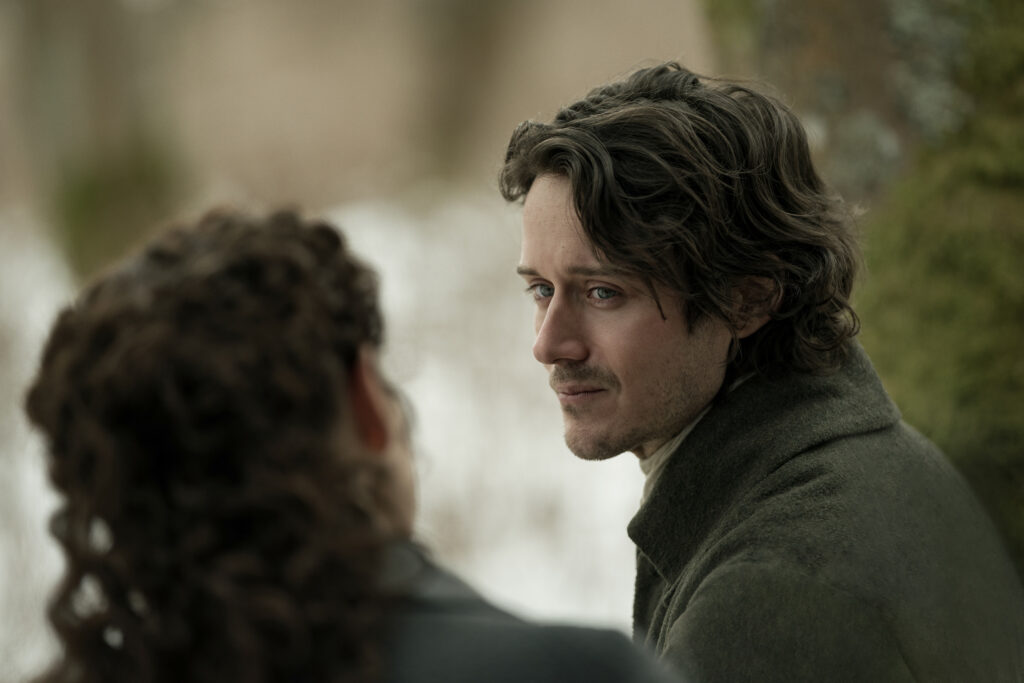 (Seriously, WHERE ARE ALL THE COLONIAL THERAPISTS?)
Meanwhile, Fergus.
Oh, Fergus.
It's not that he hates that Henri is a dwarf. He fears for his son's future. Fergus tells Claire the story of the dwarf he befriended when he was still working at the brothel. One day, the dwarf was discovered with his throat cut.
Fergus thought he had escaped that life, and he doesn't want Henri having to experience that in the future. However, Fergus needs to focus on working on himself in the present. He broke his vow to Marsali to stop drinking, and boy, do they have a fight for the AGES.
I LOVE how Marsali (Lauren Lyle) stands up for herself against Fergus. This couple does NOT want to give up on each other, but how can Marsali keep fighting for Fergus when he's lost the will to fight for himself?
"I'll have a whole man or none at all." I LOVE HOW MARSALI DUMPED WATER ON FERGUS'S HEAD WHEN HE SAID HE WANTED MORE TO DRINK.
I had honestly completely forgotten the Marsali had KILLED that rapist who shall not be named. She admits this to Fergus to demonstrate to him that she's not a helpless damsel-in-distress.
Instead of Fergus being concerned that his wife killed someone (which was justified, TBH), he's like, "No, no, no, I'm the MAN I'm supposed to murder the rapists, NOT YOU??"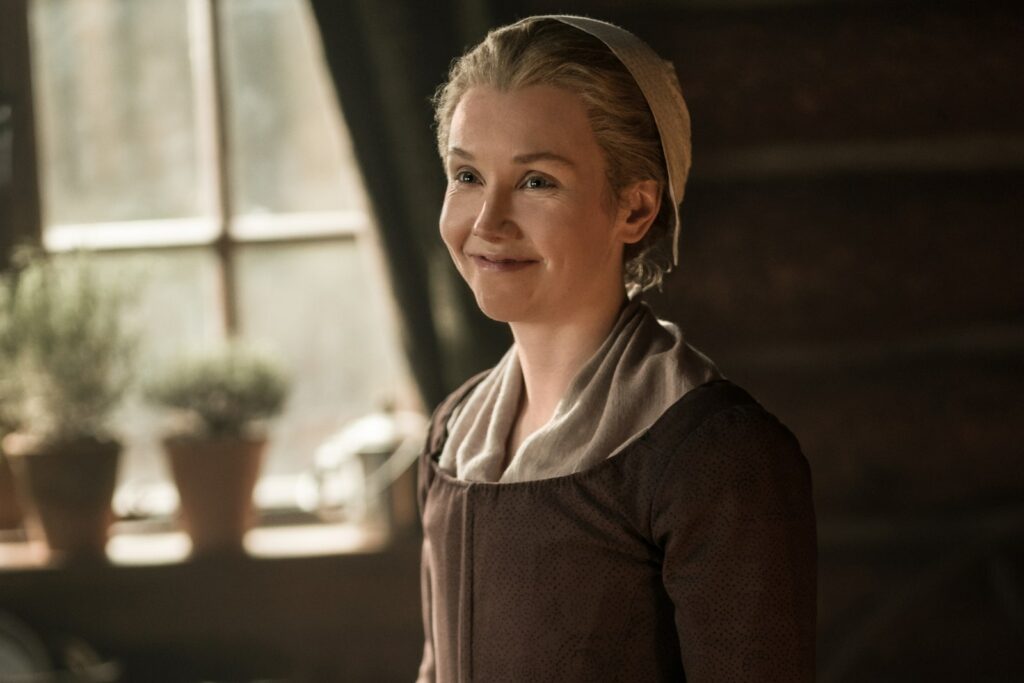 (DON'T MESS WITH MARSALI)
Near the episode's end, the settlers of Frasers Ridge gather for quartering day? (It looked like they were essentially paying colonial rent? Not sure).
ANYWAY.
A random colonial couple is judging Fergus hardcore for being drunk. Fergus is like, "SAY IT TO MY FACE, COLONIAL KARENS" and the wife says that Henri was born a dwarf because alcohol is the devil's drink, so its all Fergus's fault.
FERGUS, DON'T PUNCH THE TROLLS; JUST IGNORE THEM.
So what does Fergus do? He goes into full-out Fergus fighting mode.
This event triggers the saddest moment of 'Temperance.' Jamie comes across Fergus in the wood as he slits one of his wrists, and Fergus argues it's for the best. If he dies, Marsali can remarry again.
There has been a whole slew of characters who have tried to talk sense into Fergus. However, it made perfect sense that it was Jamie who finally got Fergus to snap out of his funk. Fergus needed the only father figure in his life to tell him that he wasn't worthless. It's a touching scene, and Cesar and Sam pulled it off brilliantly. (Seriously, everyone in this cast should have at least one Emmy A PIECE by now. A TRAVESTY.)
Fergus goes home to Marsali, saying simply, "Never again."
(Malva: Innocent marshmallow? TBD) 
I swear on my car that I was CONVINCED that Malva (Jessica Reynolds) and Young Ian (John Bell) were going to start making out at one point in 'Temperance.' The two do have a sweet chemistry, but Young Ian is very respectful with Malva. She admits to him that her mother was hanged for being a witch.
I don't know what to make of Malva y'all. I feel sorry for her? She's obviously looking for a mother figure in Claire. But all she's stuck with is a father who whips her at the slightest transgression (was Tom whipping her this time for being spotted walking with Young Ian? I couldn't tell).
So as of now, I am still classifying Malva as an innocent marshmallow. She does seem to open up to Jamie a bit when she's gathering mushrooms. What was the purpose of that scene, though? To allow Malva to be around men that are genuinely kind to her?
Did Tom whip her later on for walking alone with Jamie?
I DON'T KNOW. THE CHRISTIES JUST HAVE THESE WEIRD VIBES THAT MAKE ME UNCOMFORTABLE.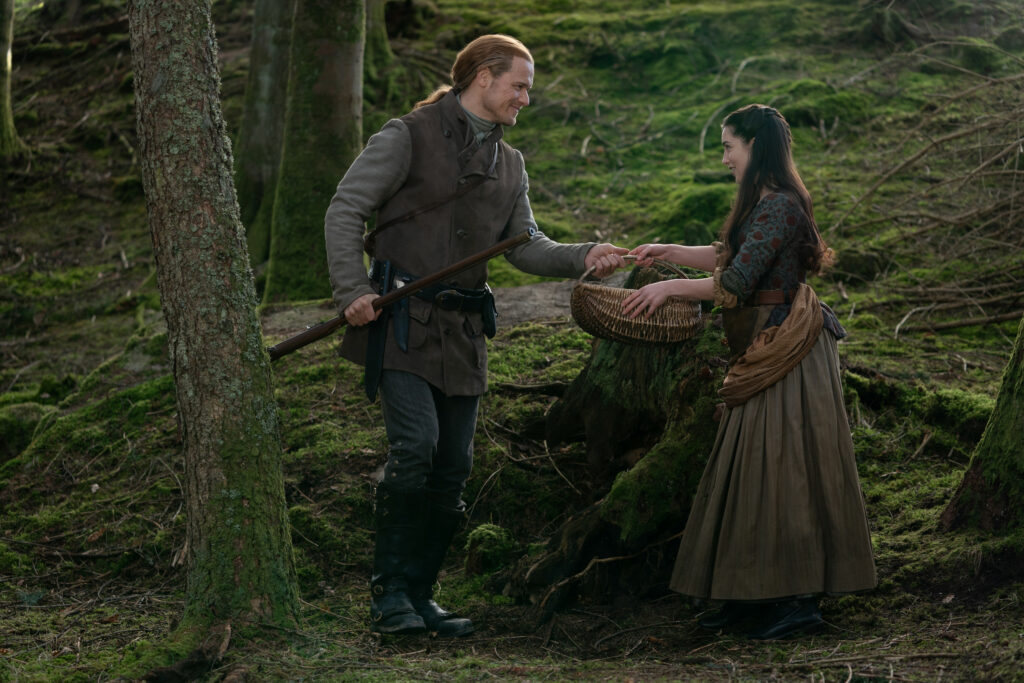 (Have ye seen my sassenach?)
THE BRITISH ARE COMING!
And they've brought the guns Jamie requested for the Snowbird Cherokee tribe!
BUT WAIT, THERE'S A CATCH.
Major McDonald (Robin Laing) tells Claire and Jamie a BIG THING happened at the Boston Harbor. Just a colonial tea party! I'd never thought I'd get chills hearing about the Boston Tea Party, yet HERE I AM.
Especially with the way Claire goes…"It's starting…"
GOD BLESS 'ALMOST' AMERICA Y'ALL.
Favorite Moment: That Fergus and Jamie moment. Beautiful. (Also, the Marsali/Fergus fight. EPIC.)
Worst Character So Far: I really didn't want to say Tom again, but yet, here we are.
Honorable Mention for Assholery: Tom Christie, for THROWING OUT HIS WIFE'S NOVELS, IT'S NOT LIKE SHE CAN JUST ORDER NEW ONES ON AMAZON.
Until next time Outlander fans!
NEXT WEEK, SUNDAY, MARCH 27TH AT 8 PM ET: EPISODE 604: "HOUR OF THE WOLF"
Synopsis: "While visiting the Cherokee, Ian encounters a man from his past who dredges up painful memories of his time with the Mohawk."
Photos courtesy of Starz