[This is not a spoiler-free review of the episode. If you have not seen the episode yet, read it at your own spoiler risk.]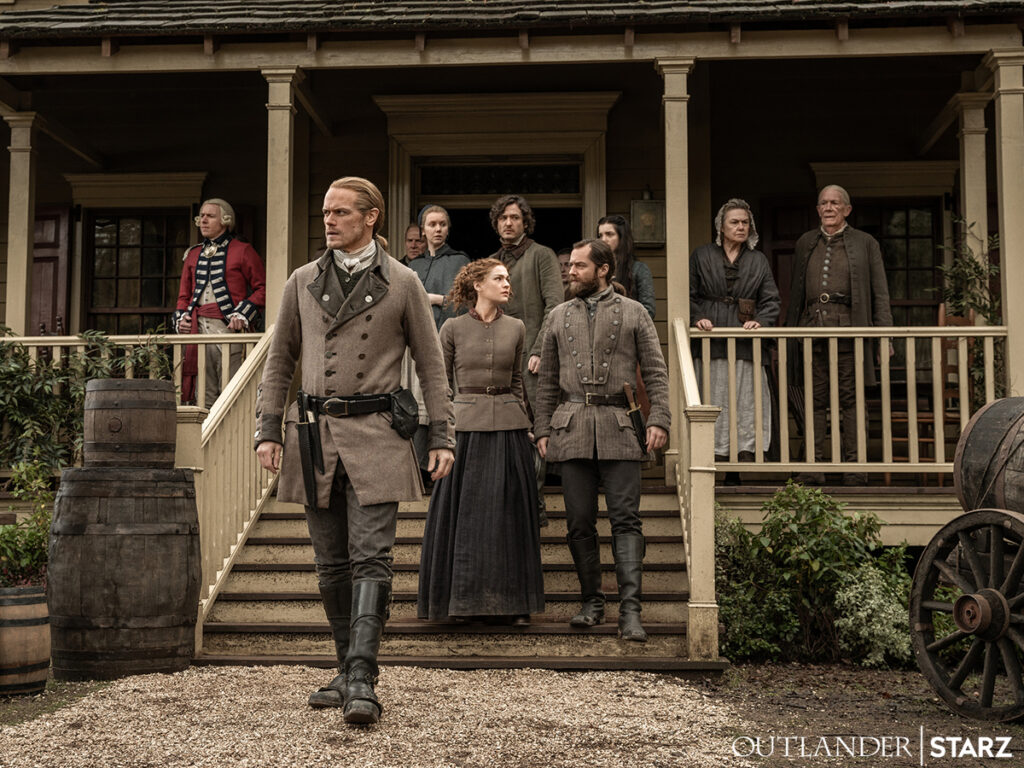 Episode 601: "Echoes"
Written By Matthew B. Roberts, Directed by Kate Cheeseman
It's been a couple of years since a new episode of Outlander graced the small screen.  We were amid the beginnings of COVID-19 when season five aired, and then the pandemic itself delayed filming of season six.  We have season six of Outlander on our screens because of the immense hard work of the production cast and crew that was only made harder due to the pandemic.
"Echoes" relies heavily on things that happened in the past that affect the present for those who live on Fraser's Ridge.  While some of these events were shown to us in previous episodes, one of the antagonists for season six, Thomas "Tom" Christie (Mark Lewis Jones), is unknown to the television audience.  Writer Matthew B. Roberts devotes a good chunk of the episode to set the foundation of what kind of person Tom Christie is and why Jamie Fraser (Sam Heughan) and he don't get along.  This foundation brings the audience back to Ardsmuir Prison, where Jamie was imprisoned after being "captured" at Lallybroch post-Culloden.  It seems that Tom Christie, a pious Protestant, was very much the leader of the men in the prison until James "Mac Dubh" Fraser, a Catholic, showed up.  Christie was held in high regard by the English Governor of the Ardsmuir.  Still, the well-read and observant James Fraser uses his mind and leadership capabilities, even after a flogging, to gain the upper hand on Christie and the men of the prison.  Christie never had respect for Jamie, seeing his scarred back and knowing his beliefs, but relegated himself to being defeated by this man.
The opening of the episode, over twenty minutes in length, reminds the audience of the struggles of Jamie back in season three and how he kept Claire (Caitriona Balfe) present in his mind.  Along with re-presenting a beaten down Jamie, the production also brought back some continuity with season three and season five by showing us Jamie's past friends among the prisoners.  Hayes (James Allenby-Kirk) and Lesley (Keith Fleming) were a very present duo in season three and the beginning of season four.  We also have Ronnie Sinclair (Paul Donnelly) and Evan (Gary Larmont), and Kenny Lindsay (Jack Tarlton) amongst the group.  Someone glaringly absent from this bit of continuity is Murtagh (Duncan Lacroix), revealed back in season three to have survived Culloden when Jamie found him in Ardsmuir.
When Tom Christie arrives on the Ridge, bringing with him the notice inviting the men of Ardsmuir to settle there, Jamie is taken aback that Tom would want to owe any favors to him.  But being a man of his word, he does not turn Tom away, nor his two children Allan (Alexander Vlahos) and Malva (Jessica Reynolds) and Christie's followers.  The Christies turn out to be ill-prepared for living in the woods of North Carolina and need extensive help to start building a home there.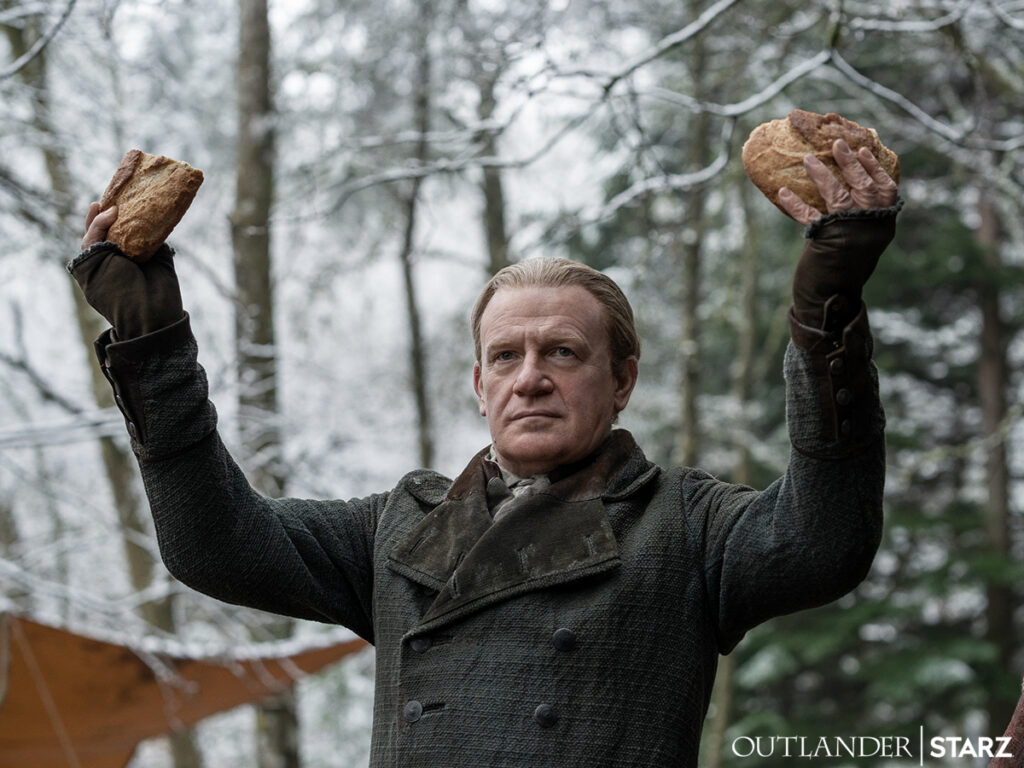 Claire continues to be busy in her lab, making her own ether to be able to sedate patients for surgery.  We are introduced to present-day Claire trialing her ether on herself, much to the chagrin of Jamie.  Jamie continues to worry about Claire and how she is coping with her ordeal from the end of season five.  Claire mentions to Jamie as they leave the Big House to visit Marsali (Lauren Lyle) that Jamie will not let her out of his sight whenever she tries to leave.  Considering all the dangers that lurk in their surroundings, Jamie may indeed be doing all he can to protect his wife.
Marsali is heavily pregnant again but is seemingly left on her own with the kids while Fergus (César Domboy) works increasingly long hours at the whisky still.  Claire notices a bruise on her arm and becomes suspicious of its circumstances.  Later in the episode, Fergus shows up drunk and shows no signs of stopping drinking, even with Marsali trying to make him eat and sober up.  There are hints that Fergus has become less confident in himself when Lizzie (Caitlin O'Ryan) makes an untimely comment referring to helping hands.
While Tom Christie may be a new antagonist for the season, there is still an omnipresent one in Richard Brown (Chris Larkin) and his Safety Committee.  What Lionel Brown (Ned Dennehy) did to Claire last season is not forgotten, and neither is Lionel's death, which is undoubtedly going to be avenged at some point.  Unfortunately, Richard Brown shows up in this episode with his crew behind him when he comes to arrest Allan Christie for thievery.  The carved horn he carried with him wasn't his at all, and he certainly didn't carve it himself.  Because of Allan, the Frasers and the Browns meet again, forcing Jamie to enforce a crime's punishment with some whips using a belt.  While Tom Christie considers himself a Godly man, he had no qualms with siding with Richard in presenting his lying and thieving son for punishment by Richard's whip.  It is only thanks to Jamie that he did not meet this crueler punishment.
The episode felt long enough, and the extra twenty minutes allowed the characters to introduce or reintroduce themselves properly.  There are not many happy moments in this first episode of the season.  It more so established some background on new characters, brought back past dilemmas and struggles to the viewer's mind, and gave hints of where the season is heading into tricky waters.  Unfortunately, Roger (Richard Rankin) and Brianna (Sophie Skelton) don't have much of a storyline so far.  Still, there are hints of Roger being interested in a possible church and Brianna continuing to "invent" items from her time.  There are subtle hints that Arch (Hugh Ross) and Mrs. Bug (Sarah Collier) may get to play out their storyline from the books.  The casting team should once again be applauded for the addition of Mark Lewis Jones as Tom Christie.  The man is quite imposing on the screen, stocky, and gives off the air of self-righteousness without ever saying a word.  Already, I can say that he will be one of my favorite performances of the season just based on this one episode.
However, as a reader who has not done a reread of the books in some time, I still was able to be aghast at what they do to Claire at the episode's end.  Claire is still besieged with her past traumas and has decided to use her experimental ether to make her sleep when she is struggling with terrible nightmares.  It seems like the show is setting the stage for a problematic reliance on chemicals as a coping method, one that doesn't align with Claire's professionalism when it comes to being a doctor.  I can only hope that the show doesn't take this road with Claire's journey in season six.  Author Diana Gabaldon did say that this is her favorite season, so here's hoping for the best for our beloved characters.
NEXT WEEK, SUNDAY, MARCH 13TH AT 8 PM ET: EPISODE 602: "ALLEGIANCE"
Synopsis: Jamie struggles with his first request as Indian Agent. Roger presides over an unusual funeral. Marsali gives birth.
Photos courtesy of Starz