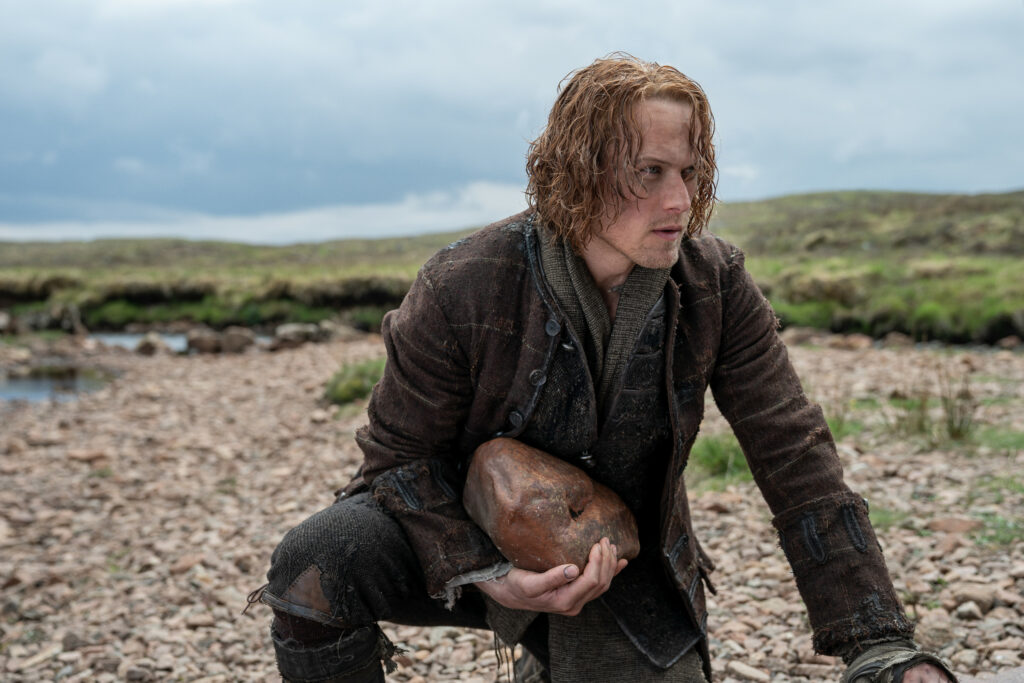 This week's post-episode round-up includes interviews with Sam Heughan, Caitriona Balfe, Maril Davis, Diana Gabaldon. Only excerpts are below, so please click on the links for each article to read them in their entirety.  As always, be aware of spoilers for this episode and upcoming episodes.
The Dipp – Diana Gabaldon Supports Season 6's Change Of Claire Using Ether
"Book Claire probably wouldn't have done that," Gabaldon writes in an email to The Dipp. "For multiple reasons, including the not-inconsiderable physical risks of doing it, addiction being a notable one."

Gabaldon voices some concern about Claire's response falling into the "Strong Woman" trope. "Part of the whole Strong Woman trope is that said SW goes it alone and just stomps on, elbowing aside any show of concern from her family," Gabaldon says, pointing out how Claire insists she's fine to both Brianna and Jamie in "Echoes." But the author does add, "Giving credit where due, [that is] a nod to the books," specifically Chapter 29 in A Breath of Snow and Ashes, "Just Fine." In the chapter, Claire proclaims to a doubting Bree that she's "perfectly fine" following the assault.

"I have the benefit of having seen the whole season, and actually, I think they handle the whole thing pretty well within the framework they've developed. It works out slowly over the course of the whole season," she says.
IGN – Outlander Stars Break Down the Season 6 Premiere, "Echoes"
It's a video–go watch it!
TV Insider – 'Outlander': Caitriona Balfe & Sam Heughan Break Down the Season 6 Premiere
"What seems on the surface to her consciously is her just using this ether for medicinal purposes so that she can understand it and how to administer it to her patients," Balfe explains. "Really, what starts to happen is she uses it as a crutch, and this becomes a way for her to escape the noise and the fear that's bubbling up within her."

For now, Jamie is unaware of the coping method Claire has picked up. There's a lot of commotion pulling the Fraser patriarch's attention in different directions. "He expects her to talk about it and she doesn't. So, therefore, I think he thinks everything will be okay," Heughan shares. "He's taken his eye off of her because of other things going on with the politics and the impending war that's coming."
EW – Outlander producer breaks down Claire's insidious coping mechanism
"We were all searching for something, a throughline for Claire," executive producer Maril Davis tells EW. "We did not feel we just wanted to drop it. Season 6 picked up nearly immediately after season 5, and it's still so fresh and raw in all of our minds. It felt like … we'd be doing Claire a great disservice if we did not address it in some fashion."

"When that came up to use the ether," Davis continues. "What we loved about it was it's not addictive, but there is an addictive quality to numbing the pain. For Claire, who wears her heart on her sleeve, that's a pretty big statement for her to want to numb the feelings she's dealing with."
Parade – Sam Heughan on the New Peril Jamie and Claire Face in Outlander Season 6 
To establish the proper tone of Jamie's relationship with Tom Christie (Mark Lewis Jones), newly created flashback scenes to Ardsmuir Prison were filmed, which were crafted together from bits and pieces of the story as told in bestselling author Diana Gabaldon's Voyager novel.

"I loved going back there," Heughan shared. "It was the first thing we shot this season, but it also became the last thing we shot when we did some pickups. It was interesting because I had to go back to Season 3 and look at what I had done and try to recreate the situation Jamie was in, the fact that he'd just been through Culloden, he's lost his family, and he'd lost Claire—but then the added information that he'd also been forced into becoming a reluctant leader of men. I think you see the spark of Jamie there; you see him assume that role by the end of the first episode. It takes us back to Jamie in his earlier years."
Variety – 'Outlander' EP Breaks Down Season 6 Premiere and Conflicts to Come: 'There's Not a Lot of Chances to Breathe This Season'
"One of the reasons we wanted to start off with that Ardsmuir flashback is because we didn't get to meet Tom in a past season, where it kind of naturally happens in the book. We wanted to set up their conflict," Davis says. "Tom and Jamie are just such different people. Jamie is such a leader of men. It's natural, that's just what he was born to do. And Tom is not a natural-born leader but aspires to be one. I think there's something so dangerous about a person who wants that position of power, but just doesn't have the tools."

Davis shares that the Browns will not be seen as heavily this season, but their "ominous presence" will linger. "Not only from a carryover from last season and obviously Claire's traumatic attack, but their presence just is like a cloud over the Ridge. I think that's what's important," Davis adds.
All sources are linked in their respective parts of this post.