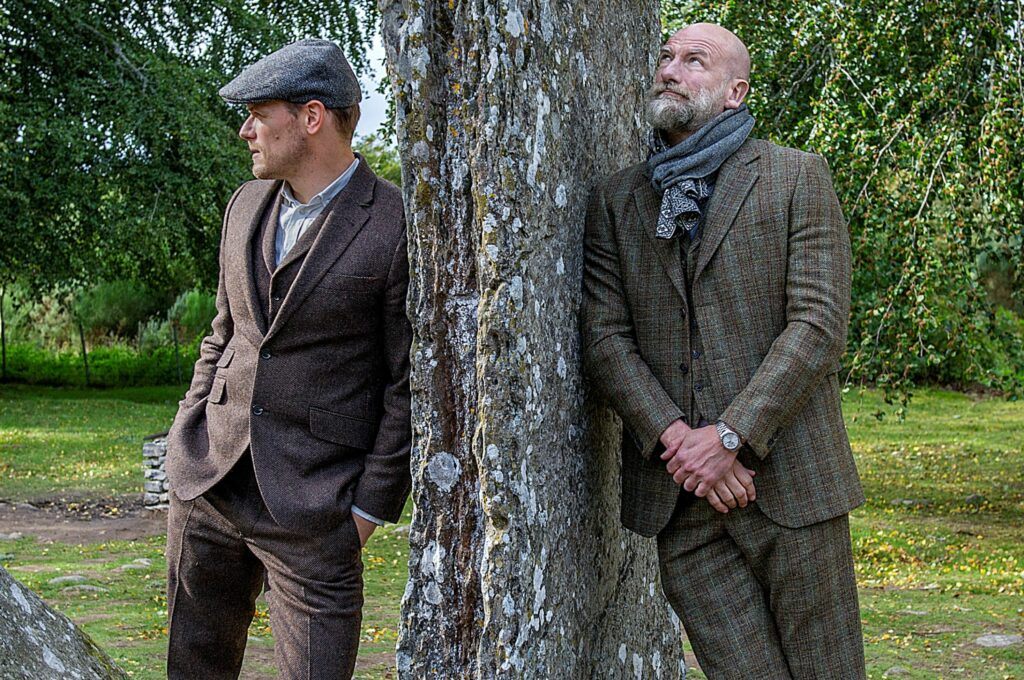 Why must all good things come to an end? Men in Kilts has been a fun trip through Scotland with Outlander's resident dorks (and actual Scots), Sam Heughan and Graham McTavish. I've truly enjoyed watching these two just being themselves while conveying their genuine love for Scotland for all to enjoy. The season (hopefully not series) finale is a fitting tribute to the historic battle between the Jacobites and the British army in 1746.
You know, that battle that separated Jamie and Claire for twenty god-forsaken years.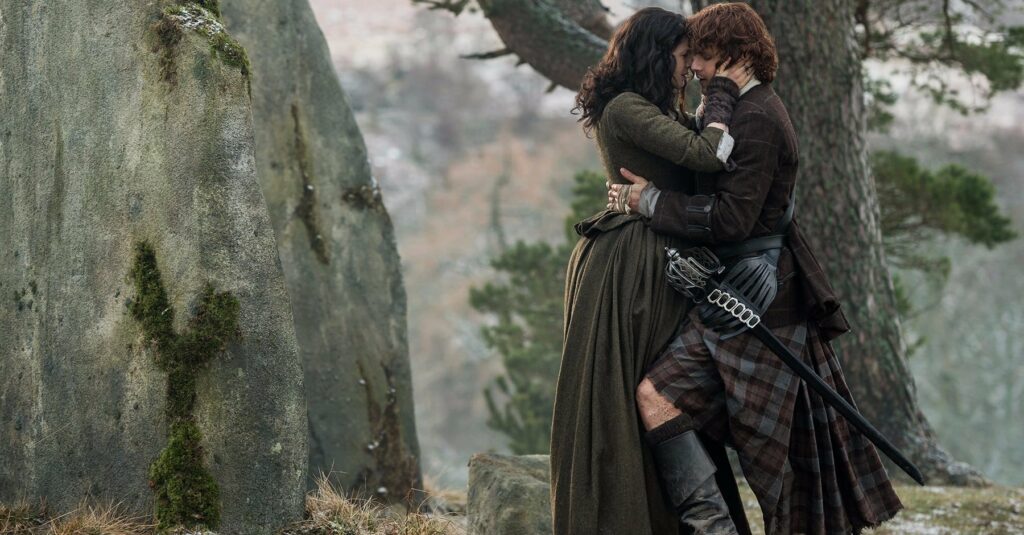 TWENTY YEARS!
Yes, Sam and Graham venture to the actual site where the Battle of Culloden was fought; it's evident that visiting the actual site is emotional for both of them. However, Sam and Graham still retain their signature sense of comic timing regardless. (One fun running gag is revisited when Sam asks if there were actual Jamie Frasers that fought at Culloden. Graham reminds him yet again that his Jamie Fraser is a fictional character created by the literary goddess that is Diana Gabaldon.)
This episode is divided into three key areas of information regarding the battle: history, combat, and weaponry. Sam and Graham learn more about the impact that the Jacobite loss had after the battle. As mentioned in Outlander, wearing tartans of any sort was outlawed. Bagpipes and speaking Gaelic were also outlawed. (I did not know this!) Check out a clip from the episode below, courtesy of Starz.
Historian Alistair Moffat relays more information about the habits of the Jacobite soldiers that participated in the battle. It was interesting to learn how they would recite their genealogy so that the British soldiers would interpret it as singing. Moffat also says that some of the soldiers would go into fits of rage, a fact that Graham acknowledges Dougal was all too familiar with. (I'm paraphrasing what he said, but you get the picture!)
The historical context of the clash between the Jacobites and the British army was interesting with Moffat's extra historical knowledge. There's obviously only so much Outlander could've adapted on screen. It definitely would've been exciting to see the British army watching as the Jacobites recited their family lineage, attempting to call on their ancestors for aid in the battle to come!
But I get that the show understandably wanted to focus more on THIS.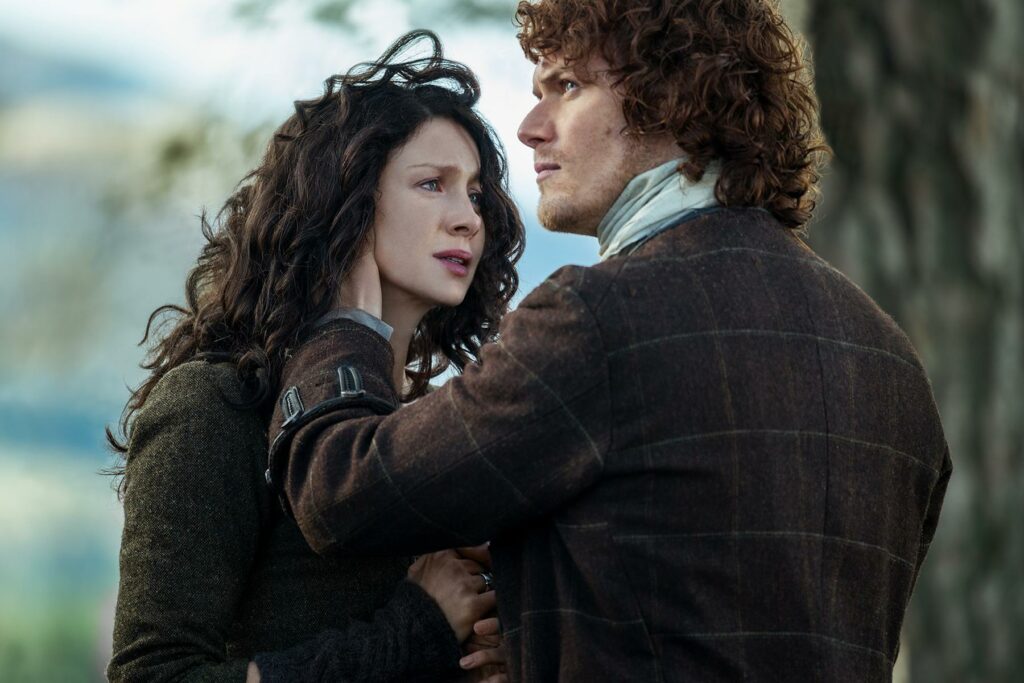 This review has been sponsored by Claire and Jamie, Outlander's Cutest Couple. 
Now that Sam and Graham have learned more about the history behind Culloden, they learn more about the period's combat style and the weapons. "Maybe we should get one of these for the caravan!" Sam deadpans, holding what looks to be a deadly ax. Check out more of Sam and Graham's weapons training below, a clip courtesy of Starz.
The episode culminates in an appropriately epic moment. Sam and Graham prepare to run  300 yards across the field at Culloden, the same length their Highlander ancestors would've run to charge at their enemy. It's really a fitting way to tie up the season, complete with bagpipes accompanying Sam and Graham's symbolic charge.
As per tradition, Sam and Graham end the episode with a dram of whisky. This time it is Sam's own Sassenach brand, which is currently out of stock online.
Yes, even the Sassenach gift set. I checked.
And the Sassenach collectors edition.
And the Sassenach collectors edition with two whiskey glasses.
You can cry about Sam's whiskey being completely out of stock here. You can, however, sign up to be notified when it's back in stock! (Sorry, credit card, I'm treating myself to a dram of the Sassenach! I'm not waiting twenty years!)
If you haven't had a chance to watch Men in Kilts yet, I highly recommend it. It's an obvious choice for any Outlander fan, but I feel like this series could also serve as a gateway to bring new fans into Outlander. Grab your significant other, a dram of not-Sassenach whisky, and get watching!
I've said in past reviews that Men in Kilts deserves a second season. I'd also be highly entertained watching Sam and Graham trekking across America to correspond with Jamie's time in the colonies! They could do another season in Scotland and then head to America! (A girl can dream!)
I think it would also be fun to have another spin-off with the ladies of Outlander! The Men in Kilts show is such a brilliant idea and could be further cultivated to keep fans satiated during long periods of the dreaded Droughtlander. At the same time, I recognize that the Outlander cast do have lives and other roles outside of Outlander. 
But man, wouldn't it be fun to have a Sassenachs Across Scotland series or something? (Title up for debate!) Sam also recently announced that a Clanlands almanac book will be available for purchase this November.
https://twitter.com/SamHeughan/status/1409638184376406018?s=20
With that, it's a wrap for season one of Men in Kilts. Thank you to Sam and Graham for being so delightfully dorky and educating the audience about the beauty of Scotland. What I've always loved about Outlander and now Men in Kilts is how the two shows take the viewer on a journey without having to spend a fortune on plane tickets. So thank you to the two men in kilts for providing an educational and entertaining escape.
The show was even more fun than I anticipated, and I sincerely hope that Sam and Graham will return for a second season. Their genuine joy for exploring Scotland was a delight that deserves to continue!
Hopefully, we can all enjoy a dram of the Sassenach when season two comes around.
Until next time!
Written in loving memory of my beloved dog Yume, the best beloved furry family member and cutest Outlander/Men in Kilts watching companion. 
by Katherine Stinson