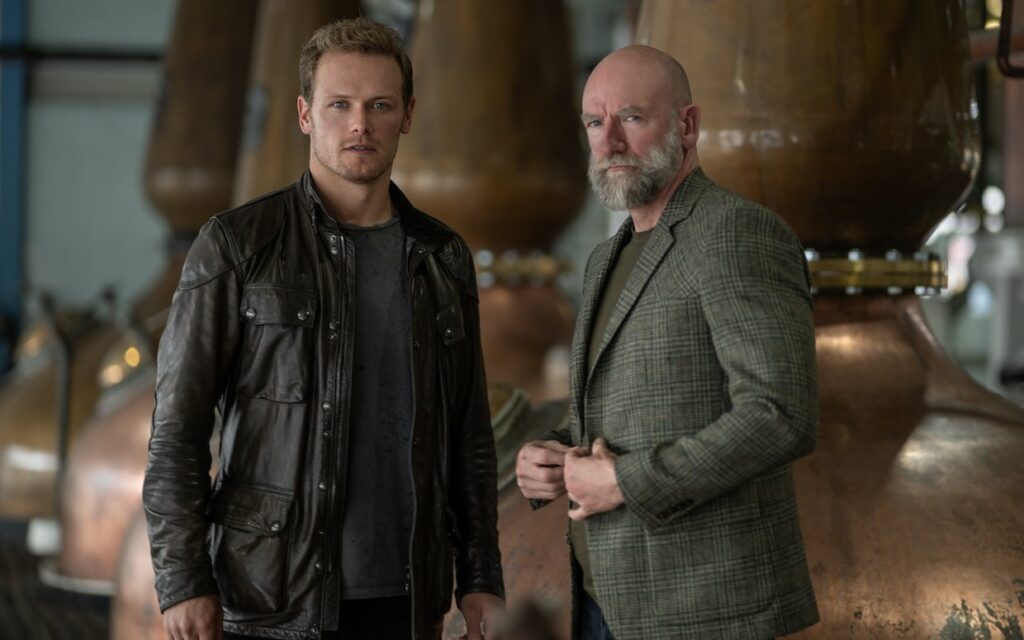 What do ya mean there are only two episodes left? *Curses in Gaelic*
Sam said in a recent interview that episode six, "Scotland By Land, Air and Sea," was his favorite Men in Kilts episode to film.
After watching it, I'm going to assume it was Graham's least favorite. More on that hypothesis later.
The episode begins in typical Men in Kilts fashion, with Sam and Graham comically traveling onwards to their next destination. This week's episode opens with the pair cycling on a Scotland road. It turns out they're on the wrong road. And with that, we're off on another hilarious adventure with Sam and Graham.
First stop? Loch Ness. (No, not the monster, the actual loch.) According to good old Google, Loch Ness is Scotland's second largest loch, with the largest being Loch Lomond.
Can we pause for a moment to appreciate the beautiful Scottish scenery in Men in Kilts?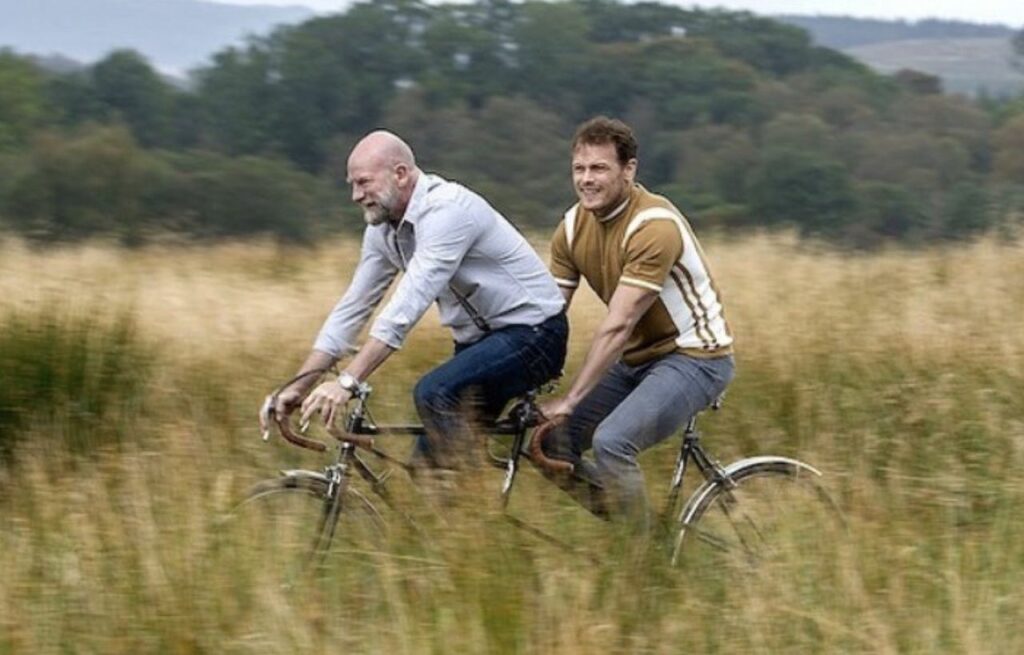 No, not you two, I meant the Scottish landscape! 
Sam and Graham have a fun Outlander reunion at Loch Ness when none other than Gary Lewis rows up to them in a boat. Lewis played Colum MacKenzie back in season one, the laird of Clan MacKenzie. It's really quite amusing to watch Lewis kick Sam and Graham's butts in line as they row across the beautiful Loch Ness. (No actual monster sightings, though.) Check out a clip, courtesy of Starz, below.
It's a great little reunion, and the one thing that would've made it even better is if Duncan Lacroix (Murtagh, of course) could've joined them. Imagine! If Duncan doesn't appear in this season, I'm starting a petition now for him to appear in season two!
Of course, each episode of Men in Kilts is only thirty minutes. Hence, Sam and Graham bid farewell to Gary and head off to their next destination: The Old Man of Storr, a rocky hillside that was actually used in movies like Transformers. 
Seriously, Scotland is gorgeous, and I wanted to go yesterday. The Old Man of Storr is located on the isle of Skye. According to Sam and Graham and the official Isle of Skye website. The trek to the top is quite a hike, whether by bike or foot, but the views at the top are worth the journey. Graham says he's feeling a bit chilly, so Sam suggests taking a dip in the Fairy Pools, failing to mention that the Fairy Pools are freezing.
Here's a fun clip of the two at the Fairy Pools below, courtesy of Starz.
Poor Graham really gets put through the wringer in this episode. Sam takes him for one final absolute nightmare that had me shaking in my boots. Sam and Graham initially take a seaplane ride that feels peaceful until they land on Kilt Rock.
It's on Kilt Rock that Sam gleefully informs Graham that they're going to experience the fine art of abseiling. 
Abseiling. 
Where you literally descend down a rock face with only your wits and a rope, ya hope is sturdy enough to keep you secure! 
Graham is understandably not cool with this. As someone who is also terrified of heights, I could feel Graham's tangible fear. At this moment, Graham wasn't play-acting or messing around. The man was certifiably terrified.
And bless him, he still did it.
Seriously. Major kudos to Graham for successfully abseiling down Kilt Rock. That looked terrifying, and Graham never looked so grateful then when it was over. Even Sam had a moment of genuine remorse, saying, "I actually feel kind of bad now." (Or something like that.) 
Look, I know they pre-plan all of these episodes, so I realize Graham was probably fully aware of what was going to go down, but man, I still felt his fear through every pore of my fear of heights-inclined soul! And the fact that he still climbed down the rock anyway!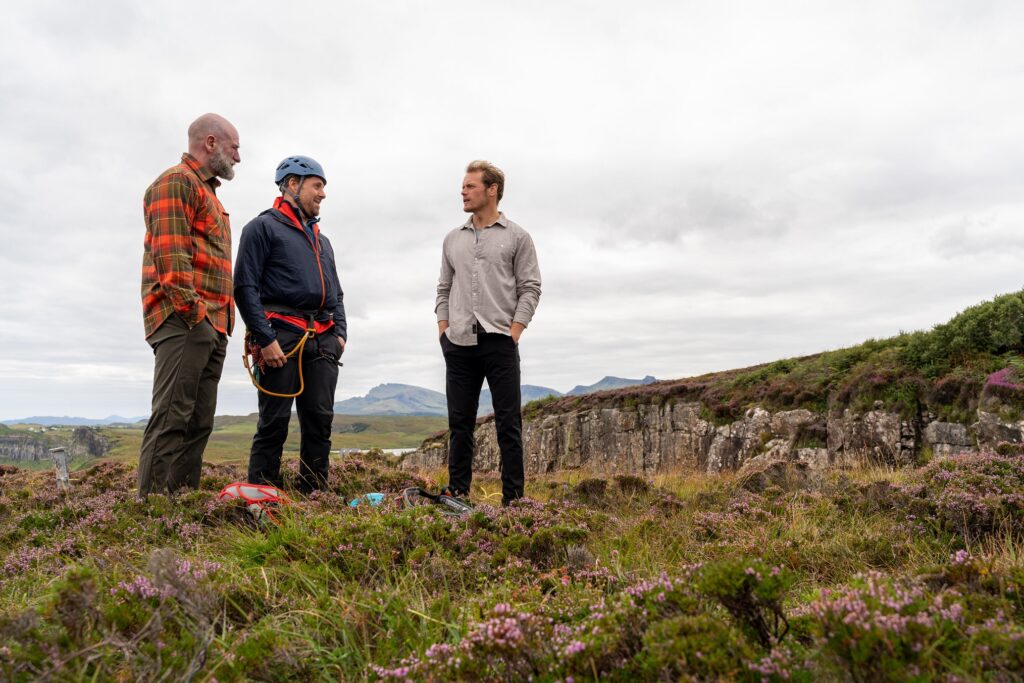 What a champ. 
Sam, of course, has no issue abseiling. Having done it before, he clearly doesn't suffer from a fear of heights, because of course, he doesn't. That must've been a requirement for the Jamie Fraser casting call.
Must be unafraid of heights and have an ability to abseil, in case Claire falls down a rock or something, and Jamie has to save her. 
Possible season six plot point? (I'm kidding, please don't put Claire through any more hell.) 
After Sam and Graham's abseiling adventure, the two men enjoy a well-earned dram of whiskey. This series continues to be a blast, a fun way to pass the Droughtlander away. There are only two episodes left of this silly series that's a great love letter to Scotland. I can't wait to see where Sam and Graham head next.
Until next time!
by Katherine Stinson