**Spoiler Alert: While I attempted to not share any spoilers about these characters and what happens to them in season six, it might be better to skip this post if you are a non-reader and want to stay in the dark about season six.**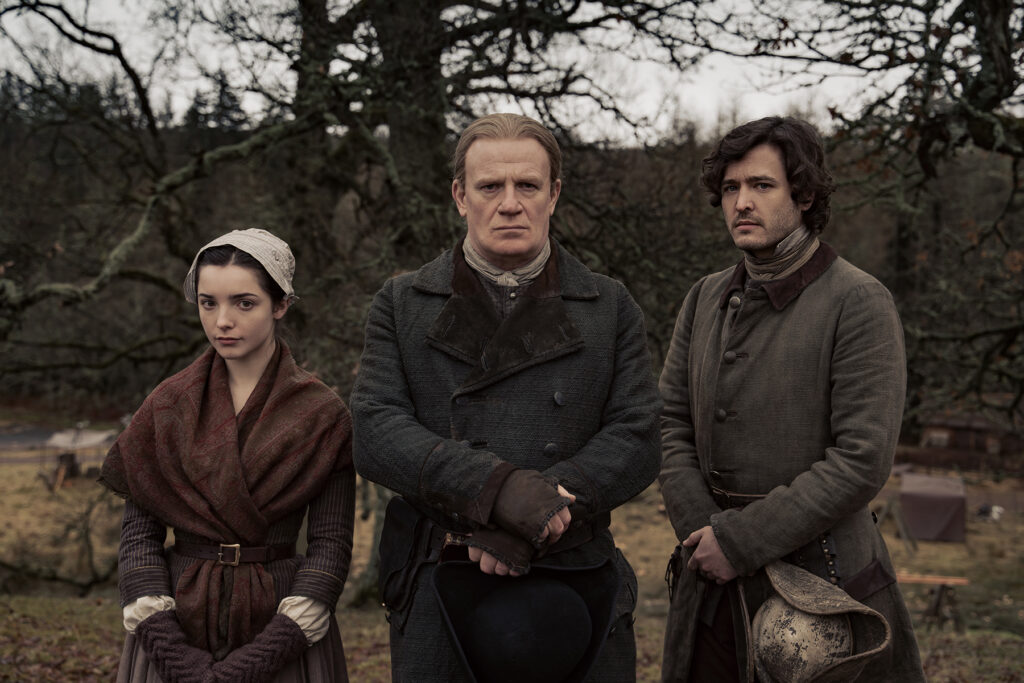 Starz announced today who will be playing the Christies when Outlander season six premieres…sometime.
It was a three step announcement with father, Thomas "Tom" Christie, starting off the news. Mark Lewis Jones has joined the cast as Tom Christie.
Tom Christie actually arrives on the scene in the fifth book, The Fiery Cross, but we did not see in the fifth season of the show.  According to Outlander Wiki (with the least spoiler-laden description):
"After Ardsmuir ceased its function as a prison, he was transported to America as an indentured servant. Once there, his indenture was bought by a wealthy plantation owner in South Carolina named Mr. Everett, who recognized Tom as a man of learning, and had Tom act as schoolmaster to his children. Mr. Everett also arranged for Tom's children, Allan and Malva, to be sent from Edinburgh to the colonies to join him. After the term of his indenture expired, Tom agreed to stay on as schoolmaster, teaching the local children for wages.

Tom married again, but his wife as well as his employer died during a yellow fever epidemic, and so he moved with the children to North Carolina to find Jamie Fraser, whose standing offer to help former Ardsmuir men settle in the backcountry was well-known."
Mark Lewis Jones is a Welsh actor who has a strong theatre background.  He can be seen in film and television series like The Last Jedi, The Third Day, Rebecca, Gangs of London, and Carnival Row.
You can follow him on Twitter.
Are you ready to meet the Christies?

First things first, I'm thrilled to welcome @marklewisjones as Tom Christie, a fellow Ardsmuir prisoner and devout Protestant who arrives on Fraser's Ridge seeking a place to settle… though not without some tension. #Outlander pic.twitter.com/ikb3cFpfbF

— Outlander (@Outlander_STARZ) March 19, 2021
Moving on to Allan Christie, Alexander Vlahos plays the son of Tom Christie.
Outlander Wiki describes Allan as:
"Allan was an outwardly agreeable person, though he was fiercely protective of his sister, Malva, and would fight anyone who took it in mind to interfere with his family's affairs.

Fair in appearance with a broad, square, clean-shaven face. With his father's feathery, tufted dark hair."
Alexander Vlahos teased his possible involvement in Outlander consistently and now the cat is out of the bag.  Alexander is best known for his part in the television series Versailles, but he has also been seen in other film and TV projects like Merlin, Crash, and the ever-present British soap Doctors.
You can follow Alexander on Twitter.
Last but *certainly* not least… meet Alexander Vlahos (@vlavla) AKA our Allan Christie. Son to Tom and brother to Malva, Allan is highly protective of his family as they settle into this new environment. #Outlander pic.twitter.com/7xMJPUtswB

— Outlander (@Outlander_STARZ) March 19, 2021
Last, but certainly not the least, is Malva Christie and Jessica Reynolds will be taking on the role.  Malva has a pretty significant part in Outlander, and many fans wondered in Marsali was replacin."g her character because she stepped into the role of Claire's assistant.  While she didn't appear in the fifth season, she will finally be in season six.
According to Outlander Wiki, "Malva is a strong willed young woman. She is quite intrigued by the art of healing and is enthusiastic about learning as much as she can from from Claire." Also, "Described as a tallish girl, soft black curls, almond-shaped luminous light gray eyes, an oval shaped face, and pale complexion."
Jessica Reynolds (and hoping I am researching the correct Jessica Reynolds) is an Irish actress with only a couple of film/TV credits to her name, one of which is My Left Nut.
You can follow her on Twitter.
Next, join me in giving the warmest of welcomes to @jesssreynolds_ who plays Malva Christie, Tom's spirited daughter who is captivated by Claire's work and modern thinking, getting her into trouble with her conservative father. #Outlander pic.twitter.com/8cmmuofbN7

— Outlander (@Outlander_STARZ) March 19, 2021
Source: Starz, IMDb (linked in the post), and Outlander Wiki (linked in the post)