What I'm really enjoying about Men in Kilts so far is learning more about the relatable personalities behind Jamie Fraser and Dougal Mackenzie's characters. Sure, I love watching Outlander but let's face it, a man like James Malcolm Mackenzie Fraser seems almost too perfect. Which is fine! But to me, I like the Sam Heughan that couldn't pay attention to the Gaelic lesson because he was so distracted by the pesky midges.
Seriously. Who can't relate to that? It's been nice to see the actual human behind the hunk on screen. Graham is Sam's perfect foil, the more stoic soul to Sam's chaotic comedic energy.
Episode five of Men in Kilts was all about tradition. Sam and Graham start the episode dramatically traveling a Scottish road, with Sam at the motorbike's helm with Graham in the passenger seat (is that the correct term for that?) The dramatic entrance is quashed when the motorbike comes to a halt, and it's another great funny start to Men in Kilts.
Sam and Graham's first stop in their traditional adventure is to Stewart Christie & Co. The store is the oldest bespoke tailor in Scotland and has been an Edinburgh staple since 1720. The store still does tailoring in-house and has scissors that are at least 200 years old. Sam and Graham get to don some tweed and successfully achieve new levels of dapper dorkdom.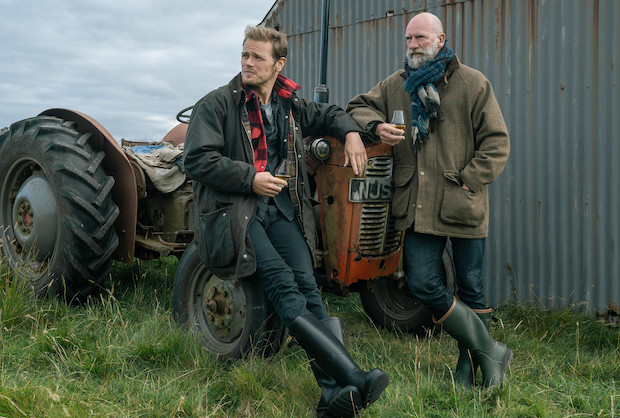 But did they get to keep the tweed suits?
The next stop is the Gaelic lesson with Morag (I missed her last name.) Morag speaks Gaelic fluently and tries (oh, she tries) to teach Sam and Graham a few basic Gaelic phrases.
Did I try to say the Gaelic words as they were and fail miserably?
Absolutely.
Sam Heughan turns out to be no match for midges and basically exits stage left. Graham thanks Morag, and his Gaelic sounds perfect to my untrained ears.
I found it funny how Sam teased Graham for using a dummy board with Gaelic words during the scene in season one of Outlander when Dougal shows off Jamie's scars to a group of Scots men. Because what does it look like Sam does when he reads the poem about Haggis? Like he's reading off of a board in front of him.
Again, I really enjoy watching this relatable, imperfect, snarky Sam. Sorry, Jamie Fraser, you're just too damn perfect. (DISCLAIMER: I DON'T MEAN THAT IN A BAD WAY, IT'S A JOKE, PLEASE DON'T HATE ME Y'ALL) 
I LOVED the session Sam and Graham had with actual real-life herbal expert Claire (again, I keep missing the last names! Gah!) Real Claire taught Caitriona Balfe about the herbs Claire used in the earlier seasons, and she teaches Sam and Graham a few of the medicinal uses of the herbs in the garden they're standing in.
I would've loved a whole episode just on that alone. It was fascinating. I knew garlic had medicinal uses, but I thought it was interesting how garlic was used for wounds on a battlefield and things like gangrene.
Sam and Graham also have a basket weaving session with two skilled artisan women who make what I'm sure is a difficult craft look easy. I loved Graham's genuine joy over getting to do a craft one of his relatives specialized in and thought it was cool that one of Sam's relatives designed the stag and the fiery cross from season five!
We cap off this episode with the funniest moment of the entire season so far.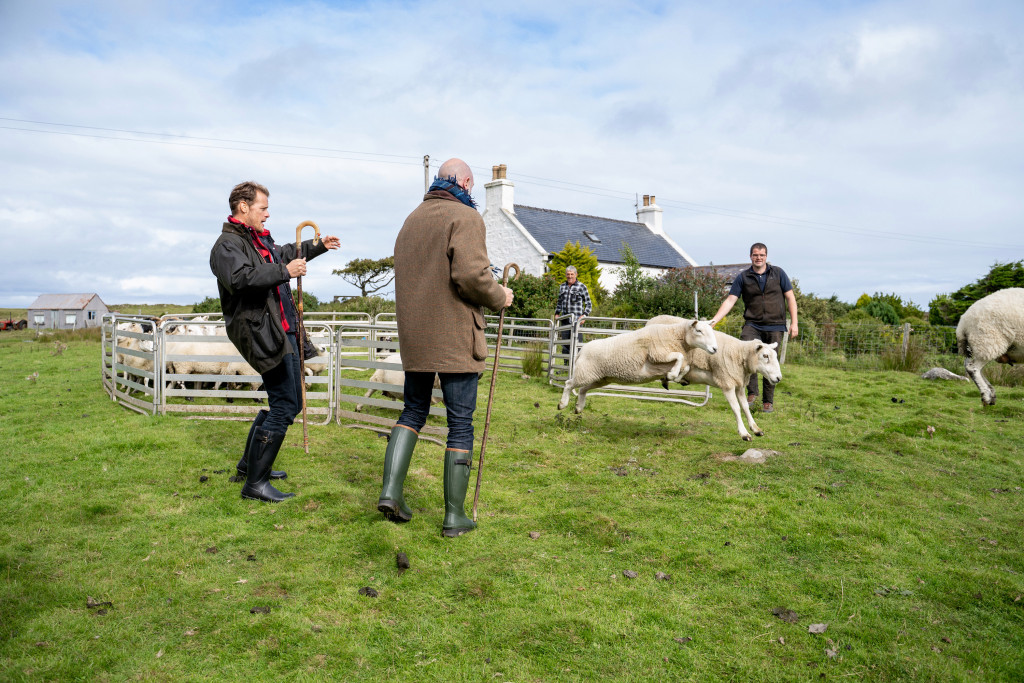 When the sheep are more graceful than you are
Sam and Graham venture to the Isle of Skye to experience the fine and traditional art of sheep herding. The actual crofting experts let their sheepdogs do their thing, and Sam and Graham watch in awe. (I appreciated that they noted that the sheepdogs were working dogs and weren't for the domestic home life.) The crofters explain to Sam and Graham what sort of hand signals they're supposed to use to herd the sheep back in the pen.
The sheep are let loose, and Sam and Graham fail so miserably it had me doubling over in hysterical laughter. The moment was so funny because you could tell the two were genuinely trying to do what the crofters demonstrated. However, most of what Sam and Graham ended up doing was running about wildly, with Sam also literally tripping over himself.
"Christ above!" One of the crofters exclaimed, capping off the moment of comedy gold perfectly. Bet Sam would've rather been reading off a dummy board.
The episode ends with one of the crofter's expertly shearing a sheep the old-fashioned way. Thankfully Sam and Graham do not attempt to do their own sheep-shearing and end up toasting to tradition with a dram of what looks like the Sassenach whisky that I still can't justify buying.
It sure does look good, though.
The next episode is titled "Scotland by Land, Air, and Sea." This episode was my favorite so far, and I want an episode dedicated to the medicinal uses of herbs. (Can we have an episode with actual herbalist Claire and Caitriona doing this?) Sam and Graham continue to stride across Scotland hilariously, and I can't wait to see where they go next.
What did you think of the episode? Can you believe there are only three episodes left? Who wants to help me petition Starz for a season two?
Until next time!
Seriously though, Starz, season two. Please? 
by Katherine Stinson