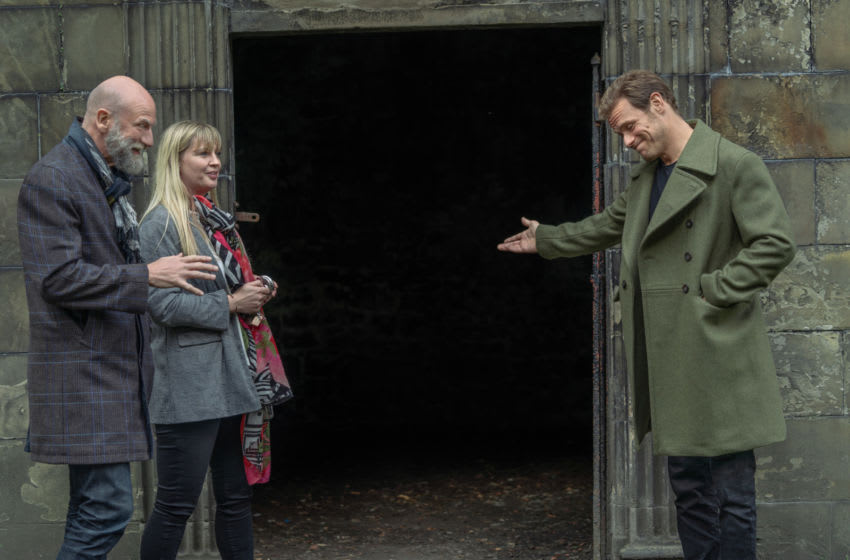 Men In Kilts continues to provide the vital dose of Scottish serotonin the world desperately needs. Sam and Graham are exploring Scottish superstitions and witchcraft in episode four, so naturally, the episode opens with Graham getting spooked by a plague doctor scaring him from behind. It's another hilarious start to a fun and spooky episode.
Sam and Graham explain that Scottish history has been and continues to be laden in superstitions. Graham tells Sam he better not scare him the whole time, so Sam naturally proceeds to say, "BLACK CAT!" Because he is a mature, grown adult. (Seriously, this show wouldn't be as fun without their banter.)
The first stop? Greyfriars Kirk. a haunted graveyard in Edinburgh, also apparently has a grave belonging to a Thomas Riddell (holy spooky possible Harry Potter reference batman!) Sam and Graham meet Charlotte Golledge, a death historian. (Imagine putting that on your resume!)
Golledge has a blast scaring the living daylights out of Sam and Graham, and it's hilarious to watch. I was surprised when she casually locked Sam and Graham in the tomb of George Mackenzie. I appreciate a gal who can scare the living daylights out of two fully grown Scotsmen! She hands them photos of things that had happened to other visitors who had stood in the tomb, scratches, bruises, and knockouts, or what could be likened to feeling unbearably cold.
Sam and Graham look happier than if there was a giant bottle of the finest whiskey in front of them when Golledge frees them from the tomb. She's a delightful first guest for the episode.
The next stop is Wormiston House, a spot where suspected witches were kept prisoner and tortured. Graham reminds us that he's a damn good actor, reciting a poem so enchantingly it's easy to understand why Sam suspects him of practicing witchcraft. (*That is a joke, of course.*) Poor Graham gets put through the wringer, having his thumbs put in the thumbscrew torture device and being locked up in mobile stocks. (Seriously, that did not look comfortable.)
The third stop is far more lighthearted and less spooky. Sam and Graham visit the standing stones located on the Outer Hebrides. (My stupid head thought that the Outlander team actually filmed the Craigh Na Dunh scenes here.) Sam explains that the production team took casts of the stones to recreate the setup for Outlander filming, which makes a lot more sense logistically.
Sam's joy over touching the stone radiated through the screen and put a huge smile on my face. If Sam ever needed some extra cash or to raise money for charity, he should charge fans to take a photo with him at the stones. (Anyone want to jump on a plane to Scotland and make this dream happen?)
Joking aside, Sam does not appear to have the ability to time-travel (which is funny because Jamie doesn't either.) Thankfully Starz shared this hilarious moment on their YouTube page. Check it out below.
There's a hilarious moment later on during the end credits where Sam and Graham recreate the iconic scene in season two when Jamie and Claire say goodbye at the stones. Sam and Graham are just hysterical, and all I want for them to do next is recreate various romantic scenes from Outlander in their comical fashion.
But there's even more for this episode! Sam says his birthday falls on the same day as the Beltane festival, the Pagan festival of fertility. According to ye olde Google Beltane is typically celebrated on May 1st, and Sam's birthday is April 30th. (Another Google search says a Beltane festival can start on the evening of April 30th and go into May 1st, which makes sense.)
Sam and Graham decide to enjoy their own Beltane party, with a group dressed similarly to the women dancing around the stones at Craigh Na Dunh way back in Outlander's very first episode. (Were the women supposed to be druids? Witches? I can't remember. Just another excuse to rewatch episodes!)
Fire starts to crackle, and the dancers become more and more energetic. It's fun to watch Sam and Graham get into the Beltane dance. They don't act like they're "too cool" to do any of the activities in the episodes thus far, and it makes the show far more entertaining to watch because they're having so much fun participating in everything with energy and gusto.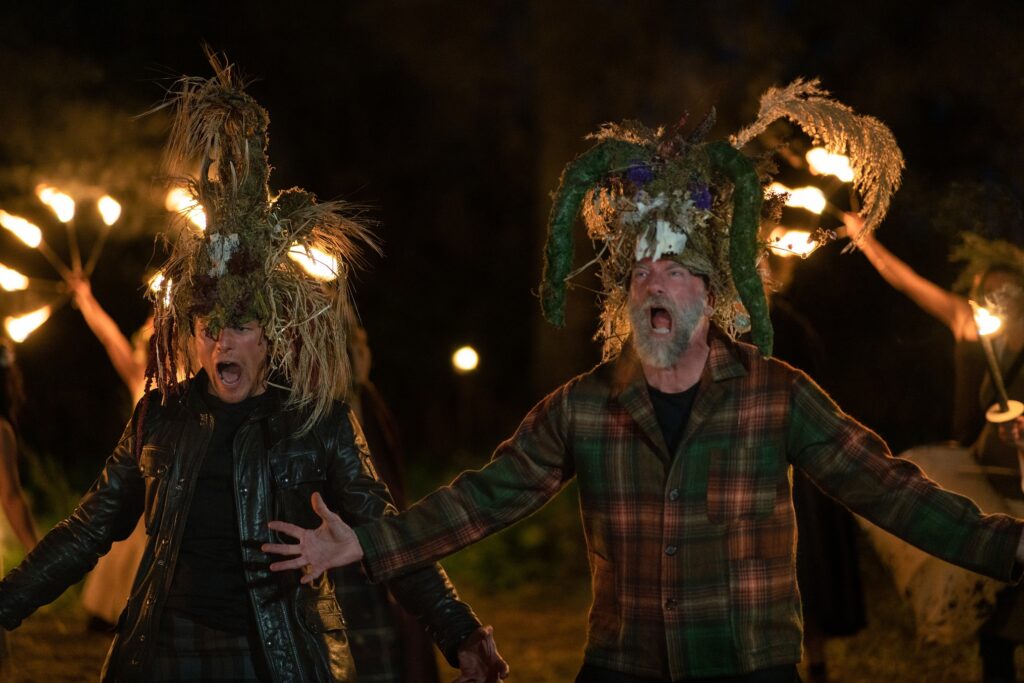 Sam and Graham really get into the dance when they're given two headdresses to wear. They both emit a guttural Scottish yell that would make any ghost shake in the knees, and they continue to dance. The episode ends like the previous episodes have, with Sam and Graham exhausted and sharing a drink.
Each Men in Kilts episode goes by so quickly because they're so engaging. Sam and Graham continue to have great comic chemistry, and I want them to explore the world in thirty-minute consecutive episode segments. Next week Sam and Graham will be focusing on culture and tradition, but in the interim, here's another gem of highlights from this episode.
Are you enjoying Men In Kilts? Where would you want Sam and Graham to go next after their Scottish adventures?
Until next time!
by Katherine Stinson