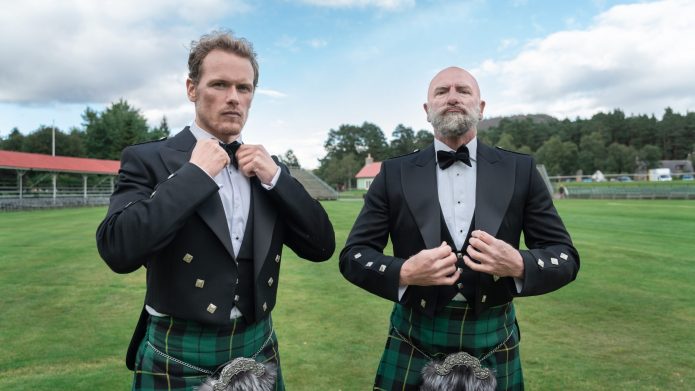 Scottish dream team Sam Heughan and Graham McTavish returned to Sunday screens this week with another fun episode of Men in Kilts. The theme of this episode is song and dance. I must say one of the best things about Men in Kilts is how genuinely excited Sam gets when he talks about Scottish culture. I've literally never been so interested in bagpipes.
The first expert that Sam and Graham speak to at the start of this episode is Gillebride MacMillan, who played a bard during the first season of Outlander. (Does anyone else get incredibly nostalgic when Men in Kilts plays old Outlander footage? I nearly shed a tear when they replayed a moment where Young Season One Claire takes a swig of something alcoholic, and Angus (Stephen Walters) cheers her on. To quote the younger generation, Outlander season one just hits different.)
MacMillan reveals that Gaelic was his first language, and that's the case for many Scottish citizens. You know when you have moments where someone says a word differently than what you're used to, but then you have to kick yourself because the way they're pronouncing it is actually the correct way? I had that moment when the three men kept pronouncing Gaelic like GAL-LIC.
Dear Self: The Scottish men are the ones pronouncing it correctly, not you. Duh. 
Sam and Graham join in on a Gaelic tune with MacMillan, and we get some majestic shots of Scotland. Seriously, these two are making me want to book tickets ASAP and just road-trip across Scotland while drinking whisky out of manly flasks.
But I digress.
Sam and Graham head off to their next adventure: Doune Castle. This was the castle that stood in as the exterior for Castle Leoch from season one.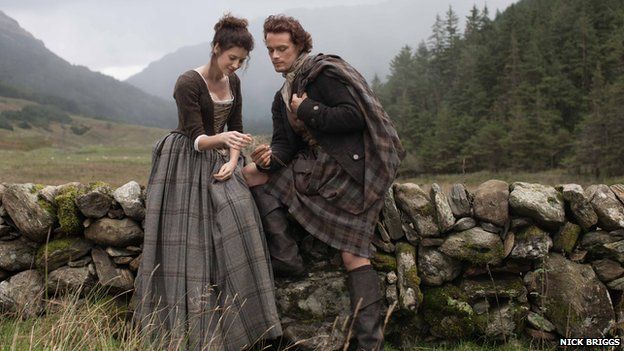 It's not Doune Castle, but these reviews needed a dose of Dr. Claire being all cute with Jamie. 
Meanwhile, Sam and Graham meet Iain MacGillvray in a doorway at Doune Castle (Are they not allowed to film inside, I wonder? Is Sam not trusted around any historical Doune Castle artifacts? I'm kidding, of course. Or am I?)
MacGillvray has some interesting historical information about the history of bagpipes. (Seriously, I never thought I'd appreciate bagpipes, and yet here I am.) I thought it was fascinating that Scottish soldiers would play the bagpipes on the battlefield to strike fear into opposing forces. There was even a bagpiper named Bill Millin who played the bagpipes during D-Day, completely befuddling German forces who stopped shooting at the Scot, amazed at how daring he was, according to MacGillvray.
There's also a nice reveal that MacGillvray is distantly related to Graham. Graham's reaction to this is truly touching, as is his response to the bagpipe song MacGillvray plays because it was apparently Graham's father's favorite tune.
Sam and Graham also meet a Scottish marching band. Graham notes that they need to be respectful, as many people work for years to make it in such prestigious musical groups.
So naturally, the show segues into Sam and Graham acting like total dorks, complete with a baton (is that the proper term for what Sam was holding?) and a large bass drum for Graham.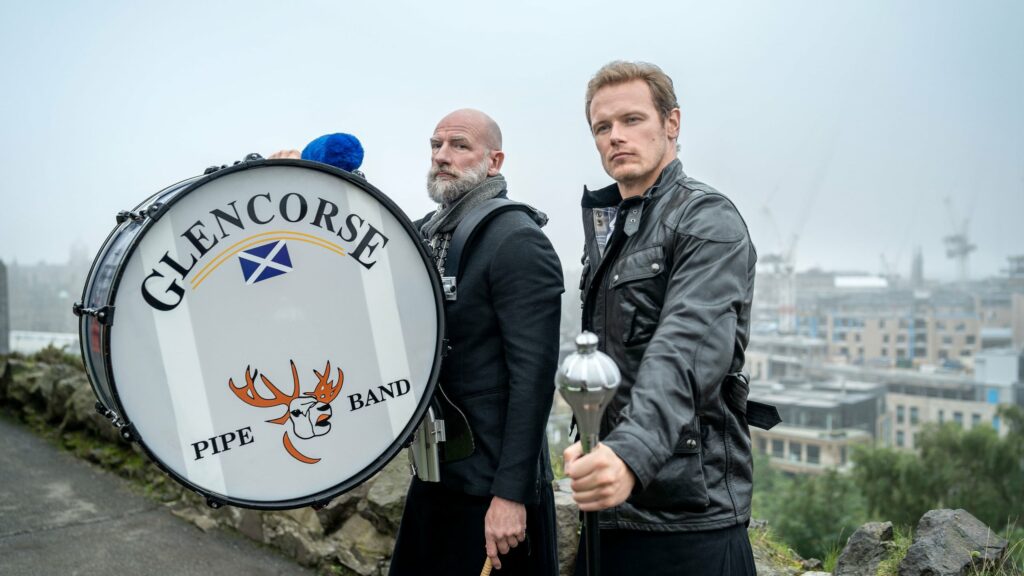 It's all in good fun, of course. You can tell these two are having fun but also being respectful. I mentioned in the last review that the enthusiasm this duo has for every activity they participate in is contagious. It's obvious that Sam and Graham are genuinely having a blast during their cross-country road trip, but also they genuinely admire the experts that they meet on each subject.
Speaking of subjects and experts: Sam and Graham take on sword dancing next. Their expert teacher is Highland dancer Cerys Jones, and she's comically tiny while dancing in betwixt Sam and Graham.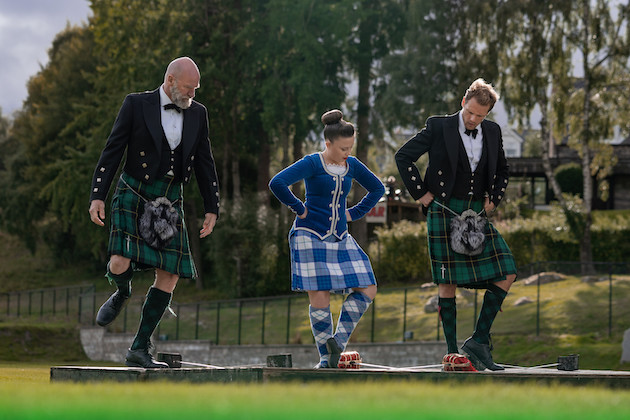 Jones might be shorter than our Scottish dorks, but she makes them look like dancing chumps. She teaches them a basic sequence that many young dancing students can master. The whole point of sword dancing is not to touch the sword on the ground in any way while performing a routine. This was another Scottish tradition that had military roots: Soldiers would sword dance before a battle, and any soldier that kicked or knocked the sword aside would either be wounded or killed in battle (So basically, it's like the floor is lava but with real-world consequences.) 
So naturally, Sam and Graham mess up the whole dance routine in a laugh-out-loud sequence where they struggle to match Jones's tempo while trying to keep an eye on her to copy her steps. This was, without a doubt, my favorite part of the episode. Jones is very kind to Sam and Graham, saying they did a great job when they were clearly hilariously awful. I loved how Graham was like, "How can you say that we were literally the worst??" and then immediately apologizes to her for acting a bit gruff. Dougal would never be so courteous. (Or would he? I need to rewatch the earlier seasons again.)
The end of the episode ends up with a good old-fashioned ceilidh, which, according to Sam and Graham and the Merriam-Webster dictionary, is a good old-fashioned party with dancing, music, and lots of drinking. Sam and Graham make their second attempt at learning a dance for their upcoming ceilidh, with dancing expert Sophie Jessop Stoer. She teaches them the Dancing White Sergeant, which honestly sounds like a name for an Outlander spin-off book or something.
Sam and Graham hold their own pretty well during the dance until Sam has to tie his shoe.  Look, Sam has undeniable romantic chemistry with Caitriona Balfe, but the comic chemistry he has with Graham has been the greatest gift from Men In Kilts so far. Sure these two men are actors, but their comic hijinks feel genuine and fun. I really hope Starz renews this show for another season or two, where Sam and Graham can travel across the world. (COVID-19 restrictions permitting, obviously) and learn new skills and traditions. These two make a great team, and I can't wait for the next episode.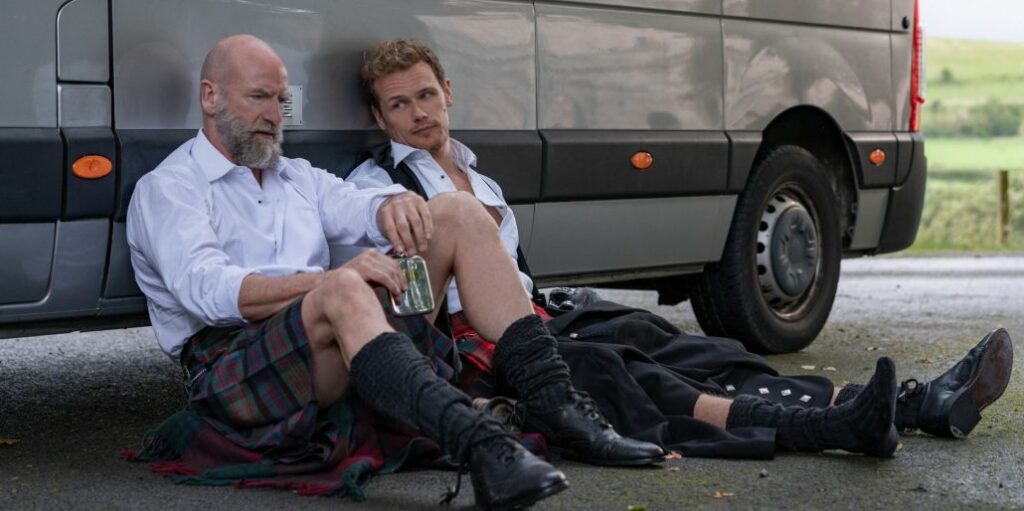 Two fully grown Scots, completely worn out by some dancing. What would Claire say? 
by Katherine Stinson