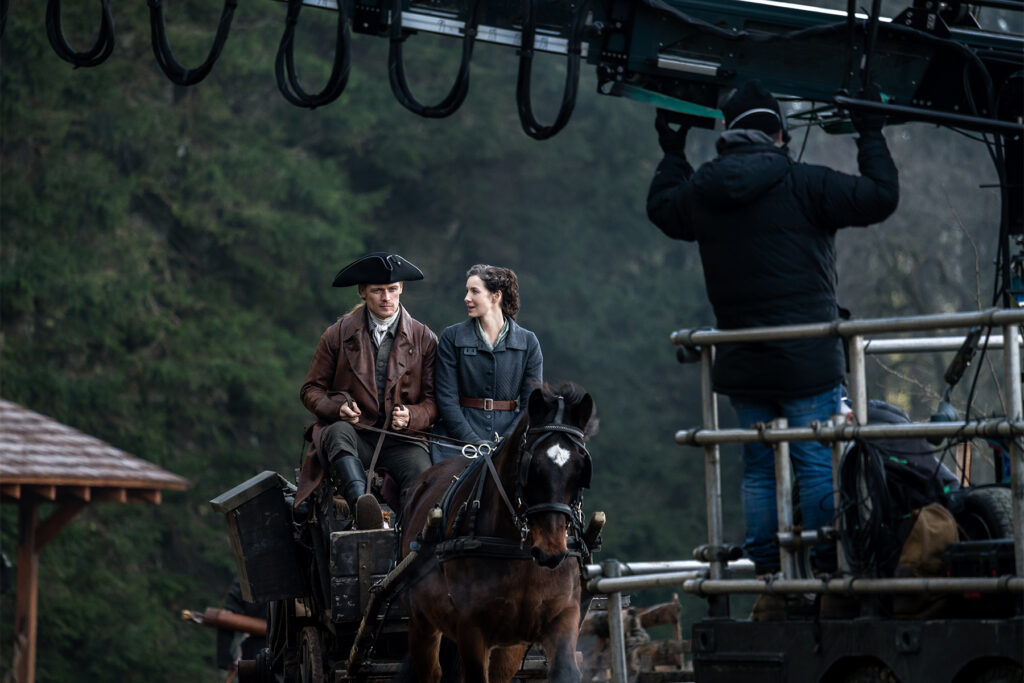 Along with the official announcement that season six of Outlander is currently filming, Elle also interviewed showrunner/writer Matthew B. Roberts about the challenges of this upcoming season.  Excerpts are below, but head over to Elle to read the entire interview.
"I didn't want me or the staff changing what the story is for COVID," he explains. "We have a lot of intimate scenes—that's where we live and breathe." The solution was relatively obvious: "testing, testing, testing, testing," Roberts says. "We had to figure out how to make sure we tested everybody a million times before they walked onto set and keep that bubble as safe as possible. That was our main focus—making sure everybody feels safe walking onto a set in the studios and locations."

Did the filming challenges affect the way you approached script-writing?

I don't know how to write "COVID-friendly scenes," certainly not an Outlander scene, because we are going to have people next to each other, being emotional—you talk close to people, and that's where it transfers COVID. We had to figure out, how do we keep Outlander, Outlander? So we wrote the scripts [as originally intended] and dove in with production: Our producer in the U.K., Guy Tannahill, and our new production designer, Mike Gunn, and our staff over there who have worked on Outlander for a long time. We said, "Okay, this scene can't happen like this. If we did this, this, and this, then we can make it happen."

We put a lot of people in scenes, and keeping everybody safe is paramount. We've tried to limit the amount of SAs (supporting artists), and we're trying to utilize visual effects. In the deep, deep background, we can use digital people instead of what we would normally use, real extras. Every year, Outlander has a big event and we're still planning that event. We'll film [the background extras] at a separate time, [then] put it all together in post, and it's seamless. We have a really amazing visual effects team, and I have full faith in their abilities to do that. We're actually pretty experienced with it because many of the Alamance battle scenes had digital people in them. We added to the crowd and to the battle numbers with digital soldiers and conflicts in the background in post, and I don't hear a lot of people talking about it. When no one notices a visual effect, that's a good thing.

The season premiere is titled "Echoes." Is that a nod to An Echo in the Bone?

It is not, which is funny, and I know people are going to leap all over that.

When you see the first episode, the title will speak for itself. Each character will be dealing with something from their past and it will help us tell stories going forward. There was a different title on my very first drop. Sometimes that happens. You read it again and you go, wait a minute, hold on a second, there's something better here.
Source: Elle