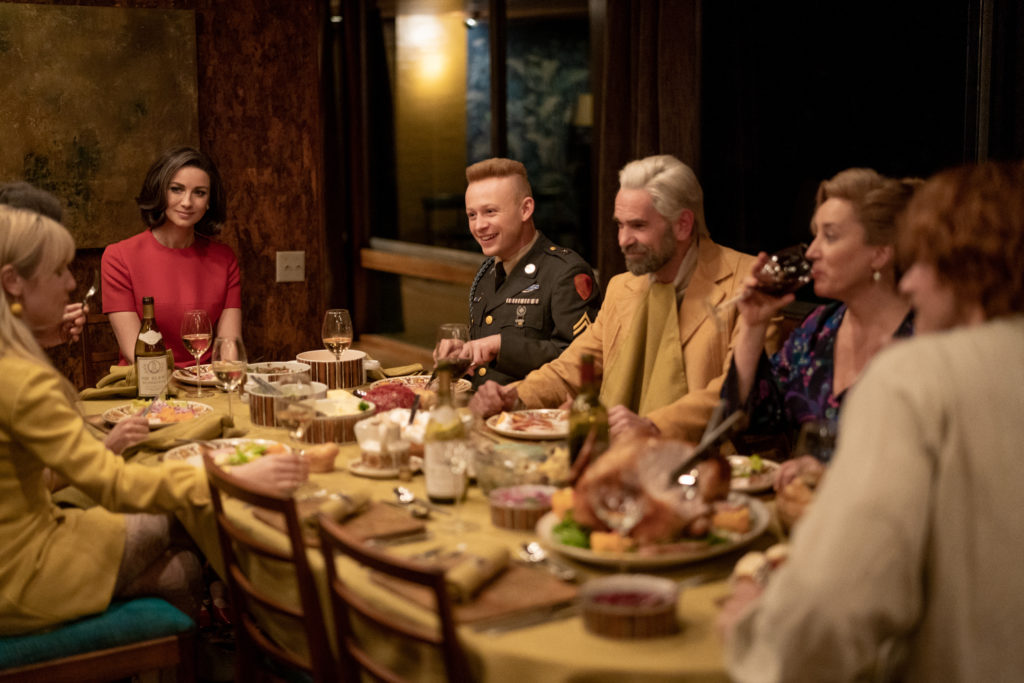 The finale's post-episode round-up includes interviews with Diana Gabaldon, Caitriona Balfe, Sam Heughan, Richard Rankin, Sophie Skelton, Lauren Lyle, Toni Graphia, Matthew B. Roberts, and Trisha Biggar. Only excerpts are below, so please click on the links for each article to read them in their entirety.  As always, be aware of spoilers for this episode.
Elle:  Outlander's Lauren Lyle Is The Show's Secret Weapon (Literally)
"With every script I got this season, I [was] blown away by what Marsali had to do, the things I had to learn—really diving into who she is and her personality and her inner life," Lyle says. "She's found her place and her needs, and we couldn't have the Ridge without her."

How did developing Marsali's personality come about? Did you have conversations with the producers about bringing more of yourself to the character?

I had a lot of encouragement to play around this season and I had a lot of really great material to do that. I always thought she has an element of humor and I come from a very funny, very dry family. I'm the youngest and the only girl, so it's been me and my wit sticking up for myself all my life. And working with people like Cait and Sam—we all really care about each other, it's not as though you have to work too hard there. Claire and Marsali have gone through a journey of absolutely hating each other from the first moment they met to loving each other, and me and Cait have a lot of fun with that, calling each other pains in the ass. But actually, we're really good friends. Chemistry works!

Tell me about taking Marsali to the '60s for Claire's dream sequence.

That was a dream to receive that script. Matt came to visit and we were having a chat and he was like, "We're thinking of doing this '60s sequence where you guys will all go forward in time." And I was like, "Are you kidding me? I get to take the corset off? And I can wear makeup? And I can have my hair dyed?" I'm really into fashion and I got to wear all original vintage, so the fitting was really special—we had 20 or 30 outfits that we could pick through, proper vintage Prada and things like that. Jamie [Payne], the director, really wanted to show Marsali's personality through her clothes because we don't get to see that in the 1700s, so we have the bright yellow mini dress and the knee-high white boots which I was desperate to take home with me.

And it's so free! Marsali is so restricted in the 1700s, she's got a baby bump all the time and layers of clothes—it's a bleaker sort of time and place, so to be able to be in such brightness was brilliant. But it's also really harrowing—a horrible contradiction we're playing with. I think the brighter and more in-your-face we were, the darker it seems because it's such a contrast from what's going on.
Los Angeles Times:  'Outlander's' brutal finale made Sam Heughan rethink one of his own key scenes
Yvonne Villarreal asks "Outlander" heartthrob Sam Heughan about the Starz drama's brutal Season 5 finale, in which Claire (Caitriona Balfe), his character Jamie's great love, is kidnapped and raped:

"It's such a powerful and difficult subject. We all wanted to get it right. The times have changed. I think the show has changed. Jamie gets raped in Season 1, and it was very graphic. Now, I don't know if I would have done that. But it is what it is, and I think at that time we felt it was the right thing to do. This time, I think very cleverly, the writers have done something different. I think it's a really emotional and very hard-to-watch episode, but it's stylized. We were very involved in that, myself and Caitriona … We really tried to find the right tone to it and make it less about the brutality and more about Claire trying to find some comfort and escapism in her mind during this trauma, and she of course goes back to Jamie and tries to imagine a world with him."
Vogue:  Caitriona Balfe and Sophie Skelton Discuss Outlander's Devastating Season 5 Finale
Caitriona Balfe, who plays Claire, acknowledges that there is a lot of sexual violence in Outlander, and notes also that its recurrence in the show is based on how prevalent it likely was in the 1800s. "That is something that we have to reckon with as a show. Sexual violence when used as a weapon is still incredibly prevalent today. One of the saddest things about this lockdown is that you're hearing about these soaring rates of sexual violence and abuse," she says. "One in four women will probably experience some kind of sexual assault throughout their lifetime, and that's an insane statistic. I think that it is unfortunate that it's so much a part of our story. But I also think that we try to add something positive to that conversation as much as we possibly can. I feel like what we dealt with in season 1, showing a male rape, which is rarely ever discussed or shown, that was a brave and bold way to handle that. We try very hard not to empower the rapists."

The show deals with the assault in a surprising fashion. "We took a big risk with the finale," Balfe says. "This is not always the type of scenario that you relish. We do try and follow the storylines from the book as basically as we can. And when they first started talking about bringing this forward, [we] talked about this idea of not staying with Claire during the rape and going to this other place—a disassociative state. I thought, That's an interesting and slightly educational way that we can approach this, and do something that has a point of view that's empowering and respectful. I love this idea that Claire gets spoken about as being a strong female character. But when people experience things like this, there is no 'strong way' of getting through it. There are many different ways that people respond. I liked the idea that we show Claire…not being typical. It's a very difficult thing to go through. Her response to it was unexpected, and I thought the ways we approached it were empowering to the character."
Elle: Outlander's Sam Heughan On The Show's 'Strongest Finale Yet'
Let's talk about the finale. This was a tough concept to get right, but I think you pulled it off.

We were unsure about it. It's very disturbing and graphic and challenging, so we wanted to get it right. Caitriona should be very proud. She's done some great work there. And we have to thank the director, Jamie Payne, and Toni [Graphia], who wrote it. It was a lot of discussions [about] trying to get the tone right; we were all very aware of how graphic the trauma Jamie goes though at the end of season 1 was. We didn't want to do that. In this day and age, we can't do that anymore. But we didn't want to lighten it by making it a fantasy of escapism or too comfortable. It [had to be] off-kilter and not quite right.

We wanted to be sure we were honest and truthful to the narrative, but also to the situation she's in. It was a really fun process, and it was intense. We knew we had something that was going to be quite powerful. This whole season has been strong and surprising for the viewers, and I think this finale is our strongest yet.

It's fascinating to watch Claire's subconscious marry all the different realities she's experienced.

We wanted to reflect that in Claire's escapism. It's not Jamie Fraser or any of the family in the future. It's the essence of who they are—their representation. I think I even suggested to Matt about the Browns being in her reality and [breaking in].

For me, the biggest challenge was, what does Jamie look like in her escapism? Initially costuming wanted Jamie to be in '70s clothing, and I thought we shouldn't, because Claire knows Jamie can't be in the future. Also, I wanted to see less of Jamie. I didn't want to see him fully realized—I wanted him to be a symbol. He's not fully realized or fully formed because it's in Claire's head.

When you look back at the season as a whole, what are you most proud of?

I think episode 7, the Murtagh storyline. As an actor, it was such a great storyline. It gave me and the character a dramatic decision to make. I had a lot of influence with the symbolism of the redcoat. In shooting it, there were certain things I had to push back on or ask for more time on for Jamie, and when he loses Murtagh we had to do some reshoots. It was great to have the writer and director's ear, to work closely with them to get the best out of the story.

As a producer, [with] episode 12, I think Caitriona and I can stand up and say we had a really big influence on this. I know Caitriona was very nervous about it, but I felt we got it in the right place. It was a great collaboration between everyone.
Elle:  Richard Rankin Wants To Make An Outlander Parody In Quarantine
On Roger's season 5 journey:

"It was gradual. First [it] was his mission from the start: 'I'm going to get Brianna, and we're going to go home. We're going to go back to safety.'…It's sort of lost its weight. He hadn't realized that. It kind of transformed through him being at Fraser's Ridge and being more accepted into the family and proving himself as a family member and…he already has a deep respect, in spite of the differences [with] Jamie and in spite of what has preceded them, he's always loved Claire. He's very much fallen in love with that family and with that group. [When] you're happy with something, you sort of cling to something that isn't real anymore, this idea of going back home, but home for him changed without him realizing it's changed in his heart."

On Roger's first kill in episode 12:

"Roger taking a life is against absolutely everything he is or certainly everything he used to be—everything he values. Whether or not that's changed and he's not that person anymore, I suppose maybe we'll explore that later on. But he doesn't do it lightly, and it's sort of by necessity, and he's got forced into this position…And it's all because of what happened with Claire. [They've] got to get her back. He's thinking of nothing else other than, when he says, 'There's a time for blood and it's now…' He means that. He doesn't wish it, but he means it… He wouldn't have been able to do that a season or so ago, so I think it says a lot about how far he's come with the family and what he's willing to do to protect that family."

On the season 5 outtake he misses most:

"There's a scene where Roger and Jamie go shopping for swords, and they have a sword fight, and Roger does remarkably well because he's been taught by Jamie for months how to fight… We shoot too much, we can't put everything [in]…but I was like, but why that? I'm sure there's reasons for it, but I kind of missed that."
TV Line:  Outlander Finale: Lauren Lyle Breaks Down Marsali's Crucial Move, Offers 'Totally Different' Season 6 Hint
TVLINE | Marsali takes some very definitive action near the end of the finale. How much do you think she thinks about killing Lionel Brown before she does it? Obviously, she needed time to steep the hemlock, so —
It's not impulsive.

TVLINE | Exactly. But then afterward, she seems to realize what she's done. Talk me through how long that choice is brewing within her.
A lot of what Marsali is about this season is protection and really having found her place and her meaning on the Ridge. She lives in a time where for women it's not — for everyone, but especially for women — it's not easy. It's really rough and tough. You have to fight to stay where you are and to have your place, and Marsali is in a relationship with Fergus where it is equal, and she knows that she should be treated [well]. And so when the whole kidnapping happens, that's her… other mother that's been taken away. When it comes to your mom, you have to protect, and I certainly feel that.

We spoke about the fact Marsali feels privileged and honored that Claire trusts her so much to be in the room with her, and we're now at a point where Marsali knows what she's doing in the surgery. She's able to hold her own, and Claire can't be in the room and can't handle being around Lionel that she has to leave. Marsali goes on to have the man that essentially starts tearing her family apart directly threaten Marsali to her face, that he will kill her, her family, her mother, everyone. Marsali's at a point where she has two options: Either do nothing and hope for the best, or you protect her and have the knowledge that you're doing exactly what needs to be done.
Deadline:  'Outlander' Season 5 Finale: Claire, Mackenzies' Fate Revealed, Plus EP & Star Tease What's To Come In Season 6
DEADLINE: I want to talk about you know the fact that Brianna has been hesitant about going back through the stones and early in the episode we find out that she and Roger didn't go through the stones, they're still in the 18th century.  They both say they were thinking about home — which from the episode it's hinted that they were referring to Fraser's Ridge as home. Is Roger now on board with living in the past?

SKELTON: Definitely. One thing Brianna has been carrying, too, is the guilt that Roger doesn't really fit into this time. Obviously, they're at this time because of Brianna's family and because she's now with the family she never had and definitely Jemmy now has a family, too. I think in that moment when Roger says I was thinking of home, it's another weight lifted for Bree because it almost means that Roger has therefore subconsciously decided that this is his home, too and that they both belong there. So she won't be holding him there. I think she felt like she was holding him there in a way and of course she felt guilty but now she can feel at least that this is where he wants to be, too. By home it's maybe not so much Fraser's Ridge but, without it sounding too cheesy, I think is like home is where the heart is and their family's there. Wherever they all decide to settle, as long as they're all together, I think that's where they've decided that they are safest even though it might not be the safest time.

DEADLINE: So Roger made his first human kill, which clearly doesn't sit well with him. How's that going to affect Roger and Bree's relationship in the upcoming seasons, or is it going to affect their relationship?

SKELTON: Obviously,  they have a very rocky relationship but now they are both a lot more settled in their circumstance, in the place that they're in with Jemmy's parentage whatever that may be, they just seem a lot more of a team. I think now any circumstances that aren't exactly going in a tremendously good way they tend to work through them together now and everything makes them stronger, everything's that thrown at them, so I think they'll be okay. From that conversation, the gravity of that scene, the way he asks her to blow out the candle before he tells her, it actually seems a very settled way. Obviously, we don't play that scene out but the way that I always imagined it going is Brianna knows what to say to Roger to make him feel better. In that moment she would just say like 'you did the kindest thing and the best thing.' Obviously, Roger's a very religious man so I think any turmoil he would have with it would be a conversation Roger would be having with God in a way and I think he and Bree will be fine from it. She would've talked him round in a very good way to make him realize that he did the kindest thing as opposed to the most horrific thing.

DEADLINE: The final scene of the season hinted that a big storm was approaching indicated that a storm was approaching. Obviously, we know that the American Revolution is forthcoming, but what can you tell fans to expect from next season? Is there anything you can tease for us?

SKELTON: I'm really excited about next season because one thing I love about the show is that it's got the sci-fi element but it feels so realistic because it's rooted in times of history. The American Revolution is just going to be a really dramatic, action-packed, fun, fun in a weird way, storyline. I think it's going to be most of the season in terms of brewing up to that American Revolution that amazing period in history and just seeing how the Frasers deal with it together is just going to be really, really magnificent. It's going to be pretty epic so it almost seems like season five just setting up for six a little bit because this has been brewing the whole time.

DEADLINE: Is there anything for your character specifically that you're excited for people to see?

SKELTON: In the book, I will say, Brianna has another baby on the way and that brings more questions in terms of where they end up in time period, so that'll be very interesting. I also think it will be very cool to see Brianna maybe being a part of the American Revolution because she has all these skills that Frank helped teach her knowing that she would go back to the past and who knows, maybe he found an article where Brianna's fighting on the American side, you never know. There's lots of stuff that could be a potential for Bree next season.
New York Times:  How the 'Outlander' Team Managed That Shocking Season Finale
Why do you think rape is such a recurring event, character forge and plot catalyst in "Outlander"?

CAITRIONA BALFE: Sexual assault and rape is so prevalent in society — one out of every six women has been a victim of an attempted or completed rape in the United States. That's a crazy statistic! We have a problem in our society with sexual assault, and it's reflected in our storytelling.

DIANA GABALDON: Some readers of the books will come after me and say, "Don't you think this is rapey?" It depends on your perspective. You should take a step back and ask, "What was the aim?" Was I just trying to be sensationalistic? Well, no. I don't need to be. But I had a point, and it has a lot to do with the resilience of the human spirit. We're not treating rape as just a destructive thing that ruins a person's whole life. We're showing it as it is. It is terribly traumatic and damaging, but people do recover. How did they get over it? What happens to them as a result? The story offers you a wide emotional canvas for exploration, most of which is not concerned with the actual violent encounter.

MATTHEW B. ROBERTS: A lot of these tentpole moments from the books are violent and meaningful to the characters: Jamie's rape, Brianna's rape, Jamie beating Roger [played by Richard Rankin] nearly to death, Roger getting hanged, Claire's rape. How do we not show these things? If we said, "All right, let's not show Jamie's rape, let's just have him say, 'I was raped,'" to me, the impact would have been massively diminished. We have to go: "This is Jamie being raped. This is Roger being beaten."

But our intentions are not to be gratuitous. We're not after water-cooler moments. We're trying to be true to characters and the books. Sometimes the books are more graphic, and then we pull back a little bit.

What was the discussion like to determine how to depict Claire's gang-rape?

BALFE: We had so many conversations about how to empower Claire. You never really see the attackers. We didn't want to give them any space. One of the shows that did that really well was Netflix's "Unbelievable." That was something we talked about, in terms of how we were going to shoot it.

ROBERTS: We've had multiple assaults on the show, and we were wondering how Claire survived hers, because emotionally, it doesn't seem to affect her in the books as much it did Jamie or Brianna. How was Claire able to survive in a different way? I thought, if we show her leaving her body to go into the dream-escapes, that could mitigate what's happening visually. When you see a guy walk over to her and then we cut out into the dream-escape, the audience fills in, "Something bad's going to happen." We can walk that fine line of showing it, and not showing it.

Originally, the dream-escapes were ramped up even more. We were going to feel like Claire had been raped, but not know how. I remember discussing this with Caitriona and Sam Heughan, and Caitriona was a force here. She said, "How come we can't show more of the attack?" And Sam said: "Yeah. With Jamie we showed a lot." So we realized we can go a little further than the book did.

GABALDON: The show is actually more explicitly brutal than the book; Claire is only penetrated by one man in the book, who is not violent about it. But the thing is, I didn't want Claire to be damaged internally. I would assume that people know that if a woman is gang-raped, it's very bad for your insides. Repeated, penetrating rape causes extensive hemorrhaging and other damage, and you could die from the blood loss.

BALFE: I felt that if we were going to do the dream-escapes, we had to keep in mind why. They're not a gimmick, not a reason to wear cool costumes. Claire is experiencing something terrible. This has to show the progression of her mental state, to show that she's reached a breaking point, that she's snapped in some way, and is trying to stay in one piece.

In the earlier drafts, Claire had a lot of dialogue. I felt that if she speaks, she is not going to be constructing a conversation about cooking or anything. She's going to say the only thing that she can say in that reality. She says, "No," and she says, "Jamie." This is her grasping onto moments in her life that make her safe and comforted. But no matter how hard she tries to create that protective layer, the sheer horror of what's happening bleeds into the dream-escape.
Collider:  'Outlander': Sophie Skelton on Filming the Brutal Finale and Brianna's Big Season 5 Moments
Would you mind telling me a little bit about filming the reunion scene. It's just a very brief scene where Claire is brought home and she sees Brianna who she thought had gone back to the future. She says, "I never thought I'd see you again." She hugs her daughter, Brianna hugs Claire, and then Marsali joins in and there's this embrace between the three of them. There's such heart in that moment. What was that like to film? You just feel the emotion resonating off the screen as those three women come together.

SKELTON: It's one of those funny ones where logistically filming it always feels a little bit [disjunct] from the story line because for me, coming down from the house as Brianna, I just wanted to run to Claire. But, logistically with the camera and the way that everything was set up that in terms of the actual physical distance between us and everything else, I wasn't allowed to. We kind of had to take it as a bit more of a slow walk. So, I just kind of adapted it to – Bree has her worst fears about what happened to Claire. I don't think she thought was rape on the cards to be honest with you. I think she maybe thought that she'd been held somewhere hostage and whatever else, but I think for Bree, she's probably suppressed that given what she's been through… So, I think just seeing Claire and seeing the state that she's in… it's very brutal, but I love that Brianna and Claire have this unspoken understanding. It's like Bree just knows straight away. She can just read the moment; she can read Claire and she knows her mother so well now… and I think it shows how far their relationship has come that they don't need to speak to understand each other. And I think as soon as Brianna sees her, it really just hits like a ton of bricks. And obviously Brianna of all people knows exactly what she's feeling in that moment. So, Brianna I think was probably the perfect person for Claire to see first because Bree would just know exactly what she needed in that moment. And honestly, the hair and makeup team for Caitriona were amazing, Caitriona obviously is just amazing, so just seeing that sight anyway, it was just brutal. And for Bree, I think she knows that the one thing her mother needed in that moment is just a friendly face and to be held and to feel safe and I love that that's Bree's only line – 'I'm home.' It's almost like, 'Mum, you don't have to say anything. It's OK, I'm here for you.'

Let's just move on quickly to the end and what you want to see next season. We know the remaining Browns are going to be a problem. There are a lot of people hoping that Brianna will finally get to meet her brother, Willie. Is there anything you're looking forward to next season?

SKELTON: Yeah, I think it will be really exciting to work with the actor who plays Willie, because I don't know what age he'll be at this point. It's always fun when you're working with someone new on set. But mainly just sort of, obviously now that Brianna and Roger have stayed in the past, it just means that there'll be some more Fraser time, which is always fun because as I said before, the season's always so packed … but when we actually get some family time, it's always good fun. So hopefully there'll be some more Brianna, Jamie and Claire scenes, because they're always great to film.
Harper's Bazaar:  Caitriona Balfe on Claire's Trauma in the Outlander Season 5 Finale
"It is a really hard line that we have to tread," Balfe told me over the phone last week. "Obviously, we try to stick as faithfully to the books as possible, and [rape] is something that creeps up quite often in Diana's novels. When you have eight or nine books out in the span of 20 years, it probably doesn't feel like there's as much, but when you're compressing all of that down for TV, it becomes quite difficult. We can only try to do it as respectfully and as, I suppose, empoweringly as we can."

For both Balfe and the episode's writers Matthew B. Roberts and Toni Graphia, Claire's kidnapping, which is taken from Gabaldon's sixth book, A Breath of Snow and Ashes, rather than book five like most of the season, was a sensitive one to approach. They considered playing the entire incident off-screen, showing only the aftermath, but Balfe balked at this option.

"I felt that if we're going to do it at all, we have to make it have a point," she explains, "and have it say something about the experience that can maybe add something positive to the conversation." The scene had to stay grounded in Claire's experience, without showing gratuitous detail or giving too much license to her attackers. This being Outlander, it's perhaps no surprise that the solution was time travel.

For Balfe, the sequence fell into place when Roberts suggested the idea of intercutting flash-forwards to an imaginary, impossible 1960s reality, in which Claire, Jamie, and their extended family gather for Thanksgiving dinner in a picturesque and distinctly modern country home. As Claire slips in and out of consciousness during her ordeal, she takes refuge in this dissociative dream sequence where things seem idyllic, yet uneasy.

"We went through quite a few drafts, trying to get it to the right place," recalls Balfe, who was an executive producer for the first time on Season 5 and relished her expanded role in the process. "We wanted to make sure it was very clear that this is a dissociative state, and it's a coping mechanism that Claire uses, and that it didn't become, 'Oh, look how cool it is to have everybody in the '60s!'" It's easy to understand this concern—fans have long known that Jamie doesn't have the ability to time-travel, which makes the opportunity to see him in a 1960s timeline irresistibly tantalizing. "In the beginning, when the writers came up with this idea, they did get a little lost in the excitement of that notion, and we definitely had to walk it back a lot."

For instance, Balfe says, Claire originally had far more dialogue during the dream sequence, which was stripped back and honed to ensure it tracked with the reality of what was happening to her. "I felt it was really important that the only time we hear her speak is to either say 'no,' because this is what she would be saying in real time, or calling out for Jamie. Those are the only two times you hear Claire say anything during this whole disassociate dream state. She never participates in the conversation." Far from the fan service moment it could have been, the dinner sequence is designed to keep Claire one degree removed, so that "we always know that the reason we're there is that something really terrible is happening to Claire, and she's constructed this as a safe place to go in her mind."
Town & Country:  Outlander's Costume Designer on Crafting Claire's 1960s-Tinged Vision in the Season Finale
Costumer Trisha Biggar was tasked with creating the 1960s-inspired looks for characters like Jamie, Marsali, and Young Ian, non-time travelers who have yet to appear in the 20th century so far.

"I think the starting point in a way is the fact that all the characters and what they're wearing are produced by Claire's imagination. We're in her dream, so creating these looks was really about interpreting their personality, and thinking about how she would be wanting to see them at this particular point," Biggar says.

"And they're all in a happy place when we see them. We see Jocasta and Murtagh together and married. And Murtagh's still alive, and Jocasta's not blind." Similarly, Fergus has the use of both his hands in Claire's vision.

Creating the costumes, Biggar explains, required "not only thinking what would Marsali wear. It was also, what would Claire envisage Marsali wearing in the 20th century?"

"Claire is in a lovely red dress. It's a great color on her, and the shape is more from the late '60s and into the '70s in terms of period. It's a very slimline, not a shift, but a sheath-type dress—very elegant. She's perfectly groomed and looking beautif

Biggar says this costume choice was written into the script. "Young Ian was a surprise when he arrived in his US Marine costume, and I think it's not a reflection back to where he'd been with the Indians, but I suppose, he appears more grown up in a uniform, and he's got a confident and independent sort of feel, even though he may have had experiences while he was away," she says, noting that there were small inconsistencies in the set and in the costumes that would "jar the consciousness a little," reminding the viewer that this was a dream.

"For instance in Young Ian's uniform, the medal ribbons were made out of the Indian wampum beads," she says.

ul. And initially we think she's very relaxed and comfortable waiting for the family to arrive for Thanksgiving." Obviously as the vision goes on, it isn't as peaceful as it first appeared.

Jamie may look like he's straight out of the 1770s in Claire's mind, but Biggar did modernize his look a bit for the sequence.

"We made a 20th century version of his 18th century costume by narrowing down the fullness of his shirt, and making his breeches look more like a 20th century pair of trousers that he wore tucked in," she says.

"Breeches go into the boots, so we just made the trousers go into boots, too, and we made his trousers out of a black denim, so it was a contemporary fabric, but still gave him his 18th century silhouette. He sort of fits in to the 20th century, but is still very much of his own century."
Variety:  'Outlander' EPs Break Down Claire's 'Survival Mechanism' in Season 5 Finale (SPOILERS)
And speaking of Bree and Roger, in the finale they returned to Fraser's Ridge and learned about Claire, which led Roger to join in the hunt for Lionel's men. He, Jamie, Fergus (Cesar Domboy) and several other of Jamie's men laid waste to all of them — except Lionel, who managed to survive and, in an ironic twist, ended up a patient on Claire's operating table. As such, she could not harm him because of her oath as a doctor, but luckily, Marsali (Lauren Lyle) had taken no such oath and killed Lionel for Claire. This was a change from the books, in which the sort-of housekeeper Mrs. Bug is the one who kills Lionel. Roberts says they wanted to make that kill a meaningful moment in the show, and Mrs. Bug just wasn't enough of a character yet to be the right choice here.

"The theme this season is, 'How far would you go to protect your family?' and Marsali is such a core part of that in her bonding with Claire," he says. "Then there's the threat [Lionel] makes, so it was natural for her to do it."

As for other pieces of the fifth book in the "Outlander" series that didn't make it into the season, Roberts says they could still pop up next season.

"What's nice about some of these stories [is] you can move them around a little bit," he says. "So whereas we moved into Book 6 in Season5, there are going to be some things some people may think, 'Oh well, they didn't do it, they're not going to do it.' Well, those things may make an appearance. There are going to be characters that will appear in Season 6."

As the episode wound down, Claire started to ever-so-slightly come to grips with what happened to her. She and Brianna shared a tender moment when Claire was bathing where Bree repeated a line to her mother that Lizzie (Caitlin O'Ryan) had said to her after her own assault — "You have my hand and my ear if you need it" — which touched Claire.

The final moments of the episode had Claire vowing to Jamie that this was not going to be what breaks her and telling Jamie that she felt safe in his arms.

"It's Claire's way of saying, 'These men did this to me, but they're not going to destroy me. They're not going to take this from me — the intimacy with the man I love — they're not going to destroy my soul. They did things to my body, but they're not going to destroy my soul,'" Roberts says.

But don't think that when Season 6 begins that Claire will suddenly be all better. Roberts reveals the trauma will have "lasting effects" on Claire because "every attack like this is individual and how people deal with it is individual, there's no right way or wrong way" to handle it.
Elle:  The Outlander Producers Break Down Claire's Harrowing Dream Sequence
An orange appears several times throughout the sequence, and Graphia breaks down the season 2 reference to ELLE.com:

[It's] a deliberate echo of the orange that the King of France gives Claire in Season 2, episode 207, "Faith." After Claire sleeps with the King of France to save Jamie's life, when she leaves Versailles Palace, the last thing she does is pick up the orange and take it with her. It was a small gesture by Claire, a choice that symbolizes that she's leaving with her dignity. Matt and I included it on purpose in Claire's dream-escapes in 612: The orange being visible in the opening shot in her living room, then, when faced with the choice of whether to kill Lionel in revenge, Claire flashes on the orange—and then her walking out with it—a symbol that she takes the high road. She's got a piece of herself that no one can ever take from her. We're hoping the fans who remember the episode in Season 2 will get it!
Sources linked in their respective parts of this post.