**This is not a spoiler-free review of this episode. This review is also from a non-reader, and any comments revealing spoilers from the books will be deleted.**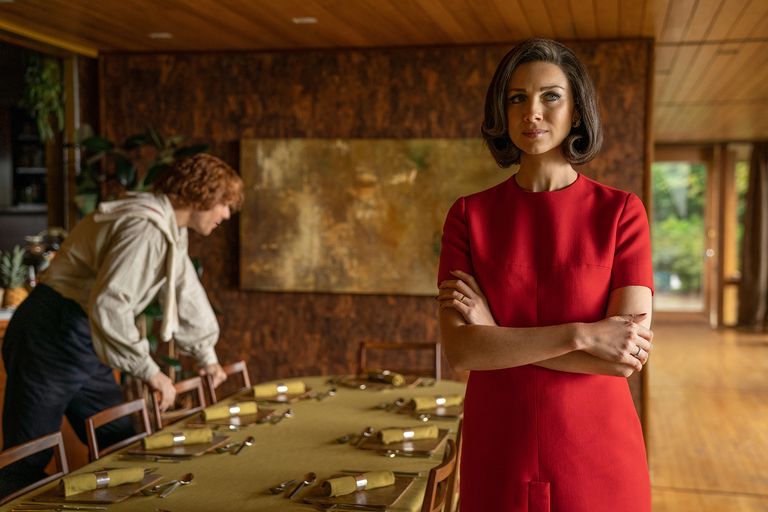 Episode 512:  "Never My Love"
Written by Matthew B. Roberts and Toni Graphia, Directed by Jamie Payne

We start with an ominous recap of events! 
Here we goooooo. It's the last episode, y'all! 
It's modern Claire looking lovely and quite lonely listening to "Never My Love." (Which just happens to be the name of the episode! What a coincidence.) The contrast of modern Claire with past Jamie is quite lovely. 
In the present, (er, past) poor Claire is being tortured by that Brown bastard and company. (I never thought I'd say this, but their atrocious behavior is making me miss Bonnet? What am I saying.) 
I love the shot of modern Ian in a soldier's uniform!! 
One of the captors mentions a man on the moon to Claire. Another one, Tebbe, wisely offers Claire food and is like, "Plz don't curse me, witch woman, I'm cool and nice." Claire wise tries to convince Tebbe to let her escape, but another man foils the attempt. Brown ties Claire to a tree like she's no better than a dog. 
Oh, I get it. Claire is dreaming about an ideal world where she can have her whole family in a time where they're safe. I LOVE the shot of our Outlander faves in sixties regalia celebrating Thanksgiving! (And Murtagh and Jocasta being cute and adorable!) 
"Does the name Ringo Starr mean anything to you?"

 What a line! HOLY MOLY, WENDIGO DONNER TRAVELED BACK IN TIME WITH OTTER TOOTH??
But he won't help Claire escape. His decision costs Claire dearly. 
The next few minutes are downright awful. Claire dreams of a better and safer world while multiple men brutally rape her. 
Claire looks like she'd rather be dead. 
In the dream, two police officers interrupt the dreamy bliss to tell Claire that Roger, Brianna, and Jem died in a car accident. Is one of the officers that actor playing that bastard Brown?
HOLY MOLY, ROGER AND BRIANNA DIDN'T MAKE IT BACK. 
They were thinking about home.
Thankfully they make it back just in time to intercept Jamie before he leaves to WHOOP SOME BROWN ASS.
Ian puts on war paint, and I HAVE NEVER BEEN SO EAGER FOR BLOOD. 
The scene of Jamie and the men finding Claire is devastating. Jamie asks Claire how many men raped her, and she says she doesn't know. 
"Kill them all."
That sent chills down my spine. Jamie recognizes Claire can do no harm, so just men will kill for her. He will kill for her. 
He wraps her in his tartan, just like he did many moons and seasons past. One of the men is still alive, and Jamie decides not to kill him so they can question him.
Ah, another callback of Jamie looking at Claire wrapped in his tartan by a stream! She mentions Donner and Jamie reveals that Roger and Brianna are back.
I love how the past two seasons have ended with Brianna running out from a house to reunite with someone! All jokes aside, it's another heart-wrenching moment when Brianna and Marsali hold Claire close. 
Brianna echoes the same comforting words Lizzie said to her after she was raped. I hate that they have a trauma as a shared experience.
Poor Jamie hates the state Claire is in and cutely asks, "I'm so angry about this, please let me kill someone for you again." 
Someone, please give Caitriona Balfe an Emmy for her shattered speech alone. The woman is incredible. 
Oh, of COURSE, Lionel Brown is still alive. (Stupid me didn't realize that was his first name.) Claire contemplates breaking her oath and breaks down. Marsali is left to deal with the asshole and finally….
MARSALI KILLS THE BASTARD!! HELL YES. SHE INJECTED HIM WITH HEMLOCK BECAUSE A POISONOUS MAN DESERVES THE BEST POISON IN HIS VEINS. 
Jamie drops off Lionel to the other Brown brother, who's like, "Yeah, he kinda deserved that, but I shall also wreak vengeance upon you one day, so there's a conflict for next season." 
"We wanted the stones to take us home, and they did." 
Claire revels in the peace of an ordinary day.
"If my last words aren't 'I love you,' I'd ken I didn't have enough time."
DAMMIT JAMIE BEING ALL CUTE!!
The last shot of Jamie and Claire is the most beautiful thing I've ever seen on this show. Claire finally feels safe as thunder beckons the war to come.
And with that, we have another season, come and gone. (How great was Raya Yarborough's a cappella rendition of the opening song at the end?) I just want to say that I thoroughly enjoy watching each episode and writing my random thoughts. (Also, where was modern Lord John though?) I enjoyed the creative risks the show took this season, and Claire's dream sequence was hauntingly perfect.
Outlander is such a beautiful show, and I'm grateful to my mother, my Claire, on this Mother's Day for introducing me to the world of Claire and Jamie and co in the first place. I love you, mom. Thank you for showing me what strength and love and compassion can do.
Happy Mother's Day to all you moms out there. Until next time!