**This is not a spoiler-free review of this episode. This review is also from a non-reader, and any comments revealing spoilers from the books will be deleted.**
Episode 511:  "Journeycake"
Written by Diana Gabaldon, Directed by Jamie Payne

Autumn 1772.
We're getting close to Revolution time! It's so cute Claire (Caitriona Balfe) wants to buy peanuts so she can make Jem a peanut butter and jelly sandwich. The troupe happens upon a burned house, and it escalates QUICKLY BECAUSE THE FAMILY INSIDE IS BURNED TO BITS???
Omg, what's even worse is that one person that is still alive. Roger (Richard Rankin) is near tears as he mercy kills the poor girl. It's a horrific scene, and we haven't even started the opening credits? 
WHY
DIANA WROTE THIS ONE?? YES!
JEM CAN HEAR THE BUZZ
HE CAN GO THROUGH THE STONES! 
OH SNAP, THE BROWNS ARE BACK?

Seriously, y'all. I swear I have a breakdown of each episode before the first ten minutes.
Mr. Brown threateningly tells Jamie (Sam Heughan) that he's founded an unsanctioned committee of safety. Claire insists that she treats Mr. Brown's festering wound. 
Half a dozen cabins had been burnt to a crisp. 
Brown keeps guilt-tripping Jamie into helping his safety committee. Things are so tense I'm gritting my teeth. I could really use some of Sam's Sassenach whisky. 
Your famous whiskey needs your constant attention, I suppose? 
It's funny how meta that is now. 
Oh snap, is Ian (John Bell) on to our time travelers? 
HE TOTALLY IS! It makes sense, now that Murtagh is gone. Ian will be the secret keeper from now on. 
Ah, so he put two and two together with Otter Tooth's opal! OTTER TOOTH WROTE IN A JOURNAL WITH A BALLPOINT PEN! 
Ian asks Claire straight up what she is. She finally fesses up that she is from the future, but she is, in fact, not a fairy. 
ULYSSES!!!
"My only complaint is boredom."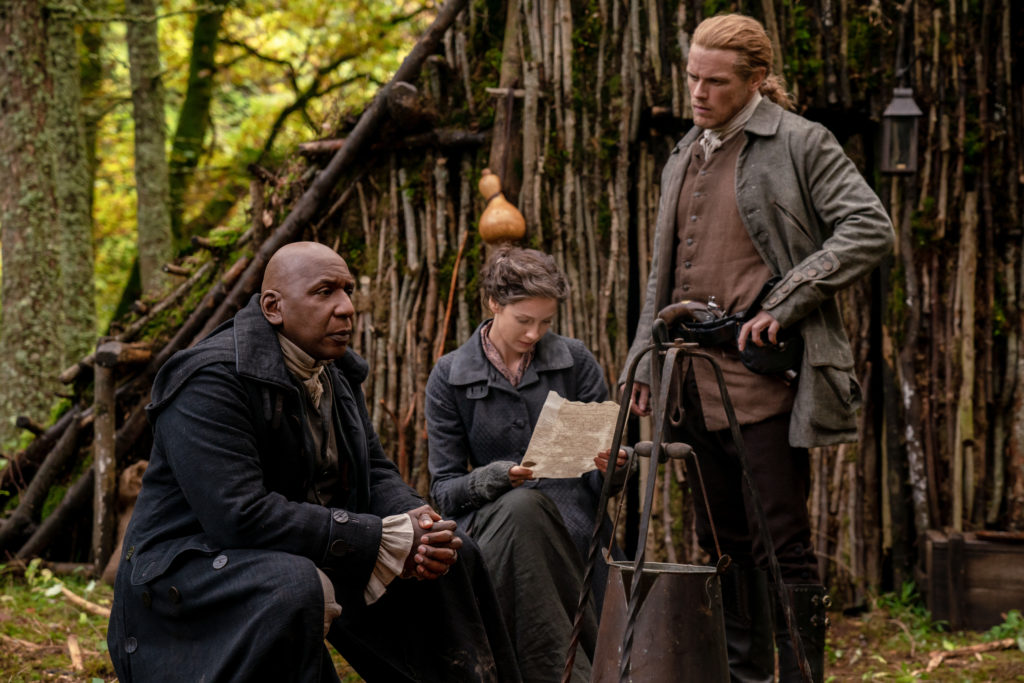 ULYSSES (Colin McFarlane) IS THE BEST OKAY.
He makes a good point that nobody would forgive him for killing a white man, even if it were to protect Jocasta. He's essentially a fugitive, but he's a free fugitive? (Is that a paradox? An oxymoron?) 
JOCASTA FREED ULYSSES! Ironically his manumission was witnessed by Mr. Forbes. (Rest in peace, Pippin Forbes.) 
ULYSSES CHOSE NOT TO LEAVE JOCASTA'S SIDE!
I REPEAT!!! He chose to stay!

JEM'S SENSITIVITY MIGHT PROVE HE IS ROGER'S BIOLOGICAL SON!!
Roger and Brianna (Sophie Skelton) decide to leave within the month. 
LORD JOHN (David Berry) IS BACK! 
William is still at school in London! 
They finally finished the guest-chamber! 
Ian's like, "Psh, I don't have to be from the future to know there's a war coming!" 
Aw, Ian wants to travel through the stones. What happened between him and his wife? 
Lord John has to return to Helwater? Lord Dunsany died, so the estate is now William's. He's going to be the ninth Earl of Ellesmere! He's definitely going to come into play next season like there's no doubt about that. 
Don't go, Lord John! 
Aw! Will's musical theme played when Lord John gave him the portrait miniature! 
I have a feeling something is going to stop Roger, Brianna, and Jem from going back to the future. (See what I did there?) 
Claire rubs perfume on herself, but Jamie has dozed off. He wakes up, and they have some SEXYTIMES! (Seriously, that's how you write a Jamie/Claire sexytime scene. Almost like Diana gets these characters better than anyone else, you know?) 
Lol. Are those sperm Jamie sees under the microscope? 
Claire's about to die from laughter. 
They're not germs. They're sperms.
SOMEONE GIVE THIS SHOW AN EMMY FOR THAT LINE ALONE!
I'm CRYING. Like. Was that a book moment? Because that felt like a book moment, Diana was probably dying to include. 
Jamie shows Brianna the portrait of her brother. 
BRIANNA IS LIKE WTF YOU SLEPT WITH SOMEONE ELSE? 
There are lots of truths revealed in this episode. 
"You have made my life whole."
Brianna and Roger tell Fergus (César Domboy) and Marsali (Lauren Lyle) that they're moving to Boston. Marsali breaks hearts by saying Brianna has become like a sister to her. 
Lizzie (Caitlin O'Ryan) thinks she's going with Roger and Brianna. She tells Brianna that she's meant to be with her always. Brianna tells her she needs someone to be there to take care of her parents. Lizzie starts to cry. 
Jamie declines Mr. Brown's offer. This isn't going to turn out well, is it? 
Mr. Brown's wife is in need of healing. Claire suspects Mr. Brown was behind it. Mrs. Brown or rather Rose finally lets up that he's been drinking and wants another baby. Mr. Brown broke her wrist because Rose didn't want to sleep with him and possibly get pregnant. 
OH SHOOT. MR. BROWN SAW DR. RAWLING'S PLACARD. 
Roger asks Ian to go with them to the stones. He tries to give Ian his 5,000 acres. 
Brianna says goodbye to Lord John. Lord John tells her she and her brother are quite alike. LORD JOHN HIRED ULYSSES AS HIS MANSERVANT SO HE CAN ESCAPE SAFELY. 
I want a Lord John/Ulysses spin-off. 
Brianna and Claire's goodbye was the hardest to watch. 
Claire made PBand J's and JAMIE EATS IT WITH A FORK
To home, to family, to great health. 
They go back to the stones Roger found last season. Claire stares lovingly at Jem's portrait. 
OH MAN WE DID
BUT SERIOUSLY WHY IS JEM'S HAIR BLONDE? 
And they're gone.
Or are they?
Ian tries to go through, and he can't, and he's breaking my heart. 
A fire went off at the still? 
THE BROWNS KIDNAPPED CLAIRE????? Jamie sets the fiery cross alight. It's an epic but ominous ending, and I really do wish Diana could write more episodes, but I do get why she can't. I'm so scared for Claire. The Browns already don't like her, and I get this feeling she'll escape worse for wear.

But seriously.
What is with this show's villains names all starting with B? Black Jack Randall, Stephen Bonnet, the Browns.
This episode was brought to you by the letter "B."
One episode left y'all! Only one. I am sad. But READY.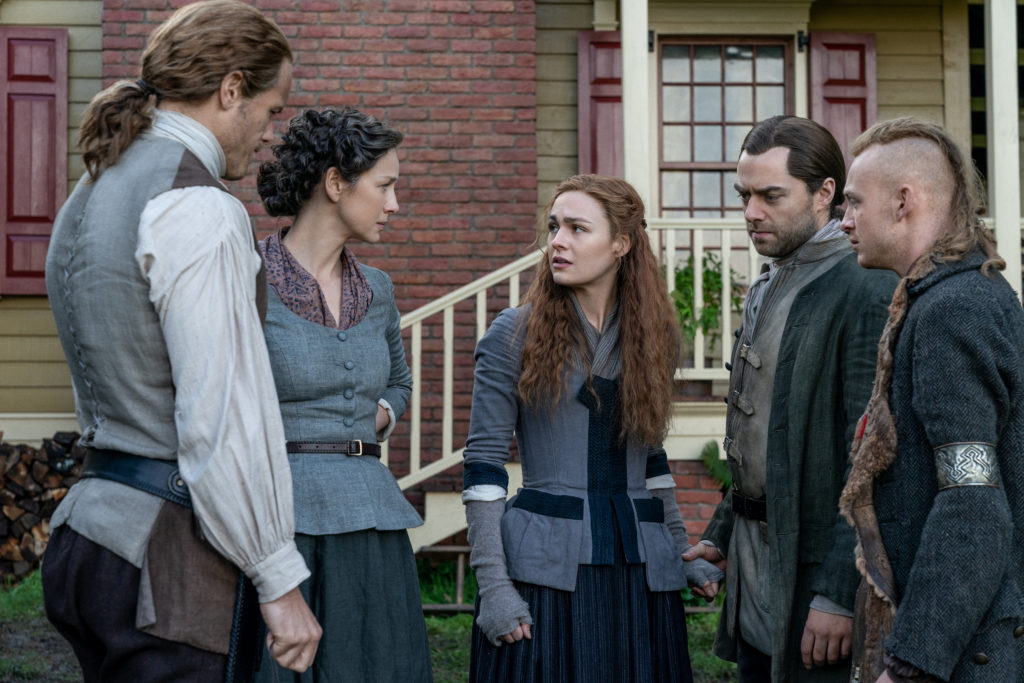 NEXT WEEK, SUNDAY, MAY 10TH AT 8 PM ET: EPISODE 510: "NEVER MY LOVE"
Unofficial Synopsis:  "Claire struggles to survive brutal treatment from her captors."
Photos courtesy of Starz.